LSU Football: Way Too Early Game-by-Game Schedule Predictions for 2013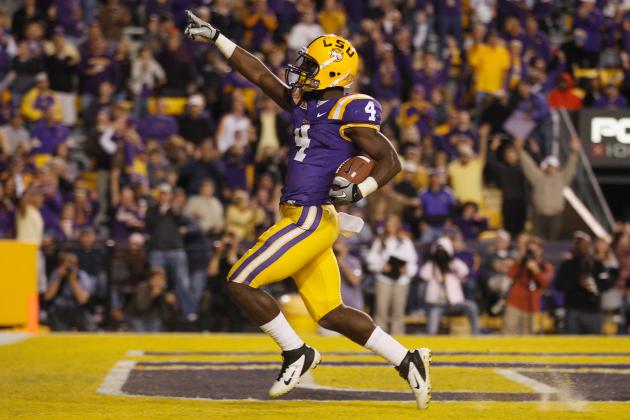 Chris Graythen/Getty Images

All right, yes, I know it's only February, but is it ever really too early to look ahead to the upcoming college football season?
The LSU Tigers lost a ton of talent on the defensive side of the football, but with a strong offense and many talented, young defenders waiting in the wings, Les Miles' team should be strong yet again in 2013.
So, looking ahead, do the Tigers have a favorable schedule?
Is it possible that LSU can run the table?
Let's go ahead and make some way too early projections for LSU's 2013 college football schedule.
Bleacher Report Style!
Begin Slideshow

»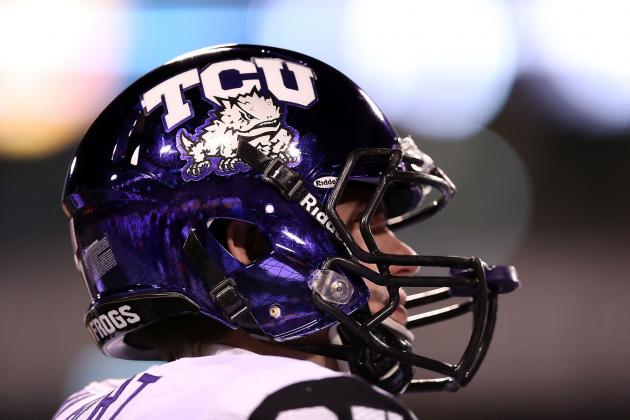 Christian Petersen/Getty Images

The awesome lineup of Week 1 college football games should continue in 2013 as LSU is set to square off with TCU at Cowboys Stadium on August 31.
The Horned Frogs will return a lot of talent on offense next season, which means that the Tigers new-look defensive unit will be tested right off the bat.
TCU, like LSU, has always been known for having a strong defense, but the Horned Frogs haven't seen many rushing attacks like the one Les Miles has in Baton Rouge.
This should be a good game, but in the end, LSU will be too much for Gary Patterson's club.
Make it: LSU 27, TCU 17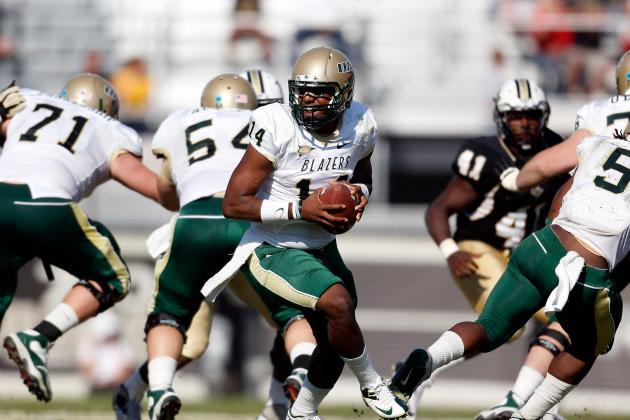 J. Meric/Getty Images

This game has the potential to be...well...not so close.
LSU was one of the best teams in the country last season, and UAB was, yes, you guessed it, one of the worst.
The Blazers gave up more than 37 points per game last season, while LSU scored 30 points per contest and gave up less than 18 per game.
In other words, this one has blowout written all over it.
In fact, this is the game where LSU fans may finally see what Stephen Rivers has to offer as he could play the majority of the second half, assuming the Tigers have a big lead early on.
This one is what we refer to as "blowout city."
Make it: LSU 49, UAB 0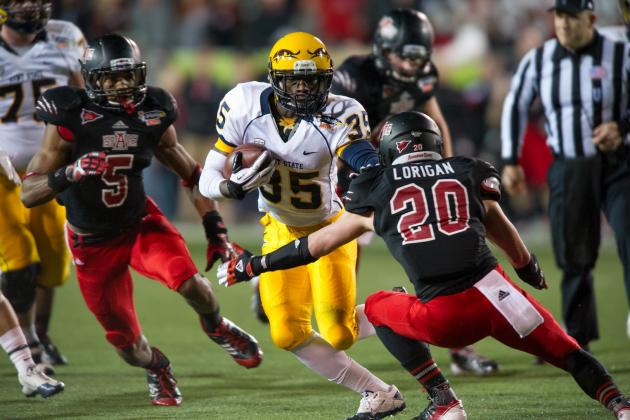 Michael Chang/Getty Images

Kent State were one of the best stories in college football last season, posting an impressive 11-1 record heading into the final two games of the season.
The Golden Flashes will have a new coaching staff and quarterback this season, but look for that dominant running game to be back in 2013.
Unfortunately for Kent State, they did give up a lot of points to good opponents last season, including 47 to Kentucky, whom LSU constantly pounds on a yearly basis.
This one could be intriguing for about a half, but then LSU will run away with it from there.
Make it: LSU 42, Kent State 17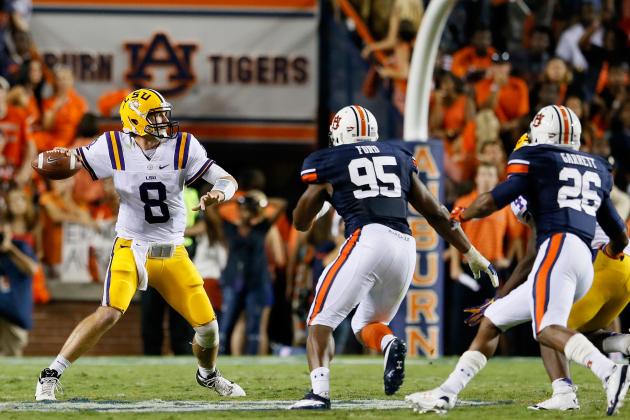 Kevin C. Cox/Getty Images

This game is the story of two teams headed in complete opposite directions.
LSU has been exceptional over the past couple of years, while Auburn has been plummeting since their National Championship season.
Both teams have done an exceptional job recruiting as of late, but LSU is getting results on the field, while Auburn is simply not. Auburn finished last season 3-9 and didn't win a single game in the SEC regular season.
Playing in Baton Rouge won't help Auburn's chances in this one.
Make it: LSU 31, Auburn 17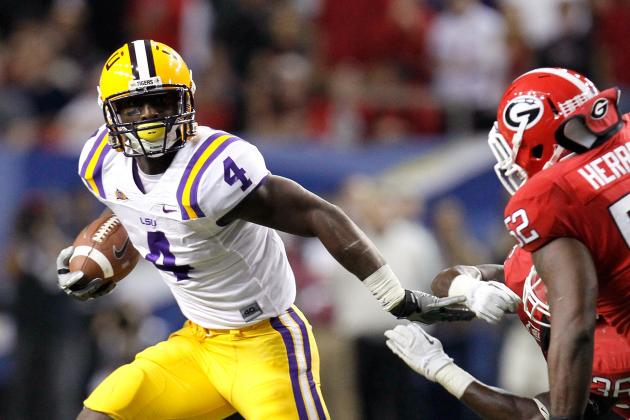 Kevin C. Cox/Getty Images

Could this be LSU's first loss of the 2013 season?
TCU is a good program, but this will be by far the Tigers' toughest test of the season up to this point.
LSU's defense should be pretty set by this point, but beating Aaron Murray at home is certainly no easy task.
However, keep in mind that Georgia has some serious rebuilding to do on the defensive side of the ball as well, with several key players heading to the NFL.
This should be a battle with two good quarterbacks, two good running games and two defenses that should be gaining momentum at this point in the season.
In the end, home field advantage makes the difference.
Make it: Georgia 31, LSU 28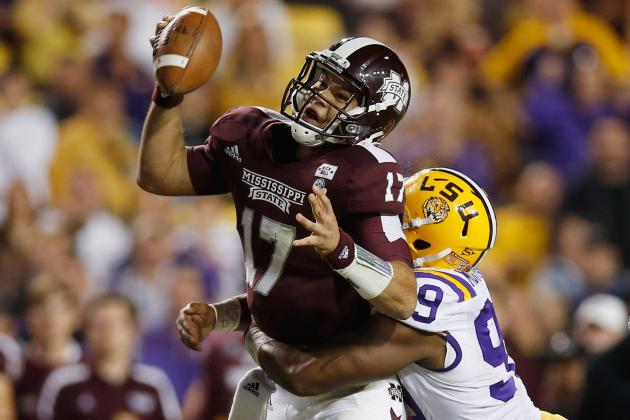 Chris Graythen/Getty Images

Mississippi State seems to always be that team that comes on LSU's schedule, gets people a little worried but then the Tigers always take care of business.
Next year's game will be on the road, so it won't be so easy for this LSU team.
Tyler Russell should be improved this season, and the Bulldogs will always rely heavily on that running game.
But in the end, LSU really does trump Mississippi State in just about every aspect of the game. LSU has a slightly better passing game, a slightly better running game and a better defense, despite the youth on that side of the ball.
In the end, that means a big road win for the Tigers in this one.
Make it: LSU 31, Mississippi State 23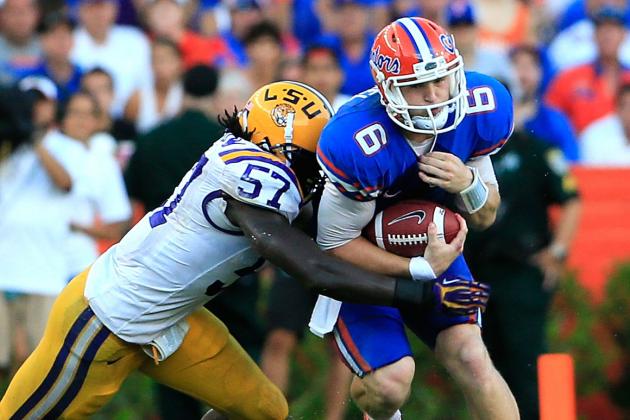 Sam Greenwood/Getty Images

This will be another great college football game with two of the best, most talented teams in the country squaring off against one another.
The Gators got the best of LSU last season in an ugly 14-6 game in Gainesville.
The Tigers get Florida on their home field this season, which should make a huge difference.
If LSU is going to compete for an SEC Championship in 2013, this is a game this team needs to win.
And in the end, I think they do.
Make it: LSU 24, Florida 21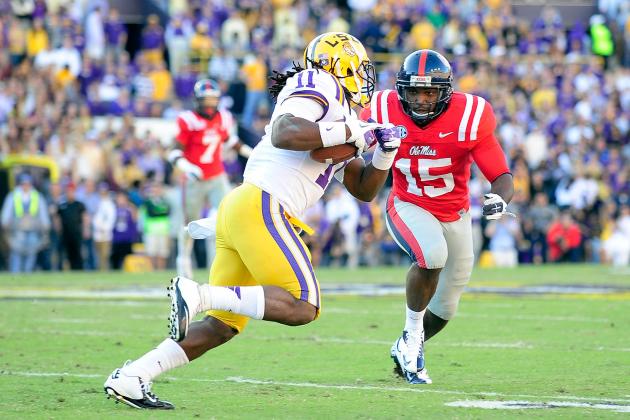 Stacy Revere/Getty Images

Ole Miss is one of the top upcoming programs in the nation.
The Rebels bring back the majority of their offense from 2013, and have some mega-recruits coming to town as well.
Bo Wallace should only get better in time, and having Laquon Treadwell to throw the ball to will certainly help this offensive unit.
This has all the makings of a great college football game, but in the end, I think this might be one that LSU slips up in.
Make it: Ole Miss 28, LSU 24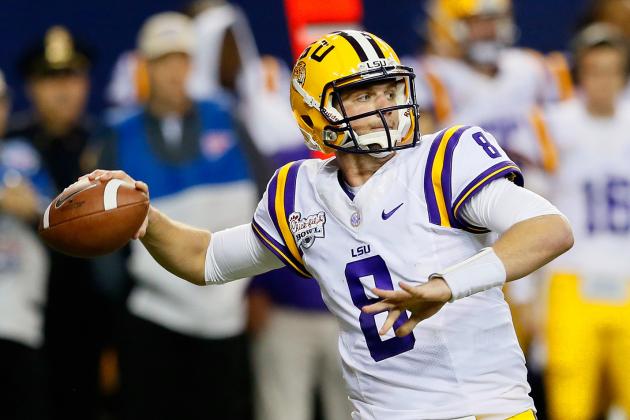 Kevin C. Cox/Getty Images

Last season it was Towson.
This season it will be Furman.
Every year, for some odd reason, LSU has a cupcake game right in the middle of its SEC conference schedule.
Furman finished 3-8 overall last season while notching two total conference wins in the Southern Conference.
That's all you really need to know here.
Make it: LSU 63, Furman 0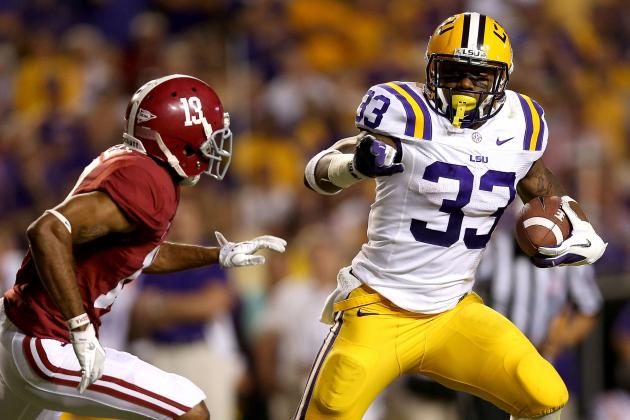 Matthew Stockman/Getty Images

We have seen some exceptional Alabama football teams over the past couple of years.
Brace yourself college football fans—the 2013 Alabama team could be the best one yet.
This team is stacked from top to bottom, and it certainly doesn't help LSU's chances that this game will be played in Tuscaloosa.
LSU should be able to mix up the run and pass on offense to remain in this game, but in the end, this Alabama team will be too much for this young, inexperienced LSU defense.
Make it: Alabama 27, LSU 17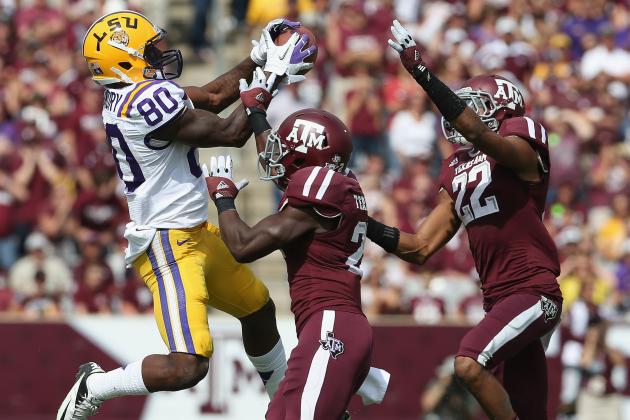 Ronald Martinez/Getty Images

Did I mention that the SEC is going to be pretty darn good in 2013?
Just when LSU thought they finished the gauntlet of the SEC season, here comes Texas A&M and the best quarterback in college football, Johnny Manziel.
Last year, these two teams had a great matchup, which resulted in a 24-19 win for the Tigers.
This season should be interesting as A&M obviously brings back Manziel, but also loses a ton of talent on the offensive line, as well as on the defensive side of the football.
Look for this to be a high-scoring affair for SEC standards, and in the end, this proves to be the Tigers' signature win of the season, and a darn good one at that.
Make it: LSU 31, Texas A&M 27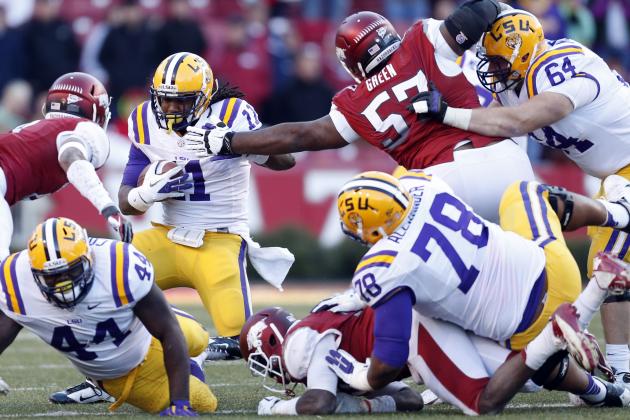 Wesley Hitt/Getty Images

Arkansas should look a whole lot different in 2013.
New coach, new quarterback, new team.
In other words, 2013 could be a rebuilding year for the Razorbacks, while LSU could be competing for the SEC Championship and/or a BCS bowl bid at this point in the season.
Look for LSU to close out the season with a big home win over Arkansas, which would put the Tigers at 9-3 overall and 5-3 in conference play.
Considering the Tigers are losing more than half of their defense to the NFL, that seems like a pretty darn good season for Les Miles and this LSU football squad.
As for this game...
Make it: LSU 42, Arkansas 17