5 Reasons Steven Stamkos Will Go Down as One of the Best All-Time Goal Scorers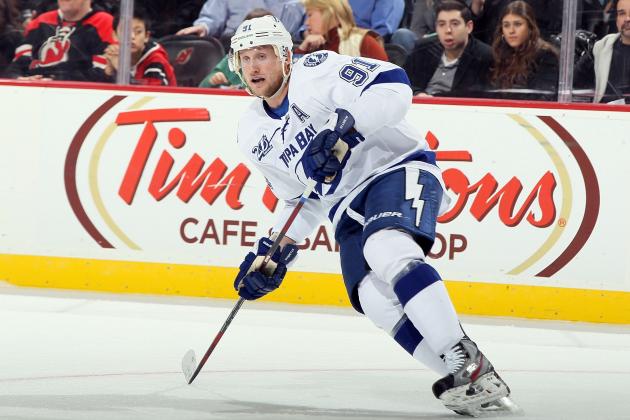 Jim McIsaac/Getty Images
No one has had a better start to a career than Steven Stamkos of the Tampa Bay Lightning.
Without question, Steven Stamkos is the best pure goal scorer in the NHL today. Much like Wayne Gretzky, Mario Lemieux and Gordie Howe changed the game for their generations, Stamkos is doing the same for the present. His goal-scoring knack will cement him as one of the best goal scorers of all time.
At just 23 years old, the Tampa Bay Lightning superstar is already in elite company. He is fourth in NHL history in goals scored by age 23 (186 goals). Only Gretzky, Lemieux and Dale Hawerchuk have more goals by that time.
His birthday was just over a week ago (February 7), and he is developing other aspects of his offensive game to be even more of a headache for defenses. With his best years in front of him, here is why Stamkos will go down as one of the best scorers in NHL history.
Begin Slideshow

»
A goal scorer is only as good as the people who set him up. Stamkos has been blessed in his young career to be surrounded by crafty veterans who understand the art of the pass.
Martin St. Louis, Vincent Lecavalier, Teddy Purcell and Ryan Malone are all veterans who provide Stamkos with scoring opportunities. A significant number of those chances come with a man advantage. Having abundant offensive weapons makes things even easier for Stamkos to find open ice.
His most common linemate, St. Louis, is arguably one of the best passers in the league today. That combination has paid dividends for Stamkos in his young career.
In 2009-10, Stamkos set the Tampa Bay Lightning record for power-play goals in a season with 24. He has four goals already this season with the man advantage. The abbreviated season will cut into his totals, but it's hard to discount the importance of power-play markers.
As is the case with most power plays, teams feast on the extra man. For a player like Stamkos, these are crucial times because they are times that don't require hard, physical work.
The more time Stamkos can put points up without taking a body in the neutral zone, the better off he is going to be in the longevity of his career.
The NHL has seen superstars past and present run into season-ending, or career-ending, injuries. Players like Eric Lindros, Sidney Crosby and Erik Karlsson are all dynamic players who have lost significant time due to injury.
Whether it is a freak play or a cheap shot, injuries are part of the game. The more physical the player is, the more opportunity there is for wear and tear on the body.
Not to play doctor but look at the career of Alex Ovechkin. He is a physical star who has slowed down significantly over the last couple seasons. Not to take anything away from his physical game but he certainly hasn't done anything to help his career longevity.
Stamkos isn't an overly physical player. He isn't one to take unnecessary hits or drop in front of unnecessary pucks. He understands his job is to put points on the scoreboard. It's because of that awareness that he has missed just three games in his young career.
If he maintains a remotely similar offensive pace, a long career could have his name near the top of the scoring record books.
Step into the mind of a goaltender and think about the players you would never want to see wide open with the puck on their stick. Players like Sidney Crosby, Evgeni Malkin, Zdeno Chara, Shea Weber, John Tavares, Pavel Datsyuk and, of course, Steven Stamkos come to mind.
Whether it is the dreaded one-timer on the power play or the nasty snap shot from the slot, Stamkos has a shot that could strike fear into any goaltender.
Proof? He is the only player to have 40 goals or more in the last three calendar years. The two-time All-Star is the best goal scorer of his time.
Last, but certainly not least, Steven Stamkos is one of the most consistent players in the game today. He doesn't miss games and rarely misses opportunities to score.
As the only player to hit the 40-goal mark in the last three seasons, he is separating himself from the rest of the league's elite scorers.
Stamkos is one of just four players to win the Maurice "Rocket" Richard Trophy multiple times. His 60-goal season last year was a mark only 20 players have ever reached.
He is also the third-youngest player to ever record a 50-goal season, behind only Wayne Gretzky and Jimmy Carson. Those numbers are even scarier when paired with consistency.
Stamkos is the youngest player to score a point in 18 straight games—surpassing Sidney Crosby in the process. Excluding this year, he averages nearly 45 goals, 38 assists and 16 power-play goals per season.
Even with the eventual slow down, Stamkos will go down as one of the best goal scorers in league history.