Penn State Football: Way Too Early Game-by-Game Schedule Predictions for 2013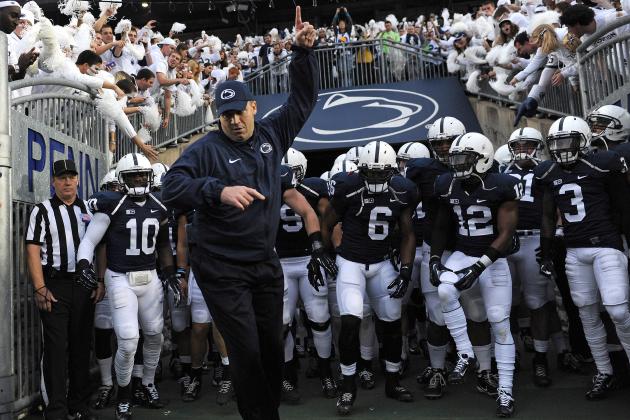 Patrick Smith/Getty Images

While it's probably incredibly too early for predictions, it's never too early for some harmless fun when looking ahead to Penn State football's 2013 season.
Coming off an 8-4 season, the Nittany Lions will look to replicate that kind of success in the face of sanctions and the loss of an invaluable senior class.
However, Penn State has a relatively weak schedule this year, making 8-4 manageable.
With that being said, let's take a quick look and breakdown Penn State's 12 games coming up in 2013.
Begin Slideshow

»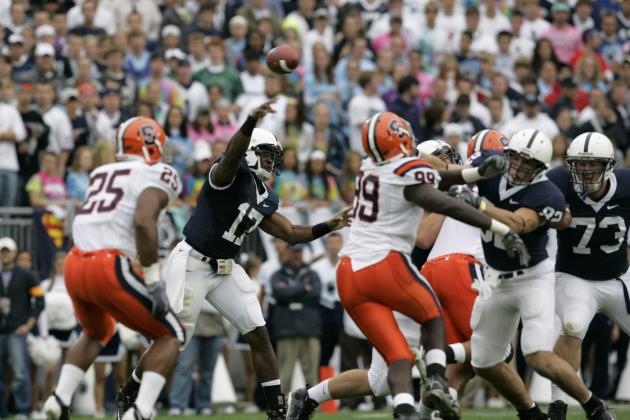 Chris Gardner/Getty Images

In the renewal of an overlooked "rivalry" game, Penn State and Syracuse should be an interesting one at the home of the New York Jets and Giants.
For the record, Penn State has had the upper hand in this series, owning a 42-23-5 slate.
For Penn State, it'll be the first game as a starter under center for one quarterback whether it's Christian Hackenberg, 2012 backup Steven Bench or JUCO transfer Tyler Ferguson.
However, the Lions have an extremely capable rushing attack, and pounding the ball early with Zach Zwinak will likely be key.
On Syracuse's side, the Orange lose a potential second-round quarterback in Ryan Nassib to the draft and graduation, meaning they too will have a new signal-caller against a traditionally stout defense.
Prediction: Penn State over Syracuse

Record: 1-0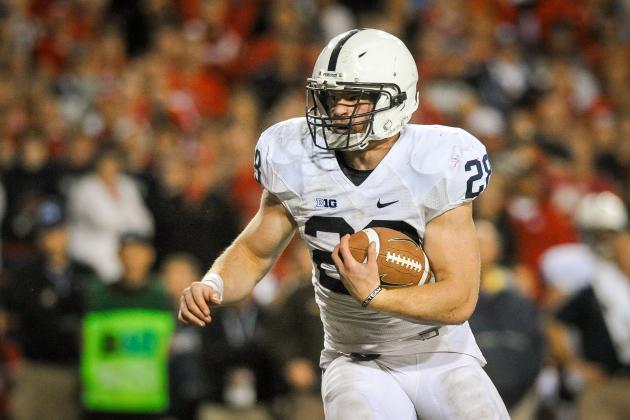 Eric Francis/Getty Images

While Penn State fortunately doesn't have any FCS schools on its 2013 slate, Eastern Michigan will likely provide the Lions with their easiest game of the year.
The Eagles, who finished 2-10 last year with just one MAC win, were one of the worst overall teams in the country in 2012.
With lone wins against Army and Western Michigan, Eastern Michigan was just pitiful, ranking 100th or worse in categories such as passing yards, scoring offense and scoring defense.
Averaging just over 20 points per game, don't expect the Eagles to produce much of any offense in the Lions' first home game of the year.
Prediction: Penn State over Eastern Michigan
Record: 2-0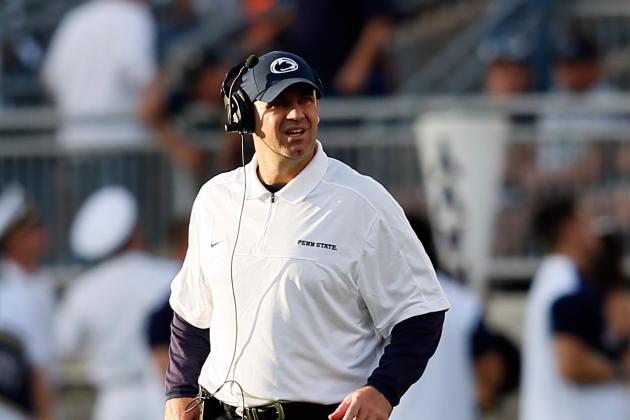 Rob Carr/Getty Images

After rumblings that Virginia may be removed from the 2013 schedule, it became official on Feb. 6 when Penn State announced it scheduled a home-and-home with Central Florida.
This short series makes sense for a couple of reasons: 1) a trip to Florida next year will be nice for a bowl-stricken team; 2) Bill O'Brien gets to square off with his mentor George O'Leary; and 3) UCF will probably provide a harder test for the Lions than a lowly Virginia team would.
For next year, Penn State needs to worry about not underestimating UCF.
Not only are they well-coached, but the Golden Knights proved last year they're not to be trifled with.
Producing more than 35 points and surrendering just over 22 points per contest, UCF likes to spread the ball around as it had four receivers with 59 or more receptions last year.
Despite competing in the less-than-stellar Conference USA, the Golden Knights finished with a 10-win season and hung with Ohio State for the majority of an early-season loss.
Also, the Golden Knights have a wideout named Storm Johnson so they have that going for them.
While I think Penn State pulls this one out, don't think it's going to be that easy.
Prediction: Penn State over UCF
Record: 3-0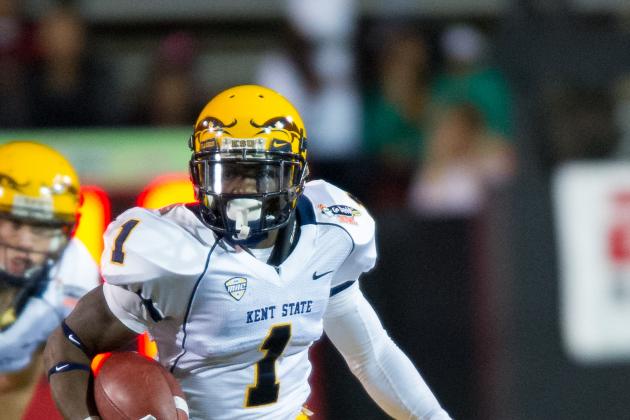 Michael Chang/Getty Images

Following a 44-37 loss to Northern Illinois in the MAC Championship Game, Kent State apparently fell just seven points short of reaching a BCS bowl game.
However, the Golden Flashes—like Northern Illinois—likely would have been overwhelmed by Florida State in the 2013 Orange Bowl.
Regardless, the Golden Flashes are coming off a year in which they reached a Top 20 and ranking surprised the college football world.
And while All-American running back and kick returner Dri Archer is returning for his senior season, the Golden Flashes will be losing the leadership of their cerebral coach Darrell Hazell as he left for the head job at Purdue.
If the Lions are able to limit Archer, expect Penn State to pull this one out.
Prediction: Penn State over Kent State
Record: 4-0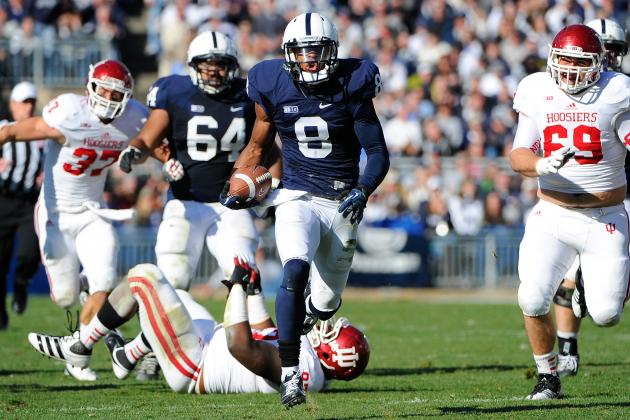 Rich Barnes-USA TODAY Sports

Fortunately for Penn State, the Lions open Big Ten play next season with potentially their easiest game on the conference schedule.
After a 23-point manhandling victory over the Hoosiers in 2012, the Lions shouldn't have too much problem winning in a poor road environment in Bloomington, Ind.
However, the Hoosiers did show spurts of productivity and gave a few teams some scares last year, including a 52-49 loss to Ohio State in Columbus.
Also, against Penn State at Beaver Stadium Indiana slung the ball around all over the field as quarterback Chase Coffman racked up 454 yards through the air.
A spread passing attack wasn't just shown in that game, but rather Indiana quietly ranked in the top 20 passing offenses last season (311.2 yards per game).
This game will be an early-season test for Penn State's secondary, but expect it to pass.
Prediction: Penn State over Indiana
Record: 5-0, 1-0 Big Ten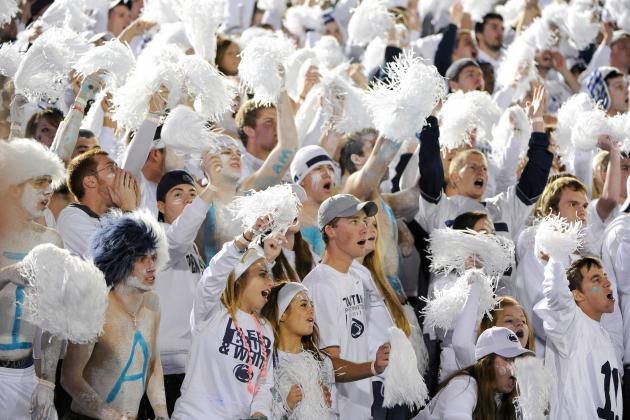 Rich Barnes-USA TODAY Sports

Expect all things to come to a head and be extremely rowdy for Penn State's first home Big Ten game of the year against Michigan.
While these two teams really aren't huge rivals, Penn State flat out doesn't the Wolverines and that would be enough to fuel a great in-game atmosphere for this one.
However, this game is also homecoming for Penn State and it's likely that the contest will also be the lone night game and "Whiteout" of the season.
Despite all this build-up, the Lions just won't have the firepower to take down Michigan.
While the record shows only an 8-5 outcome on the season, the Wolverines were a much better team than their wins and losses indicate.
In the regular season, Michigan lost to the two teams who'd eventually compete for the BCS National Championship (Alabama and Notre Dame) and were outlasted by two of the Big Ten's best (Nebraska and Ohio State).
And in its bowl game, Michigan barely lost to a defensively stout and offensively underrated South Carolina team.
Not only will a No. 5 recruiting class be able to help out this year, but the Wolverines also have a boatload of offensive talent coming back, including quarterback Devin Gardner, running back Fitzgerald Toussaint and wideout Jeremy Gallon.
Look for Penn State to keep it close early on with crowd on its side, but surrender a devastating second half.
Prediction: Michigan over Penn State
Record: 5-1, 1-1 Big Ten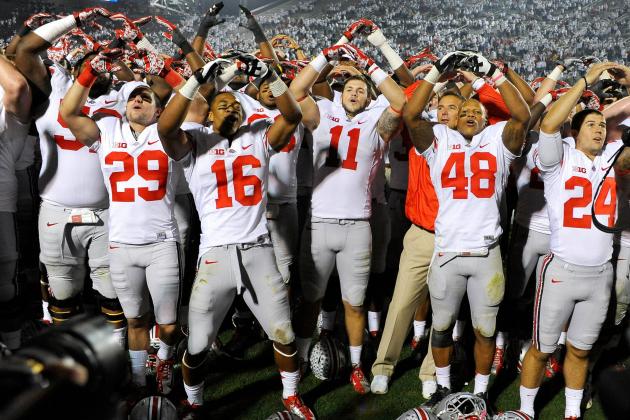 Rich Barnes-USA TODAY Sports

Facing a charged Whiteout crowd and a rolling Penn State team, the Buckeyes came into Beaver Stadium and fended off the Lions last year in a 12-point victory.
Don't expect it to be that hard on Ohio State next year when the Lions travel to Columbus.
While the Buckeyes had some scares last year against inferior opponents (Indiana and Purdue), Ohio State finished the season undefeated and would have been in the BCS National Championship conversation had it not been for a bowl ban.
However, Ohio State is free from the bowl-ban handcuffs this year and will contend for a national title.
Not only will powerful runner Carlos Hyde return next year for his senior season, but the Buckeyes will also boast a Heisman front-runner in dual-threat quarterback Braxton Miller.
Also, the Buckeyes will return young, yet experienced players on defense such as linebackers Ryan Shazier and defensive back Bradley Roby.
When looking at this team, Ohio State returns virtually all of its key players from last year's undefeated season.
My guess is the Buckeyes will have a solid chance of repeating that success in the regular season.
Prediction: Ohio State over Penn State
Record: 5-2, 1-2 Big Ten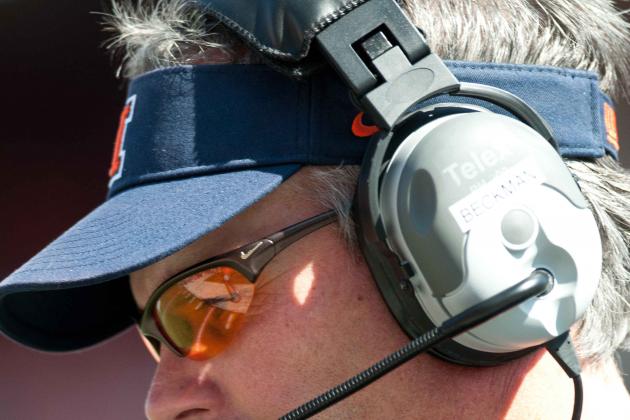 Bradley Leeb-USA TODAY Sports

After a predicted two straight losses against the Big Ten's best teams, Penn State should be able to come home and pick up a much-needed conference win against the Illini.
To call Illinois coach Tim Beckman's first year at the helm a failure would be an understatement.
Illinois won just two games last year (Western Michigan and Charleston Southern) and was whipped by 28 points or more on six different occasions.
Beckman won't get any sympathy against Penn State as Bill O'Brien, his team and the fans will remember the questionable poaching of Lions' players he tried before last season.
Expect Penn State to come out fired up, pour it on the Illini early and not let off the gas.
Prediction: Penn State over Illinois
Record: 6-2, 2-2 Big Ten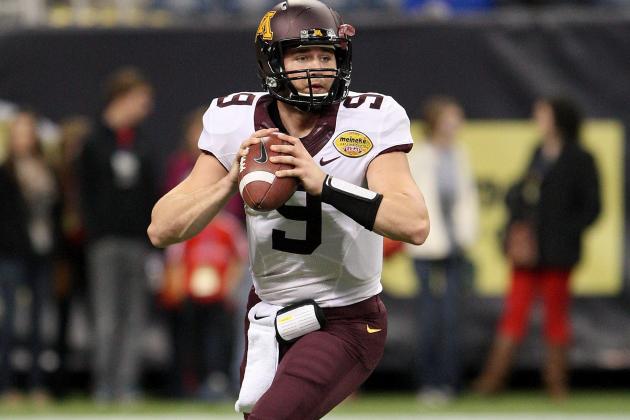 USA TODAY Sports

While Penn State will likely pull out a win against Minnesota, don't sleep on the Golden Gophers.
Coming off a season in which they reached a bowl game for the first time since 2009, Minnesota has a lot to forward to in 2013, especially quarterback Philip Nelson.
After overtaking Max Shortell for the starting role towards the middle of last season, the rising sophomore had an overlooked rookie campaign.
The young quarterback has the capability to escape the pocket and make plays with his feet, making him a dangerous player especially at home.
Don't write off Minnesota as this one will be closer than many expect.
Prediction: Penn State over Minnesota
Record: 7-2, 3-2 Big Ten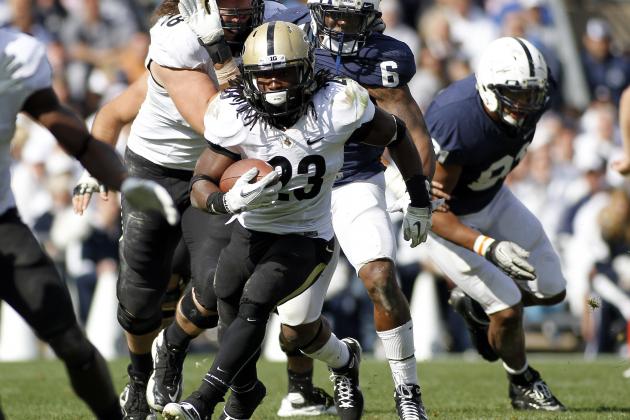 Justin K. Aller/Getty Images

While it hung with Notre Dame and beat up on lowly teams like Eastern Michigan and Marshall last year, Purdue also lost to any decent team it played in the Big Ten, and it's going to get worse in 2013.
Even though they finished the season with a bowl appearance, the Boilermakers lose seniors such as flip-flopping quarterbacks Robert Marve and Caleb TerBush and running backs Akeem Shavers and Ralph Bolden for the upcoming season.
And considering the Lions had no trouble last year in a 34-9 blowout, 2013 shouldn't be too much of a difference.
Plus, Purdue loses defensive tackle Kawann Short to the NFL draft, which takes a lot of pressure off opposing quarterbacks next year.
With that being said, whoever is quarterbacking Penn State should have time in the pocket to examine the field and pick apart the Boilermakers.
Prediction: Penn State over Purdue
Record: 8-2, 4-2 Big Ten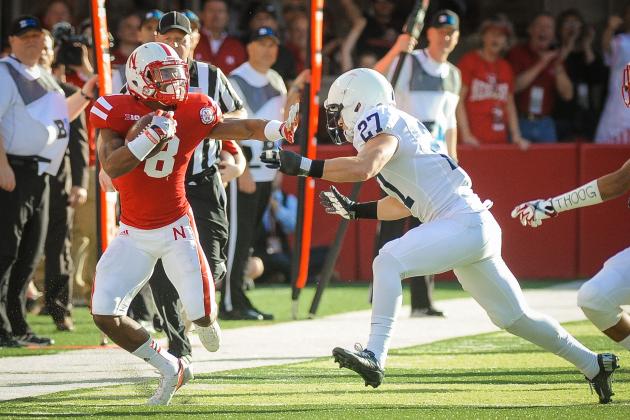 Eric Francis/Getty Images

While Nebraska loses power runner Rex Burkhead to graduation and the draft, the Cornhuskers are still looking pretty good for 2013.
Quarterback Taylor Martinez returns after another year of experience looking to contend for a Big Ten championship.
While Martinez isn't the greatest thrower in the conference, his ability to move the chains with his feet makes up for it and makes him a force to be reckoned with.
Also, Ameer Abdullah, who gashed Penn State for 116 yards last year, will be the Huskers' featured back next year.
With the holes at linebacker left by Michael Mauti and Gerald Hodges, don't be surprised if Penn State has serious troubles containing Nebraska's rushing attack.
Prediction: Nebraska over Penn State
Record: 8-3, 4-3 Big Ten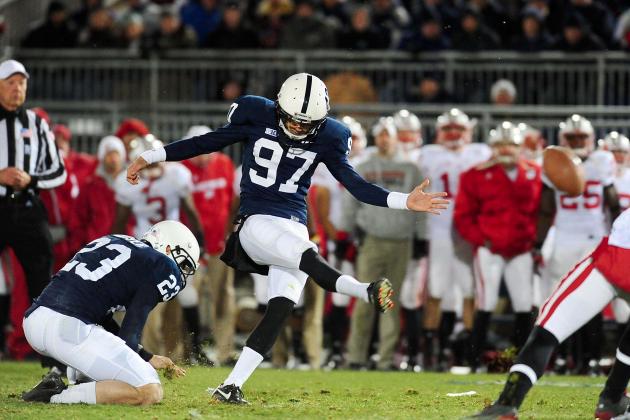 Evan Habeeb-USA TODAY Sports

Last season, Penn State and Wisconsin went into overtime and the game was decided by the foot of Lions' kicker Sam Ficken.
But, it shouldn't come down to the wire when these two teams close out their regular seasons in 2013.
With hefty quarterback problems last year following the departure of Russell Wilson, Curt Phillips stepped in and provided decent production, but primarily made his presence felt as a leader.
With him graduating, who will follow up as the Badgers' signal-caller next year?
Even though Penn State has a similar question to answer, the Lions also aren't losing their top receiver and the leading touchdown scorer in NCAA history.
The loss of Jared Abbrederis will hurt the Badgers' receiving corps, but the departure of 2012 Doak Walker Award recipient Montee Ball will be devastating.
Sure, Wisconsin has James White who can do some things, but the reason for Wisconsin's success last year without a quality quarterback was leaning on Ball.
And without those three players on the team, Penn State should have the edge in this one.
Prediction: Penn State over Wisconsin
Record: 9-3, 5-3 Big Ten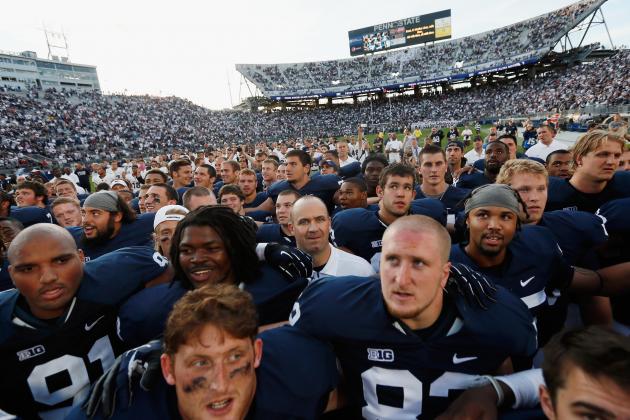 Rob Carr/Getty Images

Wait. So that means the prediction is for Penn State—plagued by sanctions and such—to win nine games next year?
When carefully reviewing their 2013 schedule, the Lions have it pretty easy.
They catch Syracuse the year after Nassib and company put together a solid year, but without their touted signal-caller, where will the offense come from?
While the nonconference slate has some tricky games against UCF and Kent State and Penn State could certainly lose these games, Beaver Stadium could be too much for these teams to deal with.
The contest at Minnesota is definitely one to watch because before the season the Golden Gophers are going to be a wild card team in the Big Ten.
And while Wisconsin competed in the Rose Bowl last year, it'll without a doubt incur a down year.
With exception to Ohio State, Michigan and Nebraska, the Lions have a pretty favorable schedule in 2013.
While 7-5 is an obvious possibility, where Penn State stands right now 9-3 is not out of the picture at all.
Think about it: If Ficken makes one out of four field goals missed at Virginia, the Lions are suddenly 9-3.
Sure, a better feel for the season will be attained toward the end of spring practice.
But don't think a record like 9-3 is out of the question because the Lions' 2013 schedule lends itself to such an outcome.