Will the Atlanta Falcons Become a Team of Destiny If Tony Gonzalez Returns?
Use your ← → (arrow) keys to browse more stories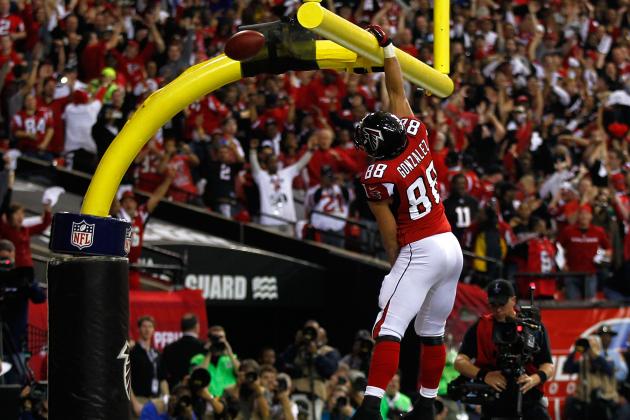 Mike Ehrmann/Getty Images

The Atlanta Falcons were 10 yards away from making their second Super Bowl appearance in team history in 2012, and the first for Tony Gonzalez. For a team with a quarterback as historically clutch (despite ignorant criticism) as Matt Ryan, those 10 yards seemed like nothing of a chore.
Ryan's 4th-and-5 pass intended for Roddy White fell to the Georgia Dome turf, save mention of an apparent pass interference, and the Falcons storybook season came to a heartbreaking conclusion.
Curiously, the story of the 2012 Atlanta Falcons was never much of one. Literally. Literature on the Falcons, despite an 8-0 start and 13-3 regular season, was hard to come by outside the confines of I-285.
The national media never seemed reserved about displaying a hyper-focused obsession with the sideshow that was the New York Jets, as well as the sexy Seattle Seahawks. Once the playoffs rolled around, the announcement of Ray Lewis' impending retirement set the stage for quite a polarizing and endearing tale.
Baltimore did its part by winning the Super Bowl, in dramatic fashion, over Colin Kaepernick and the San Francisco 49ers (side note: Is it just me, or has nearly every Super Bowl since 2001 been an epic?).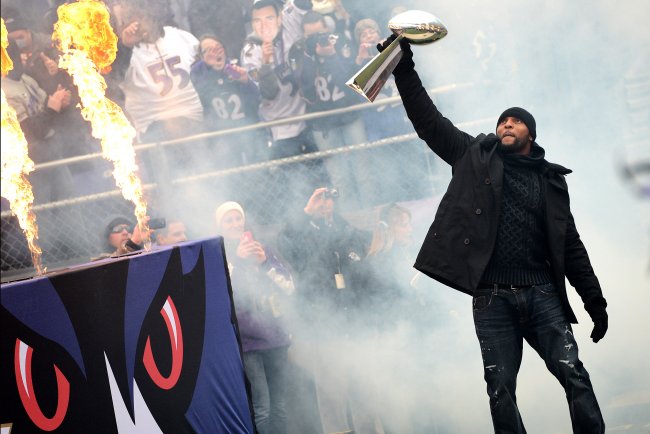 Patrick Smith/Getty Images
The Baltimore Ravens had quite the genetics for a Cinderella team. Lewis, an NFL legend by many accounts (no pun intended) was in a do-or-die situation with a team that seemed nothing more than average during the regular season. Propping the average persona of the team was their average-Joe quarterback, Joe Flacco himself, who evolved into a machine in the playoffs.
The Ravens finished 10-6 last season, but they were a team of destiny, and they fulfilled a prophecy.
Next up: Atlanta.
Yes, the Atlanta Falcons will look quite similar to the purple and gold clad birds from the north in 2013. That is, if the greatest tight end in NFL history has a change of heart for the ages.
Earlier this year, Tony Gonzalez said he was 95 percent sure he was retiring at the end of the season. Gonzalez has always been great, but he had never been with a great team. Therefore, seeing Gonzalez walk off the field empty-handed appeared nothing of an abnormality, and the media didn't have much of an angle on the matter.
Falcons general manager Thomas Dimitroff isn't so convinced that the 95-percent statement is concrete. In fact, he believes the Falcons tight end is on the fence about returning for one more year.
If Gonzalez does return, it will be his last season. It will also appear as an ultimatum: Super Bowl or bust. Heck, under that circumstance it wouldn't be far fetched to see "Super Bowl" transcribed somewhere in the inevitable one-year contract Gonzalez would have to sign to suit up one more time.
Mr. Gonzalez, meet Mr. Lewis; he'll teach you how to stay in character.
Mr. Ryan, I'm sure you know who Mr. Flacco is.
Ryan and Flacco are joined at the hip and will be until their careers are over. Ryan (Boston College) and Flacco (Delaware) were not the sexiest quarterback prospects to ever hit the NFL draft boards, but both took over struggling teams in 2008 and turned them into perennial powers.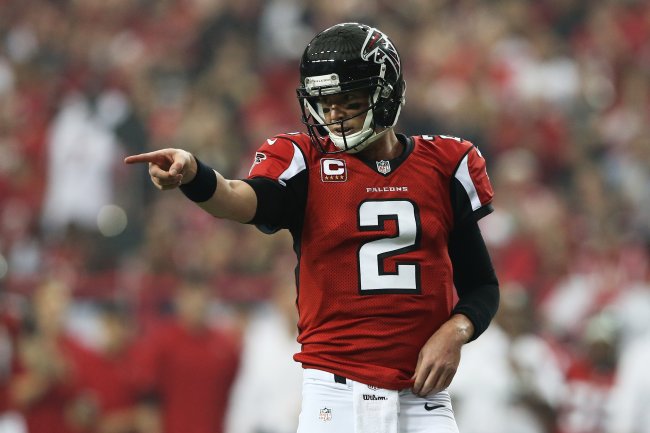 Streeter Lecka/Getty Images
Both quarterbacks have flirted with the arbitrary "elite" status that the NFL media has drowned itself in, and now that Flacco has a ring, Ryan is under quite a hot spotlight.
The Falcons won 13 games in 2012 in what a lot of pundits assured was luck. Some said the team constantly underachieved, despite wins. Some were convinced the team wasn't great at all, but had quite the anchor at quarterback.
Nearly all media shifted its approach in the postseason to reintroduce the seemingly mandatory rhetoric, claiming the Falcons had to prove themselves in the playoffs.
This year Atlanta will face a much tougher schedule, and in the NFL the law of averages has more leverage than in college from a win standpoint. In other words, most teams that finish 13-3 did have a little bit of luck, and even the very good teams will finish 10-6 or 11-5.
See the past Super Bowl winners in the last five years.
2013 will not be about the Falcons winning a single playoff game, nor will it be about earning trust from the talking heads.
If Tony Gonzalez does return, the talking heads might just repaint the purple-and-gold bird red and black.
Heck, the Ravens lost in the AFC Championship last year. So did the 49ers in their respective conference title game.
If trends mean anything, the Falcons and New England Patriots are on deck. The Falcons won't win 13 games in 2013, but they very likely will be a better team.
Dimitroff has earned the trust from fans when it comes to offseason decisions and position upgrades. Atlanta should be better in the backfield and on both the offensive and defensive lines in the fall.
And, as long as Ryan is taking snaps from under the center, the Atlanta Falcons will be a Super Bowl contender. No, they have not made it to the pinnacle yet, but anyone who disputes that claim has not paid enough attention to this team and therefore doesn't have a place in commenting on the matter.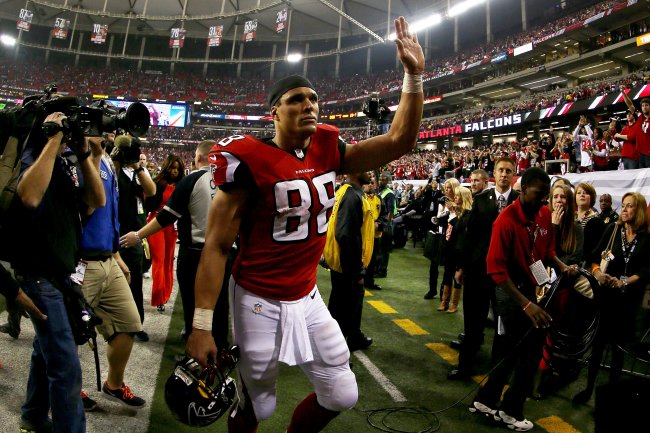 Mike Ehrmann/Getty Images
A return from Gonzalez could mean something unprecedented, and that is a situation where all eyes in the national media have at least their peripherals on the Atlanta Falcons. It will be the year where Gonzalez is in the do-or-die situation, and Ryan would have to prove he has staying power atop the NFL's best if Gonzalez would get what he bargained for.
If Tony Gonzalez returns, an Atlanta Falcons team that fails to make the big game will be considered a failure.
Get ready folks: 2013 could be quite a blockbuster year.
Mike Foster is an Atlanta Falcons Featured Columnist and syndicated writer for B/R. He went through the B/R writing internship in 2011 before joining the gameday coverage team and becoming an FC. He also served as sports editor for The Sentinel newspaper at Kennesaw State University for a year and a half, co-hosted a sports talk show at KSU Owl Radio and has covered high school football and recruiting for the Marietta Daily Journal, Cherokee Tribune and Tuscaloosa News.
Follow Mike on twitter for Falcons news and analysis!