Michigan State Basketball: 5 Keys to Beating Indiana in Big Ten Showdown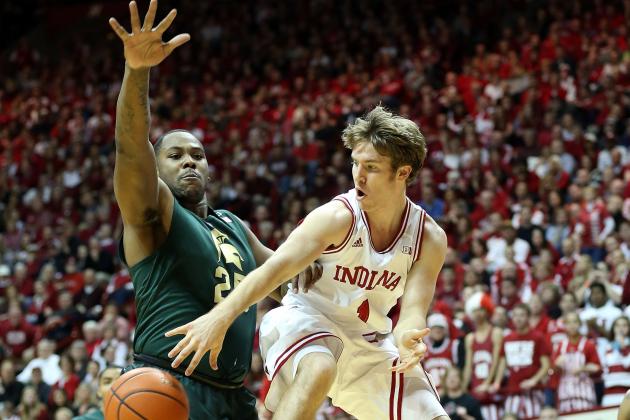 Andy Lyons/Getty Images
Derrick Nix (left) believes his Spartans are overlooked.
Derrick Nix believes his team isn't getting the respect it deserves.
The Michigan State Spartans senior center also feels that he's been discounted by the media at large. Nix said after a recent practice (via MLive.com):
"I just watch a lot of basketball, and a lot of guys get credit that…I think there are a lot of overrated players out there. Like me and (Adreian) Payne, I feel like there are a lot of underrated players. I just feel that way. I don't know if it's us as players, I don't know if it's Michigan State, I just don't know what it is. I just feel like none of us get credit.''
After downing Michigan and Nebraska this past week, it's all but certain that the Spartans (22-4, 11-2) will occupy a spot in the Associated Press top five. Whether or not Michigan State is overlooked is a moot point. Nix, along with his teammates, will essentially have to put up or shut up Tuesday when the Indiana Hoosiers (23-3, 11-2) visit the Breslin Center.
The pivotal duel will give Big Ten followers a clear-cut view of which team is indeed the conference's gold standard.
Indiana defeated the Spartans, 75-70, in January at Assembly Hall in Bloomington. Now it's the Spartans' turn to hold serve on their home floor.
There are several areas in which the Spartans must focus on before hitting the court with the Hoosiers. We'll outline the five most crucial aspects of Tuesday's 1A versus 1B slugfest in this slideshow.
Begin Slideshow

»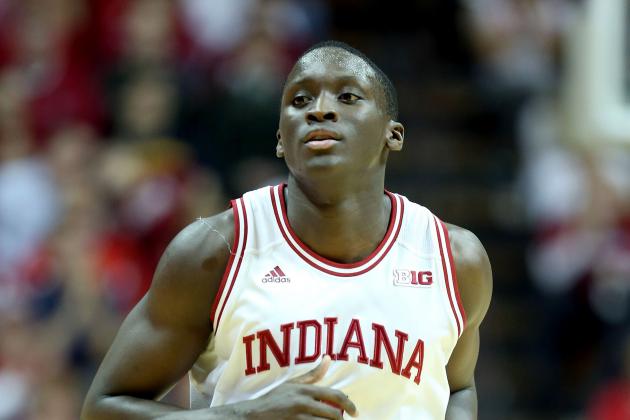 Andy Lyons/Getty Images
Victor Oladipo's status is "day-to-day," but Michigan State has to assume he'll play Tuesday or risk being disappointed at the Breslin Center.
Victor Oladipo is one of the top three college basketball players in the country.
He can dictate the tempo of a game at will.
The Hoosiers' superstar scored 21 points, pulled down seven rebounds, came away with six steals and blocked three shots Jan. 27 during a 75-70 victory over Michigan State.
Saying that he's the player for Michigan State to fear is an understatement.
However, Oladipo may not see action Tuesday in East Lansing due to an ankle sprain; his status is "day-to-day" according to a report published by The Sporting News.
The Spartans have to prepare as if Oladipo is at 100 percent. There's no such thing as being over-prepared. Oladipo averages 13.8 points per game, but his propensity for showing up when it matters most makes him a significant threat to Tom Izzo's Spartans.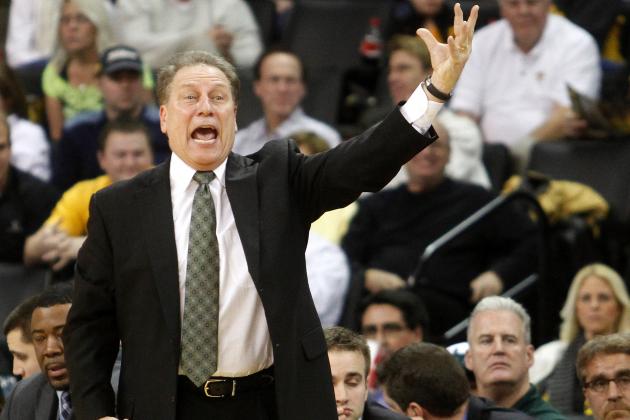 Matthew Holst/Getty Images
Michigan State's Tom Izzo is a master of preparation.
Michigan State's 75-52 beatdown of Michigan this past Tuesday was one to remember for Tom Izzo.
However, the Spartans weren't exactly sharp Saturday during their 73-64 win over Nebraska.
Was it a Michigan hangover? Were the Spartans still caught in the moment?
Michigan State can't let its thrashing of the Wolverines dictate the rest of the season, let alone Tuesday's showdown with Indiana.
Forgetting the annihilation of their in-state foes is for the best. The Spartans know they're good, but they'll face an Indiana team Tuesday that's just as good, if not better, than they are.
For all intents and purposes, the Spartans should look at their matchup with the Hoosiers as a battle of 0-0 clubs. Victory for either team would afford an incredible boost in the race for the Big Ten regular-season championship.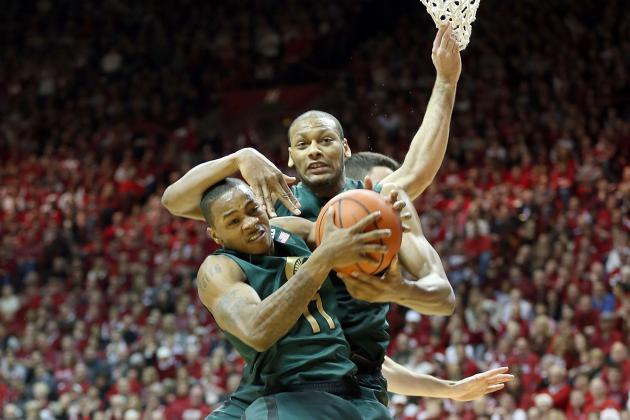 Andy Lyons/Getty Images
The Spartans must glue their hands to the ball Tuesday. Indiana leaves little room for error.
After a stretch of averaging under 10 turnovers per game, the Spartans returned to dangerous territory Saturday against Nebraska by giving up the ball 13 times.
Luckily for Michigan State, the Huskers had a difficult time turning the freebies into points. That won't be the case against Indiana, which thrives on opponents' mistakes.
The Spartans turned over the ball 18 times in their 75-70 loss to Indiana. Had they taken care of the ball, a five-point loss could have been avoided.
Basketball is a game of possessions and efficiency. Simply put, Michigan State won't knock off the Hoosiers if it doesn't value the ball.
The Spartans can inch past a lesser team with careless play, but the Hoosiers aren't a lesser adversary.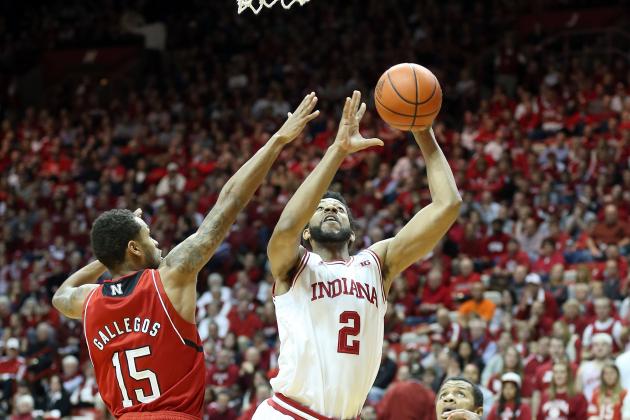 Andy Lyons/Getty Images
Christian Watford can handle business when asked to do so.
Victor Oladipo heads the Hoosiers offense, but he's not the only player that Michigan State has to worry about Tuesday.
Cody Zeller, Indiana's dominant 7'0", 240-pound presence in the paint, has scored at least 16 points in five of his past six outings. He's difficult to contain, but the Spartans held him to nine points on 2-of-7 shooting Jan. 27.
A similar effort will be needed to edge the Hoosiers, but it won't guarantee a win for the Spartans, who have to contend with Christian Watford, Jordan Hulls and Kevin Ferrell.
Watford is one of the better athletes in the Big Ten, and his length, ability to aggressively drive to the rim and range command respect. If Oladipo doesn't play and Zeller has an off game, Watford will likely be Indiana's go-to man.
Hulls can hit three-pointers from the parking lot. His shots, oftentimes, energize the Hoosiers and lead to a rally. However, Hulls' tactical shooting isn't just present during comeback attempts; he can quickly pad an advantage with just a couple of flicks of his wrist.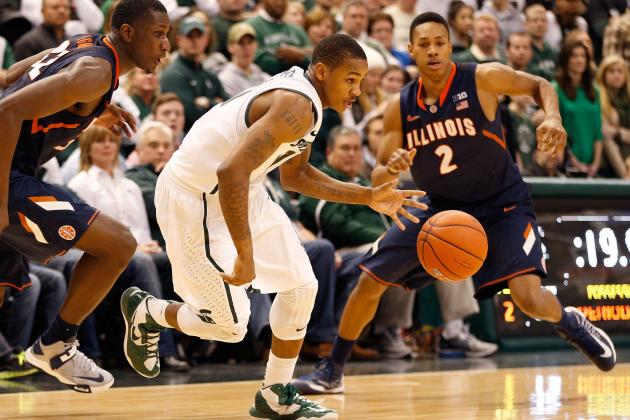 Gregory Shamus/Getty Images
Keith Appling's offense and defense are vital to the Spartans.
Keith Appling scored three points in his previous meeting with Indiana.
And he fouled out late in the second half.
Needless to say, the lack of Appling crushed Michigan State's chances of winning.
Appling has been playing some of the best ball of his career as of late. The red-hot junior has put up double-digit point totals in eight of his past nine showings.
He's obviously a problem waiting to happen for Indiana, and he's coming off an impressive 90-percent shooting night against Nebraska.
Just like his team, Appling is reaching a high point of the season. If he continues producing, the Spartans will continue winning.
He has to avoid fouls, shoot the ball effectively and play up to his high level of defense.
It's just that simple.
Follow Bleacher Report's Michigan State Spartans basketball writer Adam Biggers on Twitter @AdamBiggers81