Alabama Football: Way Too Early Game-by-Game Schedule Predictions for 2013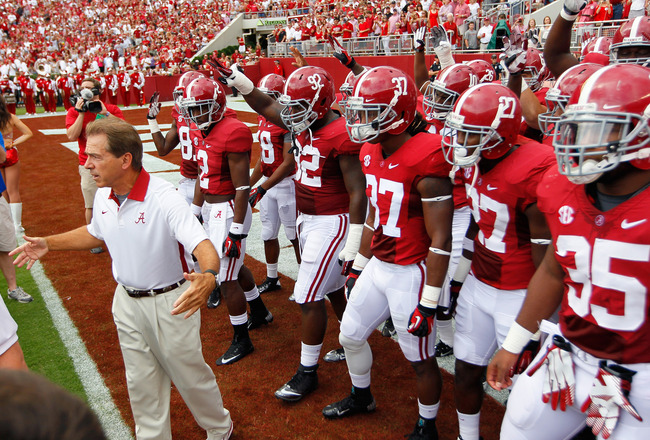 Can Nick Saban and the Crimson Tide, who have a manageable schedule this fall, run the table and capture a third consecutive national title in 2013?
Kevin C. Cox/Getty Images
After claiming three national championships in the last four years—including the last two BCS crystal footballs—Alabama is primed for a run at a three-peat this fall.
The 2013 season is still a little more than six months away, but odds are when the first polls come out, a familiar powerhouse will open up with top billing (h/t, Mark Schlabach, ESPN).
Nick Saban's club is loaded for a journey into the history books with a veteran quarterback (senior AJ McCarron), a pair of the nation's top skill players (running back T.J. Yeldon and receiver Amari Cooper) and seven starters off a defense that finished atop the national standings in several categories last season.
With a schedule that features two marquee games to begin the season, the rest of the slate for the Tide appears favorable—especially in conference play.
The Sept. 14 showdown at Texas A&M—the only team to defeat the Tide last season, and the presumed top challenger in the SEC West this season—will be a game that has SEC and national title ramifications.
Otherwise, the Tide gets Ole Miss and LSU at home with road trips at Mississippi State and Auburn (in addition to the date with the Aggies) serving as their toughest contests away from home.
Bye weeks come before arguably the Tide's two toughest contests in the weeks prior to facing the Aggies and LSU at home on Nov. 9.
How will the 2013 schedule unfold, and will the Tide roll to its first unbeaten regular season since 2009?
I'll take a peek ahead by making some way too early picks of every game on the Tide's 2013 schedule.
Aug. 31: Vs. Virginia Tech (Chik-fil-A Kickoff Classic, Atlanta)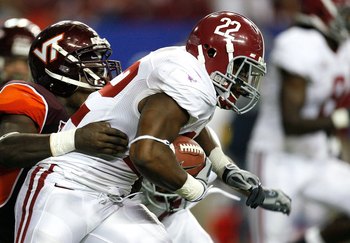 Kevin C. Cox/Getty Images
These two teams squared off in the Georgia Dome back in 2009—with the Tide earning a 34-24 win over the Hokies, which served as a springboard to a 14-0 season and resulted in Saban's first BCS title with the Tide.
On paper, this is a mismatch considering that the Hokies limped to a 7-6 season a year ago—their worst season since 2003.
However, Frank Beamer's club returns 14 starters—including eight on a defense that finished 18th nationally in total defense.
This game should serve as a good test for the rebuilt offensive line because the Hokies return all four starters on the defensive line—with defensive end James Gayle and tackle Derrick Hopkins leading the charge for a veteran group in the trenches.
The Hokies will be motivated to prove to the country that 2012 was an aberration, and while they will put up a fight, the Tide are the wrong team to try and make a statement against in a season opener.
Saban has won the first game in each of his six seasons by an average of 31 points. The Hokies may hang around for a half, but in the end, Alabama pulls away and cruises to victory.
Alabama 35, Virginia Tech 17
Sept. 14: At Texas A&M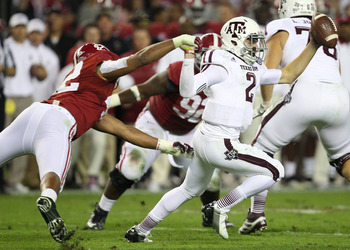 Mike Zarrilli/Getty Images
Round 2 between Kevin Sumlin and Saban is a game that will surely be one of the most anticipated matchups heading into the 2013 season.
Considering that this game will be the biggest home game for the Aggies in recent memory, College Station will likely produce one of the most electric atmospheres this fall on Sept. 14.
Johnny Manziel launched into superstardom after his dazzling performance against the Tide last November. While the Aggies bring back a lot of talent, Sumlin and his staff have some notable holes to fill in the trenches on both sides of the ball after losing the likes of first-round talents Luke Joeckel and Damontre Moore.
How Alabama adjusts to A&M's up-tempo offense will be one of the more intriguing subplots to this meeting.
With Saban having an entire offseason plus a bye week before making the long trek to the Lone Star State, expect the Tide to be fully prepared for the challenges of slowing down the Aggies' high-octane attack.
Perhaps more importantly, assuming the Tide's offense—which uncharacteristically turned it over three times in last season's loss—takes care of the ball, it should be able to exploit an Aggies defense that loses five of its top six tacklers from last season.
Alabama 34, Texas A&M 24
Sept. 21: Colorado State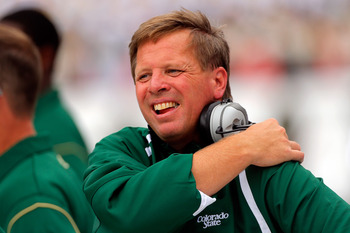 Doug Pensinger/Getty Images
Jim McElwain, the Tide's offensive coordinator from 2008-11, makes his return to Tuscaloosa as the head coach of the Rams—who went 4-8 last year in his debut season.
His club returns 17 starters, including all five starters on the offensive line and its team leaders in nearly every statistical category on both sides of the ball.
However, the Rams simply do not have the firepower to compete with the two-time defending national champs.
Against the three ranked opponents they faced a year ago, the Rams gave up an average of nearly 38 points per game and lost those contests by an average margin of 20 points per game.
While the Tide will be coming off two games against high-level competition, the home opener should prove to another nonconference beatdown.
Alabama 48, Colorado State 10
Sept. 28: Ole Miss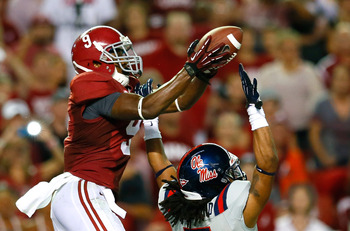 Kevin C. Cox/Getty Images
While the Rebels offense garnered some headlines after a hard-fought 33-14 loss to the Tide last September, their defense quietly held Alabama's offense to a season-low 305 yards of total offense (h/t, Andrew Gribble, AL.com).
In a rare scheduling quirk, Ole Miss will make the trek to Tuscaloosa for the second straight year.
However, this could be the best Rebels squad since Eli Manning was under center in Oxford.
Hugh Freeze brings back 20 starters from last season's club that won four of its last seven games—with all three losses coming by six points or less to ranked SEC clubs.
With a celebrated recruiting class on the way to reinforce the depth chart, this game could be closer than most experts think entering the season.
But the Tide will have the benefit of having faced Texas A&M prior to this meeting—which gives Saban and the defense a chance to make the necessary adjustments against a similar style offense in Ole Miss.
Additionally, the Tide offense should find its stride and put together a more complete performance against the Rebels this season.
Alabama 38, Ole Miss 21
Oct. 5: Georgia State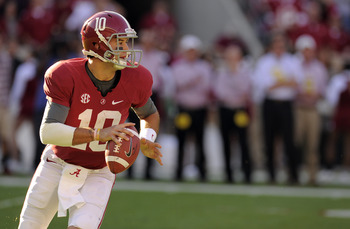 John David Mercer-USA TODAY Sports
The Tide and the Panthers met once before in 2010, which resulted in a 63-7 Alabama victory.
That season was the school's inaugural season playing football, but it has regressed since then winning just four games in the last two seasons—including a dismal 1-10 record in which nine of the losses were by more than 20 points a year ago—under former Tide head coach Bill Curry.
Trent Miles will take over as head coach this season, but the Panthers are likely in for another long season.
Expect this one to get ugly in a hurry.
Alabama 70, Georgia State 0
Oct. 12: At Kentucky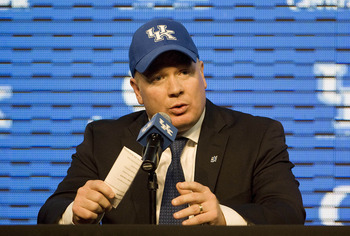 Mark Zerof-USA TODAY Sports
After a month-long homestand, Alabama hits the road for a trip to Lexington to take on the Wildcats.
Kentucky finished 2-10 last season, joining Auburn as the only other team to go winless in SEC play last season.
While Big Blue has received a jolt of energy under new head coach Mark Stoops, the Wildcats are still a long way from competing with the powerhouses in the SEC.
In short, the Tide should cruise to another conference victory.
Alabama 48, Kentucky 6
Oct. 19: Arkansas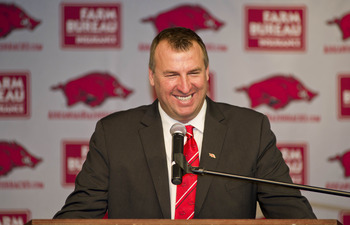 Beth Hall-USA TODAY Sports
Last season's 52-0 beatdown in Fayetteville officially sent the Hogs into a tailspin that resulted in a disastrous 4-8 season.
Former Wisconsin coach Bret Bielema—who led the Badgers to three consecutive Rose Bowl berths—arrives to try and restore a program that went 21-5 the previous two seasons.
While there is some talent leftover from the Bobby Petrino era, the acclimation period from the changeover between two different coaching staffs will likely see the Hogs encounter some growing pains this season.
However, it will be interesting to see how Bielema's style matches up to the elite in the SEC.
Here's to guessing that his first try against Nick Saban will send him back to the drawing board in search of answers.
Alabama 45, Arkansas 13
Oct. 26: Tennessee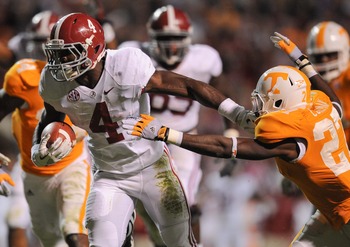 Randy Sartin-USA TODAY Sports
For the fourth consecutive week, the Tide will be facing either a rookie head coach or a coach in the first year at his current school.
Butch Jones fits the latter part of that statement, and the former Cincinnati coach will get his first taste of one of the oldest rivalries in the SEC.
The Tide have owned this series recently, winning the last six meetings—which coincided with Saban's arrival in Tuscaloosa.
Similar to what Bielema will go through in year one at Arkansas, Jones is sure to encounter a similar transition period in Knoxville.
The Tide has won each of the last three meetings by 31 points, and since Alabama has made a habit recently of extending streaks, look for the Tide to make it four in a row by that margin.
Alabama 45, Tennessee 14
Nov. 9: LSU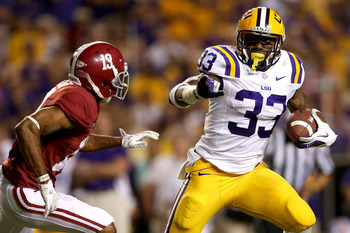 Matthew Stockman/Getty Images
The rivalry with LSU has turned into one of the hyped annual clashes in recent memory.
Last season's 21-17 comeback victory in Death Valley will go down as one of AJ McCarron's signature moments in his legendary Tide career.
While Les Miles will have to replace a host of defenders that left Baton Rouge for the NFL, the Tigers are still a dangerous club with enough weapons to be a contender in the SEC West.
Also, taking into account that the road team has enjoyed its share of success in this series (LSU has won five of the last six meetings in Tuscaloosa), the Tide cannot afford to expect anything less than a war against the Tigers.
The fact that Saban's club will get a bye before this game gives the Tide a chance to refocus on what should be another slugfest between these two SEC titans.
Alabama 24, LSU 20
Nov. 16: At Mississippi State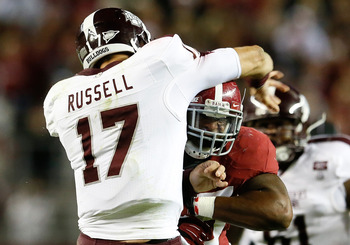 Kevin C. Cox/Getty Images
The Tide fell victim to Texas A&M last season exactly one week after their heart-stopping victory at LSU.
This year, a trip to Starkville awaits the Tide following their tilt against the Tigers.
Dan Mullen's club brought a 7-0 record into last season's meeting until the Tide's 38-7 romp sent the Bulldogs into season-ending slide that saw them lose five of their last six games to finish 8-5.
While the Bulldogs still have some talent and have played much tougher at home under Mullen, the Tide's focus at this point in the season should be razor sharp with conference and national championship implications likely in play.
Alabama 38, Mississippi State 14
Nov. 23: Chattanooga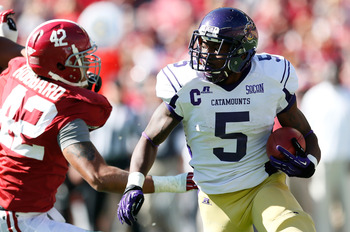 Kevin C. Cox/Getty Images
The Mocs occupy the traditional nonconference warmup spot in the week prior to the Iron Bowl.
Last season, Alabama played fellow FCS school and Southern Conference member Western Carolina at this stage of the schedule.
Alabama won that game by a score of 49-0, and like that contest, expect this one to be over shortly after warm-ups.
Alabama 59, Chattanooga 0
Nov. 30: At Auburn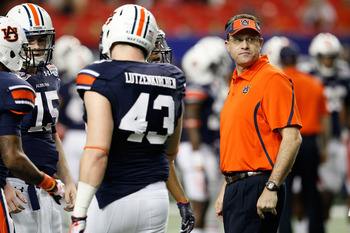 Kevin C. Cox/Getty Images
Alabama has won four of the last five meetings in this series, but the Tigers will look to gain some momentum under new head coach Gus Malzahn.
Malzahn found mixed results against the Tide in his stint as the Tigers offensive coordinator from 2009-11.
However, Alabama has won the last two meetings comfortably. And while there is still a healthy amount of talent on the Plains, and even some semblance of familiarity with his offensive principles, asking the Tigers to defeat their arch rivals in Malzahn's first season seems a bit unrealistic.
The Tigers should be much improved by the last game of the regular season, but that does not mean they are ready to topple their in-state brethren.
With an SEC West title potentially up for grabs with a victory, expect the Tide to inflict more pain on the Tigers by winning its third straight in the series.
Alabama 41, Auburn 17
Dec. 7: SEC Championship Game (Georgia Dome, Atlanta)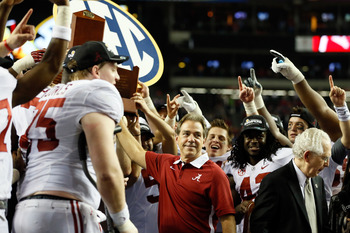 Kevin C. Cox/Getty Images
If my calculations are correct, the Tide will be unbeaten and playing in its second consecutive SEC title game.
The East doesn't have a clear favorite, but the three preseason favorites are likely to be Georgia (who has won the division two years in a row), Florida and South Carolina.
Each team recorded at least 11 wins last season, but each squad has to replace some key personnel this season.
I'm going to give the nod to Will Muschamp's Gators, and if they are indeed the East's representative, it could set up the eighth meeting between the two squads since the championship game format came into play in 1992.
The Gators have the athletes to matchup with Alabama, and Muschamp is a Saban disciple that is familiar with his tendencies and his schemes.
However, even though the Gators handed Saban the only loss of his career when a postseason title is on the line (the 2008 SEC title game), Alabama has a little more firepower on both sides of the ball.
In the end, Alabama prevails with a hard-fought victory over the Gators and heads off to play for its third consecutive BCS title game.
Alabama 34, Florida 23
Jan. 6, 2014: BCS National Championship Game (Rose Bowl, Pasadena, Calif.)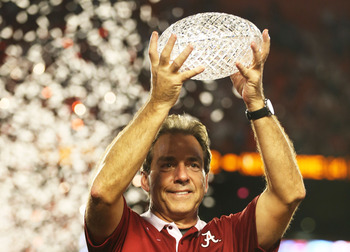 Streeter Lecka/Getty Images
Alabama's current dynasty began with its 2009 BCS title win over Texas in Pasadena, and the Tide can strengthen their grip on the college football universe with its third straight title four years later.
With several contenders across the country desperate to halt the SEC's national title streak at seven, challengers could emerge from any one of the other five BCS leagues.
However, only one team finished with an unblemished record in 2012, but it was ineligible for postseason play.
Urban Meyer's Ohio State Buckeyes raced to a 12-0 campaign in his debut season, and with their postseason sanctions now a thing of the past, the Big Ten titans are anxious to play for a shot at the sport's ultimate prize.
Ohio State returns 13 starters—including stud dual-threat quarterback Braxton Miller, who should continue to thrive as he develops in Meyer's spread offense.
The potential Meyer vs. Saban matchup would be a juicy subplot if two of the country's most storied programs were to meet in the title game.
And while the Buckeyes would make for an intriguing matchup, the Tide still appears to be on another level when the stakes are raised.
Expect the Tide's journey to come full circle from 2009, and for this season to end like the last time Alabama played a game in California—with Alabama celebrating another perfect 14-0 season and the program's fourth national title in the last five seasons.
Alabama 38, Ohio State 20
Keep Reading

Alabama Crimson Tide Football: Like this team?