New York Yankees: Early Projections for the Bombers' Final 25-Man Roster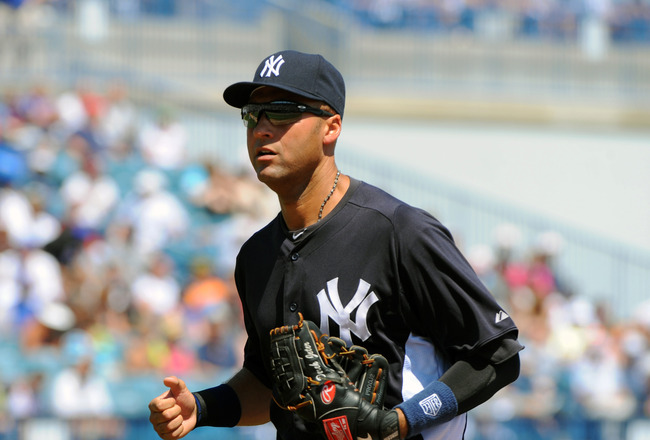 Al Messerschmidt/Getty Images
The wait to get spring training going finally ended this past Tuesday.
The Yankees reported to Tampa, Florida on Tuesday for their preparation for the upcoming 2013 season.
One year ago, the Yankees won the American League East, knocked off the Baltimore Orioles in the American League Division Series but then were swept by the Detroit Tigers in the American League Championship Series.
The Bombers will look to get back to October for the fifth straight time, but they will have some new faces that will be donning the pinstripes.
They will also have a lot of players on minor-league deals with hopes of making the team and calling themselves a Yankee in 2013.
Lets take a look at who should be expected to make the final 25-man roster for the Yankees by the time April comes around.
Infield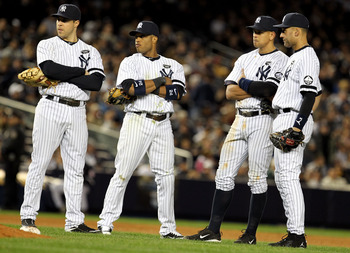 Al Bello/Getty Images
First base: Mark Teixeira
Second Base: Robinson Cano
Shortstop: Derek Jeter
Third Base: Kevin Youkilis
Since 2009, the Yankees infield has consisted of the first three plus Alex Rodriguez, but when Opening Day comes, the former Boston Red Sox infielder will be manning third base.
The reason for the team to get a new third basemen was due to the fact that A-Rod is recovering from hip surgery and needs six months to recover.
Youkilis is looking for a bounce-back season and potentially another contract, so he really wants to impress with his new team.
Outfield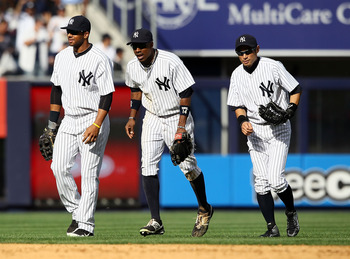 Alex Trautwig/Getty Images
Left field: Brett Gardner
Center field: Curtis Granderson
Right field: Ichiro Suzuki
This shouldn't change by the time April rolls around, as long as there aren't any injuries.
Gardner returns after being out for most of the 2012 season, which is the reason why the Yankees made the trade with the Mariners this past July to get Ichiro.
Ichiro takes the spot of Nick Swisher, who signed a four-year deal with the Cleveland Indians just before Christmas.
They lost Swisher's power, but gain Ichiro's speed and defense in the lineup.
Catcher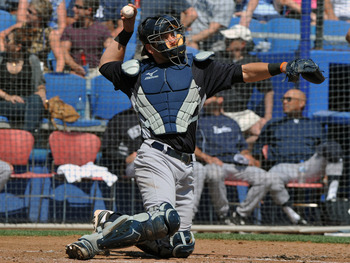 Al Messerschmidt/Getty Images
Catcher: Francisco Cervelli
For now, I am going to put Cervelli into the starting lineup.
However, that can change between now and April, as Cervelli is not really seen as an everyday-type catcher who can go 130-140 games and hit consistently enough to be in the lineup.
In fact, none of the current catchers on the Yankees really fit that description.
Yet, the Yankees will have an "open competition" for the spot vacated by Russell Martin this winter.
Designated Hitter
Nick Laham/Getty Images
Designated hitter: Travis Hafner
It was kind of shocking to see the Yankees part ways with Raul Ibanez after the tremendous postseason he had.
Yet, the Bombers let Ibanez walk right back into the arms of the Seattle Mariners, which meant the team needed a new DH.
Last month, the team brought in long-time Cleveland Indians slugger Travis Hafner on a one-year deal to be the everyday DH and take the spot vacated by Ibanez.
Now, if, and it's a very big if, Alex Rodriguez returns, he could see at-bats at DH against left-handed pitching, but for now, A-Rod isn't in the Yankees fold.
Hafner is looking to get his career going again in the Bronx, and since Yankee Stadium is very friendly to lefty hitters, he could see his power numbers get a boost while with the Yankees.
Bench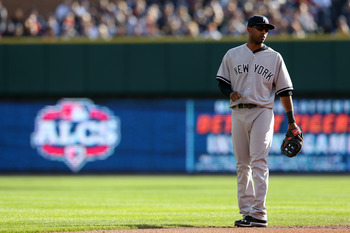 Leon Halip/Getty Images
Bench: Eduardo Nunez
Bench: Chris Stewart
Bench: Matt Diaz
Nunez will likely get the backup infielder's spot, as he can play second, short and third.
Stewart, for now, is the backup catcher, and it'll be interesting to see what the team decides to do with the catching situation between now and April, and if Stewart is still the backup at that time.
I'm penciling in Diaz as the fourth outfielder, but he'll have to beat out Juan Rivera in spring training. I think Diaz is a slightly better defender than Rivera is and right now, is a better bat against left-handers than Rivera, which might make him the front-runner right now for a roster spot.
Starting Rotation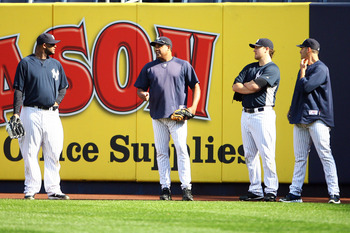 Andrew Burton/Getty Images
No. 1: CC Sabathia
No. 2: Hiroki Kuroda
No. 3: Andy Pettitte
No. 4: Phil Hughes
No. 5: Ivan Nova
The rotation will be a huge key to the Yankees' success in 2013, as it was in 2012.
When healthy, this rotation has the potential to be one of the very best in the American League and maybe even in baseball.
The Yankees threw these first four starters at teams in the playoffs and they pitched extremely well in big games.
If they can pitch anywhere like they did in October, then the Yankees will be in great shape with the possibility of having all five starters win over 10 games in 2013.
Bullpen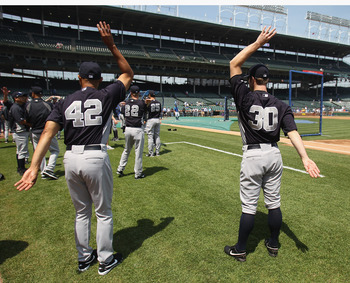 Jonathan Daniel/Getty Images
Long Reliever: David Phelps
Reliever: Joba Chamberlain
Reliever: Clay Rapada
Reliever: Boone Logan
Reliever: David Aardsma
Reliever: Shawn Kelley
Setup Man: David Robertson
Closer: Mariano Rivera
Gone from this group is Rafael Soriano, who opted out of his contract to become the new closer of the Washington Nationals on a two-year deal.
In 2012, this group did a tremendous job without the presence of their closer, Rivera, who tore his ACL back in May at Kansas City.
2013 could be his final season, but even with a year off, I still expect Rivera to be the same old closer who dominates the competition.
Keep Reading

New York Yankees: Like this team?