Oregon Football: Way Too Early Game-by-Game Schedule Predictions for 2013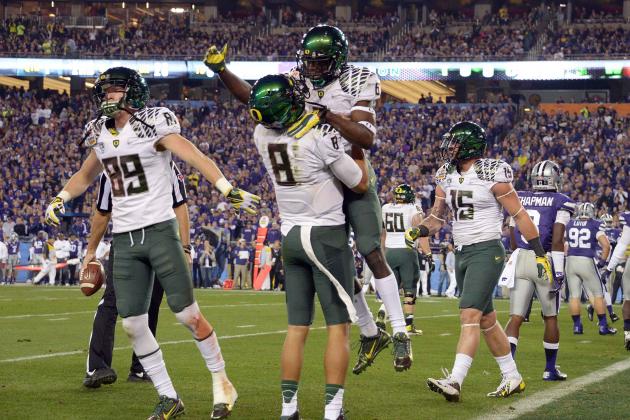 USA TODAY Sports

Yes, you have a beautiful Oregon summer to look forward to with lots of hiking, fishing, camping and river running. And then, it's football season again! Before you disperse for the great outdoors, let's do a game-by-game prediction for the 2013 season and see if you all agree.
This first season under head coach Mark Helfrich should be an intriguing one. All of a sudden, there are interesting storylines in the Pac-12 Conference—two new head coaches and some terrific recruiting classes—that might impact the Oregon Ducks' run to the conference championship.
Here's how it might conceivably go down.
Begin Slideshow

»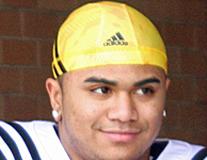 Thomas Tyner photo courtesy 247Sports.com
There are only two questions that need answering for this first game between the Oregon Ducks (12-1 in 2012) and the Nicholls State Colonels (1-10 in 2012).
The first is can the Ducks rack up more yardage and points than the Oregon State Beavers did against Nicholls State in their game on Dec. 1, 2012. The Beavers won that game 77-3 and had 683 yards of offense.
The second is will Thomas Tyner, who will enter the game in relief of starting running back Byron Marshall by, oh, probably early in the second quarter, get his first collegiate 100-plus-yards game.
The answer to both questions is "yes."
Oregon 80, Nicholls State 7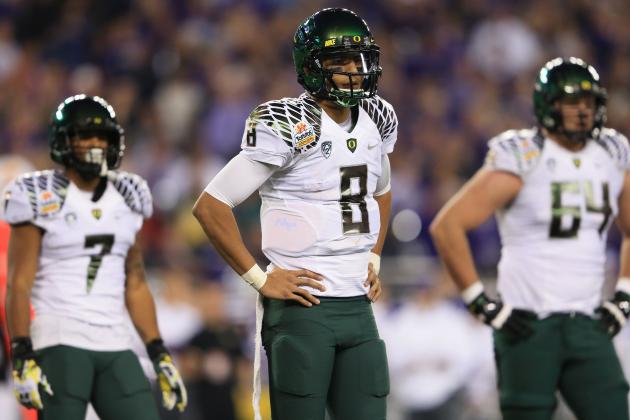 Doug Pensinger/Getty Images

The Oregon Ducks will travel to the University of Virginia in Charlottesville, Va., for their second game in the 2013 season. There will be at least six Oregon fans in attendance for this one (hope you have a great time, Alaska and buddies!).
The Virginia Cavaliers, who play in the mighty Atlantic Coast Conference (ACC), were 4-8 in 2012. However, they did have a win over Penn State (17-16) at home in the second week of the season.
Plus, the Cavaliers have a new offensive coordinator, Steve Fairchild, who was the head coach at Colorado State for four years prior to spending last year as the senior offensive assistant for the San Diego Chargers.
It won't matter.
Oregon 56, Virginia 14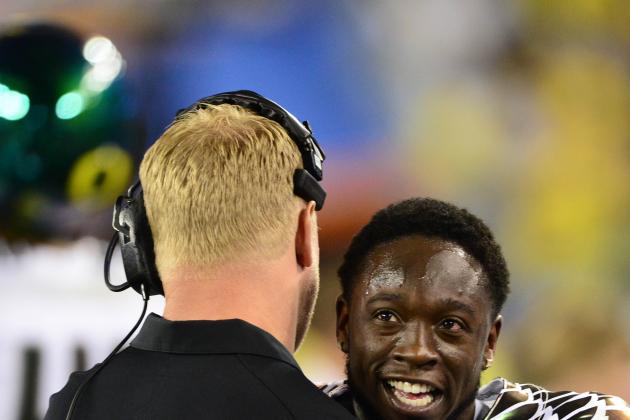 Mark J. Rebilas-USA TODAY Sports

The Tennessee vs. Oregon game in Week 3 marks the second part of a home/away between the Ducks and the Volunteers. Oregon played at Knoxville Sept. 11, 2010, and won 48-13.
It was immediately after that game that I said to my husband: "Honey, book air for Phoenix in January because the Ducks are going all the way this year." The reason for my optimism was that Oregon never used to win tough road games, and I knew that this team was going to amaze after that beatdown of an SEC team.
The Vols were 5-7 last year and missed a bowl game, but ended with a regular-season win against Kentucky. Interestingly, according to Rivals.com, Tennessee had the No. 20 2013 recruiting class compared to Oregon's No. 21.
Perhaps Tennessee was one better than Oregon in recruiting this year, but it won't mean a hoot in this game at Autzen Stadium.
Oregon 52, Tennessee 24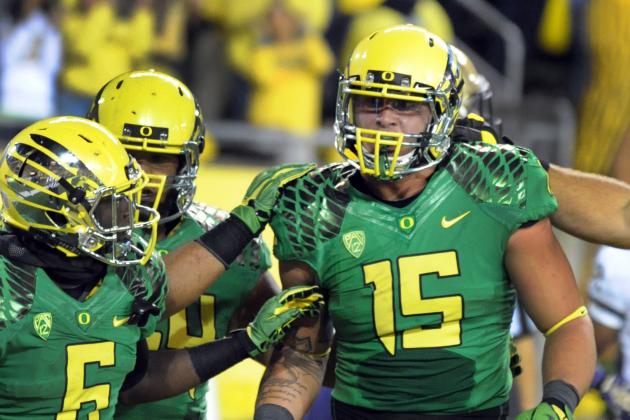 Steve Dykes/Getty Images

After a nice, restful bye week, the Ducks return to Autzen to meet the California Golden Bears and welcome a new head coach, Sonny Dykes, to the conference.
Dykes was hired to replace former head coach Jeff Tedford, and it was a good hire by Cal athletic director Sandy Barbour. Coming off a successful three-year stint as head coach of Louisiana Tech, Dykes brings another great offensive mind to the Pac-12 Conference.
Louisiana Tech was 9-3 last year and lead the NCAA in scoring offense. What, you say? A team was better than your Oregon Ducks in overall scoring offense? Yep. Louisiana Tech averaged 51.5 points per game, and the Ducks were a close second at 49.6.
Yes, I know, if the Ducks had left in their starting lineup more often, they would have blown past that Louisiana Tech average. Nevertheless, Sonny Dykes obviously understands how to put points on the board.
This will be Mark Helfrich's first opportunity to see if he can compete in the wins-after-a-bye-week category that Chip Kelly and Mike Bellotti aced before him. Helfrich will get off to a good start in this category.
Oregon 46, California 28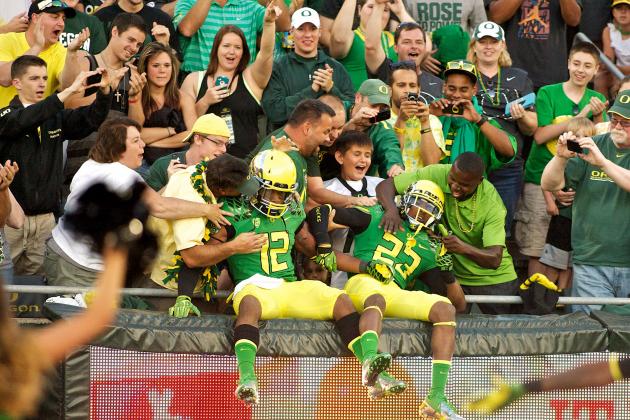 Craig Mitchelldyer/Getty Images

Facing the second new Pac-12 Conference head coach in two weeks, the Ducks travel to Boulder, Colo., to meet the Buffaloes.
Former San Jose State head coach Mike MacIntyre was hired to replace former Buffs head coach Jon Embree. Embree is probably a better football coach than MacIntyre, but guess we'll never know that now, will we?
You all know the Buffs' sad story from last year, so there is no need to rub salt in the wound. And, while MacIntyre did lead a major year-to-year turnaround for the SJS Spartans, it will take him more than one year to accomplish that feat at Colorado.
Oregon beat the Buffs 70-14 last year at Autzen. The 2013 version won't be much different, and Boseko Lokombo will earn Pac-12 defensive player of the week honors for his two interceptions against the Buffs.
Oregon 59, Colorado 17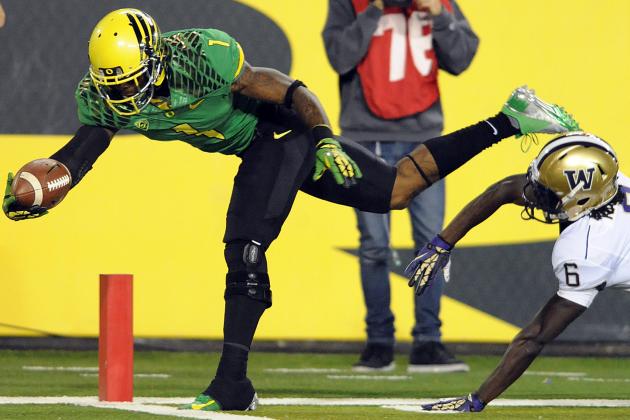 Steve Dykes/Getty Images

See this photo of a Washington Husky not being able to stop Oregon wide receiver Josh Huff from entering the end zone? An efficient photographer will be able to capture the exact same photo in 2013, possibly twice.
The only difference will be the Husky defender will be wearing purple because this year's game is in Seattle. While on the subject of apparel, if you own one of those great T-shirts from several years ago that reads "I see dead purple," this would be a good game to dig it out of your closet because that's the likely outcome.
Washington came barreling into Autzen Stadium last year ranked No. 23 in the nation, with its fans feeling very, very good about their chances to knock off Oregon. They continued to feel good until 2:07 left in the first quarter when the Ducks scored their third touchdown, making the score 21-0. Oregon won 52-21, and bye-bye ranking for the Huskies.
Every year in the Pac-12, the two teams who the media love to tout as being "much improved" and "going to make life difficult" are California and Washington. Yadda yadda yadda. Don't fall for it this, or any other, year.
Oregon 46, Washington 24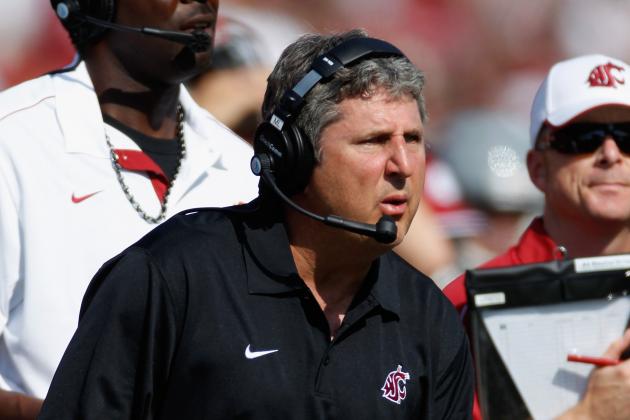 William Mancebo/Getty Images

The pirate is coming! The pirate is coming! The city of Eugene should declare Oct. 19 as "Talk Like A Pirate" day in Eugene. What better way to welcome Mike Leach and the Washington State Cougars to Autzen Stadium?
Living in Eugene, you soon come to recognize that there are almost as many Wazzu fans living there as there are Duck fans. Hey, would you stay in Pullman after graduating? They have to go somewhere.
If ESPN has a sense of humor—and you know they do—wouldn't this be a great GameDay opportunity? The Ducks will be 6-0 and ranked No. 2 in the country by then, and Leach is always fun. If Alabama and LSU aren't playing that day, Eugene might have a chance to host.
And I really hope it happens, because the game won't provide much excitement.
Oregon 48, Washington State 14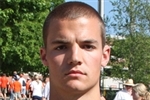 Matt Wogan photo courtesy 247Sports.com
OK, Duck fans, now it starts to get serious.
The good news is that Oregon is at home again this weekend. The bad news is that the UCLA Bruins are coming to town.
Let's see a show of hands for everyone who, at this time last year, thought UCLA would have a 9-3 regular season record in 2012. Yeah, lots of you (and me) didn't see that one coming. Even though the Bruins closed out the year with three straight losses—Stanford twice and Baylor in the Holiday Bowl—Jim Mora Jr. accomplished a whole lot more in his first year as head coach than many thought he would.
And then what does he do? Goes out and signs the No. 8 recruiting class in the country, passing the former No. 1 class, USC, like it was standing still.
Good grief. What's going on in Westwood?
A well-coached team making the most of the talent they have, that's what. Look for the Bruins to win the Pac-12 South Division again and compete for the conference title. To do that, it would be useful to beat the Oregon Ducks in Eugene.
Close, but no cigar.
Oregon 37, UCLA 34 (If you are paying close attention to these Oregon scores, you will have noticed the addition of field goals. New Oregon placekicker Matt Wogan kicks three crucial field goals in this one, including the game winner with 28 seconds remaining. Yeehaw!)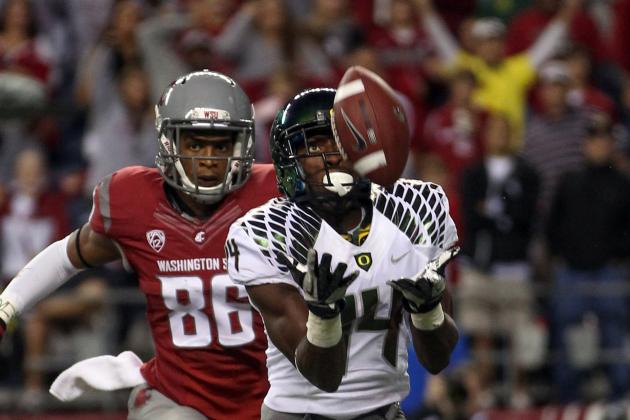 Otto Greule Jr/Getty Images

The Ducks head to The Farm for this year's matchup with the suddenly annoying Stanford Cardinal. It's time for Oregon to show Stanford who is really the sheriff in the Pac-12 Conference.
Any team can be a one-year wonder. Any team can have an off night. Any team can have a field-goal kicker who chokes in a big game. But if you are really a champion, you don't lose to the same team two years in a row.
Honestly, folks, the Cardinal are for real, and this one could go either way. It feels like this is the game to travel to this season in numbers like you did for the USC game at the Coliseum last year—the Ducks might need their 12th man to gain revenge. It's a Thursday night game, so you will have to miss work on Friday, but, hey, what's more important?
Both teams will have the prior weekend off, so there is no scheduling advantage. The difference in this game might be Ifo Ekpre-Olomu, who is still slightly ticked off at teammate Boseko Lokombo's two interceptions in the Colorado game—balls that IFO would have picked if Lokombo hadn't been so fast. IFO grabs a Kevin Hogan pass late in the fourth quarter to seal the Ducks' victory.
Oregon 31, Stanford 28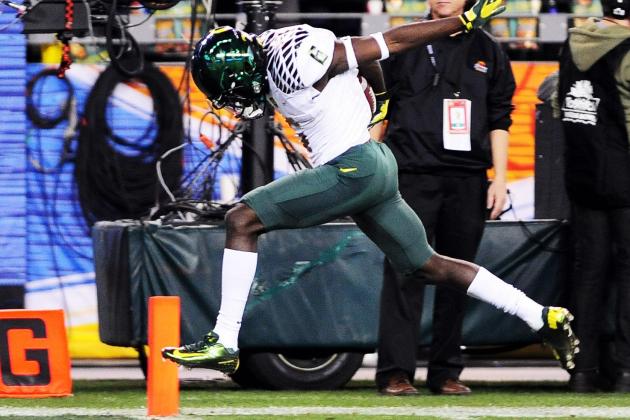 Jennifer Stewart-USA TODAY Sports

Heading into Week 10, Heisman Trophy front-runner De'Anthony Thomas needs a breakout week to bury his competition.
He gets it against the Utes of Utah, who tiptoe gingerly into Autzen Stadium, guessing at their soon-to-be fate. Even without having to play Oregon in 2012, the Utes still had a disappointing year, going 5-7 and missing bowl season.
With the excellent offseason hire of co-offensive coordinator Dennis Erickson, the Utes will be improved in 2013. But it won't be enough to take down the mighty Ducks in Autzen.
Look for De'Anthony Thomas to run it down their throats, while Erickson waves his arms and shouts to Utah head coach Kyle Whittingham: "I told you that kid was good!"
Oregon 49, Utah 21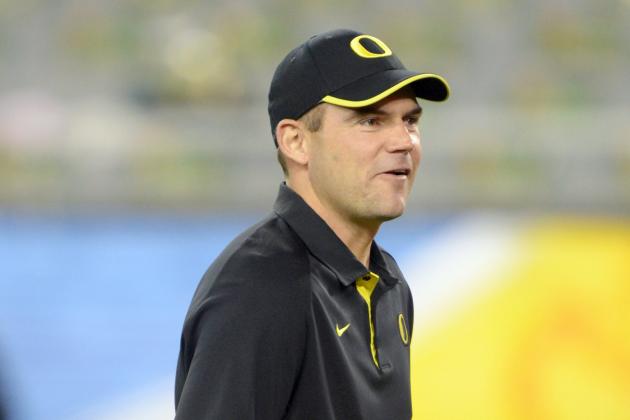 USA TODAY Sports

In the final regular-season road game of the year, can Mark Helfrich put an exclamation point on his first Pac-12 Conference title run?
Yes, ma'am, he can and will.
Former head coach Chip Kelly (that still sounds weird) welcomed new Arizona head coach Rich Rodriguez to Autzen Stadium with a thorough 49-0 whipping. The Wildcats were ranked No. 22 in the nation prior to their trip to Eugene.
Arizona finished a respectable 7-5 regular season and went on to beat Nevada in an exciting come-from-behind one-point victory in the Gildan New Mexico Bowl. That bowl game actually had my family leaping off the sofa and yelling loudly in the final minutes.
There's a chance that Arizona might challenge UCLA for the South Division title this year, and this late game with Oregon could be the difference for the 'Cats.
Too bad. Ducks win it in a closer-than-it-should-have-been game.
Oregon 43, Arizona 35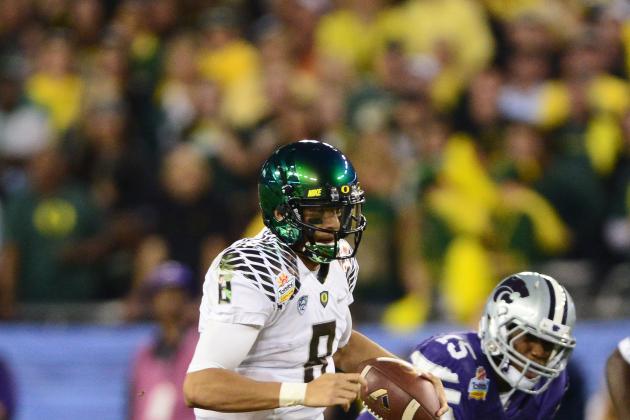 Mark J. Rebilas-USA TODAY Sports

You know that all the fans of the Oregon State Beavers have already thrown huge, celebratory "Goodbye Chip Kelly" parties. Honestly, it must be a relief for the Beavers to see Kelly move on to the NFL. Perhaps now, Oregon State will have a chance to knock off its hated rival to the south.
There's just one teensy little problem for the Beavs: Quarterback Marcus Mariota is still here. Actually, there are plenty of other problems for OSU in the Civil War, but stopping Mariota will likely be the biggest.
While the Beavs are focused on stopping freshman wunderkind Thomas Tyner—who took over the starting RB position in late October—because, gosh darn it, no Oregon kid should run right through them, Mariota makes a major statement.
Hawaii, Oregon, Texas, Timbuktu—it doesn't matter where the Ducks came from, they are still the better team.
At least, for one more year.
Oregon 42, Oregon State 24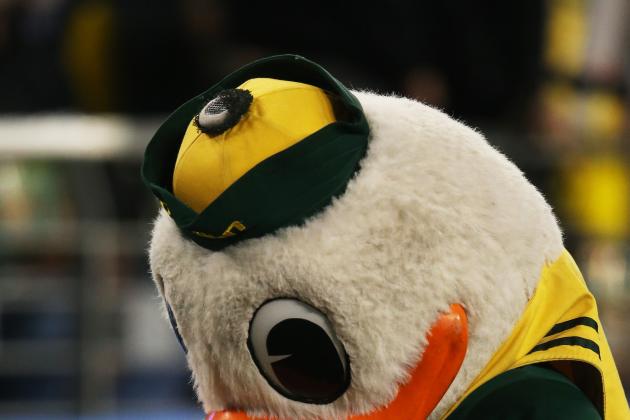 Stephen Dunn/Getty Images

It's time to get your fishing rod and hiking boots out of the garage.
You have to do something for the next 194 days.
Kay Jennings is a member of the Football Writers Association of America.