The Maryland Terrapins had a huge home win over Duke on Saturday, but they will not make the NCAA tournament without consistent contribution from Alex Len.
The 7'1" Ukrainian finished the game with 19 points, nine rebounds and three blocks in the victory. Just as importantly, he showed great defense on Mason Plumlee, who finished with only four points and three rebounds.
This type of performance is what has NBA scouts drooling over Len's potential. ESPN college basketball analyst Myron Medcalf highlighted this game's importance for the center's draft stock:
Alex Len is making a lot of money tonight.

— Myron Medcalf (@MedcalfByESPN) February 17, 2013
Unfortunately, this only tells half of the story for this season. In reality, Len has been inconsistent all season, and it has hurt Maryland in big moments.
Coming into the Duke game, Len had scored only single-digits in three of the last five contests. All of those ended in losses.
Against Florida State, he struggled with foul trouble and finished with only four points in 17 minutes. As expected, the Terrapins fell to the Seminoles by two points.
It has been almost a month since Len last took more than eight shots in a game. However, this is not an issue with the guards giving him the ball or the coach game-planning around him. It is about the center himself not playing as well.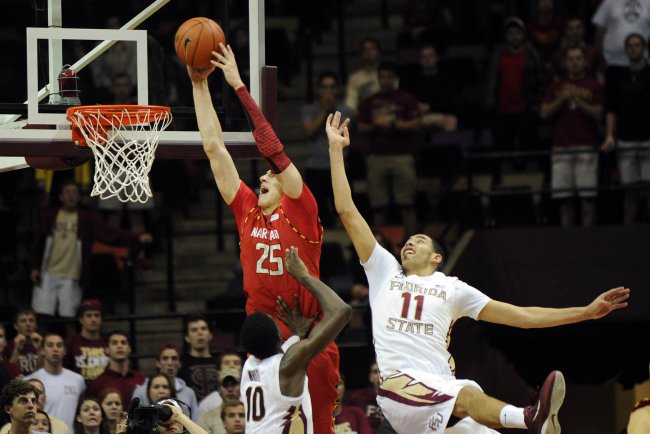 USA TODAY Sports
In the team's losses, Len has seemed tentative on offense and continued to make unnecessary fouls away from the basket. He showed the world what he is capable of against the Blue Devils—now he needs to show what he can do against the rest of the
ACC
.
However, it is not only aggressiveness and smart play that will make the difference. The sophomore had his best games this year against other pro prospects.
His 19-point, nine-rebound performance against Plumlee was almost as good as his 23 points and 12 rebounds against Nerlens Noel and Kentucky. This is not only due to him getting up for the big opponent, but it is also because opposing coaches trust these players to handle a one-on-one matchup.
Highlights from Alex Len's big game against Kentucky earlier in the year.
Len took these as a challenge and won the individual
matchups
easily. He needs to make sure he takes care of business in the future every time teams refuse to double-team him.
Of course, this also puts pressure on the rest of the team to make opponents pay for doubling him in the post. When he took care of the ball, Seth Allen showed that he could be a force. Dez Wells and Nick Faust must also be consistent perimeter options for Maryland.
The Terrapins' next four games are against teams with losing records in the ACC. The team showed it can put together a big effort against a top squad, but it also must show it can handle winning the games it should.
Len is a big part of that. At this point, his teammates do not care what will happen in the NBA draft. Right now, the only thing that matters is putting forth a great effort in every game.
If the center and the rest of the team can maintain the same intensity they showed on Saturday, they will be dancing come March. Otherwise, the Terps will miss the NCAA tournament for the third year in a row.
For additional college basketball analysis and a lot about Maryland, follow me on Twitter.