Duke Basketball: 10 Things Learned in the Loss to Maryland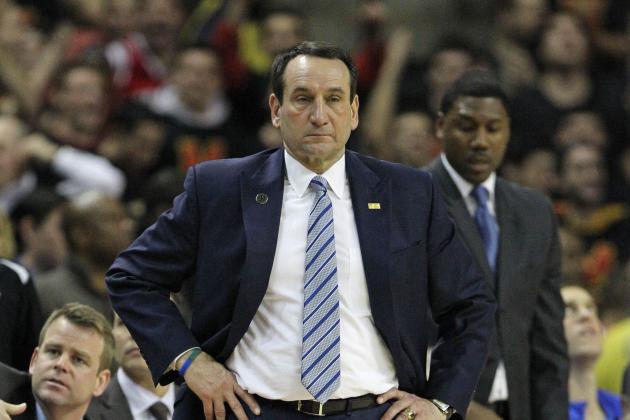 Mitch Stringer-USA TODAY Sports

Duke's final ACC matchup against Maryland didn't go the Blue Devils' way. The Big Ten-bound Terps used crowd momentum and an ineffectual night from Mason Plumlee to secure an 83-81 victory.
Duke's defeat didn't come without a fight. Despite struggling from three, the Blue Devils clawed back into the game to tie it up with 16 seconds left. Unfortunately, Duke's defense, which allowed Maryland to shoot 60 percent from the field, was unable to keep Seth Allen from driving to the lane and drawing a foul.
It was a tough loss, but one that looked to be coming for most of the game. Duke played poorly and looked to be affected by playing the fourth game in 10 days.
After ending the toughest stretch of the season with a loss and with important games on the horizon, let's take a look at 10 takeaways from Duke's two-point loss to a team that truly isn't our rival.
Begin Slideshow

»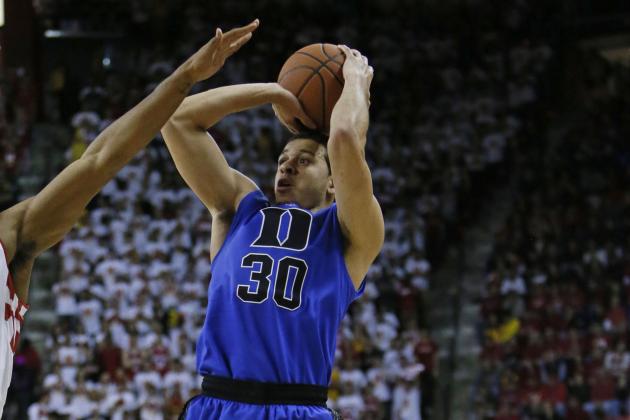 Mitch Stringer-USA TODAY Sports

Back in the day, the J.J. Redick-led Duke Blue Devils got knocked out of the NCAA tournament by an LSU team full of long defenders. Twice this week, Seth Curry has faced a similar treatment.
UNC put 6'7" Reggie Bullock on Curry. The Terps frequently had the 6'8" Jake Layman marking the senior sharpshooter. Against UNC, Curry struggled mightily. Versus Maryland, Curry managed to score, but was forced into two-pointers instead of threes.
While it's great to see the versatility of Curry's game, the fact of the matter is that teams are going to force him to shoot over taller players because it has been effective in terms of limiting his damage from behind the arc.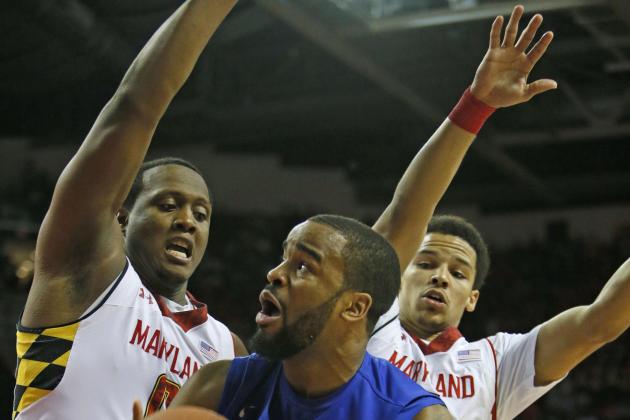 Mitch Stringer-USA TODAY Sports

As with Curry, all of Duke's shooters really struggled against Maryland. The team was 6-of-19 from three, as long, athletic defenders made for good perimeter defense (box score via ESPN).
Meanwhile, Maryland's strength and length caused problems for Blue Devils who drove into the lane. In effect, the Terps' size and bulk took away Duke's outside shot as well as its ability to penetrate. So, it's no wonder that Duke struggled on the offensive end.
Of course, missed shots aren't so bad if you can rebound. Unfortunately, Maryland muscled Duke off the glass to the tune of 38 boards to 17.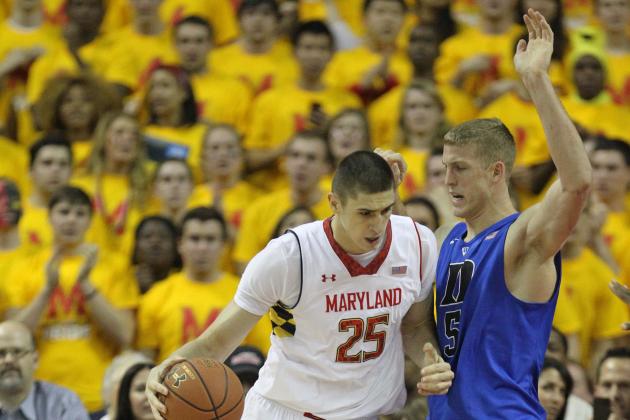 Mitch Stringer-USA TODAY Sports

Let's be honest, Mason Plumlee was dominated by Alex Len. Plumlee finished with four points on 2-of-7 shooting. And on the defensive end, he couldn't stop Len, who racked up 19 points (box score).
More damning was the fact that for three straight games, Mike Krzyzewski has sat Plumlee on the bench for substantial stretches of the game. Maybe it could be argued that he, like the rest of the team, was tired and needed extended periods on the bench to rest. Nevertheless, Duke is increasingly opting out of a Mason Plumlee-centered offense.
Yes, he's a key player, but if Plumlee was a stock, people would be selling low.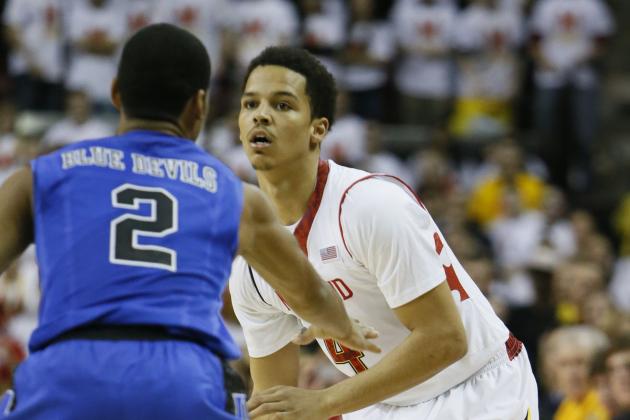 Mitch Stringer-USA TODAY Sports

Cook had five quality steals and really menaced Seth Allen all night. The only thing that kept Duke in the game against Maryland was the ability to force turnovers. Cook was the tip of the spear in terms of ball pressure and did a good job making it difficult for Maryland to bring the ball up the court.
Better still, he and his teammates switched defensively much better than they did in the first half against UNC. It's hard to tell as you watch on TV, but it did appear that Cook was the guy doing a lot of the communicating on defense.
That was Ryan Kelly's job and since Kelly's injury, Duke's team defense has suffered. If Cook is set to take over that role, then the Blue Devils should look better on defense.
All that being said, in the final play of the game, Cook got beat off the dribble. All year, I've lamented Duke's inability to stop penetration, and it's too bad that that weakness sealed a defeat.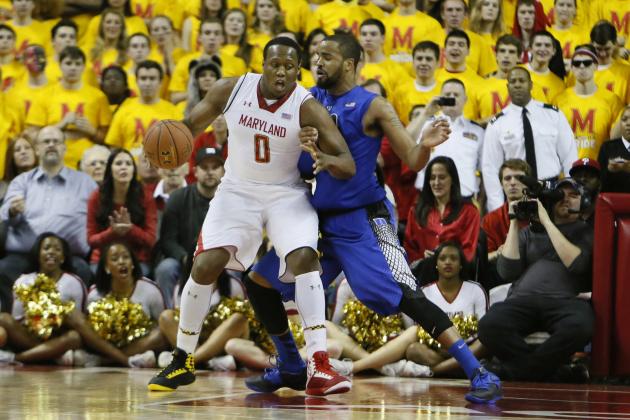 Mitch Stringer-USA TODAY Sports

Hairston had his best game of the season against Maryland. He was so good, in fact, that Mike Krzyzewski was comfortable removing Plumlee from the lineup and leaving Hairston in to man the paint.
Hairston still has a bad habit of taking ill-advised jumpers, but at least he made one against Maryland. For the most part, however, Josh Hairston did exactly what he needs to do. He relocated in the paint off drives and received inside dishes for easy baskets.
Hairston also played serviceable defense, considering he was outsized by every Terp he matched up against. I reserve judgment in terms of whether this was just one good game or a watershed moment in the junior's career, but if he can bring some scoring ability to the table, then that adds another source of inside scoring for the Blue Devils.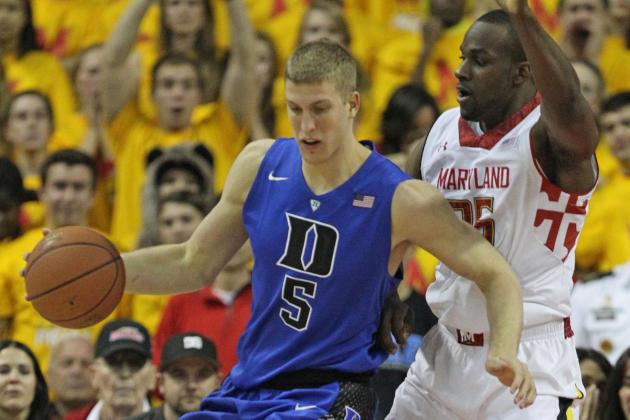 Mitch Stringer-USA TODAY Sports

Long defenders on the perimeter not only make it hard to shoot over; they also make it difficult to feed the post. But even against lengthy perimeter defenders, Duke doesn't do a good job of putting quality passes toward the post.
The upshot of that is that Mason Plumlee receives the ball away from the basket and only after everyone in the gym knows that's where the ball is going. That might not be such a problem if Plumlee had a ton of post moves, but since he's not exactly a tour de force in the blocks, it just makes the situation worse.
The bottom line is that Duke needs easy baskets when the shots aren't falling. Their inability to feed the post with quality entry passes doesn't do anyone any favors in terms of created points in the paint.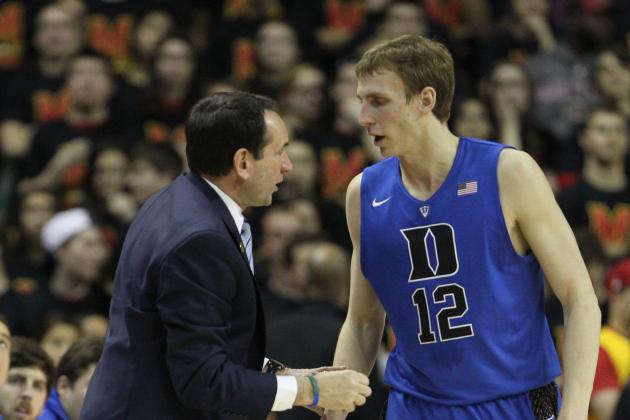 Mitch Stringer-USA TODAY Sports

When Alex Murphy first subbed in, I was confused. I didn't understand what Coach K thought he brought to table. Then it became clear that, without Plumlee, the Blue Devils wanted to go to a five-guys-outside strategy.
With all five players on the perimeter, Duke's offense turned into one that revolved around guys cutting to the basket. Murphy made the most of his minutes by moving around effectively on the offensive end.
That being said, there is no more quintessentially Duke shot than the one Murphy passed up. After penetration, he caught a kick-out pass in position to take a three, but eschewed the opportunity in favor of an ill-advised drive. Why? Isn't he supposed to be a three-point shooter?
Then, in the midst of my confusion, Murphy got a steal and raced down for a dunk. In all, I don't know what Murphy brings to Duke. I'm confident he's got potential, but how it will manifest and how that will fit in with the team is unclear.
It'll be interesting to see how he turns out as a player, but until then, he's just going to be a bit of an enigma on the court.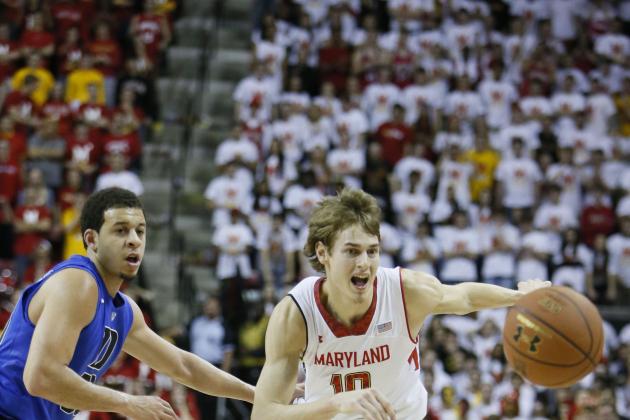 Mitch Stringer-USA TODAY Sports

The announcers kept applauding Duke's defense against Maryland. Indeed, the Blue Devils did force an amazing 26 turnovers. But they lost the game. And the reason they lost the game is because Maryland shot 60 percent from the floor (box score).
Basically, if Duke didn't force Maryland into a turnover, then Duke either got scored on or sent Maryland to the foul line.
While pressure defense is classic Duke, it can't come at the expense of easy baskets. As it is, Duke has a tendency to get beat off the dribble, and if a team spreads the floor, then the help defense can't cover the penetration in time.
That's what happened when Duke got blown out by Arizona a few years ago, and that's what happened on the final play of the Maryland game.
At the end of the day, no matter how many turnovers Duke forces, an opponent simply can't be allowed to shoot 60 percent. The Blue Devils have to figure out their half-court defense prior to the tournament.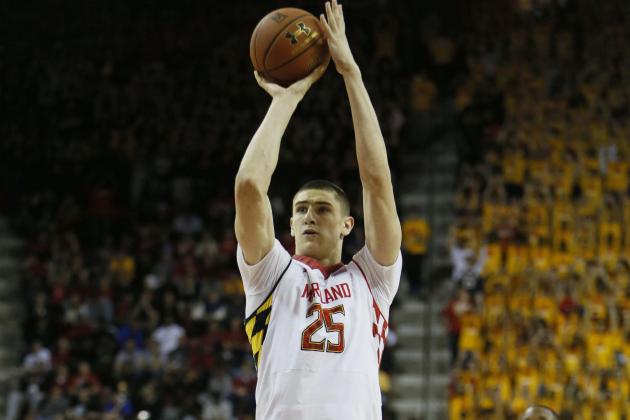 Mitch Stringer-USA TODAY Sports

Maryland was 25-of-34 from the free-throw line. That is absolutely absurd. On nights when Duke isn't draining threes, that's simply too many free points to give up to an opponent.
More than that, Duke isn't a deep team. Particularly in the frontcourt, Duke doesn't have a ton of great options if Mason Plumlee has to hit the bench due to fouls. And don't think Plumlee doesn't know that. His defense in the post is, to be polite, hesitant.
Part of Plumlee's revolving-door defense, I think, can be attributed to his concern about picking up fouls. As a team, Duke's half-court defense leaves a lot to be desired and getting hit with fouls only makes defenders that much more ineffectual.
Again, it's great that Duke is so all-out on defense, but if that aggression results in fouls, then it actually hurts the team in the long-term.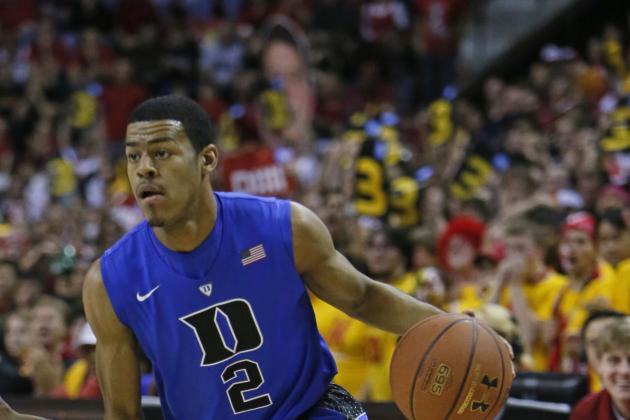 Mitch Stringer-USA TODAY Sports

Think about Duke as a boxer. If everything is going right, then there is the possibility of a knockout punch. Otherwise, the game plan has to be to get a lead and then just hold onto it round by round until the fight is over and they go to the scorecards.
Since Ryan Kelly got hurt, Duke delivered knock-out blows to Georgia Tech, Maryland and Florida State. But other than those games, Duke has had to grab a lead and sit on it until the clock ran out.
The trouble with the most recent Maryland game was that Duke was behind by as many as 10 points heading down the stretch. Though the Blue Devils nearly fought back, given all the their liabilities, they're not built for comeback wins.
Duke showed a lot of guts in coming back to make the game close, but a team on short rest, with injuries and not enough depth to deal with fouls needs to get ahead early and then run out the clock.