Miami Football: Way Too Early Game-by-Game Schedule Predictions for 2013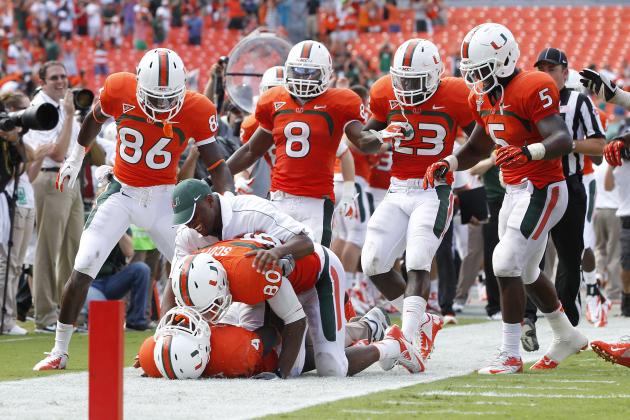 Joel Auerbach/Getty Images

Although the football season won't start for another seven months or so, it's never too early to predict how the Miami Hurricanes will do this season.
Returning a plethora of starters—20 to be exact—the Hurricanes have a golden, no pun intended, opportunity to have a spectacular season. Honestly, the Hurricanes have a great chance to win 10 games for the first time since the 2003 season.
The only question is, will the defense give them that opportunity?
Read on to find out.
*Note: ACC dates have yet to be determined so I just plugged the in conference games around the already scheduled out-of-conference games.

Begin Slideshow

»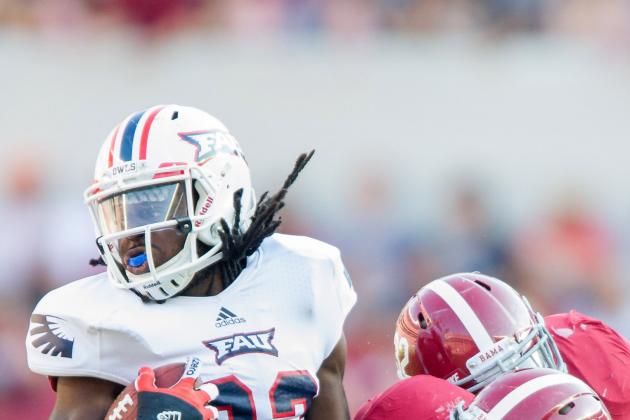 Michael Chang/Getty Images

Date: Aug. 31, 2013
Location: Sun Life Stadium (Miami Gardens,FL)
The Florida Atlantic Owls went 3-9 last season, only winning games against Troy, Wagner and Western Kentucky. The Owls lost to Georgia and Alabama by a combined score of 96-27.
This game shouldn't even be close, but being the first game of the season for both teams, you just never know.
Prediction: Miami 38, Florida Atlantic 13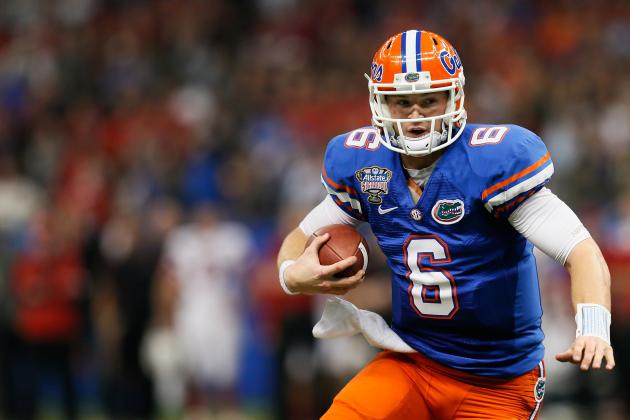 Kevin C. Cox/Getty Images

Date: Sept. 7, 2013
Location: Sun Life Stadium (Miami Gardens,FL)
The game against the Florida Gators will be a measuring stick to how improved the Hurricanes actually will be this season. The Gators will mostly likely be ranked in the top 10 heading into their game against the Hurricanes.
Although Florida returns just 11 starters (six on offense and five on defense), the Gators finished the recruiting season as the second-best team in the country according to ESPN.com.
This will be an extremely hard game for the Hurricanes, but I honestly believe the lack of offensive weapons for the Gators will be prove to be too be too much for them to overcome. Especially against an explosive offense that Miami will be bringing back.
Miami posts the first upset of the season.
Prediction: Miami 28, Florida 24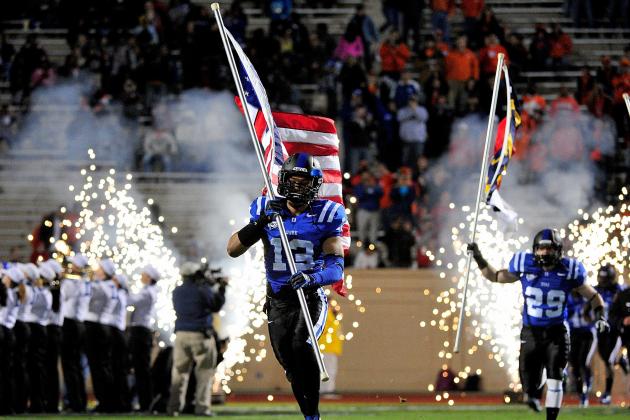 Grant Halverson/Getty Images

Date: TBA
Location: Wallace Wade Stadium (Durham, NC)
The Duke Blue Devils had a surprisingly decent season last year posting a 6-6 regular season and a bowl game against Cincinnati. The Blue Devils lost that game but were very competitive against the Big East foe, losing 48-34.
Even though Duke is returning 14 starters the Blue Devils will be without their starting quarterback (Sean Renfree) and one of the best wide receivers in the ACC (Conner Vernon). Losing those two players and having a questionable defense will hurt them once again this season.
Prediction: Miami 42, Duke 21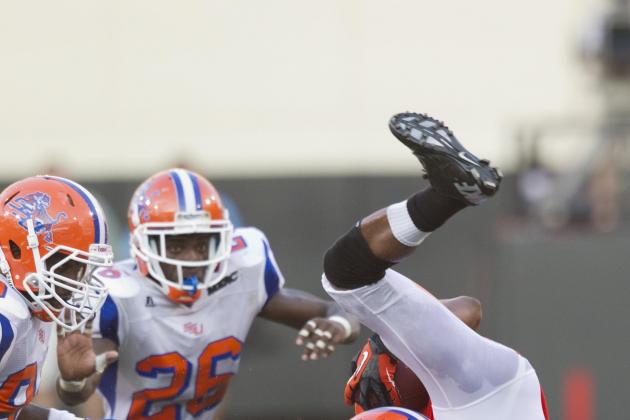 Richard Rowe-USA TODAY Sports

Date: Sept. 21, 2013
Location: Sun Life Stadium (Miami Gardens, FL)
The Savannah State Tigers have no chance against the Miami Hurricanes this season. Same as it was last year when they lost to Oklahoma State and Florida State by a combined score of 139-0.
There won't be much to this game, so I will keep it short and simple.
Prediction: Miami 49, Savannah State 6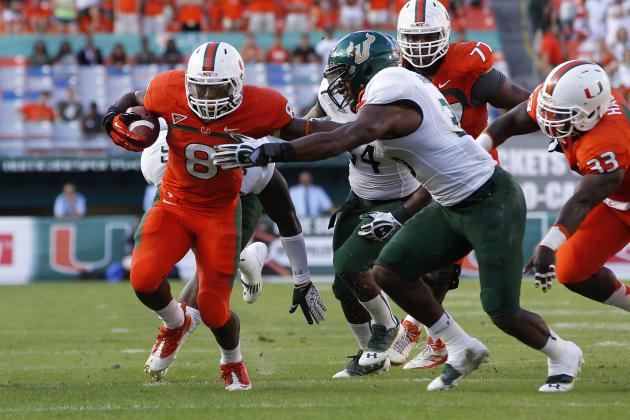 Joel Auerbach/Getty Images

Date: Sept. 28, 2013
Location: Raymond James Stadium (Tampa, FL)
The South Florida Bulls struggled last season posting just a 3-9 record. Unfortunatly for them it won't get any easier as they return just 10 total players (four on offense, six on defense) from last season.
The Hurricanes beat the Bulls in their most lopsided game of the season, 40-9. The Hurricanes defense stopped everything the Bulls threw at it. If the Hurricanes defense is much improved, I expect a very similar outcome.
Prediction: Miami 42, South Florida 17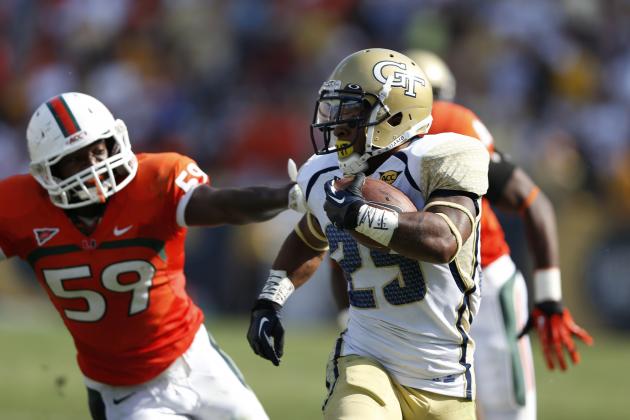 Joe Robbins/Getty Images

Date: TBA
Location: Sun Life Stadium (Miami Gardens, FL)
Georgia Tech returns the second-most starters in the ACC from a year ago (16), but that doesn't mean things will get an easier for the Yellow Jackets. Two of those six players that are gone are their top two playmakers in running back Orwin Smith and quarterback Tevin Washington.
With those two gone, the Yellow Jackets could struggle again moving the ball. That is bad news for Georgia Tech because Miami's prolific offense should prove to be too much for the Yellow Jackets to handle.
Prediction: Miami 38, Georgia Tech 17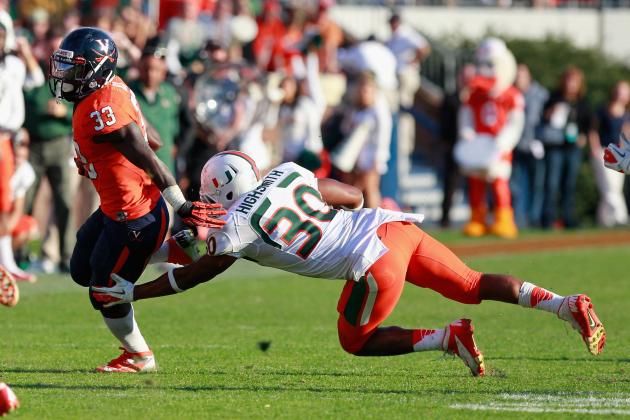 Geoff Burke/Getty Images

Date: TBA
Location: Sun Life Stadium (Miami Gardens, FL)
Virginia beat Miami last year for the third straight season in a 41-40 shootout in Virginia. For some odd reason, the Hurricanes struggle against a poor Cavalier steam. It won't be much different next season as Virginia returns 14 players from last year's squad and should give Miami a run for its money.
That being said, the Hurricanes will be hungry for revenge and this team should finally end this horrific run against a less-than-average Cavaliers team.
Prediction: Miami 35, Virginia 17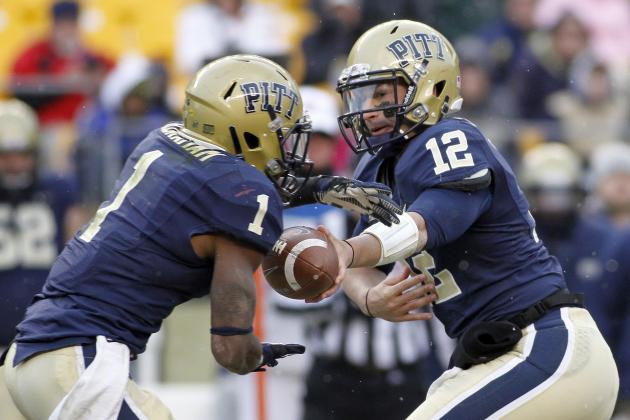 Justin K. Aller/Getty Images

Date: TBA
Location: Heinz Field (Pittsburgh, PA)
The Hurricanes will face Pittsburgh for the first time in the same conference since Miami was in the Big East in 2003. Pittsburgh will only be without eight starters from a year ago, but three of them are its starting quarterback running back and best wide receiver.
The Panthers didn't fare too well last season going 6-7, and I don't expect them to be much better in the ACC. Miami wins this game and reminds Pittsburgh what it was like to play the Hurricanes in the same conference again.
Prediction: Miami 31, Pittsburgh 14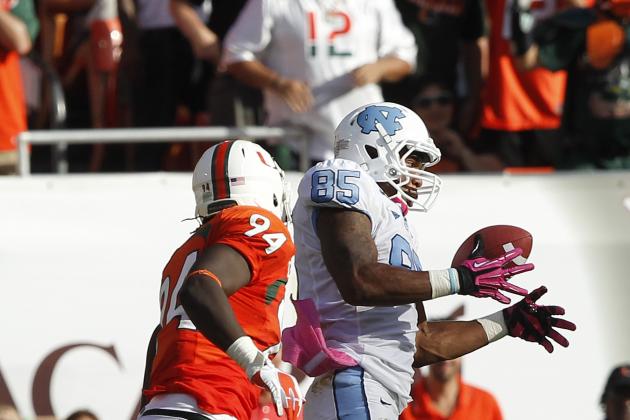 Joel Auerbach/Getty Images

Date: TBA
Location: Kenan Stadium (Chapel Hill, NC)
North Carolina would have been playing in last year's ACC Championship if not for the bowl ban as the Tar Heels finished 8-4 and 5-3 in the ACC Coastal division. North Carolina finished the season with the same record as the Miami, but it owned the head-to-head beating the Hurricanes 18-14 in Miami.
North Carolina returns 15 starters (nine on defense) and could compete for the Coastal division once again. Even though they will be without superstar running back Giovani Bernard—who decided to enter this year's NFL draft—the Tar Heels will have the services of quarterback Bryn Renner.
The Tar Heels do well against the Hurricanes and I believe they will once again.
Prediction: Miami 21, North Carolina 24
Mike Ehrmann/Getty Images

Date: TBA
Location: Doak Campbell Stadium (Tallahassee, FL)
Florida State could be the favorite for its second straight conference championship, but I just can't get over the talent it lost from last year's 12-2 team. I know the Seminoles have recruited some great players over the last couple years, but they are just missing too much from last season's team.
Maybe.
It's Florida State and Miami, and regardless of how good one team is over the other, this game should be close. I think Miami can win this game, but I am picking Florida State.
Prediction: Miami 17, Florida State 20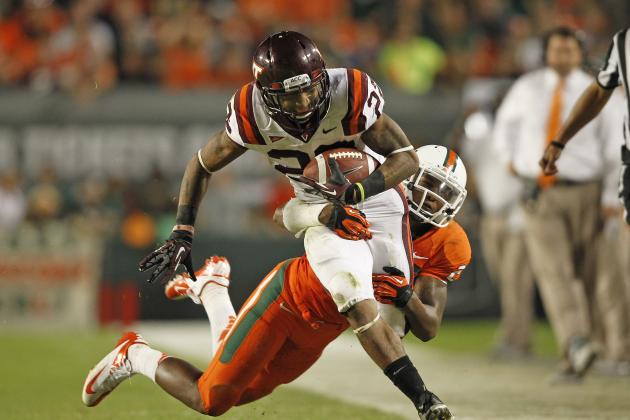 Joel Auerbach/Getty Images

Date: TBA
Location: Sun Life Stadium (Miami Gardens, FL)
Although Hokie quarterback Logan Thomas decided to come back for his senior season I just don't think that the offense is that good. Heck, a horrible Hurricanes defense held the Hokies to just 12 points last season.
That doesn't mean the Hokies couldn't beat Miami because they certainly can.
They just won't.
Prediction: Miami 30, Virginia Tech 17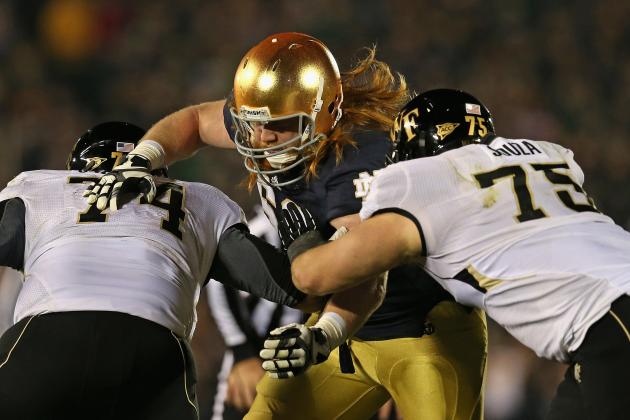 Jonathan Daniel/Getty Images

Date: TBA
Location: Sun Life Stadium (Miami Gardens, FL)
Wake Forest should be a much better team next season as the Demon Deacons return 16 starters from last year's 5-7 team. The best part of those returning starters is the fact they they will have their starting quarterback, top rusher and best receiver coming back.
Wake Forest won't be easy and Miami will find that out.
Prediction: Miami 35, Wake Forest 21