Syracuse's Road Woes Reveal Alarming Trends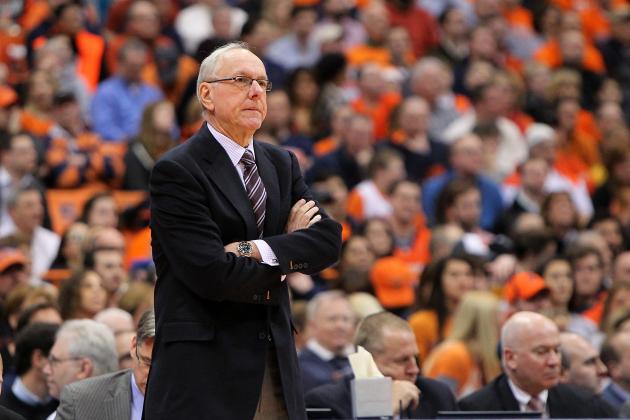 Nate Shron/Getty Images

The Syracuse Orange, winners of 37 straight games at the Carrier Dome, currently hold the longest home winning streak in Division I.
But it is a streak of another sort that the Orange will look to break as they visit the Seton Hall Pirates tonight.
Syracuse has lost its last three road games in a row. Some ugly trends have revealed themselves in those losses.
The Orange (tied with Marquette at 8-3) currently trail Georgetown (9-3) by a half game for first place in the league after the Hoyas knocked off the Cincinnati Bearcats on the road last night, 62-55.
If they want to regain their hold on first place, they need to clean up their road show in several key areas starting tonight.
Begin Slideshow

»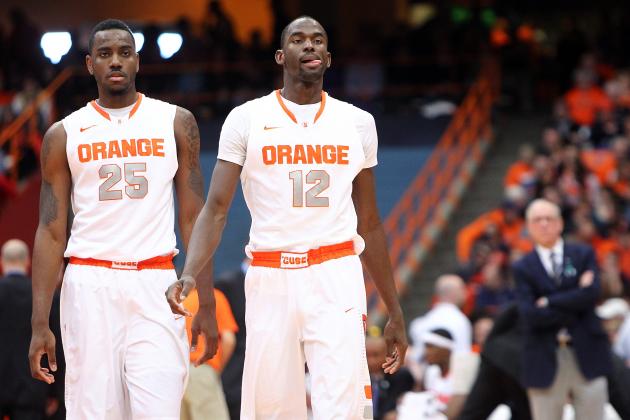 Nate Shron/Getty Images

Syracuse is tied for `2th in the nation when it comes to getting on the glass. The Orange grab 40.1 rebounds per game. That is second in the Big East to only Cincinnati.
But in all three losses, the Orange were out-rebounded. And quite severely in two of those setbacks.
Villanova and Pittsburgh both got after it hard on the boards against Syracuse to the tune of 47-34 and 37-21, respectively. Against Connecticut on Wednesday, the Huskies only grabbed one more board (35-34) than Syracuse.
But UConn ranks 14th out of 15th in the Big East in rebounds. Syracuse has no excuse for such a lackluster effort against a team that struggles in the rebounding department.
Yes, it is harder to rebound out of a zone defense, but that isn't an excuse since Syracuse has had tremendous rebounding success all year while playing a zone.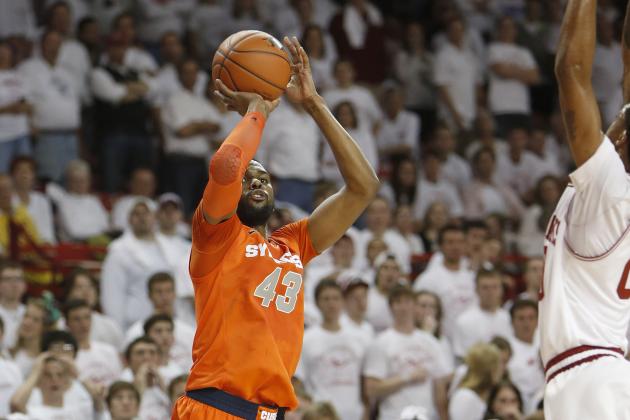 Wesley Hitt/Getty Images

Syracuse isn't a great three-point shooting team this season. The Orange convert only 32 percent of their shots from beyond the arc.
Their best long-range shooter, James Southerland, missed both the Villanova and Pittsburgh games. Syracuse sank a respectable 5-of-14 (35.7 percent) against Villanova but was a miserable 3-of-14 (21 percent) in the loss to the Panthers.
Southerland returned against UConn and promptly drilled four of his nine attempts from three, but he was the only Syracuse player to hit a three the entire game.
The Orange were inept from three, hitting a mere 4-of-23 (17.4 percent). Brandon Triche, Michael Carter-Williams and Trevor Cooney missed all 10 of their attempts.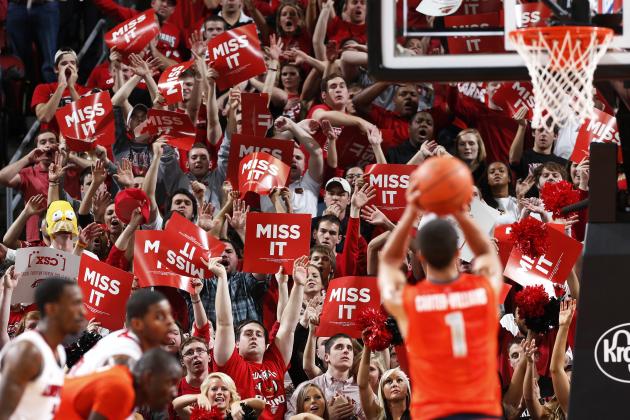 Joe Robbins/Getty Images

Converting free throws, especially late in road games when a team is trying to nurse a lead, is a critical part of winning. Syracuse has been less than stellar from the charity stripe this year.
For the season, the Orange make 68 percent of their free throws. That's good for 10th place in the Big East.
Against Villanova, they were right on their average, making 24 of their 35 attempts. But still, 11 misses is a lot. And since the Wildcats forced the game into overtime with a three at the end of regulation, those 11 misses loomed even larger.
Syracuse performed poorly from the free-throw line against UConn, hitting only eight of its 14 attempts (57.1 percent).
The Huskies, who lead the Big East in free throws at 74 percent, made 16 of their 22 shots.
UConn made more free throws than Syracuse attempted, which shows that while the Orange settled for jump shots, the Huskies drove the ball to the basket.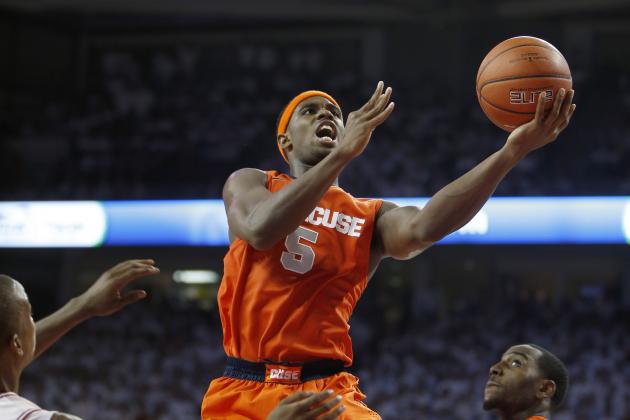 Wesley Hitt/Getty Images

An important part of winning on the road is to keep the opposing fans quiet.
One of the best ways to accomplish that feat is to make shots. That prevents the other team from putting together scoring runs, which in turn brings fans to a fever pitch. Games can get out of hand very quickly.
In all three losses, Syracuse shot extremely poorly from the field. The Orange connected on less than 40 percent of their shots in the three games.
Winning at home is hard enough to accomplish when shooting under 40 percent. It is asking for a loss in road games.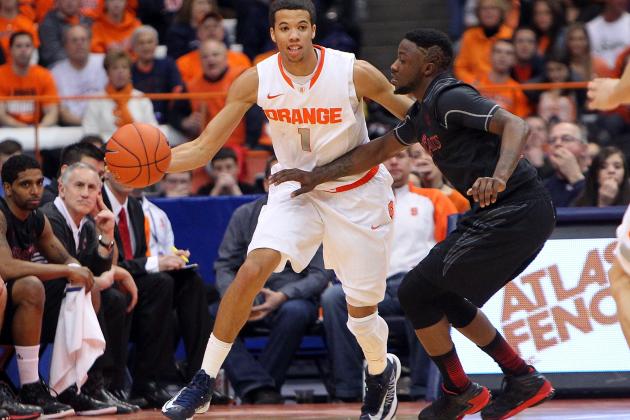 Nate Shron/Getty Images

Against Pittsburgh (five assists) and UConn (eight assists), Syracuse simply didn't share the ball effectively enough to get easy baskets. Carter-Williams, Syracuse's point guard, is second in the nation with 8.2 assists per game.
Yet, he only managed one assist versus the Huskies before fouling out.
Pittsburgh (19 assists) and UConn (15 assists) did a much more effective job at distributing the ball amongst themselves. Both teams shot significantly better from the field (48 and 47 percent) than Syracuse.
Conversely, Syracuse is a team that thrives on forcing its opponents to turn the ball over and then converting those turnovers into transition points.
They forced 14 turnovers at Villanova while committing only seven. Against UConn, they had only 10 giveaways of their own while the Huskies coughed the ball up 18 times.
Syracuse averages 12.7 turnovers per game on the season.
The Orange need to vastly improve converting those extra possessions into scores if they want to start winning on the road again.