Who Will Ultimately Be the Better Ranger: J.T. Miller or Chris Kreider?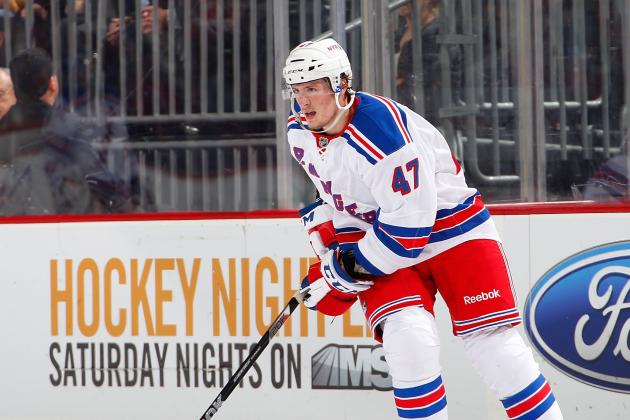 Paul Bereswill/Getty Images

The New York Rangers are lucky to have two stud prospects in their system in J.T. Miller and Chris Kreider. But the question on everyone's mind is this—who will ultimately be the better Ranger?
This is a bit of a subjective question and using the stats they've accumulated so far is a bit meaningless. It's hard to gauge potential with such a small sample size.
That said, we can use what we've seen to date to make an evaluation.
Read on to find out who will end up being the better Ranger.
Begin Slideshow

»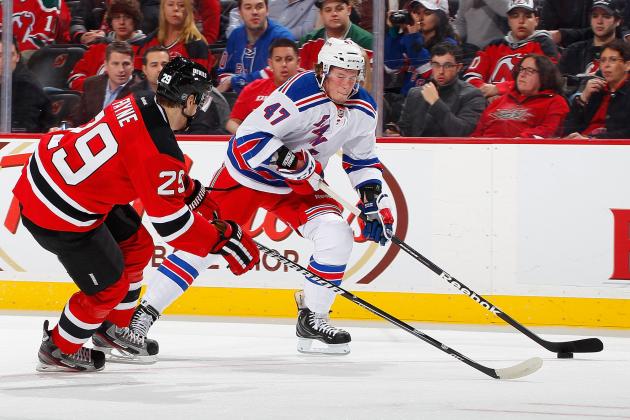 Paul Bereswill/Getty Images

J.T. Miller has played in six games and has scored two goals.
The Rangers clearly like him—they chose to burn a year of his contract and keep him on the roster instead of sending him down, which they did with Chris Kreider (although, they did bring him up as a potential injury call-up, but he has not played). Essentially, for now at least, they chose Miller over Kreider.
Why did the Rangers choose Miller?
Well, Miller can play all three forward positions, which gives him an edge over Kreider, who is strictly a wing. The Rangers need centers, and Miller can provide that.
In addition, in his limited action, it seems like Miller is a bit more comfortable. He is more eager to use his speed and has shown more of a power game than Kreider.
Long term, Miller has a ton of potential. He's strong and fast, with a wicked slap shot. He can kill penalties and has shown signs of eventually developing into a strong defensive center, even if so far, according to coach John Tortorella, he "really struggled with (defensive) coverages."
That is, of course, to be expected with a rookie who is being thrown into the NHL fire. Still, that potential is there.
Miller, in my opinion, grades out as a top-six winger who can play in all situations. Is he a superstar? No. But Miller is someone who can score 20-plus goals, kill penalties, play on the power play and play quality minutes.
If anything, Miller looks a bit like Ryan Callahan. No, he's not a superstar, but he's essential to the team's success. He can play in every situation and, while he won't score 40 goals, he will turn into a very solid player.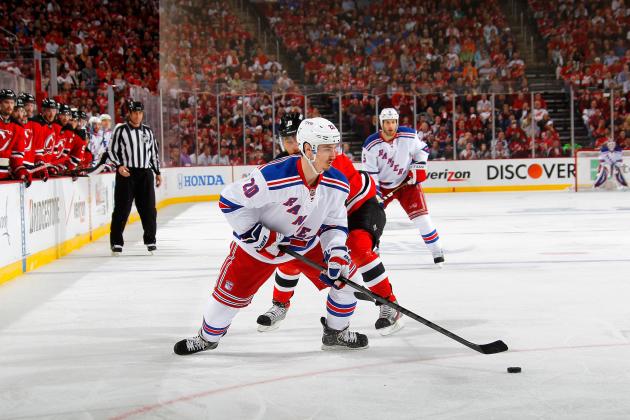 Bruce Bennett/Getty Images

Chris Kreider burst onto the scene in last year's playoffs, scoring five goals and adding two assists in 18 games.
It's been downhill ever since.
In the AHL during the lockout, Kreider played in 34 games, scoring only five goals and adding seven assists.
In comparison, J.T. Miller, in 37 games, scored eight goals had 12 assists.
And in the NHL so far before being sent down, Kreider scored one goal in seven games.
So what happened?
It is important to note that Kreider is only 21 and that struggles like this are inevitable. It's tough to adapt to the pro lifestyle and all the responsibilities that come with it.
It's also quite the adjustment to learn defensive coverages and schemes—something that is not as emphasized at the collegiate level. For all his talent, it's easy for a young player to overthink things on the ice.
But from what we've seen, it is easy to see why Kreider is a top prospect. This play, in particular, shows it off well:
That play had everything—the speed to accelerate with the puck, the knowledge that taking it to the net is not the best play and the power, speed and accuracy of his slap shot.
That is what Kreider is—a prototypical 6'3" power forward with speed to burn and a wicked slap shot.
Kreider has high-end potential. He projects as a potential 40-goal scorer, who, while not being the best defensive player, will be an All-Star for years to come.
It is important not to get too caught up in his demotion—remember, Michael Del Zotto was demoted during his sophomore season after a sensational rookie season. When evaluating a player, circumstances don't matter as much as moments do—the times when Kreider makes a play that exhibits his potential.
That potential is quite amazing, and if everything falls into place, Kreider will be special.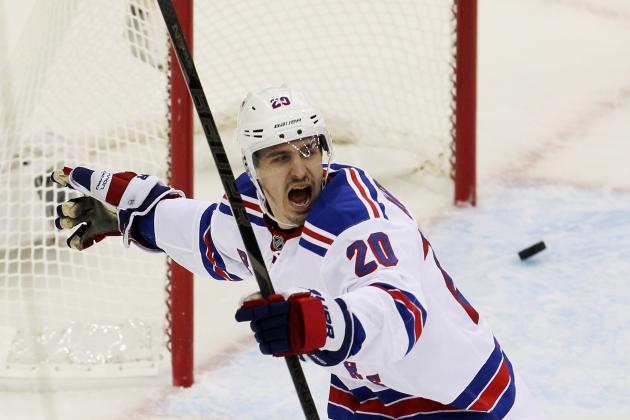 Jim McIsaac/Getty Images

So who will end up being the better player for the Rangers?
In my mind, the answer is pretty obvious—it's Chris Kreider.
That's no knock on Miller. He projects as a really good player, a top-six winger with 20-plus goal potential.
But he does not have the potential that Kreider does.
Kreider projects as a first-line, 40-goal scorer who causes defenses to shift coverage to his side. He, in many ways, resembles Rick Nash because of his combination of size, speed and power.
Kreider is experiencing some bumps in the road and, right now, Miller's versatility makes him more valuable to the current roster.
But when we look five years down the road, it's easy to see that Kreider will end up being the better player.