5 Reasons to Believe in Houston Rockets' Playoff Success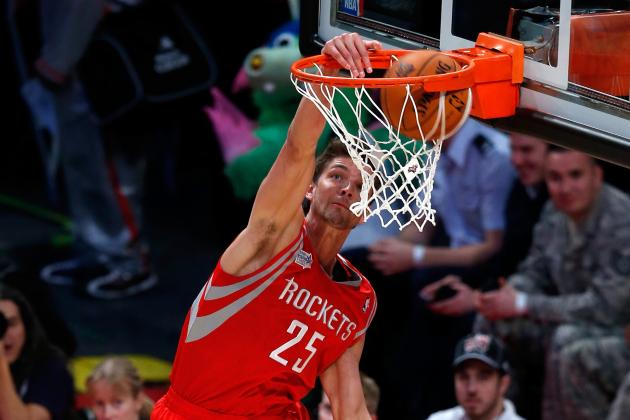 Scott Halleran/Getty Images
Chandler Parsons slams one home during the Rising Stars challenge.
If you think about it, the Houston Rockets have a lot going against them.
They're young and for the most part inexperienced. They play poor defense in general. They lack a consistent low-post threat. Their outside shooting is streaky.
And yet, this Houston Rockets squad had surprised over and over again this season.
I say they're going to do it again come playoff time. Because yeah, they have a lot going against them, but they have a lot more going for them.
To wit...
Begin Slideshow

»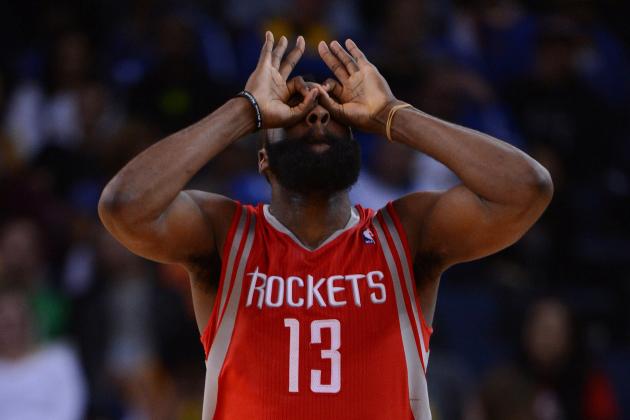 Kyle Terada-USA TODAY Sports

I know the "Houston, we have a" clichés can get tiresome.
So sue me.
Houston, we have a superstar.
James Harden was recently voted the NBA's third-best one-on-one player. He is the league's fifth-highest scorer, 10th in player efficiency rating, first in free throws attempted and made and ninth in minutes played.
When the game is on the lane, Harden wants the ball. When the game's not on the line, Harden dazzles with drives through the line more exciting than Steve McQueen's car chase in Bullitt. He is savvy about drawing fouls. He turns ordinary rebound possessions into fast breaks with regularity. He plays with heart and soul every minute of every game.
He even plays his unquestionably suspect defense with fervency, staring at the ball with a wide-eyed intensity reminiscent of Mike Singletary's maniacal pre-snap countenance—minus, of course, Singletary's defensive talent.
Harden is hands down one of the best players in the NBA. I get the sense that Houston doesn't realize how fortunate they are to have him.
Once the playoffs start, they'll know.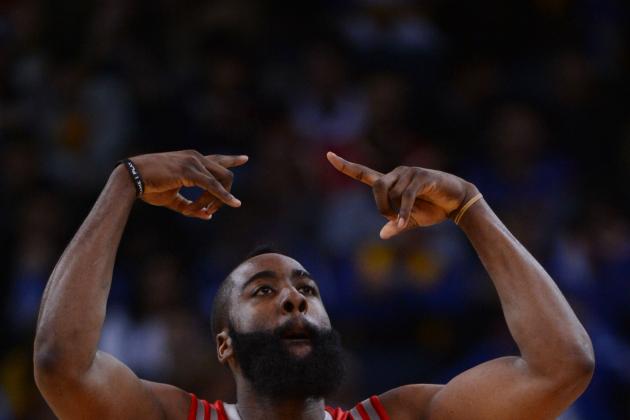 Kyle Terada-USA TODAY Sports

There's nothing wrong with your mouse. This is the next slide.
And yes, this one's about Harden again. Because it's not just Harden's stellar play that will elevate Houston in the playoffs.
It's also his ability to inspire his teammates by his play.
I've heard commenters complain about Harden's Houston teammates too often standing around watching when Harden starts an isolation duel. I've even occasionally complained about it myself.
But what we miss when we complain is why they're standing around in the first place.
Richard Dreyfuss talked once about Robert Shaw's Indianapolis speech in the movie Jaws. This was before the advent of widescreen televisions. Dreyfuss said it was a shame that the cropped television version cut him out of the scene, because he thought Shaw's delivery was "one of the most riveting things he'd ever seen or heard," and that the amazement on his face in that scene is real.
It reminds me of how I, and probably the rest of the Houston Rockets, view Harden when he squares up and squares off against a defensive player one on one. It's like Olivier on hardwood. It's hard to want to do anything but stand around and watch.
In the playoffs, Harden has been a huge asset (minus his struggles in the 2012 Finals). But just as his transition from sixth man to starter has been a revelation, I anticipate the same revelatory bump not only in his playoff play, but in the play of the young guns around him.
Most of the roster will be brand new to the playoffs. Harden's all-out effort will be a beacon to them all.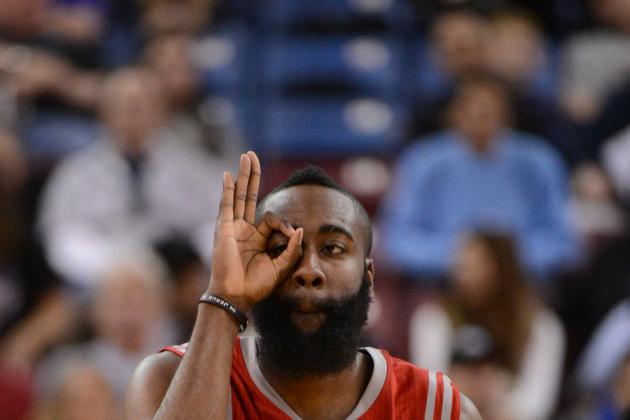 Kyle Terada-USA TODAY Sports

Do not adjust your computer, or beat your iPhone against a table. This is Harden for the third slide.
Because there is a third dimension Harden will bring to the playoffs.
Star calls.
Harden already gets the Star Travel. He takes so many extra steps, you'd think he was a contestant on Dancing With The Stars. And nary a whistle.
Yet that selfsame whistle is already in the referee's blowhole when Harden is racing down the lane. It's not like he's never been blocked, but if there's contact, Harden will get the presumptive foul.
That's because Harden has entered the rarefied air of the superstar call status. Harden and Houston will benefit from that status, because those extra whistles are a big advantage.
In the playoffs, that advantage can often make the difference.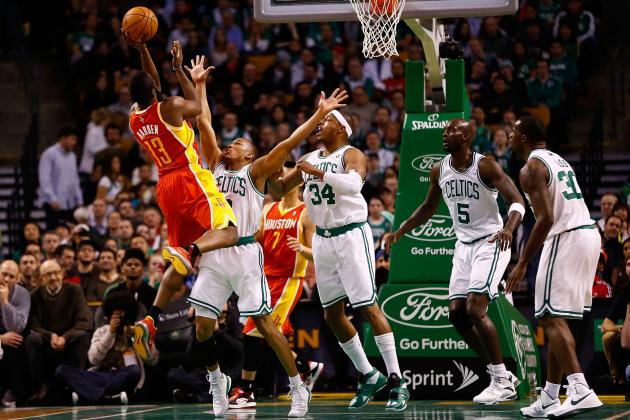 Jared Wickerham/Getty Images

Houston is fourth in the NBA in effective field-goal percentage. An efficient offense is always an advantage in the playoffs.
How does Houston account for such efficiency?
Well, 45 percent of the Rockets' attempts come at the rim. Assuming a high percentage of these shots fall, that number doesn't seem like a total surprise.
But the surprise factor increases when we add that almost 25 percent of Houston's attempts come from long-distance.
Houston is 10th in the league in three-point field goal percentage, hitting 36.2 percent of their shots. But the Rockets are second in the league in three-point attempts with 28.3.
That's part of the reason why the Rockets have the league's most prolific offense.
The long-range shot is basketball's version of an odds bet in craps. That's the only bet in Vegas where the house doesn't have the advantage. Simply put, if a team makes 33 percent of their shots, it's like making 50 percent of two-point attempts. The Rockets have an effective field-goal percentage of 52.3 largely due to their three-point success.
And come playoff time, a team who can hit from outside has more than an outside chance at an upset.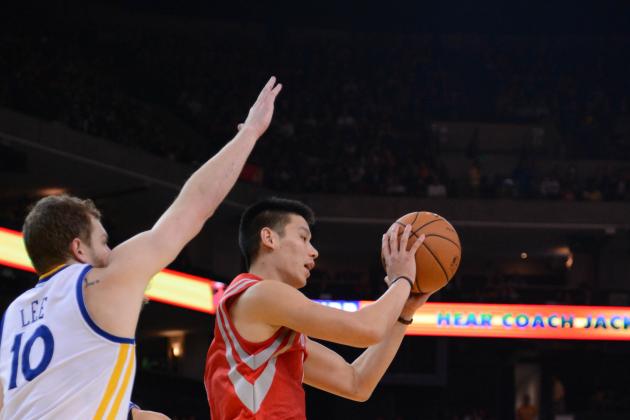 Kyle Terada-USA TODAY Sports

The Rockets have plenty of offense, ranking first in the NBA in points per game. They also lead the NBA in pace.
The reason for both? The fresh legs of the youngest roster in the league.
Defense, they say, wins championships. Maybe. But offense wears down opponents.
Though the playoffs bring a shot of adrenaline to anyone who qualifies, the grind of the season has taken its toll. Few players march into April fully healthy.
That's when the Rockets' youth will be an advantage.
Their relentless offense, night after night, can and will be exhausting for the opposition. And in a seven-game series, it's entirely possible that the team with the most left in the tank will be taking it to the bank.
And nobody runs on rocket fuel like the Rockets.
For all these reasons, I like Houston's chances come playoff time.