Oregon Football: Comparing the Incoming Freshmen to Former Ducks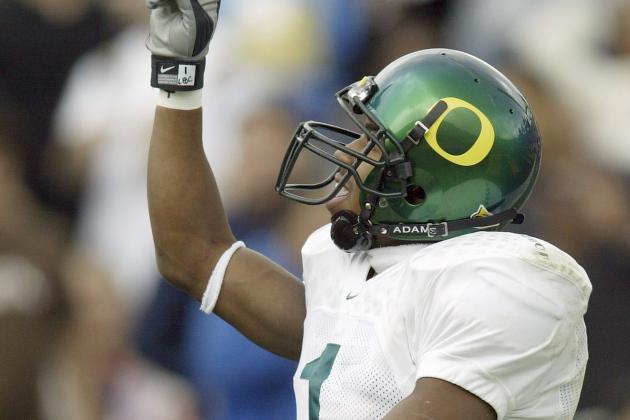 Stephen Dunn/Getty Images
Samie Parker Celebrates a Touchdown Catch
Now that the excitement of national signing day is in the rear-view mirror for Oregon football, it's time to take a more in-depth look at the incoming freshmen recruits. Head coach Mark Helfrich and his band of merry men assistant coaches did an excellent job adding to the Oregon Ducks' roster with the lucky class of 2013.
As you read more about the newbies on the various recruiting websites, and especially as you watch video footage of these kids, they begin to remind you of former Ducks. Whether it's speed, style, size or skill set, there are similarities between the incoming guys and some of your old favorites.
In alphabetical order, here come some of the signees. Look for the rest in this series on the new scholarship kids that will continue on Monday.
For Part 2 of this series, click here.
Begin Slideshow

»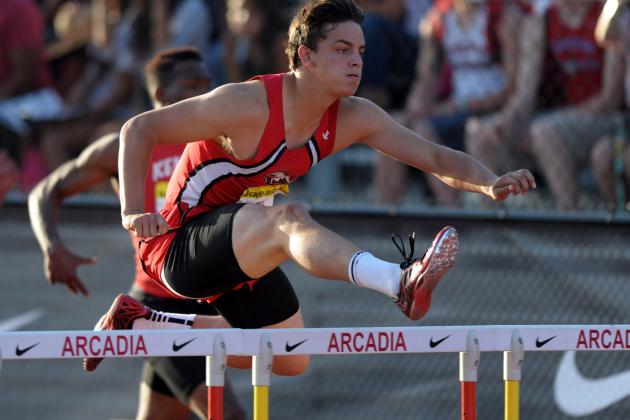 Kirby Lee-USA TODAY Sports
Devon Allen
Oregon has a long tradition of turning track and field stars into fast, deep-threat wide receivers. Look for Devon Allen to continue that trend.
According to Scout.com, Allen is the current Arizona state record holder in the 110 and 300 meter hurdles. He has elite speed and is an explosive route runner. The scouting report on Allen is that, in addition to his speed, he has great hands, good timing and excellent body control.
Allen has the potential to be a deep-threat, big play guy and likely a dynamic returner. That description sounds like several former Oregon Ducks, but none more so than Samie Parker.
Parker won the hearts of Duck fans at the 2001 Fiesta Bowl when he caught an 80-yard touchdown pass from an Oregon quarterback you may have heard of—Joey Harrington. Parker also made his way on to Oregon's all-time and single-game receptions list when he caught 16 passes in the 2003 Sun Bowl against Minnesota. He is tied with Jeff Maehl for first in career receptions.
Allen (6'0", 187 lbs) is about the same size as Parker (5"11", 185 lbs), and both players are bona fide track stars.
Parker was a deep threat every time he took the field. He was sure-handed as well, and is one of the all-time great receivers for the Ducks.
Allen might not hit Parker-like numbers during his Oregon career, but the framework and the speed are there.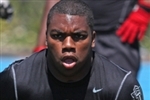 Kani Benoit photo courtesy 247Sports.com
First, you need to know how to pronounce one of the two new running backs' name—Kani Benoit (can-nye ben-whah). Benoit has not received the attention of Oregon's other 2013 class running back, 5-star Thomas Tyner, but he has solid skills and you should be excited to see him play.
In his national signing day press conference, Mark Helfrich said that Benoit is a heavy runner who runs through arm tackles. Helfrich added that Benoit is elusive and competitive.
Those traits remind me of former Oregon RB Terrence Whitehead. Playing from 2002 to 2005, Whitehead wasn't always the fastest guy on the field, but he was exceptional at making defenders miss him. And if they got in his way, he could power through them. Whitehead was tough, competitive and durable.
Benoit could do much worse than to measure up to Whitehead's success with the Oregon Ducks.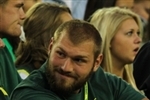 Doug Brenner photo courtesy 247Sports.com
Doug Brenner is an offensive lineman out of Portland's Jesuit High School. Mark Helfrich anticipates Brenner playing at center or guard on the O-line, but there's something in the cliff notes on this guy that reminds me of former left tackle for the Oregon Ducks, Darrion Weems.
Weems was versatile too, and was signed by the Dallas Cowboys late last year to fill in for their injured center. But it's not so much their position that invites this comparison, but rather Brenner's potential leadership skills.
Helfrich said that Brenner was a solid kid that you would want to hang out with, and a vocal, charismatic guy. Weems is also that kind of guy. In fact, he is a charismatic man who is one of the best football players to follow on Twitter:
There is just something a little more special about Oregon Football

— Darrion Weems (@dweems74) January 19, 2013
The Ducks have been fortunate over the years to recruit talented players who also turn into exceptional team leaders. Having stand-up, quality young men who aren't afraid to lead on your football team can often mean the difference between good and great.
Will Brenner be one of those players?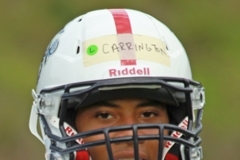 Darren Carrington photo courtesy 247Sports.com
Oregon, who was already loaded at wide receiver for the foreseeable future, added two good ones in the 2013 class—Devon Allen, who you read about in Slide 1, and Darren Carrington.
Carrington is a 4-star WR out of San Diego. His father, also named Darren, played eight years in the NFL, mostly for the San Diego Chargers as a safety and kickoff returner. The scouting report on the younger Carrington is that he has very good, natural hands. You have to love that in a receiver, don't you?
He may not be as fast as Allen, but Carrington makes the tough catches. That's the guy you want late in a game if it's close.
Former Oregon Duck Tony Hartley (1996-99) was that kind of guy. There wasn't anything Hartley couldn't catch. If he did miss one, it was almost always the easy catch; it seemed as if the tougher the catch, the more Hartley liked it. He is still No. 7 on Oregon's all-time career pass receptions.
Carrington clearly has NFL genes and if he's coachable and fills out more (6'2", 186 lbs), he will probably get his chance.
Here's your first teachable moment, Carrington: Study film of Tony Hartley. Catch the ball. Repeat.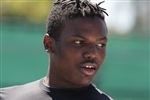 Elijah George photo courtesy 247Sports.com
While Coach Mark Helfrich compared offensive lineman Elijah George to current starting right tackle Jake Fisher, he also resembles former Oregon Duck Max Unger. Unger is currently the starting center for the NFL's Seattle Seahawks, and has had an outstanding career in his first three years with the League.
George is 6'5" and 250 pounds—55 pounds lighter than Unger's current weight, but you have to assume that George will bulk up more in college. Both players are athletic and versatile on the O-line. George will probably fit in at tackle for the Ducks, while Unger is primarily a center.
Unger is quick and agile, and George looks to have those similar traits. Helfrich said on national signing day that he really likes George's upside because of his athleticism.
If he's as smart and dedicated as Unger was, George will have a happy life on the Ducks' O-line.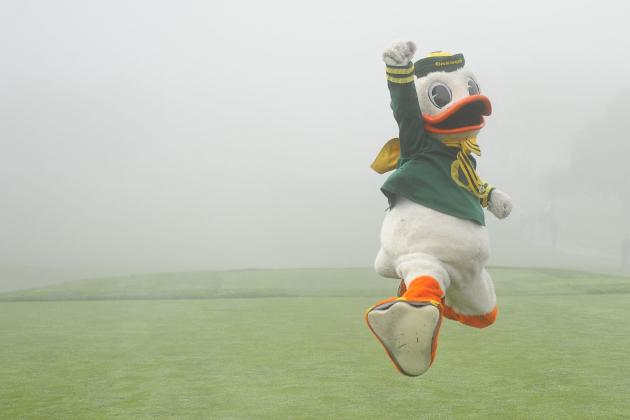 Christopher Hanewinckel-USA TODAY Sports

Be sure to come back next week as we work our way through the rest of the Oregon 2013 recruiting class.
In the meantime, if you have any thoughts on comparisons of the new kids to former Oregon Ducks, don't be shy.
Kay Jennings is a member of the Football Writers Association of America.