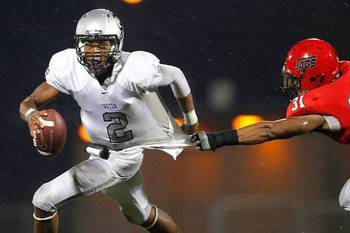 Top quarterback commit Jerrod Heard (Tom Fox/Dallas News).
It is never too early to get back on the recruiting trail, and the Texas Longhorns have done just that, already picking up eight commits for their 2014 class.
So far, the Longhorns are rebounding nicely after a disappointing 2013 haul that was the smallest in the Big 12 and saw five players decommit. Mack Brown has responded with vigor, and a new policy for his commits, in getting commitments from some of the state's top talent. And with up to 35 scholarships available in this recruiting cycle, he is nowhere near done.
Following are Texas' eight commits for the 2014 class along what to expect from them both next season and beyond.
QB Jerrod Heard

Watch Heard break four tackles in the state championship game to give his team the lead.

He may not be heralded as the next Vince Young like one of his future classmates, but Denton Guyer quarterback Jerrod Heard is a name Longhorn fans would do well to remember.
Measuring 6'2" and 180 pounds, Heard is both the team's top-rated recruit (according to Rivals) and the face of this 2014 class. Like his future competition, Tyrone Swoopes, Heard is a dual-threat QB under center with great speed and a big arm. Unlike Swoopes, he is already fairly well-versed in the nuances of the quarterback position and has spent his entire career playing against elite competition.
Another trait of Heard's that you have to love is that he is a winner. In his senior season, he will be defending a championship that he earned by putting up seven total touchdowns and leading a 16-point comeback in the state finals, which speaks volumes about his poise and leadership.
It remains to be seen if Heard will beat out Swoopes once he gets his shot but with 4.4 speed, he is a lock to see the field in some capacity for the 'Horns. He needs to add at least 20 pounds, but there is a lot to like about this prospect.
DE Derick Roberson
With Jackson Jeffcoat gone come 2014, the Longhorns are going to need to replace one of their top pass-rushers from the past decade. Derick Roberson should fill that hole quite nicely.
A converted basketball player, the 6'3", 230-pound Roberson has potential coming out of his ears. He is extremely athletic with a very high motor, two characteristics of the nation's best defensive ends. He is also still learning and growing into the position, so expect him to shoot up from his current spot at No. 81 on the Rivals 100.
Like Heard, Roberson needs to add some weight to that frame. Once he does, he could step in and immediately contribute given his already considerable strength and athleticism.
OT Demetrius Knox
Another player that should shoot up the rankings is offensive tackle prospect Demetrius Knox, who is probably the best offensive linemen in the state.
At 6'5", Knox is not the mammoth that Desmond Harrison or Donald Hawkins are, but he carries good weight at 300 pounds and demonstrates great technique for a player his age. He gets great leverage on his blocks and has great feet, but his pass-blocking needs to catch up a little with his prowess in the run game.
In getting an early commitment from a player like Knox, the coaching staff continues to demonstrate a steadfast devotion to building an elite offensive line. The only problem here is that Knox is not the biggest fan of the new policy regarding commits, so the coaches need to take care that he is not the next A'Shawn Robinson. Aside from that, Knox is golden.
RB Duke Catalon
Joe Bergeron and Malcolm Brown will both be seniors in 2014, so it is imperative for Texas to hang on to running back commit Duke Catalon, another commit who could be tops at his position in the state.
At 5'10" and 195 pounds, Catalon has ideal size for the running back position and should be the starter once Johnathan Gray moves on to the next level. Like Gray, Catalon is a very complete back with great vision along with the ability to help out in the passing game.
After losing Kyle Hicks and altogether failing to pick up a tailback in 2013, expect the coaches to give Catalon the full-court press. His commitment seems solid, but this is just not a player the coaches can afford to lose.
OLB Cameron Hampton
With blazing speed and great coverage skills, junior-day commit Cameron Hampton figures to be a force at linebacker for the 'Horns once he arrives on campus.
Coming in at 6'2" and 205 pounds, Hampton will need to add some weight, but everything else is there. He runs a 4.55 40 and is great in pass coverage, meaning he could make an immediate impact against some of the Big 12's pass-happy attacks. He also does a very good job getting off of his blocks, an area in which the linebackers struggled mightily this past season.
Since most of Texas' linebackers will be upperclassmen when he arrives on campus, Hampton fills a position of need and is someone the coaches will need to retain throughout the recruiting process.
RB/WR Roderick Bernard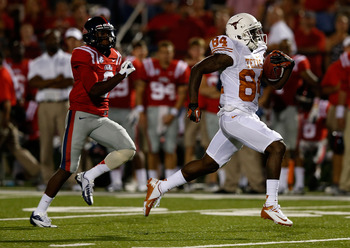 Bernard looks like the second coming of Marquise Goodwin, who was also a track star.
Scott Halleran/Getty Images
Yet another player that fans need to keep an eye on is athlete Roderick Bernard, whose world-class speed would be a welcomed addition to any program.
Bernard is a 5'10" track star that will be among the top five fastest players in the nation as soon as he steps on the field. His 40 time will be listed in the low 4.3 range, but he told ESPN's William Wilkerson that he has hit 4.2 before. Just for reference, Chris Johnson of the Tennessee Titans was a first-round draft pick almost exclusively because he had a 4.24 at the combine.
Bernard, like Daje Johnson and the recently departed Marquise Goodwin, will be used both in the slot and as a change-of-pace guy out of the backfield. He is going to be a lot of fun to watch, especially if he is as fast as he says he is.
RB/FB Daniel Gresham
Meet Texas' next goal-line back. His name is Daniel Gresham, and he is a wrecking ball.
Gresham, who is classmates with fellow commit Demetrius Knox, is a bruiser of a back at 5'10" and a whopping 240 pounds. What is special about him is that while he is definitely a power back, he is actually very nimble on his feet, possessing 4.6 speed and exceptional balance. He is also a ferocious blocker, which always helps get you on the field.
Joe Bergeron will be a senior in 2014, so Gresham will fill in nicely in helping pick up those tough yards up the middle. And if he keeps working on that speed, he could challenge Catalon for a starting spot before his days in the burnt orange are done.
WR Lorenzo Joe
Last up is Texas' very first commit of the 2014 class, Lorenzo Joe, who has been recruited as a wide receiver.
Joe will spend his senior season playing quarterback, as he did this past year, but the coaches like him as a receiver. He has good size at 6'2" and displays good awareness with very precise footwork. The only knock on him is that he is not a burner at the position, so he will need to focus on his route running.
Right now, Joe projects in a similar light as Cayleb Jones and Jake Oliver, who are both very polished receivers that lack breakaway speed. His attention to detail will be key to how much we see of him on the field in play.
Keep Reading

Texas Longhorns Football: Like this team?
Load More Stories