The Top 15 Philadelphia Eagles Players over the Last Decade: Defense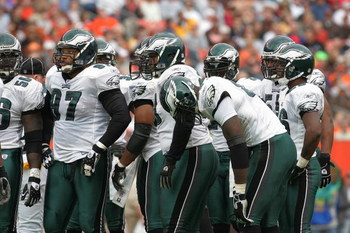 Between 2000 and 2009, the Philadelphia Eagles defense was the most consistent part of the team...Jim Johnson had been the mastermind behind the schemes that give the opposing quarterback nightmares.
This slideshow will reveal my top 15 defensive players from the last decade that has worn the midnight green...
Enjoy! Feel free to post any snubs and opinions!
Honorable Mention No. 1: Hollis Thomas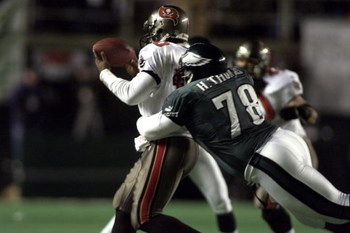 Hollis Thomas was one of the starting Defensive Tackles in the young Andy Reid era. Hollis was a very likable guy because of his funny personality. He was also a pretty good player.
Thomas started 95 games in his Eagles career, recording 13.5 sacks and 289 tackles. He gets an honorable mention.
Honorable Mention No. 2: Jevon Kearse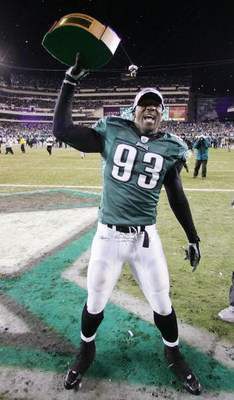 Jevon Kearse came to the Philadelphia Eagles in the offseason prior to the '04 season...They threw big money at a big-time defensive player.
Many fellow Eagle fans loved the signing and thought he would be an instant impact...We were right! In the '04 season he recorded 7.5 sacks and 27 tackles in 14 games. His sack total was not eye-popping, but disrupted plays constantly.
He helped the '04 Philadelphia Eagles reach the Super Bowl, so he has to be on the list as an Honorable Mention.
15. Asante Samuel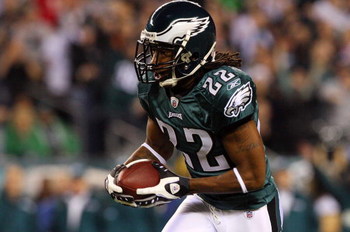 Asante Samuel came to Philadelphia after three super bowl rings with the New England Patriots. He was a guy that made plays, ALL THE TIME...the Eagles defense lacked that big playmaker in the '07 season and had to make a move...And boy did it pay off. Asante recorded 4 interceptions and 1 for a touchdown..
His presence was definitely felt in the playoffs...two huge interceptions lead the team to two playoff victories...I look forward to the coming years because he will continue to make plays
Most Memorable Play:
The Wild Card playoff game against Minnesota...He took a Tavaris Jackson pass back to the house, lead by Chris Clemons who "bodyslammed" Tavaris Jackson into the ground on the block
14. Mike Patterson
Mike "Baby Sapp" Patterson has been a force on the Defensive Line the past few years..He creates havoc for opposing quarterbacks because of his Warren Sapp like size and style of play (hence the nickname Baby Sapp).
He has a total of 154 tackles, 9.5 sacks, and 5 fumble recoveries since being drafted by the Eagles in '05 season.
Most Memorable Play:
The game in 2006 against the 49ers showed what kind of "speed" Patterson had...He recovered a fumble and raced 98 yards for an Eagles touchdown...what a great play!!
13. Brodrick Bunkley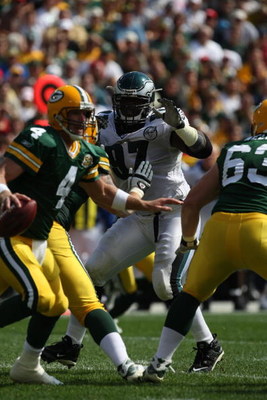 Brodrick Bunkley was drafted in the '06 Draft and came to Philly with high expectations from the fans as well as the Eagles Organization...For whatever reason, he struggled in his rookie campaign, barely seeing the field at all.
Many fans gave up on him, calling him a bust and a worthless player. He could have chosen to pack it in and give up...but he didn't. He proved his critics wrong and proved that he was a worthy NFL player.
He gets on my list for the simple fact that he didn't shut it down when things got tough.
Most Memorable Game:
For me, the game in '07 against the Lions was a preview of what Bunk could be. Had 4 solo tackles and a couple big TFL's.
12. Stewart Bradley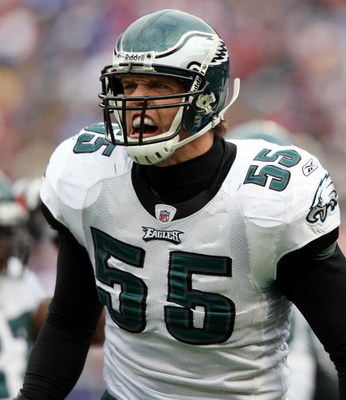 Stewart Bradley became the Philadelphia Eagles starting Middle Linebacker in '08 and took the league by storm...He had an all-pro type year and was a leader on the defense...He recorded 89 tackles in his first year as a starter.
Most Memorable Play:
His rookie year against the New Orleans Saints when he got his first career interception with some help from Sheldon Brown.
11. Corey Simon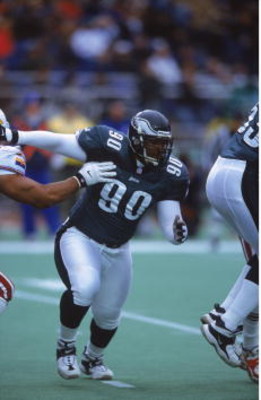 Corey Simon was one of Andy Reid's high draft picks that helped shape the face of the Philadelphia Eagles defense for a majority of the 2000's. He was a great player for this defense, recording 32 sacks, 166 tackles, and eight forced fumbles.
Most Memorable Game:
It was week 17 of the '03 season, and we were playing the hated rival Washington...It's always sweet to get a win against them, but its even sweeter when its a "thumping"
31-7 was the final score and Simon had four solo tackles, a sack, and a forced fumble.
10. Ike Reese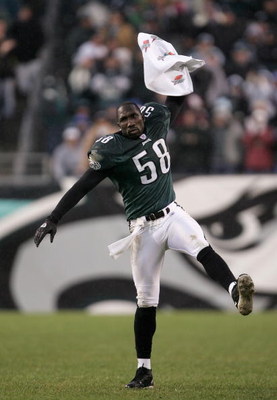 Ike Reese was not a starter but he was a key special teams/role player. He was also a leader and a highly respected guy in the locker room...This guy would've taken a bullet for one of his fellow players. He was a high energy guy with a great work ethic.
Most Memorable Game:
The 2004 season was a highlight for many guys on the Philadelphia Eagles.
For Ike Reese, the game in 2004 against the Dallas Cowboys he recorded a sack en route to a 12-7 victory
9. Trent Cole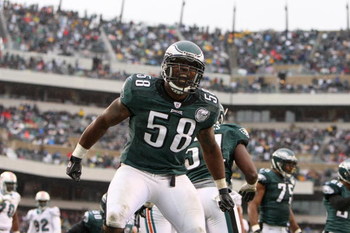 This guy is one of my favorite players on the current defense. He has a "non stop motor" that all the analysts rave about...He is a guy who NEVER quits on a play...A play is never over when you are playing against him and that is why I like him so much.
Most Memorable Play:
It was in the '07 season after a sack..He celebrated with his trotter-like chop...Eagles LB Takeo Spikes went to celebrate with him and Cole chopped him all the way to the ground by accident!
8. Quintin Mikell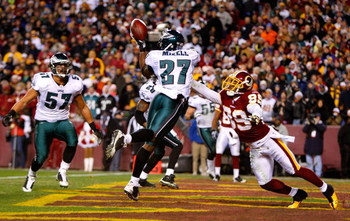 Quintin Mikell is quickly becoming one of my favorite players on this team. He is a hard-hitting, playmaking saftey who has his best years ahead of him. In the '08 season, he had 62 tackles, two sacks, and three interceptions, earning second team all-pro honors.
Most Memorable Play:
It was the hit on Antonio Chapman that stuck out the most to me..He absolutely crushed the Bengals WR, causing a fumble. Chapman was carried off a stretcher because of the hit...thankfully, he is OK.
7. Lito Sheppard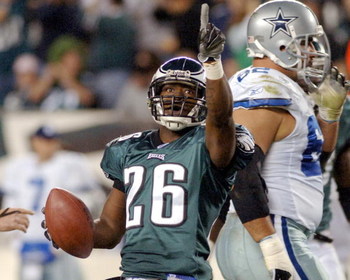 Lito was an absolute "Cowboy Killer!"
Sheppard came to the Eagles via the Draft, replacing Troy Vincent...Boy did he fill in nicely...He was a two-time Pro-Bowler and earned 1st team all-pro once..He had a total of 18 interceptions for three touchdowns with the Eagles.
Most Memorable Play:
The interception that was returned back for a touchdown against the Cowboys in the '06 season to seal the victory.
6. Sheldon Brown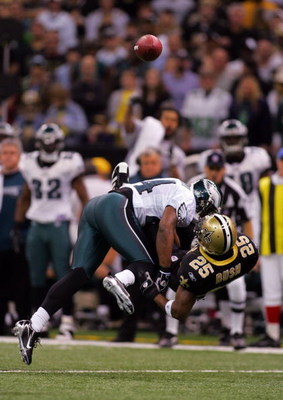 Sheldon Brown might be the most consistent player in the Eagles recent history..He does not make a whole lot of huge plays, but he hardly ever gets beat..this past year, He only gave up one touchdown! That shows what type of player he is...Oh yeah, he can hit too...Ask Reggie Bush...or Stephen Jackson!
Most Memorable Play:
The '06 Playoffs...Reggie Bush was in the flats...Drew Brees floated a pass Reggie's way and all of the sudden....BOOM! Sheldon Brown clocks Reggie, leaving him shaken and on his knees for a little while!
5. Bobby Taylor
Bobby Taylor was part of one of the greatest cornerback tandems in Eagles history...Bobby and Troy Vincent were the guys that were out there day in and day out...making plays all the time...Bobby was a big corner...at 6'3" he was a physical presence that allowed him to become one of the better corners in the game.
He had a total of 19 interceptions and two returned for a touchdown with the Eagles.
Most Memorable Game:
The Playoff game against the Falcons in the 2002 Playoffs: He took a Michael Vick pass to the house leading the Eagles to victory
4. Hugh Douglas
Hugh Douglas played the DE position for Jim Johnson very well...He always seemed to be around the ball...He talked A LOT, but then again he backed it up...Hugh had 54.5 sacks, 185 tackles, and six forced fumbles as an Eagle. He was a three-time Pro-Bowler, and in 2000 he was a 1st team all-pro.
Most Memorable Game:
The 2000 Wild Card Playoff win against Tampa Bay was a highlight in Hugh's career..He had 5 tackles, 2 sacks, and a forced fumble leading the Eagles to a 21-3 win.
3. Troy Vincent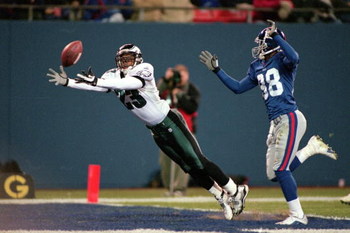 Troy Vincent one of the NFL's "good guys" helping the kids in the Philadelphia Community and was NFL Man of the Year in 2002..He was also a damn good football player.
In his eight-year career with the Eagles, he had 28 interceptions, resulting in one touchdown...He was a five-time Pro-Bowler and in 2002, he was a 1st team all-pro selection
Most Memorable Game:
The 2001 Wild Card game is the game that sticks out to me the most. He had five tackles and an interception in a blowout win against the Bucs.
2. Jeremiah Trotter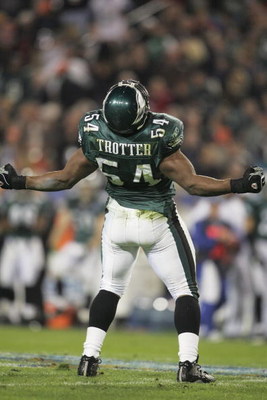 Jeremiah Trotter was one of the vocal leaders of the Eagles defense through much of the decade...As an Eagle, Trotter recorded 11 sacks, 536 tackles, 9 interceptions (two for TD) and nine forced fumbles. He played with heart and emotion, always leaving it all on the field, and that is why he is No. 2.
Most Memorable Game:
The year the Eagles made it to the big dance..In the Divisional Game against the Vikings, Trotter was key in the win...He had 7 tackles, 0.5 sacks and 1 interception.
1. Brian Dawkins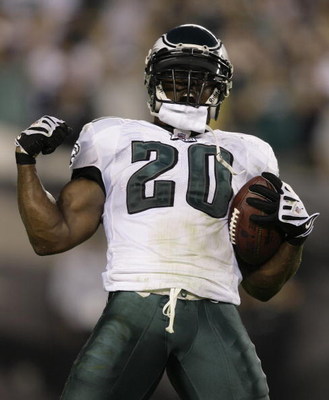 Brian Dawkins...Need I say more?
Weapon X was the heart and soul of the Philadelphia Eagles. No words can describe how much he meant to the Philadelphia Eagles. His pre-game speeches were moving and motivating, and he always got the most out of his teammates. His stats speak for themselves: 898 total tackles. 21 sacks. 33 forced fumbles. 34 interceptions. 2 touchdowns.
He is most definitely a Hall of Fame player, and could be the Greatest Eagles Player of all time. That is to be debated, but one thing that cannot be debated is the impact Brian had on the city of Philadelphia and his Team.
Most Memorable Play:
The hit on Crumpler in the Wild Card game.
Keep Reading

Philadelphia Eagles: Like this team?