Chelsea: The 6 Best Chants You Will Hear at Stamford Bridge This Season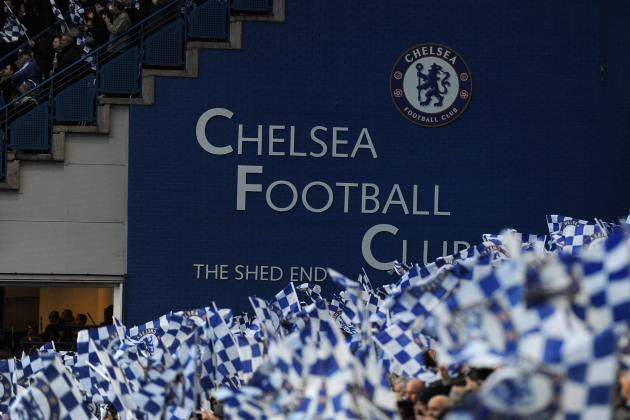 Michael Regan/Getty Images

Football is often referred to as a religion, and were we to take that quite literally, a team's stadium would very much be the church for its fans.
Every week supporters in England and across the globe charge through the turnstiles to worship their heroes, bringing with them their own varied traditions of song.
Chelsea's home, Stamford Bridge, is no different from the other 91 venues for professional clubs in England, not to mention the countless others outside the Football League pyramid.
In the '60s and '70s, a packed Shed End loomed large over visiting teams as songs as diverse as "Knees Up Mother Brown" echoed out of the home end. Indeed, the Shed End was long the Mecca for all Chelsea fans, from the club's inception in 1905 through to the mid-'90s when it was redeveloped.
Chelsea classics such as "Care Free" and "Celery" ring out at Stamford Bridge, but what of the other songs in the modern era? Bleacher Report looks at six of the best you're sure to hear every other weekend at Stamford Bridge.
Begin Slideshow

»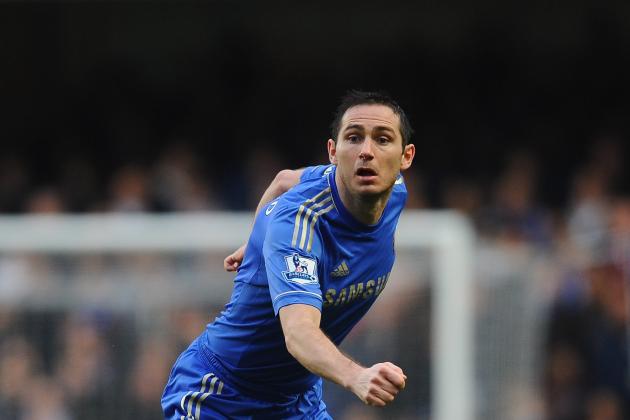 Laurence Griffiths/Getty Images
Chelsea fans often sing Lampard's name.
Frank Lampard's "Super Frank" has long been a signature song for Chelsea supporters when they have given praise to their hero during his 12 seasons at Stamford Bridge.
If he's on the bench it can be heard building into a crescendo as each minute of the game ticks away and he is not part of the action. Whenever he scores, it's all you will hear for a protracted period of time and if he's replaced by a teammate, it's what invariably follows the applause for another fine performance.
It's been replaced of late, however, with chants of "sign him up, sign him up" bouncing around the terraces as Blues fans endeavor to convince Roman Abramovich to offer Lampard a new contract beyond this season.
Will it have the desired effect? Only time will tell, but until the time comes when Lampard signs or departs, it will continue to be heard at Stamford Bridge.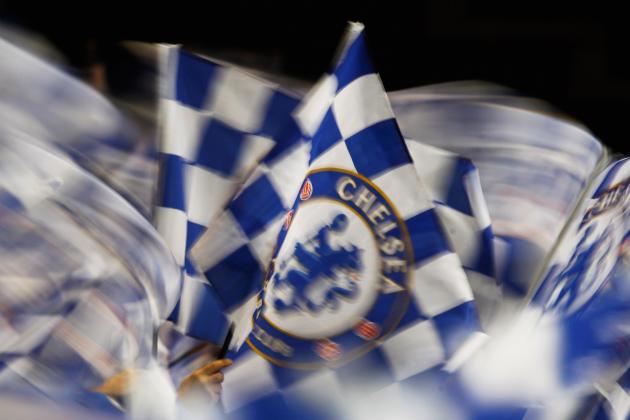 Paul Gilham/Getty Images

This is one song that has enjoyed a renaissance in the past decade or so.
A throwback to yesteryear, chants of "Zigger, Zagger! Zigger, Zagger! Oi! Oi! Oi!" was often heard throughout Stamford Bridge in years gone by before its recent comeback.
According to Rick Glanvill's brilliant book, Chelsea FC: The Official Biography, its origins come from one fan in particular—Mickey Greenaway.
Greenway was a "terrace legend to Chelsea fans," a "cheerleader with a bad side." He created the song along with others such as "Celery" and "Care Free," which are rumored to have started on a preseason tour of Sweden in 1982.
"Zigger Zagger!" involves one fan singing the opening line twice, with the rest of the crowd following up with "Oi! Oi! Oi!" It continues at his behest until developing to finish off with the following verse: "When the Blues, go steaming in/Oh! When the Blues go steaming in/I wanna be in that number/When the Blues go steaming in."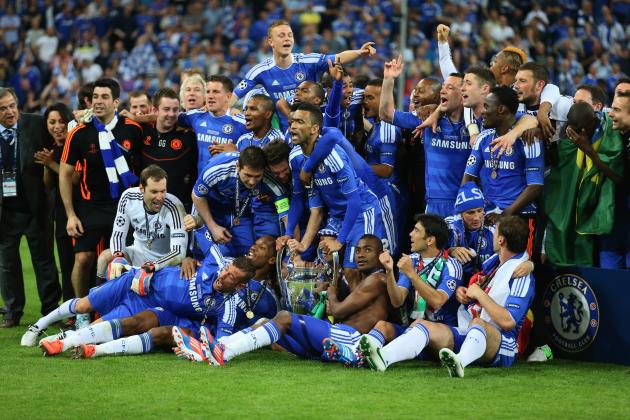 Alex Livesey/Getty Images
Blues supporters are enjoying reminding the opposition of their status as European champions.
If you didn't know it already, Chelsea are European champions.
What with the Blues already knocked out of the Champions League, that tag is guaranteed to be passed on come May, but until that happens, the Chelsea faithful continue to remind the rest of England of their achievement at any given opportunity.
If you fancy a karaoke session, slip on The Beach Boys' hit "Sloop John B" and sing the following lyrics to the chorus: "We know what we are/We know what we are/Champions of Europe/We know what we are."
Close your eyes and you could even be at Stamford Bridge.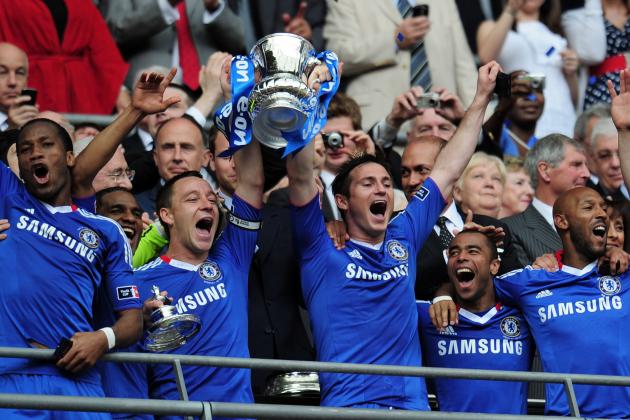 Shaun Botterill/Getty Images
This is the moment Chelsea and John Terry clinched the Double in 2010.
Readers of Bleacher Report in the U.K. may be familiar with the Felix cat food adverts from the mid-90s when Scott Joplin's piano music entitled "The Entertainer" was made famous to the masses.
Well, it wasn't lost on Chelsea fans either who, after the Blues' Premier League and FA Cup double success in 2010, were soon singing the following to the tune:
"Double, double, double/John Terry has won the Double/And the **** from the Lane have won **** all again/Because Chelsea have won the double."
For reasons of decency we've blanked out some of the lyrics, but we're sure you can use your imagination.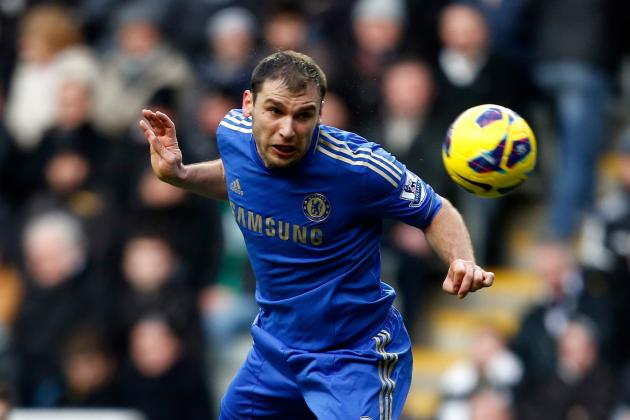 Paul Thomas/Getty Images
Branislav Ivanovic is a cult hero at Stamford Bridge.
Girl band Vanilla had a top-20 hit with their debut single "No Way, No Way" in 1997 and while the record sales didn't suggest it at the time, it has gone on to enjoy somewhat of a cult status.
The Muppets used the song as part of an Orange mobile advertisement in the U.K., while it has also been used by various other artists.
Never to be left out, Chelsea supporters have adopted the song to pay homage to Branislav Ivanovic and it goes a little something like this:
"Ivanovic, do, do, da, do, do/Ivanovic, do, do, da, do, do."
Bleacher Report is a sports website, so we couldn't bring ourselves to link through to the actual Vanilla music video on YouTube, but if you're that intrigued, a quick Internet search will find it. And when your ears bleed, don't say we didn't warn you!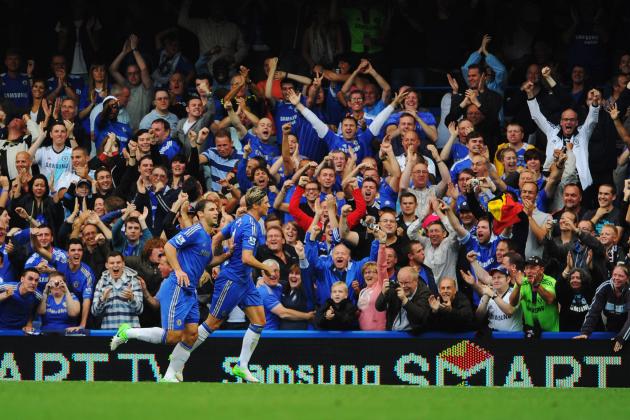 Michael Regan/Getty Images
Chelsea fans in full voice at Stamford Bridge.
This song has long been a staple of Chelsea fan culture and is still going strong in 2013.
It may have its roots as being a nursery rhyme, but Blues fans have adopted it, making it their own.
From one man through to nine, most Chelsea fans will remain seated, or crouched at least, but when hitting 10, the entire stadium rises in unison. It's quite a spectacle.
With the countdown from 10 to one reaching its climax, chants of "Chelsea! Chelsea!" soon follow.
They perhaps don't teach that part of nursery rhyme in junior schools, but ask any Chelsea supporter and they would agree the song isn't the same without it.