UConn Basketball: Complete Guide to Being a Big East Spoiler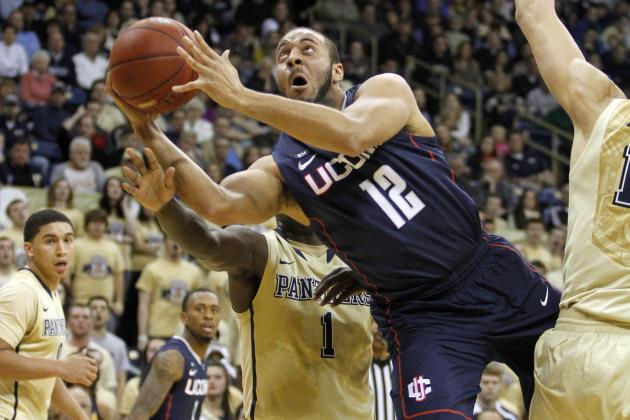 Justin K. Aller/Getty Images

In a spectacular role reversal, perennial Big East title contender Connecticut is steamrolling through February as the ultimate spoiler. UConn, ineligible for the postseason due to a substandard Academic Progress Rate, is fighting for the only title it can possibly attain—a first-place finish in the regular season conference standings.
The Huskies have enjoyed success against the Big East's best teams, highlighted by a 66-58 victory over Syracuse in the final scheduled meeting between longtime conference rivals. Under the guidance of Kevin Ollie, a former Connecticut player and current head coach, UConn has won five of its last six conference contests, sits just one game back of first place and continues to prove that pride is an immeasurable motivator.
Despite a defined destiny that falls short of March Madness, the Huskies continue to wreak havoc on the Big East landscape. Though we already know UConn won't be the team celebrating at midcourt at Madison Square Garden after the conference championship, Ollie's feisty squad is certainly doing its part to impact the title chase every step of the way.
So what makes Connecticut such a tough opponent for tourney-bound teams? Let's take a moment to examine how the Huskies are shaking things up atop the Big East totem pole.
Begin Slideshow

»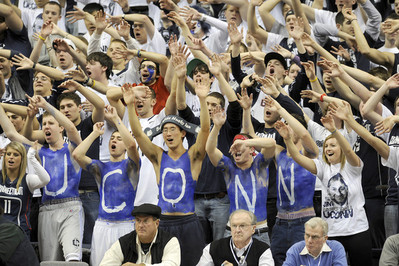 Courtesy of courant.com
The Huskies have always enjoyed one of the nation's premier home court environments, especially when games are played at Gampel Pavillion on the main campus in Storrs. UConn stymied sixth-ranked Syracuse at the more spacious XL Center in Hartford on Wednesday night to continue a dominant string of performances in front of its faithful fan base.
Connecticut is now 12-1 on its home court, including a 5-0 record against Big East opponents. The Huskies still host Villanova, Cincinnati, Georgetown and Providence before this shortened season closes.
Aside from a narrow overtime win against South Florida, every UConn home win has come by virtue of at least an eight-point margin. The Huskies feed off of their fans and that has spelled doom for visiting opponents.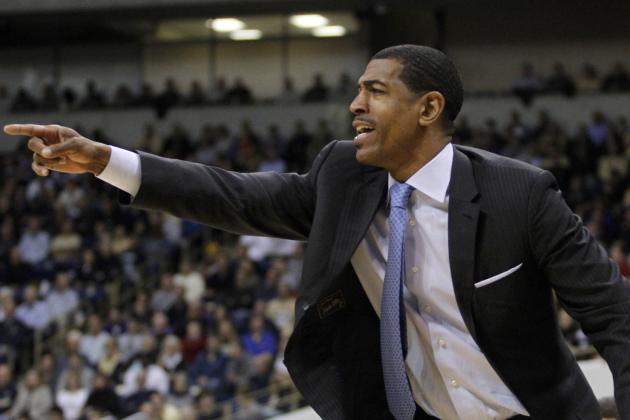 Justin K. Aller/Getty Images

Kevin Ollie took over the program following the retirement of three-time national champion and Hall of Fame inductee Jim Calhoun. Although he initially wore the label of "interim coach", Ollie's position with the program became far more permanent when he agreed to a five-year extension in December.
That contract was announced on the eve of Ollie's first foray into conference competition. The 40-year-old spent three seasons serving as an assistant on Calhoun's staff and suited up for the Huskies as a point guard from 1991-1995.
This roster has rallied around Ollie in his first season at the helm. The fact that he was personally involved in most players' recruitment process out of high school was key when it came to earning their trust and respect right away.
Ollie provides the program with accountability, enthusiasm and a heavy dose of Huskies pride.
"I'm used to winning around here," he told ESPN.com's Andy Katz. "That's why I came here. That's not going to stop. We will do it well and we will do it right. It's a five-year contract, but I'm looking at it like I can be the coach here for 20-25 years."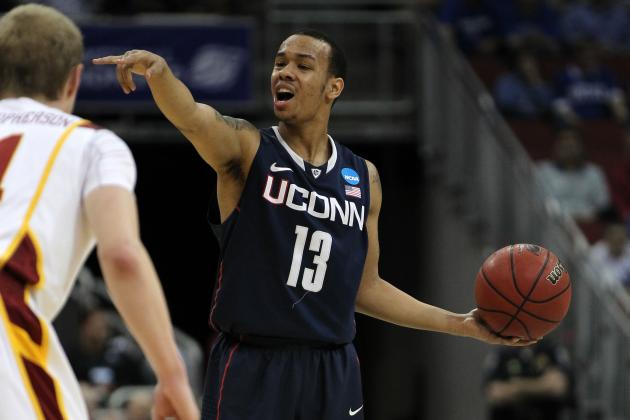 Jonathan Daniel/Getty Images
Shabazz Napier is one of four Huskies currently averaging double digits in scoring.
The Huskies have a variety of versatile athletes capable of shouldering the offensive load when necessary. Connecticut does a tremendous job of circulating the ball, locating scorers in their comfort zone on the court and converting high-percentage baskets.
UConn is one of just two Big East programs that currently boasts two players on the conference's list of top-ten scorers (DePaul is the other). Shabazz Napier (fifth) and Ryan Boatright (ninth) both rank among the Big East's elite offensive players.
The duo combined for 27 in Wednesday's win over Syracuse. Guard Omar Calhoun added 15, including two second-half three pointers.
The freshman is averaging 13.5 points per contest during the Huskies last ten games. Intriguing forward prospect DeAndre Daniels has also developed into a consistent scoring threat in Connecticut's deep rotation.
The 6'8" sophomore is scoring about 11 points per game during the Huskies' five-game win streak.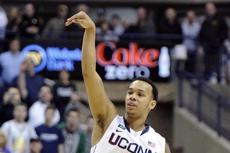 FRED BECKHAM/ASSOCIATED PRESS
Trips to the charity stripe become exponentially more valuable (and pressure-packed) as the season surges toward March. The Huskies have been able to withstand the heat, shooting a Big East-leading 75 percent from the free-throw line.
Napier, UConn's leading scorer, is currently connecting on 82 percent of his attempts. The ability to convert on freebies is an easy way to gain a slight, yet meaningful edge during a close matchup.
Connecticut continues to carry that advantage over conference foes.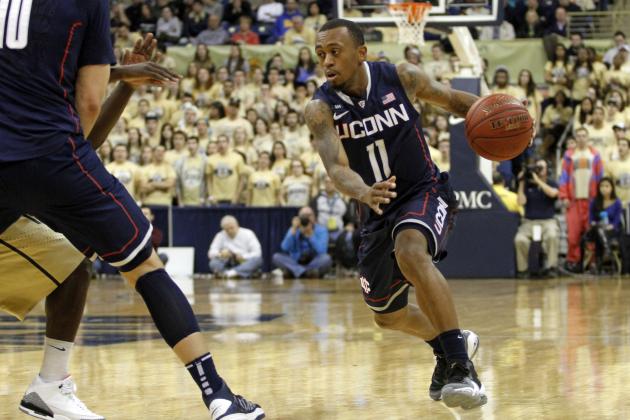 Justin K. Aller/Getty Images

Considering the success of Connecticut's offense this season, it should be no surprise the team is doing a quality job of protecting the ball and maximizing possessions. The Huskies rank fourth in the conference in assist-to-turnover ratio (1.2).
Only one UConn player averages more than two turnovers per game (Boatright). Napier's numbers (2.1 steal per game compared to 1.8 turnovers per game) are a prime example of this squad's offensive efficiency.
Ball security has been exemplary under Kevin Ollie, who carved out a nice NBA career at the point guard position. It helps that he is able to trust a backcourt of capable ball handlers.
"Our guards. It starts and stops with them," Ollie explained to the Associated Press via ESPN.com.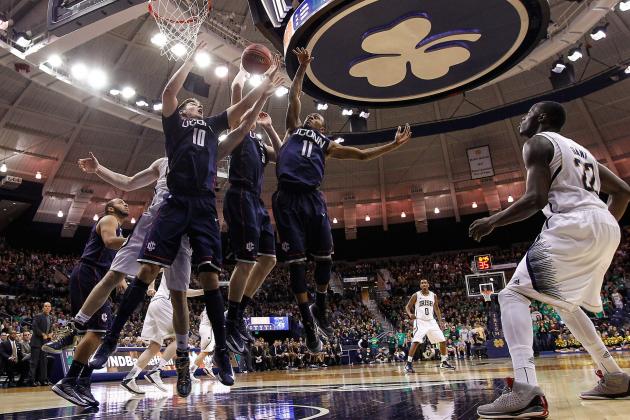 Michael Hickey/Getty Images
Connecticut knocked off Notre Dame on the road.
Connecticut knows it won't win a Big East tournament title in 2013. Perhaps that's part of the reason these Huskies seem to approach every game with the tenacity of a conference title game.
The hard-nosed psyche of UConn is unquestionable after a series of impressive Big East wins. The Huskies brought down No. 17 Notre Dame in South Bend and also prevailed at Providence in an overtime thriller.
UConn lost to then No. 1 Louisville at home on Jan. 14 but pulled off a win Wednesday night in an emotional showdown with sixth-ranked Syracuse. That start-to-finish effort shows the kind of character Connecticut possesses.
Although we don't know which players will return to the team next season, there are sure to be a bevy of seasoned Big East veterans anxious to avenge a lost postseason opportunity. The regular season success against some of UConn's primary conference foes will serve the program well moving forward, while also throwing the conference title race for a loop.