Handicapping the Odds for Every Main Card Fight at UFC on Fuel 7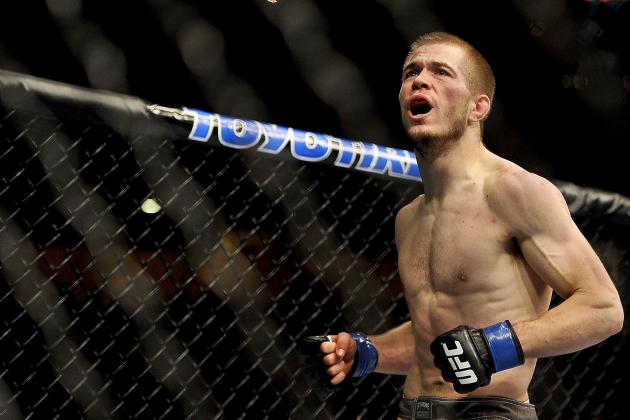 Paul Abell-USA TODAY Sports

Gambling is for suckers. That's what I always say.
But still, there are those among you that enjoy gambling on a fight every so often, and my job is to help you make informed decisions. I may not gamble on fights, but I still enjoy the process of handicapping; there's just something about statistics and percentages that intrigues me. And this is coming from a guy who absolutely hates math in all its various forms.
Today, we'll take a look at Saturday's UFC on Fuel 7 main card from a gambler's perspective. I'll tell you which fights I think you should stay away from, and I'll recommend four decent plays that are currently available. And at the end, I'll give you a "just for fun" parlay, if you're into that kind of thing.
Let's get started. As per usual, all odds are courtesy of the folks at BetOnFighting.com.
Begin Slideshow

»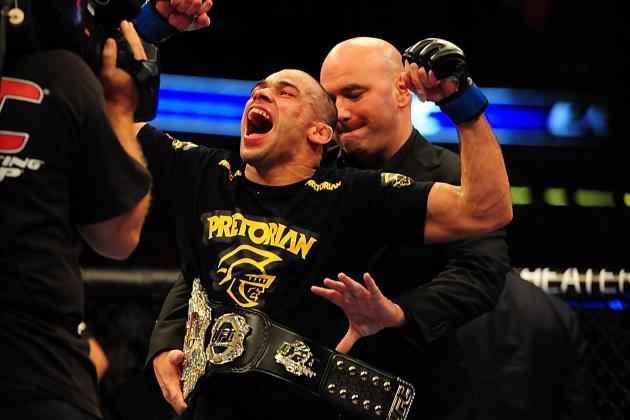 Anne-Marie Sorvin-USA TODAY Sports

CURRENT ODDS:
Renan Barao: -290
Michael McDonald +230
MARKET PERCENTAGE (CHANCE OF WINNING FIGHT)
Barao: 74.36%
McDonald: 30.30%
MY PERCENTAGE
Barao: 45%
McDonald: 55%
DIFFERENCE
Barao: -29.36%
McDonald: +24.70%
As you can see here, there's a large discrepancy in the market percentage and my own. I think the fight is pretty close to a pick 'em, and I give McDonald a slight advantage based on his excellent boxing skills. I think that one trait will go a long way towards helping McDonald capture the interim bantamweight title.
Even if you have Barao winning the fight, you'd have to have him as a gigantic favorite in order to justify the market line.
I typically recommend betting on any fight where there is a 20% or more difference between your own percentage and the market percentage. Anything over 25%, and I recommend a bigger play. McDonald is nearing that 25% territory, so throwing a bigger portion of your bankroll on this one might not be a bad idea.
PLAY: Medium/large play on McDonald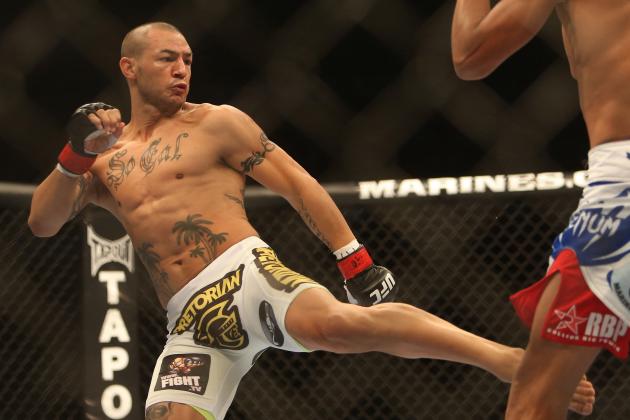 Tom Szczerbowski-USA TODAY Sports

CURRENT ODDS:
Cub Swanson: -130
Dustin Poirier +100
MARKET PERCENTAGE (CHANCE OF WINNING FIGHT)
Swanson: 56.52%
Poirier: 50.00%
MY PERCENTAGE
Swanson: 55%
Poirier: 44%
DIFFERENCE
Swanson: -1.52%
Poirier: -5.00%
Much like Barao vs. McDonald, this is a very close fight. But it's also one where the market accurately reflects how I feel about the fight, so I recommend staying away from it.
If you're absolutely itching to throw down some money on this fight, I'd recommend looking into a Fight of the Night prop bet. Barring some unforeseen circumstance, this one will be a contender for that award, and you can get some decent odds on that prop.
PLAY: Stay away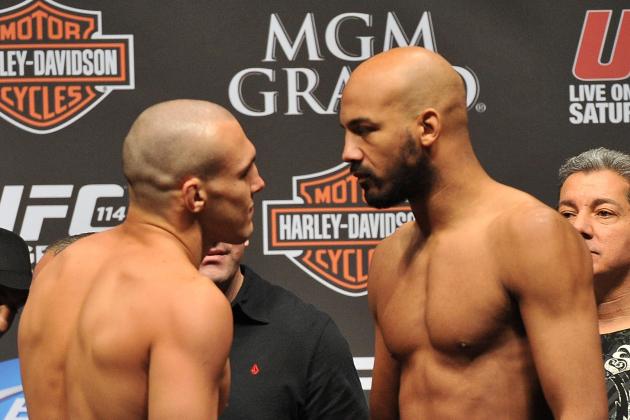 Jon Kopaloff/Getty Images

CURRENT ODDS:
Jimi Manuwa: -225
Cyrille Diabate: +185
MARKET PERCENTAGE (CHANCE OF WINNING FIGHT)
Manuwa: 69.23%
Diabate: 35.09%
MY PERCENTAGE
Manuwa: 45%
Diabate: 55%
DIFFERENCE
Manuwa: -24.23%
Diabate: +19.91%
I like Minuwa a lot. In fact, I think he could very well win this fight, as evidenced by the closeness of my percentages listed above.
But I like Diabate just a little bit more. He's a true-world class muay thai fighter, and while Manuwa is a powerful striker, I just can't see him having a lot of success in a stand-up battle against Diabate. And as we've seen, Diabate's game is evolving; he submitted Chad Griggs in his last UFC fight.
19.91% is a little bit under the levels where I'd normally recommend a play, but it's close enough where I feel comfortable enough suggesting a small one.
PLAY: Small play on Diabate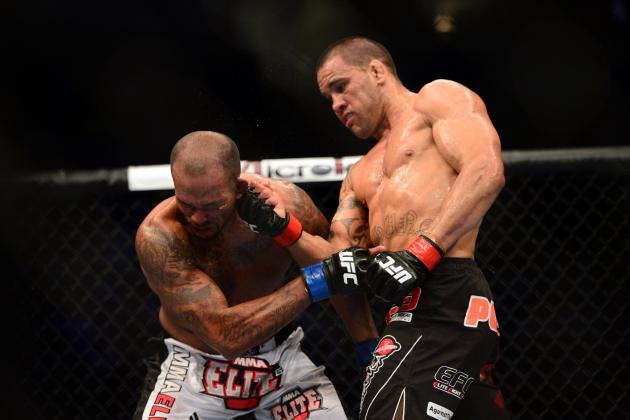 Kyle Terada-USA TODAY Sports

CURRENT ODDS:
James Te Huna: -200
Ryan Jimmo +160
MARKET PERCENTAGE (CHANCE OF WINNING FIGHT)
Te Huna: 66.67%
Jimmo: 38.46%
MY PERCENTAGE
Te Huna: 60%
Jimmo: 40%
DIFFERENCE
Te Huna: -6.67%
Jimmo: +1.54%
As you can see by looking at the numbers above, my own percentages are just about even with the market, which means no play on this fight.
I think it's Te Huna's fight to lose as I've never been impressed with Jimmo, his stunning UFC debut notwithstanding. I don't think he has anything to offer Te Huna outside of a knockout punch landing, but I believe Te Huna to be good enough with his range that a lucky punch just won't be the case.
PLAY: Stay away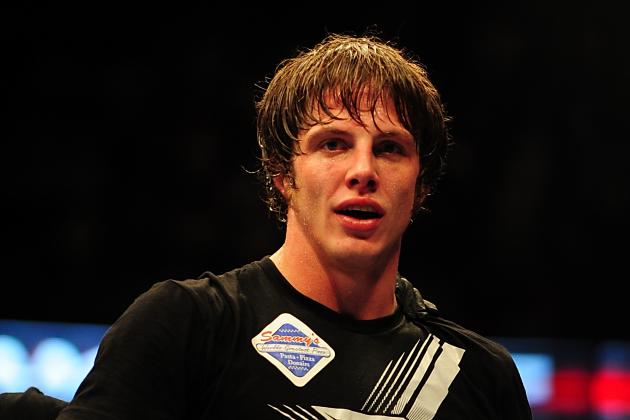 Anne-Marie Sorvin-USA TODAY Sports

CURRENT ODDS:
Che Mills: -215
Matt Riddle: +175
MARKET PERCENTAGE (CHANCE OF WINNING FIGHT)
Mills: 68.25%
Riddle: 38.36%
MY PERCENTAGE
Mills: 45%
Riddle: 55%
DIFFERENCE
Mills: -23.25%
Riddle: +18.64%
Much of my recommendation here is based on how smart Riddle fights. If he uses a wrestling-based game plan, one predicated on keeping Mills on his back and using smothering top control, Riddle will win this fight. That's the route others have taken in the past to scoring victories over Mills, and it still applies here.
If he finds himself in a stand-up war, he's losing the fight. But I have to think Riddle is smarter than that. The percentage difference here is under 20%, but I still recommend a small play.
PLAY: Small play on Riddle.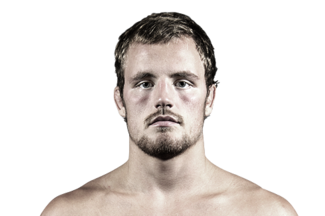 Photo courtesy of UFC.com
CURRENT ODDS:
Gunnar Nelson: -225
Jorge Santiago: +180
MARKET PERCENTAGE (CHANCE OF WINNING FIGHT)
Nelson: 68.25%
Santiago: 38.36%
MY PERCENTAGE
Nelson: 95%
Santiago: 5%
DIFFERENCE
Nelson: +25.77%
Santiago: -30.09%
This is my largest play recommendation of the night, and for good reason.
Gunnar Nelson is an absolute monster. He's a decent striker, but he's otherworldly on the ground, with the kind of submission skills that can make a man cry.
It's safe to say that Jorge Santiago hasn't been impressive during his two runs in the UFC. Outside of that organization, sure; Santiago often looks like a world-beater when he's outside of the world's biggest MMA promotion. But he falters in the Octagon.
And on top of that, Santiago is making his return to welterweight for the first time since 2005. Oh, and he's training with the Blackzilians, a camp that hasn't had much luck in the UFC as of late.
This one is my lock of the night, and there's enough of a difference between my own percentage and the market that I'd consider a strong play here. Take it to the bank.
PLAY: Large play on Gunnar Nelson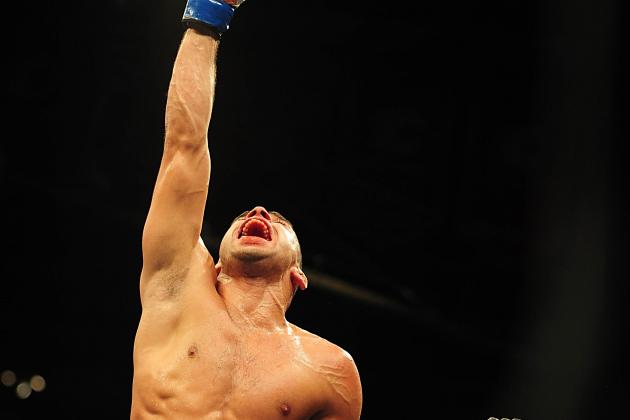 Anne-Marie Sorvin-USA TODAY Sports

What's that? You wanted a place to see all of my play recommendations?
This is the slide for you. Here you go:
Renan Barao vs. Michael McDonald: Medium/strong play on McDonald

Cub Swanson vs. Dustin Poirier: Stay away

Jimi Manuwa vs. Cyrille Diabate: Small play on Diabate

James Te Huna vs. Ryan Jimmo: Stay away

Che Mills vs. Matt Riddle: Small play on Riddle

Gunnar Nelson vs. Jorge Santiago: Large play on Nelson

The "just for fun" parlay: Gunnar Nelson + Danny Castillo + Stanislav Nedkov