Philadelphia Phillies: Overview of Phillies' Farm System and Prospects for 2013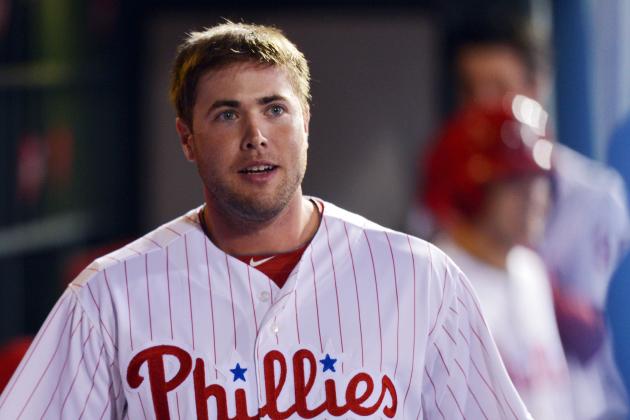 Drew Hallowell/Getty Images
Is the legend of Darin Ruf enough to elevate a weak farm system?
The times are changing in Philadelphia. When it once seemed like the Phillies' window to compete would stay open for at least a few more years after putting together that rotation of Roy Halladay, Cliff Lee and Cole Hamels, this franchise is finding out that age can catch up to you in a hurry.
Everything fell apart in 2012, thanks in large part to injuries. Roy Halladay had his worst season in nearly a decade. Cliff Lee got no run support. The offense sputtered for a long time trying to find itself.
Despite all those problems at the big league level, the Phillies still managed to finish a respectable 81-81. However, that was not what they had envisioned just one year after winning 102 games.
Things aren't going so well down on the farm either, as years of trades and a lack of spending in the draft have left the farm system with a lot more questions than answers right now. The margin for error with the big league team is so small because there doesn't appear to be any impact talent coming.
Add to that some baffling moves this offseason (acquiring Michael Young to play third base and Delmon Young to play right field), and the Phillies could be looking at their first season under .500 since 2002.
Here is a look at what the farm system has in place heading into 2013, potential breakout candidates and players who could make an impact this season, as well as what the team needs to see down on the farm.
Note: All ages and stats courtesy of MiLB.com unless otherwise noted
Begin Slideshow

»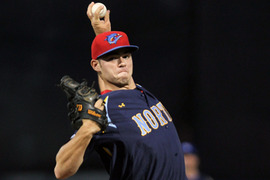 Jesse Biddle has moved to the head of the class for the Phillies. Courtesy of Mark Lomoglio, MiLB.com
No. 1 Jesse Biddle, Starting Pitcher
Age: 21
2012 Stats
26 G (26 starts), 10-6, 3.22 ERA, 142.2 IP, 129 H, 64 R (51 ER), 10 HR, 54 BB, 151 K (High Class-A)
Biddle's combination of size and maturity on the mound has elevated him to the No. 1 spot in the Phillies' system for 2013. He doesn't overpower you with his fastball, showing average to above-average velocity, but his ability to throw strikes makes him a valuable starter.
Matt Forman of Baseball America (subscribers only) noted that the Phillies worked with Biddle on adding a slider and two-seam fastball to his arsenal last season.
Despite not having overwhelming stuff, a 6'4" lefty with a strong four-pitch arsenal who can control all of his pitches (though he does need to work on being more consistent with his curveball) and hides the ball well has a promising future as a No. 3 starter.
No. 2 Jonathan Pettibone, Starting Pitcher
Age: 22
2012 Stats
19 G (19 starts), 9-7, 3.30 ERA, 117.1 IP, 115 H, 52 R (43 ER), 9 HR, 27 BB, 81 K (Double-A)
7 G (7 starts), 4-1, 2.55 ERA, 42.1 IP, 31 H, 12 ER, 22 BB, 32 K (Triple-A)
Pettibone is a more polished version of Biddle from the right side. His upside isn't quite as high, but he really knows how to use his stuff, sequence pitches and get hitters to chase what he wants them to.
Standing at 6'5" with a crisp, easy delivery that gets on top of the ball and allows him to throw down in the zone, Pettibone uses all of his pitches to help his average fastball play better than it actually is.
There is a small margin for error with a pitcher like Pettibone, but he has a strong understanding of how to use his stuff already. It also helps that he has a good changeup that can keep hitters from squaring up his fastball.
No. 3 Roman Quinn, Shortstop
Age: 19 (Turns 20 on May 14)
2012 Stats
66 G, .281/.370/.408, 75 H, 9 2B, 11 3B, 1 HR, 23 RBI, 28 BB, 61 K, 30 SB (Short Season)
Quinn is easily the most exciting of the Phillies' top prospects. He excelled as a teenager in the New York-Penn League last season, showing off that elite speed and better-than-expected hitting skills.
His small frame and short swing will likely prevent Quinn from ever hitting a lot of home runs, but he can drive the ball and has the speed to create a lot of extra-base hits. He did strike out 61 times in just 267 at bats, which is a concern, but it was also his first taste of pro ball.
A true shortstop, Quinn did have 27 errors in just 66 games last season (per Baseball Reference). Again, that can be attributed to youth and learning the position, so it isn't a huge concern right now.
The fact that Quinn has the arm and terrific range to handle shortstop should be more exciting to fans than any numbers he puts up right now. He is still raw in a lot of areas but could take a huge step forward in 2013.
No. 4 Tommy Joseph, Catcher
Age: 21
2012 Stats
108 G, .257/.317/.399, 104 H, 24 2B, 11 HR, 48 RBI, 34 BB, 96 K (Double-A)
Acquired from San Francisco in the Hunter Pence trade, Joseph is an interesting prospect to watch. If you believe in him, it is because you think he can stick behind the plate. Given his size and thick frame, that could be a challenge.
I still have some faith, obviously. If he is forced to move from catcher to, say, first base, his stock drops precipitously because the bat doesn't profile nearly as well there. He does have a simple swing and power to show off, though he hasn't fully tapped into it during games yet.
This is going to be an important season for him. He has a good arm and quick release from behind the plate, he just doesn't always look comfortable receiving and moving around back there.
No. 5 Cody Asche, Third Baseman
Age: 22
2012 Stats
62 G, .349/.378/.447, 89 H, 13 2B, 3 3B, 2 HR, 25 RBI, 12 BB, 37 K (High-A)
68 G, .300/.360/.513, 79 H, 20 2B, 3 3B, 10 HR, 47 RBI, 22 BB, 56 K (Double-A)
Asche has made a lot of adjustments over the last two years to really put himself in a position where he could be an everyday player at the big league level.
After showing no power in his short-season debut in 2011, Asche exploded with a new swing that produced 12 home runs and a slugging percentage over .500 after moving up to Double-A.
Even though he won't have that much power at the big league level, Asche could turn into a player who hits 15-18 home runs with a lot of doubles and a few triples.
His defense is not going to win him any Gold Gloves, but he has a strong arm and more than holds his own at the hot corner. At the very least, he would be no worse than Michael Young, who is getting paid $6 million by the Phillies this season.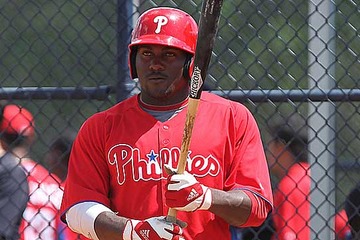 Larry Greene, the 39th pick in the 2011 Draft, certainly has plenty of power potential. Courtesy of Mark LoMoglio, MiLB.com
As Keith Law of ESPN.com wrote (subscribers only), all the wheeling and dealing from the front office over the last four seasons has made the system so it "doesn't look like it'll spit out an average every-day position player until at least 2015" unless something drastic happens.
It is really unusual to see what has become of the system since it used to be one of the best in baseball. The Phillies would routinely go after high-upside talent in the later rounds of the draft, get him to sign and reap the benefits down the line.
Of course, a lot of the work done building the farm system for its run of success from 2007 to 2011 came under former general managers Ed Wade and Pat Gillick, not Ruben Amaro Jr.
There are still some intriguing names to watch down at the lower levels of the minors, like Shane Watson, Larry Greene and Carlos Tocci, but they are all at least two or three years away from contributing at the big league level.
Depth is not something the Phillies can rely on anymore, so the success or failure of the big league team will come down to how healthy the rotation is and whether Chase Utley, Ryan Howard and Jimmy Rollins all have enough left in the tank to carry the lineup.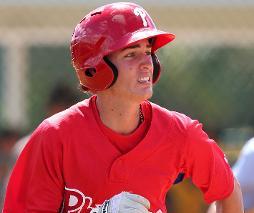 Carlos Tocci is one of the most intriguing players in the system. Courtesy of MLB.com
One of the most intriguing athletes in the system is 17-year-old Carlos Tocci. I fully admit that, because of his age and body, he could end up looking like a complete bust within two years.
However, looking at the package of tools that he possesses and way he performed as one of the youngest players in the Gulf Coast League last season, Tocci could take a huge leap forward in 2013.
Tocci is currently listed at 6'2", 160 pounds and Matt Forman of Baseball America (subscription required) noted that "he has narrow shoulders and may not fill out much," therefore limiting any power potential he might have.
But if you love speedy young players with a strong idea of the strike zone, ability to put the barrel of the bat on the ball and play plus defense in center field, Tocci is the one for you.
The limited power ceiling does inhibit his upside to some degree, though the other skills that he possesses should more than make up for it.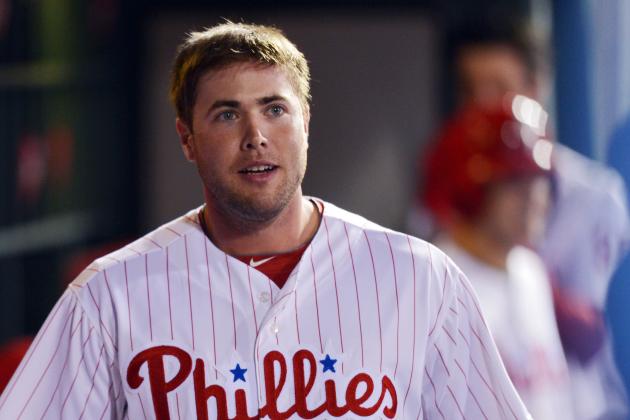 Drew Hallowell/Getty Images
Darin Ruf needs to hit a lot if the Phillies plan to use him as an everyday outfielder.
In a system that is filled with low-ceiling options at the top, there aren't a lot of strong candidates to choose from.
Third baseman Cody Asche could be that player, though he has just 68 games at Double-A under his belt and the team seems intent on letting Michael Young do...whatever it is Michael Young tries to do on a baseball field anymore.
But the most obvious option is one that Phillies fans have wildly overrated because of a fluky two-month stretch in the minors last season: Darin Ruf.
First of all, Ruf is not a left fielder. The team might want to give him a shot out there, but it will go about as well as, say, Delmon Young trying to play right field.
Ruf does have some power in his bat, as evidenced by the 38 home runs he hit in the minors last season. But he is 26 years old and never showed that kind of pop in games before 2012, and even that seemed to be a freak accident since 20 of the homers came in one month.
It is not out of the question that Ruf finds some level of success in the big leagues, as he does possess some pop and he has a .386 career on-base percentage in the minors. I just don't see enough in the tools to make him an everyday player.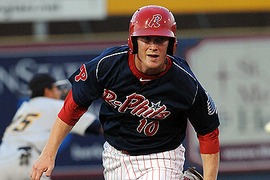 Cody Asche could be a part of the Phillies' everyday lineup in 2013. Courtesy of Ralph Trout (h/t MiLB.com)
Not in the last five years has the word "development" meant more to the Phillies. The top of their farm system is stocked with low-ceiling players, led by a couple of pitchers, who could turn into quality big leaguers.
Other than that, the coaching staff and development group has a lot of work ahead of it to make sure that the farm system is able to take a step or two forward and give the Phillies something to look forward to other than three more years of Ryan Howard at $25 million per season.
Once one of the model franchises in baseball, the Phillies are clearly searching for an identity under general manager Ruben Amaro, Jr. He does a great job of acquiring talent for the big league team, but it comes at great expense to the farm system.
If those trades were resulting in championships, like what happened in 2008 even though the team didn't make a significant deadline deal, the moves would be justified. They have had their chances in recent years, only to fall short for one reason or another.
It is time to start planning for the future in Philadelphia. That means getting the talent at the low levels of the minors to tap into those raw tools and making the farm system look a lot better heading into next offseason.