5 Reasons Celtic Deserved More Against Juventus in Champions League Tie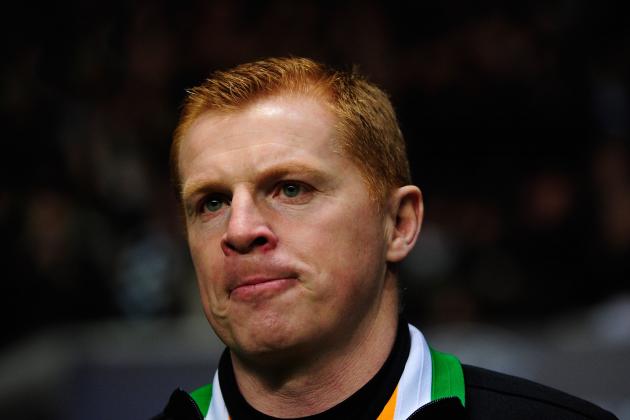 Stu Forster/Getty Images

Having come through a difficult Group Stage of the Champions League including overcoming the likes of Barcelona, Scottish Premier League side Celtic were supposed to have the fairytale story of the Round of 16—but it didn't quite happen as they were beaten 3-0 by Italian Serie A side Juventus.
The scoreline suggests a veritable hammering for the Glaswegian team, but manager Neil Lennon and his players might have some justification for pointing out that they deserved far more considering the efforts they put into the game.
Of course it's still only the first leg and there are another 90 minutes to play—and being the Champions League, anything could happen. Unfortunately, Lennon knows full well that this includes Juve handing out another beating.
Even so, here are five reasons why Celtic can point to having deserved more from their first leg against Juventus.
Begin Slideshow

»
It didn't take long for Juventus to leave the Celtic Park crowd somewhat deflated, as Alessandro Matri poked home the opening goal just three minutes into the game.
However, Efe Ambrose complained to the officials that he received a push in the back from Matri as the long pass dropped over his head, ensuring he couldn't get close enough to make the clearance.
So early in the game, perhaps it was a big call for the referee to make or perhaps his assistants failed to see it along with himself—but more likely, Ambrose simply should have dealt with the high ball.
Even so, if the push was present then Celtic were facing an uphill battle almost from the first kick.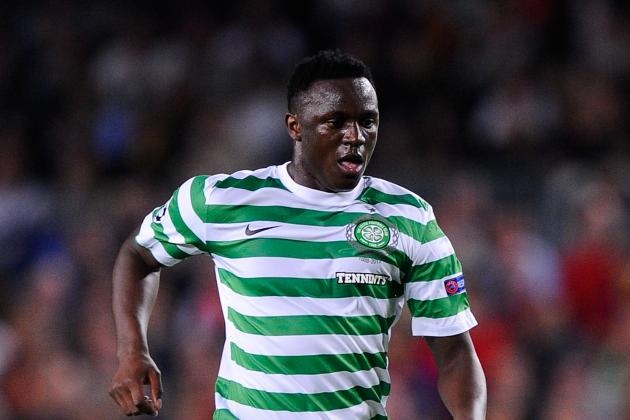 David Ramos/Getty Images

Sitting top of Serie A and with one of the most feared, or admired, midfield trios in Europe, Juventus consistently lay claim to dominating the midfield and possession battles in their games.
That wasn't the case against Celtic, as the SPL side out-passed them and dominated the match for spells.
In terms of possession, Celtic had 53 percent during the game to Juve's 47 percent. They also completed a greater number of successful passes than the Italians.
Even individually, only Andrea Pirlo managed to make more passes (64) than Celtic's impressive Victor Wanyama (60 passes)—but even then, Wanyama was by far more consistent in retaining possession, completing 90 percent to Pirlo's 84 percent.
Juventus, of course, ended up making their fewer passes count rather more.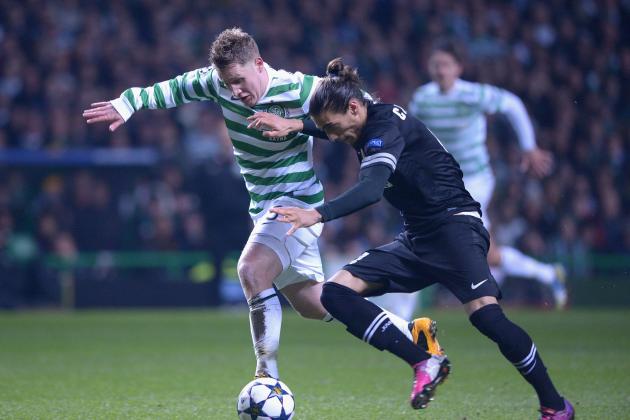 Jeff J Mitchell/Getty Images

It wasn't just in passing that Celtic ranked consistently higher than Juventus, but in shots too.
The home side fashioned plenty of openings to test goalkeeper Gigi Buffon, but were unable to breach Juve's last line of defence.
Celtic racked up 17 shots, with seven on target, compared to Juventus' 10 shots with just four on target.
Attacking midfielder Kris Commons himself managed a total of seven efforts during the game, and will be disappointed to not have taken at least one of his chances.
The most telling statistic in this area is, of course, the conversion rate—three of Juve's four shots on target ended up in the back of the net.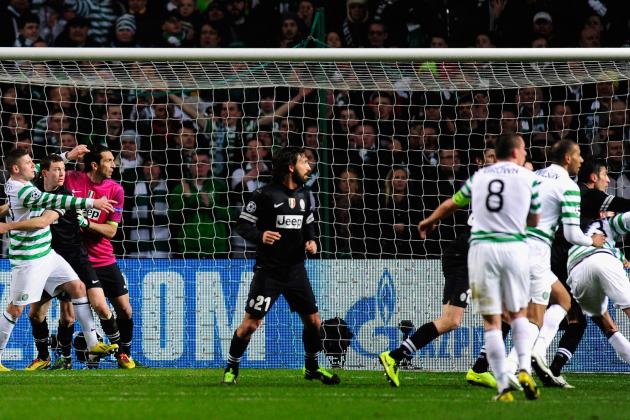 Stu Forster/Getty Images

One of manager Neil Lennon's biggest gripes during the game was the amount of times the Juventus defenders were allowed to get to grips, literally, with their Celtic counterparts.
Via the BBC website:
They were being manhandled. They were being fouled. It's not rugby we're playing. Are the rules different in Spain or in Italy? On that showing, they must be. It looked like the Juventus players were fouling at every opportunity. The referee was warned by our players to keep an eye on it and he ignored our requests. Every time we went to lose a marker we were being hauled back and the referee was looking straight at it.
Winger Commons agreed, stating that forward Gary Hooper should have had a penalty for being fouled on set piece:
Gary Hooper was pulled down to the ground on far too many occasions and we got no rewards, you've got a referee there, a guy behind the goal, a linesman - the whole idea of the official behind the goal is to look out for this sort of stuff. If he can't identify when people are being hauled, manhandled, wrestled to the floor, then I don't think he should be in a job. He's 10 or 15 yards away and if it was a clear foul, it should have been a penalty.
Hooper, as well as Stephan Lichtsteiner, was booked for persistent fouling, and the grappling was going both ways—but perhaps Celtic might have been awarded a spot kick from a more eagle-eyed official.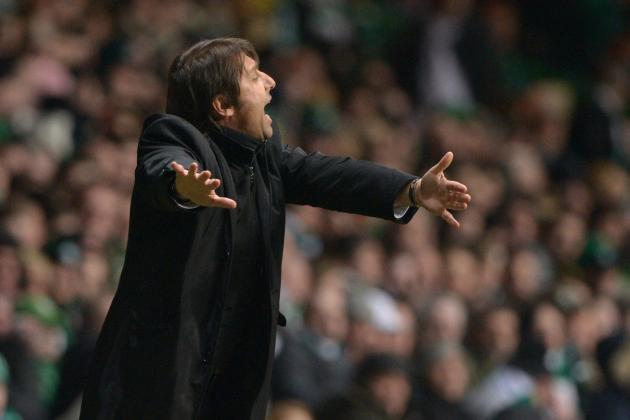 Jeff J Mitchell/Getty Images

Statistics tell one side of the story, while looking at the game as a whole can tell another.
Juventus, though, were certainly well below their best, in part because Celtic worked so hard, passed the ball well at times and made the Italian side put on a performance inferior to that which they usually display.
That the Italians could still come away with a 3-0 win shows how much of an edge in the game being clinical and effective can bring a team.
Even so, Celtic can take heart from forcing one of Europe's better sides into playing a game largely restricted to counter-attacks and making the most of mistakes on the part of the home players, rather than imposing themselves on the match.
On another day, with a bit more conviction or quality, Celtic might have found themselves a way through to goal as well as keeping one or two of the more serious errors out of their game.
Football will punish mistakes at the top level, though, and Juventus might have already made Celtic pay in a big way after just the first leg of this tie.
Stats from WhoScored.com