Zeb Colter Gives Credibility to Jack Swagger and WrestleMania 29 Title Match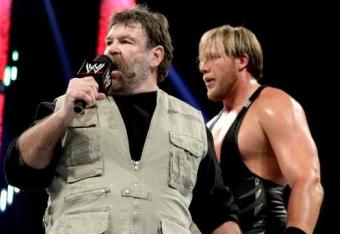 Photo courtesy of WWE.com

It's amazing what one intense right-wing politically charged promo can do for a guy with the same gimmick for five years as a "Real American American."

The legendary Dutch Mantell returned to WWE as Jack Swagger's manager under the name Zeb Colter.

Mantell hasn't been relevant to a big wrestling audience in quite a while, but then again neither has Swagger. Both are talented for separate reasons and the pairing of them seems so compatible. The Colter character next to Swagger comes off so well that the perfect vision of hindsight makes me wonder how this didn't happen sooner.

Swagger is an impressive athlete. A decorated amateur wrestler and a talented professional wrestler. He has great size and his new look that resembles former WWE talent Nailz is a great touch to complete the package.

Still, with all the physical talent, Swagger's never been a compelling talker. The promo Colter cut in his debut got everybody talking. It provoked reaction and made sense of the new direction Swagger's character is going in.

Colter's compliment to Swagger is similar to what Paul Heyman brings to those he manages. Heyman walks out to the ring behind the talent. He stays in the shadows when needed and speaks in the spotlight when required. This is exactly what Colter did with Swagger.

I'm sure WWE creative gave Colter the direction they wanted the promo and character to go. They may have even given him a word-for-word script to memorize. The veteran knew how to deliver the promo and make it sound genuine. All factors with the presentation were there. Colter's a veteran of the Vietnam War like he alluded to in the promo. He looks the part with his dress and overall appearance. He struck nerves. He was entertaining and got the wrestler's character over.

The content of the promo is an example of WWE being able to be produce compelling stories while not going beyond the limitations of PG rated television. Colter didn't use a derogatory word to describe any type of person. He didn't curse and he didn't make any rude gestures. He delivered a politically charged rant with conviction about the state of America in his opinion.

Colter will also add legitimacy and focus to what Swagger is doing. Colter's acknowledged by the commentators and WWE to have been around wrestling for a while. This coaching from the corner by Colter provides the true rub and leadership that a manager in professional wrestling is suppose to have.

Imagine the dynamic of future feuds for Swagger. A radical "real American" movement by Swagger and Colter can provide entertaining opposition to many other characters in WWE. The first that comes to mind is a personal dream match for me with Alberto Del Rio.

Swagger and Del Rio are two of the toughest guys in the WWE locker room. The background the two have prior to WWE makes any type of confrontation between them, real or fake, intriguing.

Stepping back in the sports entertainment world―the hated radical Americans against the likable Mexican Aristocrat. I'm interested in the build up, and as I said, what the two athletes can do in the ring.

But wait, Del Rio is World Heavyweight Champion. Swagger is one of the competitors competing at Elimination Chamber for the right to face Del Rio at WrestleMania 29.

Swagger has a chance to be in a world title match at WrestleMania? Swagger of old never would, but the Swagger managed by Colter is the real deal.
This article is
What is the duplicate article?
Why is this article offensive?
Where is this article plagiarized from?
Why is this article poorly edited?