Detroit Pistons Stock Watch-Risers and Fallers Heading into the All-Star Break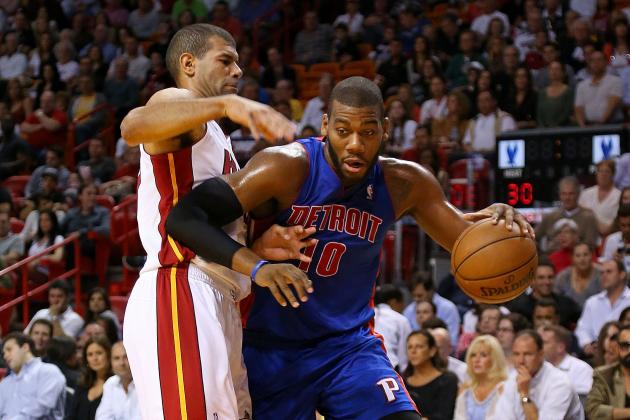 Mike Ehrmann/Getty Images

The Detroit Pistons have had their ups and downs.
On the one hand they are a sub .500 team that has depressing prospects for the playoffs. But on the other hand they are playing very good basketball since acquiring point guard Jose Calderon from the Toronto Raptors.
But besides Calderon, how are the young Pistons faring this season?
Heading into the All-Star break, here are the Pistons' grades thus far. Who is rising, who is falling and why.
Begin Slideshow

»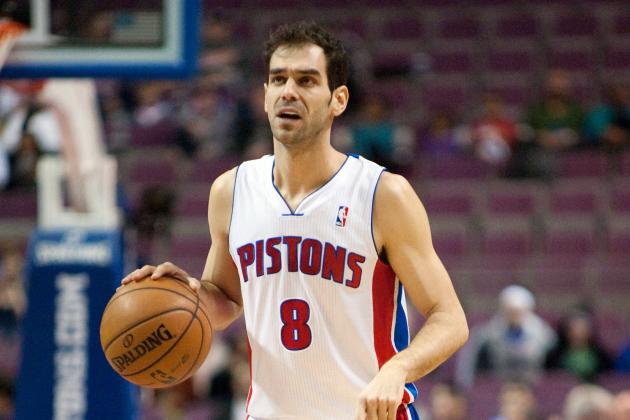 Tim Fuller-USA TODAY Sports

You really couldn't ask Calderon to do much more since joining the Pistons.
He is, in effect, the first true point guard to play for Detroit since Chauncey Billups was sent packing a few years ago.
It's said you don't know what you have until it's gone. Well in the Pistons' case, it's hard to appreciate what a true point guard can do until you have one.
Calderon has been a revelation. He is finding open teammates, knocking down three-pointers and exhibiting the first bit of on-court leadership we have seen from this team all season.
Calderon certainly has been a welcomed addition to this team.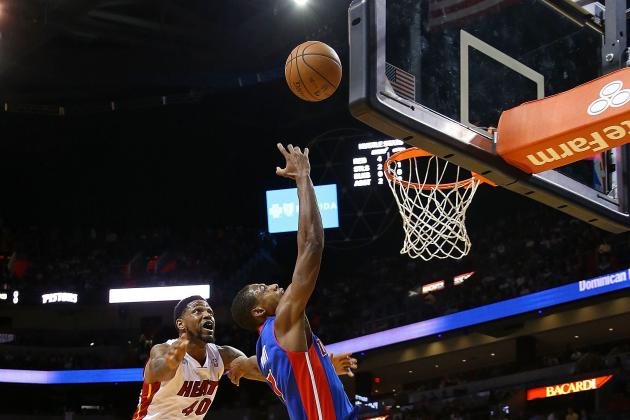 Mike Ehrmann/Getty Images

The story of Brandon Knight this year continues to be a frustrating one.
He is inconsistency personified.
That being said, it really is exciting to see what he can do in a more featured scoring role.
Since the Pistons acquired Calderon, they shifted Knight to the off-guard spot and are asking him to score more.
There have been some signs of improvement from Knight as he seems to have taken this new role on with fervor. He also appears to be getting along well with Calderon, which could only help him going forward.
But still too often he is standing around, watching Calderon work. Knight needs to look up Richard Hamilton online and take a look at what a shooting guard needs to do. Run without the ball, keep in motion and make things easier for his point guard.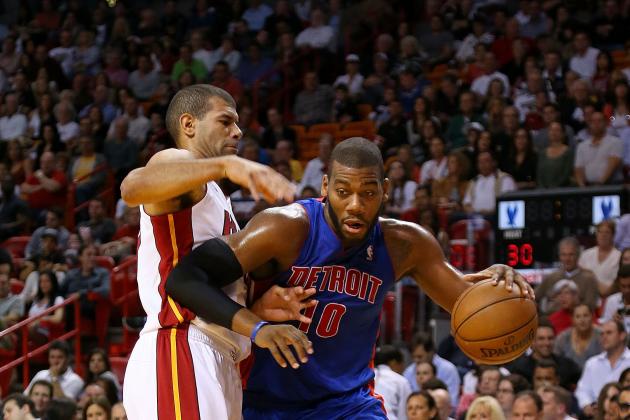 Mike Ehrmann/Getty Images

Greg Monroe has largely regressed this season.
Sure, he is still putting up double-doubles on a regular basis, but his field goal percentage is down and he seems to be getting worse on defense.
There seems to be a silver lining, however, as Monroe has become a more featured player since Andre Drummond went down with a tailbone injury last week.
In his last five games, Monroe is averaging nearly 19 points and 12 boards per game.
And he is getting those numbers despite missing countless opportunities for easy hoops.
He seems to be improving now that he has a true point guard.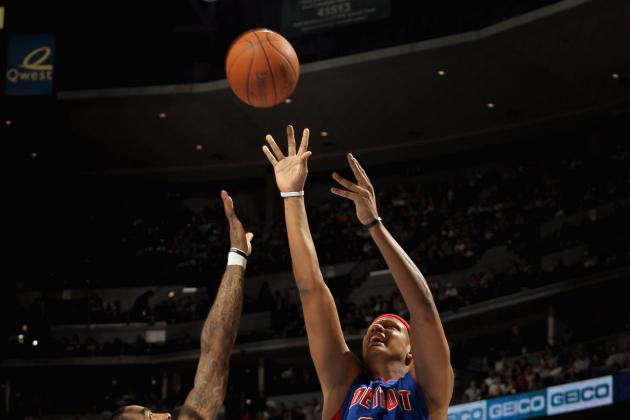 Doug Pensinger/Getty Images

A funny thing has happened to Detroit's favorite whipping boy—he is actually becoming useful.
After signing a big free agent contract with Detroit a few years ago, Villanueva became the face of the struggling Pistons. And that face seemed to always have terrible body language.
But the Pistons have finally figured out what to do with Villanueva and that is to let him be what he is. Villanueva is a stretch four that doesn't rebound or play defense particularly well. But he can knock down the three-pointer with regularity.
Villanueva is never going to be consistent, but over the last week he had two games where he was superb, scoring 21 and 18 points in consecutive games and grabbing 21 rebounds total.
Of course then he went on to score five points the next game, but he did get six boards.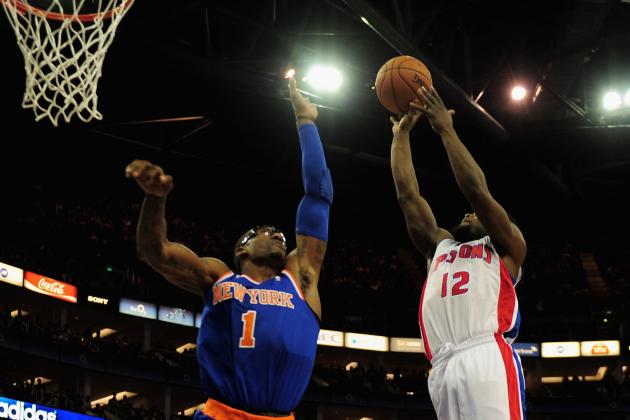 Jamie McDonald/Getty Images

Will Bynum truly is a scrapper.
He has had to claw his way into the NBA and he has been forced to carve out his own niche in this league.
This year is no different as he returned from the dead and has forced his way into the rotation.
One of the keys to his success has been his ability to work well with Drummond, so obviously when Andre went down it was a hit to Bynum.
But he still is the catalyst of the second unit, and everything we keep hoping Rodney Stuckey will become.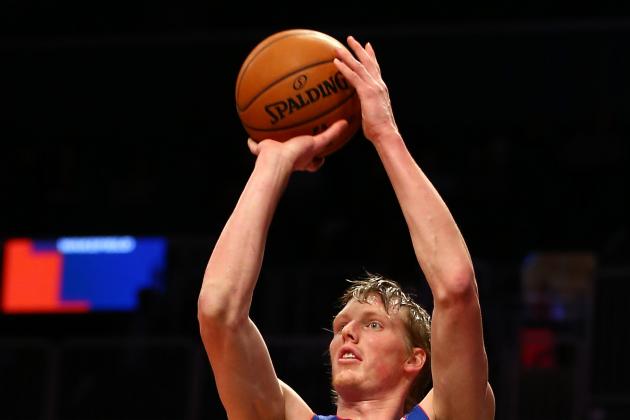 Elsa/Getty Images

It has been great seeing Singler play since Calderon came aboard.
Singler is a very smart player that moves very well without the ball.
In fact, Singler is one of the few Pistons' players that knows about spacing and positioning.
That being said, he was not a good fit at the shooting guard position.
But since taking over for Tayshaun Prince as the team's starting small forward, his numbers have gone up and they continue to climb with Calderon on board.
In his last five games, Singler is averaging over 11 points per game and shooting 44 percent from three-point range.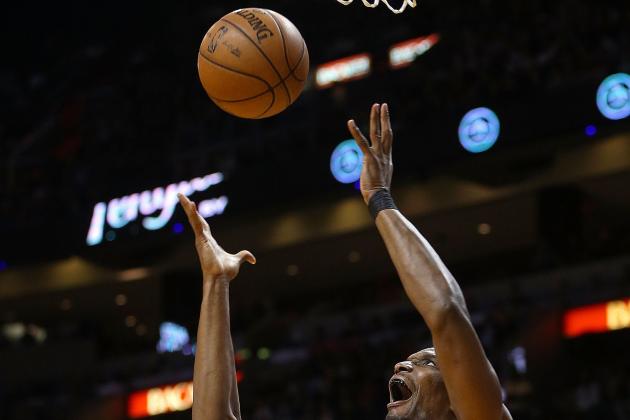 Mike Ehrmann/Getty Images

Yes, I said it, Stuckey's stock is rising.
It seems odd that the Pistons' guard could find himself on this list; he has been a square peg attempting to go through a round hole all season.
But with the addition of Calderon and the emergence of Bynum as a distributor, it has allowed Stuckey to focus primarily on getting to the hoop.
He continues to struggle at times finishing, but on the hole he is playing good basketball, scoring 19 points in each of his last two games.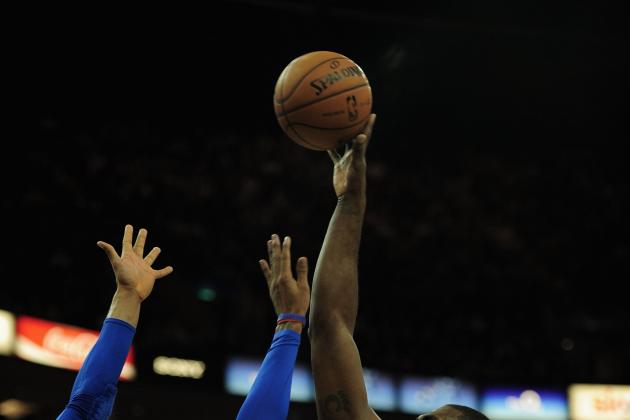 Jamie McDonald/Getty Images

It would be nice to say that Jason Maxiell stepped up in the absence of Andre Drummond and is taking on more of a featured role with this team.
That would be nice to say, but it wouldn't be true.
In the last five games, Maxiell is averaging less than five points and less than four rebounds per game.
He is getting into foul trouble which probably means he is pressing. But even if the effort is there, the production is not.
This could be the last half of a season that Maxiell plays in Detroit.
Mike Ehrmann/Getty Images

It would be tempting to put Andre Drummond on the falling list since he broke his tailbone, but that wouldn't be accurate.
You really can tell how valuable this man is to this team now that he isn't there. They are lacking toughness inside and excitement in the open court.
Drummond, when he returns to the team, will continue to be the most exciting rookie in the league and the most exciting Piston to come around in years.
If he plays like he did in the first half, the Pistons could actually contend for the eighth playoff spot.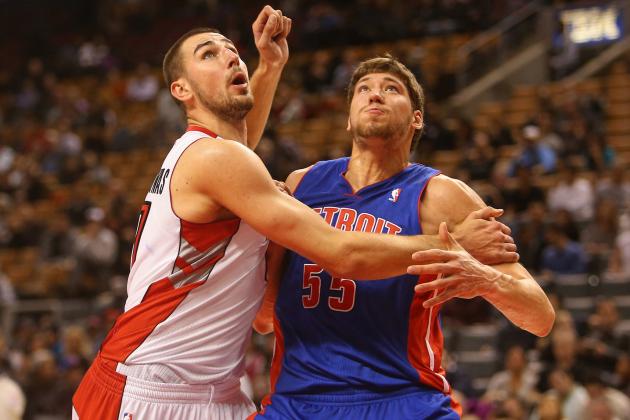 Tom Szczerbowski-USA TODAY Sports

For nearly the entire year, Slava Kravtsov was the odd man out of the Pistons rotation.
Fans clamored for the chance to see the big European center.
With the injury to Drummond, Kravtsov finally has his chance.
So far, the verdict is that this kid could be an effective backup with time.
He looked pretty good in the game against Brooklyn, playing a season-high 11 minutes and showing flashes of potential.
Since then, he has only played in two of the Pistons three games. But he has good size, solid athleticism and can run the court.
His time will come.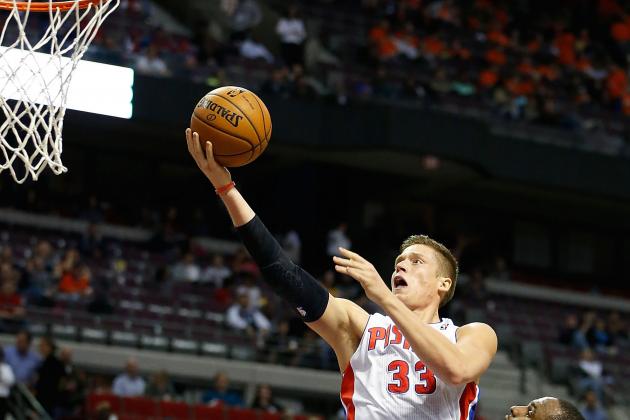 Gregory Shamus/Getty Images

Jonas Jerebko truly is lost right now in Detroit.
The Pistons finally took Jerebko out of purgatory on the bench, but he has been slow to reward them with any type of production.
His shot looks awful, he doesn't have a feel for his teammates and too often is a bystander in the half court offense.
It's amazing how far Jerebko has fallen in the last few years after his promising rookie season. But right now, he is a fringe player with this team, nothing more.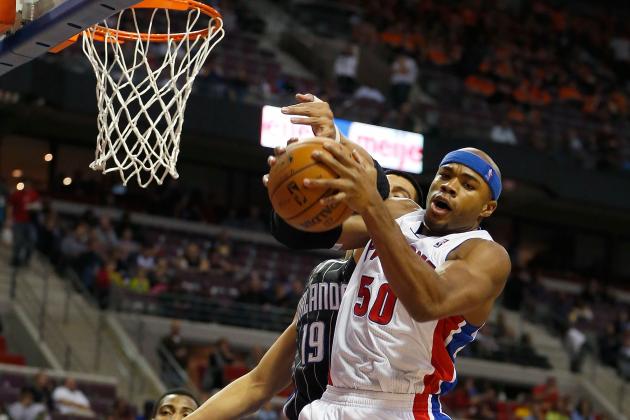 Gregory Shamus/Getty Images

I grouped these guys together because they are all in the same boat. They are out of the rotation and are likely only going to play this year if there is an injury or three.
For Corey Maggette, that's okay. His value to this team is his professionalism and his expiring contract.
But it really is a shame that we don't get to see more of Kim English and Khris Middleton. They both have talent and could fill valuable roles with this team.
English the a spot-up shooter that could be groomed into an Aron Afflalo type of perimeter defender.
Middleton has long arms and could be groomed into a nice scorer off of the bench.
But both will only see spot duty the rest of the year unless the Pistons become ineligible for the playoffs and coach Lawrence Frank decides to develop them.