3 Reasons the Pittsburgh Penguins Have the Components to Start a Dynasty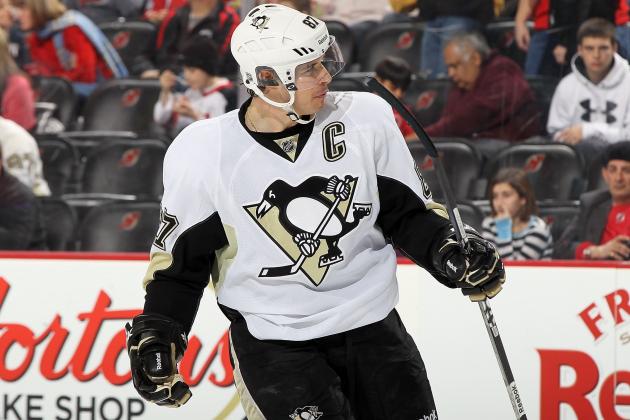 Jim McIsaac/Getty Images
Team captain and NHL superstar Sidney Crosby.
In hockey, a dynasty is often defined as a team that dominates contention for the Stanley Cup. The Pittsburgh Penguins won the championship just a few seasons ago and have all the components to become the NHL's first dynasty in decades.
Is it possible the Penguins have already started a modern-day dynasty?
The 1984-90 Edmonton Oilers are regarded as the NHL's last dynasty. In that seven-year span, they won the Stanley Cup five times. That was over 20 years ago.
Sidney Crosby's squad is already off to a great start. They've made the playoffs on a consistent basis and are always one of the favorites to go all the way. If they can just do a better job of carrying their regular-season dominance into the postseason, they could become a major force for a while.
Here are the reasons the Pittsburgh Penguins have the components to start a dynasty that will look down on the rest of the NHL for years to come.
Begin Slideshow

»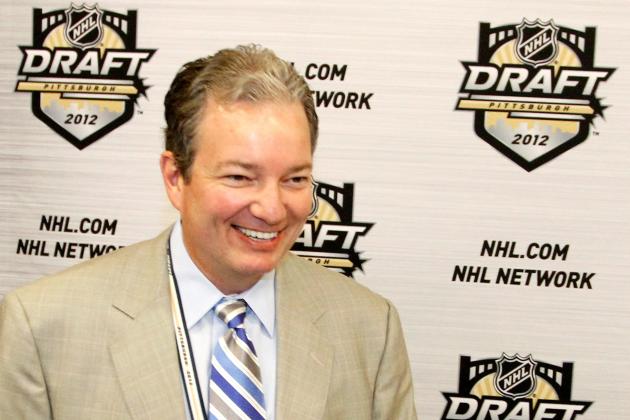 Justin K. Aller/Getty Images
GM Ray Shero.
General manager Ray Shero's ability to make smart moves to improve his franchise has never been more evident than in the past year.
At the 2012 NHL draft, the Penguins made a huge deal with the Carolina Hurricanes. At the cost of Jordan Staal, who rejected a long-term contract, the Penguins acquired Brandon Sutter, Brian Dumoulin and a draft pick that became defensive stud Derrick Pouliot.
They added to their already impressive pool of blue-line prospects and brought in a young two-way forward with plenty of upside.
Then Shero made a move for Tomas Vokoun. At the cost of a seventh-round 2012 pick, he acquired the elite Czech netminder and subsequently signed him to a two-year contract.
Vokoun will back up franchise goalie Marc-Andre Fleury, allowing him to take off more games than he has in the past and avoid the late-season fatigue that has plagued him in recent years.
Shero has been and will continue to be an important factor in the Penguins' success. Continuing to address his franchise's weaknesses will play a big role in the Penguins becoming a dynasty.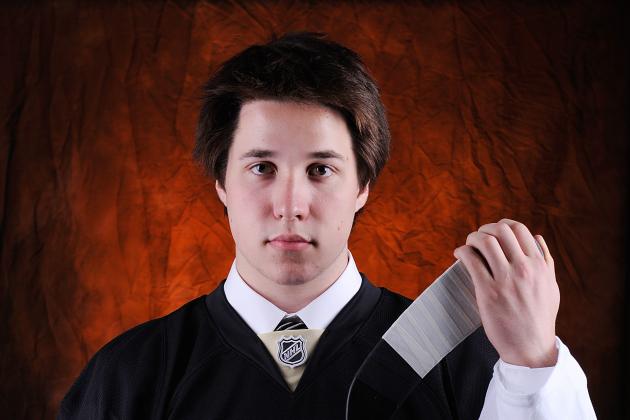 Jamie Sabau/Getty Images
2012 draftee Derrick Pouliot.
From top to bottom, the Penguins have a relatively average prospect pool. Even so, they've done a good job at preparing themselves for the future.
They don't have too many forwards who catch the eye. Eric Tangradi, who has seen some NHL minutes this season, has potential as a power forward. James Neal has shown exactly what a great power forward can do for scoring forwards.
They have another great winger in Beau Bennett. If everything goes well, he could turn out to be a great top-nine playmaker in a few years.
Jayson Megna is a player who has impressed recently. He has yet to skate on NHL ice, but he stood out during the preseason as a dark-horse candidate to play with Evgeni Malkin and James Neal.
What the Penguins lack in offensive prospects, they more than make up for in young blueliners.
Derrick Pouliot, Scott Harrington, Joe Morrow and Brian Dumoulin are only a few of the team's exceptional defensive prospects. Throw in Simon Despres, who has already made an impact in Pittsburgh, and the Penguins are undeniably set on defense for the foreseeable future.
Finally, the staff with the Wilkes-Barre/Scranton Penguins has done a fantastic job developing the franchise's younger talent.
Tyler Kennedy and, more recently, Dustin Jeffery are two scoring forwards who came up through the Penguins' AHL affiliate and will be major players for the better part of the next decade.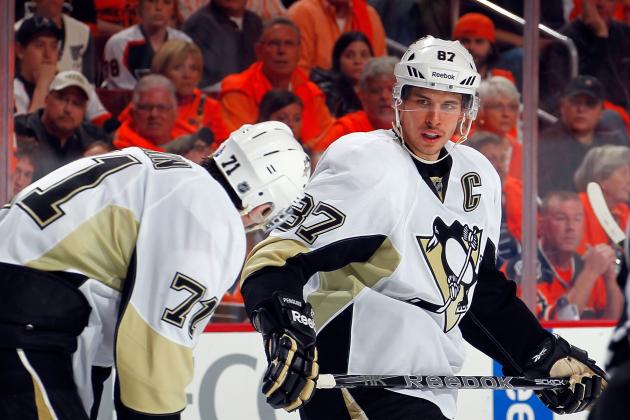 Paul Bereswill/Getty Images
Evgeni Malkin and Sidney Crosby—the faces of the Penguins.
The tandem of Sidney Crosby and Evgeni Malkin is the face of the Penguins franchise. They have two Hart Trophies and three Art Ross Trophies between them.
They may be the face, but there's much more to the Penguins' core than "Sid the Kid" and Geno.
James Neal proved last season that he will be a mainstay in Pittsburgh for years to come. Skating alongside Malkin, Neal exploded offensively and finished the season with 81 points. If not for him, Malkin might not have led the NHL in scoring.
Chris Kunitz and Pascal Dupuis have become core players for the Penguins too. Even though they're both 33 years old, they've been important wingers and have aided the development of the team's brightest stars.
While they don't contribute to the "youthful" aspect of the Penguins' core of forwards, they will continue to have a veteran impact on the team's up-and-coming offensive prospects.
Kris Letang is the team's marquee defenseman, and rightfully so. He's been a consistent offensive contributor since he debuted in 2007.
While the team doesn't have a particularly strong defensive core beyond Letang, it will become progressively stronger as more prospects find their way to the Penguins roster. This can already be seen in Despres' performance since becoming a recurring blueliner.
Fleury is the final member of the club's young core of players. In fact, he's more than a member of the team's core—he's the glue that holds everything together.
Having an elite backup like Vokoun should pay off big time for the Penguins by keeping Fleury from getting too fatigued heading into the postseason.
Even without an elite backup, Fleury's always been one of the most vital players for the Penguins. He's never been a Vezina-caliber goaltender, but he's already proven he can carry the team to a Stanley Cup.
At only 28 years old, Fleury's talent in the crease will continue to be one of the biggest components for the Penguins' attempts to start a dynasty.
Michael Prunka is a Bleacher Report Featured Columnist. Stay up to date with him by liking his Facebook page and following him on Twitter.