The Detroit Lions' Most Disappointing Players of the 2012 Season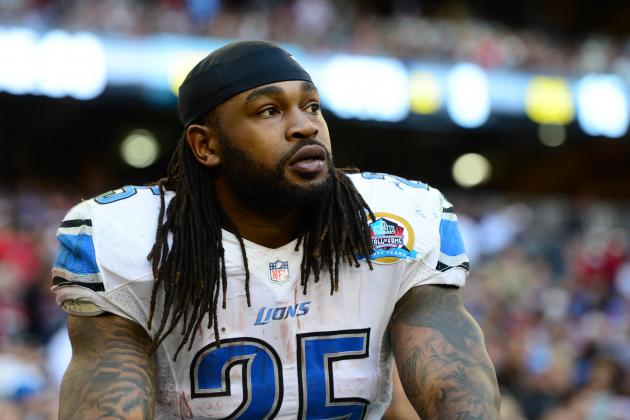 Mark J. Rebilas-USA TODAY Sports
Expectations for Mikel Leshoure were high in 2012.
Following the success of 2011, the Detroit Lions' 2012 season was a massive disappointment. Finishing 4-12 was the worst thing that could've happened to them. As a a result, blame needs to be assigned.
That's nothing new. In the NFL, blame is doled out after each and every loss. Sometimes it's a referee who blows a call or a coach who mismanages the clock—or throws a flag when he's not supposed to.
Ultimately, it's the players who deserve the most blame though. They have the greatest impact on the outcome of the game with their actions or inactions on the field.
The Lions are no different. General manager Martin Mayhew and head coach Jim Schwartz deserve some blame, but it's the players who have the most responsibility for their losing season.
Not every player though. Many had great seasons and deserve high praise, while others simply disappointed.
Here are the Lions' most disappointing players of 2012 in no particular order.
Begin Slideshow

»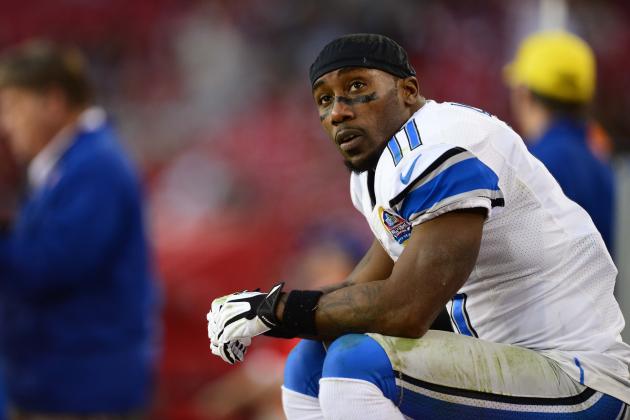 Mark J. Rebilas-USA TODAY Sports

Stefan Logan wasn't exactly an integral part of the Lions' success in 2011. He provided no advantage on special teams because he simply lacked the explosiveness to get big yardage.
Yet, the Lions opted against upgrading the return game and kept him around. Much to the chagrin of the Lions and their fans, Logan disappointed again.
Not only was the explosiveness still lacking, but he also started making costly mistakes. He fumbled a whopping six times and lost two of them.
I must also mention the play that Jim Schwartz referred to as "the f–king stupidest thing I've ever seen," according to Michael David Smith of NBCSports.com.
Logan fielded a kickoff at the 4-yard line and took a knee. His explanation was that he didn't know where he was on the field.
Yeah, that sums it up. Beyond disappointing.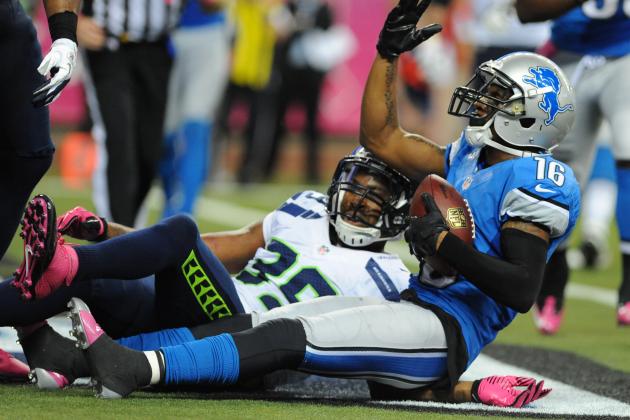 Al Messerschmidt/Getty Images
If only Young had a few more games like this one against Seattle.
At this point, Titus Young's career as a Detroit Lion is in the rear view. He's been jettisoned due to his disruptive behavior, and the Lions and their fans have moved on.
However, it wasn't that long ago that great things were expected from him. He had a very promising rookie season, and last summer he was the talk of training camp. He looked dominant, and many thought he was poised for a breakout year.
Even after he punched his teammate Louis Delmas, most people still predicted he'd return from his team-imposed banishment a changed man.
It never happened though. He wasn't a factor in three out of 10 games last season, and in only one did he eclipse 100 yards receiving.
Most damning is that Young never evolved into the deep threat the Lions needed him to be. He was given chances and targeted on plenty of deep throws, but he wasn't able to make plays on a consistent basis.
By the time he decided to line up in the wrong place, on purpose, in Green Bay, he was already a huge disappointment. That act just sealed his fate in Detroit.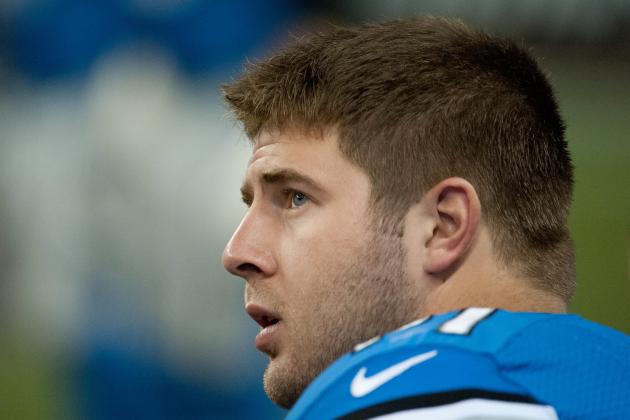 Tim Fuller-USA TODAY Sports

What was so disappointing about Riley Reiff in 2012? That's simple, he didn't play nearly enough.
It's no fault of his, but it's disappointing nonetheless.
He only started a handful of games, and when he did, it was because veteran starter Jeff Backus was hurt. Most of his time was seen as an extra lineman in the Lions' jumbo package.
Fans wanted to see the first-round pick more often, but the Lions apparently thought it best to have him learn the NFL game from the sideline.
Why he couldn't have replaced Stephen Peterman seems beyond comprehension.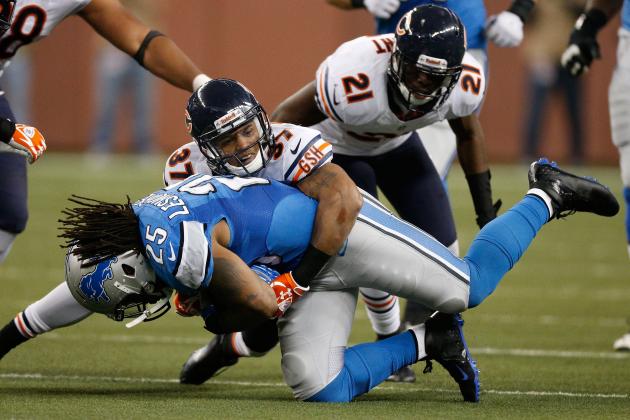 Gregory Shamus/Getty Images

Big things were expected from Mikel Leshoure when the Lions drafted him in 2011. His Achilles injury lowered those expectations considerably, but when he came back from rehab healthy and participated in training camp, they started to rise again.
His first performance as a Lion sent expectations soaring.
Leshoure gained 134 all-purpose yards—100 on the ground—and added one touchdown. He outperformed Titans star rusher Chris Johnson.
Unfortunately, it was all downhill from there. That's not to say Leshoure was bad, but he was far from great. He never gained close to 100 yards on the ground again, and he never had a run over 16 yards.
His nine touchdowns on the season were nice, but all of those were red-zone scores. His lack of burst and inability to get big gains—characteristics the Lions drafted him for—made him ineffective anywhere else on the field.
He got worse as the year progressed too. During the last six games, he only averaged 50 yards per game and 3.2 yards per carry.
His performance was disappointing, but at least there's hope. There's a realistic chance his performance was impacted greatly by the Achilles injury and his speed burst will return in 2013.
After an offseason of rest, perhaps the player the Lions drafted will appear. If not, expect more disappointment.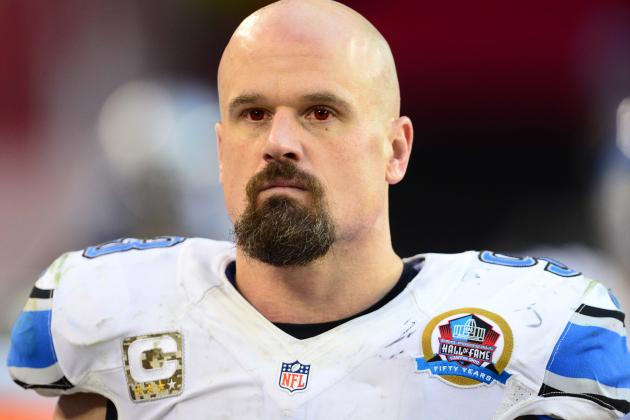 Mark J. Rebilas-USA TODAY Sports

Kyle Vanden Bosch is an ideal football player. He works hard, plays with emotion, sets a good example and supports his teammates and coaches.
When he arrived in Detroit in 2010, his leadership had just as much to do with the Lions' turnaround as anything else.
That's why it was so hard to watch him last season. He wasn't the same player he was the year before, and he was a big reason the defense struggled. He provided little pass rush from the right side and forced no turnovers.
Perhaps his regression shouldn't have been a surprise, and for some, maybe it wasn't. His age was bound to catch up with him, and it finally happened last year. That's why his release by the Lions last week came as no surprise.
It was depressing nonetheless.
KVB was one of the good guys. A professional all the way around, and the Lions need more guys like him.
His presence will be missed, but that doesn't make his performance any less disappointing.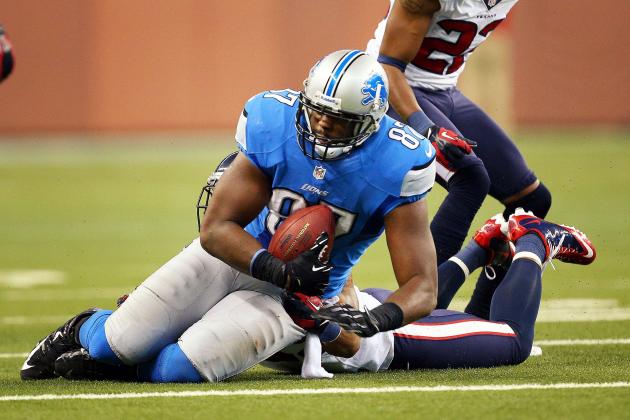 Mike Carter-USA TODAY Sports

Fans were expecting a special season for Brandon Pettigrew last year. He had gotten better each of his first three years, so those expectations were not unfounded.
He was poised for a breakout season, the kind that would get him included in the NFL's elite tight end club.
That never happened, and Pettigrew is no closer to joining that club as he was his rookie year.
He missed two games due to injury, and that certainly played a role in his lower receptions, targets, yards and touchdowns, but it wasn't the only reason. He dropped too many balls and had too many fumbles. He had four of them compared to only one his first three seasons.
Pettigrew clearly has potential, but last year he took a step back. That type of regression usually happens in a player's second year, not the fourth. That's why it was so disappointing.
There's a good chance he'll bounce back in 2013, and if he does, 2012 will be forgotten. For now he joins the ranks of the disappointing Lions.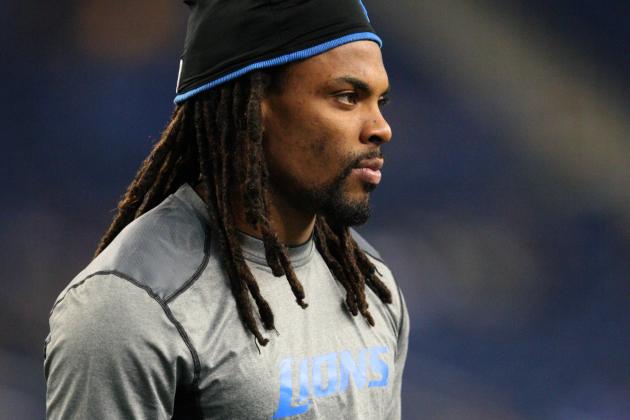 USA TODAY Sports

The Lions defense needs Louis Delmas. They simply play better when he's on the field. That's a fact that has become increasingly evident since he was drafted in 2009.
The disappointing thing is that he can't stay healthy enough to impact the defense on a consistent basis. He missed 15 games in four years, including eight in 2012.
He also missed the most important part of the Lions' historic 2011 season—the playoffs. He needed to demonstrate his durability last year, but he actually did the opposite.
He proved that his susceptibility to injury might never go away. As a result, his future in Detroit has been called into question.
Delmas is a beloved Lion for his all-out style of play and infectious energy; however, his continued unreliability continues to make him a huge disappointment.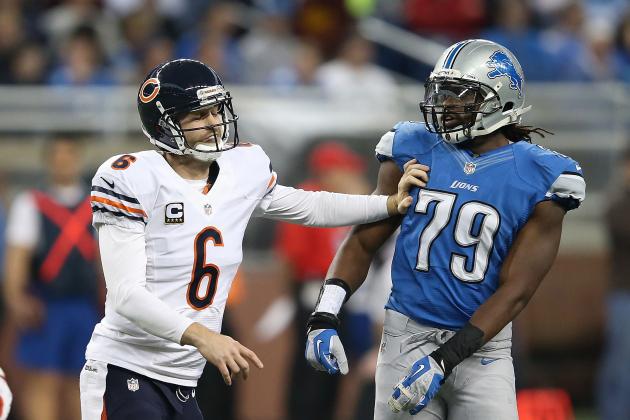 Leon Halip/Getty Images
Jay Cutler was not impressed with Young last season either.
Willie Young came into his own in 2011. The Lions' seventh-round draft pick surprised everyone by getting three sacks and countless pressures with only limited playing time.
Expectations had been low, but he proved he could play. He wet the appetites of Lions fans, and they wanted to see more.
Expectations soared, and it certainly looked like he was poised to meet them. He had a great training camp and went Beast Mode during the preseason, registering a sack, interception, punt block and forced fumble (per Mlive.com).
His breakout hit the skids once the regular season started though. Young disappeared, and his stat line proves what a non-factor he was—zero sacks, zero turnovers and seven tackles.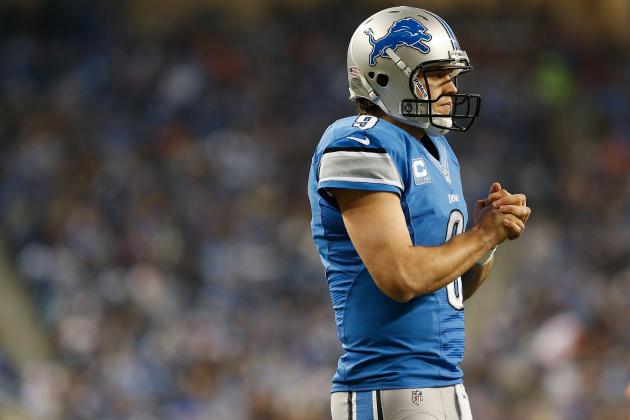 Gregory Shamus/Getty Images

Is it fair to call nearly 5,000 yards for the second year in a row a disappointment? Maybe not, but I will.
Matthew Stafford put up big yardage last season, but he threw 21 less touchdowns and his quarterback rating fell by nearly 20 points. Stafford looked off all year, and I'm not talking about his throwing mechanics.
He wasn't as accurate or as comfortable in the pocket, and his red-zone efficiency was putrid. He also looked out of sync with anyone not named Calvin Johnson.
Actually, he looked out of sync with Johnson sometimes too.
Blame for everything I mentioned above could be assigned to others. For instance, many want to blame Scott Linehan's play-calling. Others want to blame the offensive line for not protecting him and the receivers for dropping too many balls.
There's truth in all those statements, but Stafford is the quarterback. When the Lions win, he gets most of the praise, and when they lose, he gets most of the blame. That's just the way it is.
He's still the best thing to happen to the Lions since Matt Millen was fired, but he disappointed in 2012. There's no shame in saying it.