WWE Superstars Most Likely to Be Cast in the 1960s Batman Series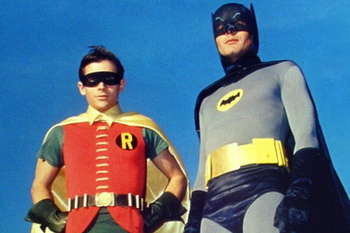 Photo from enigmabadger on Flickr
WWE superstar John Cena has long been compared to comic book hero Superman. Cena's unwavering resiliency often invites the somewhat unflattering moniker of "Super Cena," but there are other comic book characters that offer similarities to some of WWE's roster.
Looking at the 1960s Batman series, many wrestlers make ideal comparisons to the cast.
For the deprived souls unaware of the former hit television show, Batman—featuring Adam West as the eloquent and obnoxious "Caped Crusader"—revamped the superhero in a more camp and light-hearted manner than fans had seen in the comics.
Armed with the loyal and hilarious Robin, the Dynamic Duo managed to constantly prevail against the most dastardly of villains in stunning ways, before Gotham's lax prison system allowed the criminals to escape very shortly afterwards.
Here, all the main characters from the series will be compared to WWE's finest, and I will analyse who would most likely be cast in these roles if the famed show was still on our screens today.
Robin: John Cena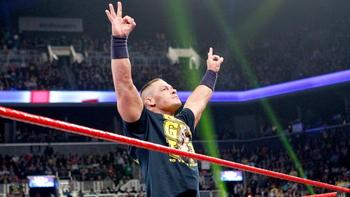 Photo from WWE.com
Robin: "If we close our eyes, we can't see anything."—Batman (ABC)

Burt Ward's hysterical version of Dick Grayson, and his alter ego, Robin, invites several comparisons to John Cena, particularly his tendency to frequently state the blindingly obvious.
Cena's corny insistence on pointlessly stating facts and narrating what is happening in the WWE seems to have become a trademark of his promos these days.
His squeaky-clean demeanour, similar to Grayson's, who was a pupil of Woodrow Roosevelt High School, to the point where this conspiracy theorist wonders if Cena's character is actually based on that of Robin.
In addition to their personalities, Cena also has a remarkable knack of overcoming adversity, and the West Newbury native is yet to lose an "I Quit" match in his distinguished WWE career.
Coincidentally, during many of the Dynamic Duo's brawls, Robin would often need Batman's help to escape from a dire predicament, only to do so and naturally prevail against the truly perplexed criminals.
"Boy Wonder" would be a far more apt nickname for Cena than "Super Cena" and, if honesty is the theme, hearing Cena say "Holy haberdashery, Batman!" would not come as a surprise to anyone.
Chief O'Hara: Booker T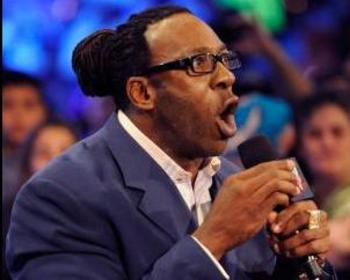 Photo from WWE.com
Chief O'Hara: "When it comes to the human brain, we're not equipped."—Batman (ABC)
Chief O'Hara, despite being chief of police in Gotham, is perhaps the most useless character in the Batman series, hence my comparison to Booker T.
O'Hara is never actually seen managing his police force, and it is quite confusing that he and his staff are on the payroll, given the amount of work the "Dynamic Duo" do.
His WWE equivalent, Booker, has a shambolic charm that is not without merit, but the tuxedo wearing SmackDown general manager generally offers nothing in terms of storyline value, with The Miz an early superstar to catch on to his usual routine.
Booker will make matches and tell those naughty heels off for their wrongdoing—that's it. He acts more like an aggrieved parent than an authority figure, and he would make a perfect Chief O'Hara.
Both of them serve little purpose, and both fail to offer much than the occasional snigger at an unusual remark, while perhaps Booker retains more control over his show than O'Hara does over his force.
I long for Booker to become a fictional police chief, and should Batman ever be remade, he has to be Chief O'Hara. Can you dig that, sucker?
The Joker: Sheamus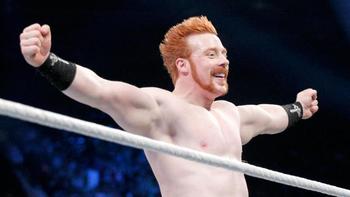 Photo from WWE.com
Joker: "Have a SNEEZE on me, Batman!"—Batman (ABC)
Cesar Romero's Joker was a superb villain in the Batman series, and his constant howling, as you'd expect, lessened the threat that young children may feel from his character.
Is this not Sheamus in a nutshell?
The "Great White" spends so much time with a goofy smile plastered across his face that you'd actually forget he was a professional wrestler if he wasn't so dominant in the ring.
The most ironic comparison to be made here is that neither has actually told a funny joke, with Joker's charm stumbling him through most gags, while Sheamus' attempts at humour are reminiscent of episodes from a black comedy that nobody is watching.
However, both are also equally effective in their overall aims, with Joker frequently troubling Batman, only to be locked up the week later, while Sheamus recently enjoyed a seven-month reign as World Heavyweight Champion in 2012.
"Why so serious?" is certainly not a phrase that applies to Sheamus, but, "Have a sneeze on me, Batman!" has the "Great White" written all over it.
Alfred: The Undertaker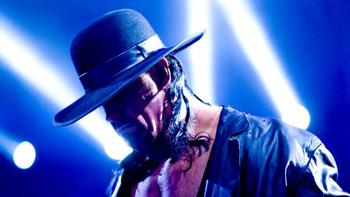 Photo from WWE.com
In many ways Alan Napier's Alfred was the main hero of the Batman series, with the devoted butler of Bruce Wayne often saving the day for the "Dynamic Duo," even donning his own Batman outfit to fool the easily confused Gotham natives.
In this regard, Alfred's resourceful, reliable nature is very similar to The Undertaker's, who has found a way to succeed at WrestleMania for 20 years running.
Both men always manage to come at the right time, and both do so with grace, dignity and an unassuming demeanour.
While Alfred is overshadowed by Batman and Robin, Undertaker has often taken a back seat in eras gone by to Bret Hart, Shawn Michaels, The Rock, Stone Cold, Triple H and John Cena.
Both lap up the plaudits without ever frequently hogging the main spotlight, and in many ways the two are direct parallels of each other.
One could only imagine just how respectful a match between the two would be if Alfred ever challenged Undertaker's WrestleMania streak in what would be a past versus present dream bout for sure.
The Penguin: Paul Heyman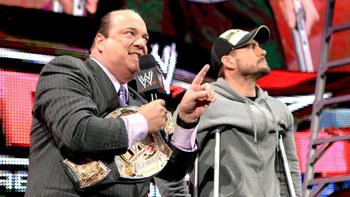 Photo from WWE.com
Burgess Meredith's The Penguin is a character that naturally strikes a resemblance to Paul Heyman solely due to the appearances of the pair.
With both men a little on the stocky side and relatively small compared to the taller company they keep, the physical similarities are fairly clear.
On the outside Heyman and The Penguin are similar, but both have also mastered the cunning art of mischief, with the two evil geniuses renowned for taking on the grandest of foes.
While The Penguin always looked to create havoc for Batman, Heyman was busy taking on Vince McMahon and WWE in the 1990s with his Extreme Championship Wrestling promotion, while nowadays he is managing top heels Brock Lesnar and CM Punk.
With all the gimmicks WWE have devised in the past, it is perhaps surprising that more birds haven't accompanied wrestlers to ringside as managers, or even competed themselves.
With that thought in mind, Heyman is my pick to play The Penguin, and if Christopher Nolan ever decides a fourth Batman is worth filming, he has a natural pick to play what could be the greatest enemy Batman has ever faced.
Commissioner Gordon: Michael Cole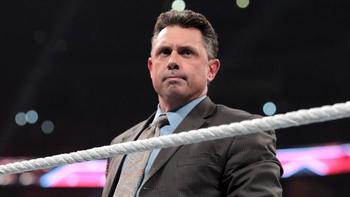 Photo from WWE.com
Commissioner Gordon: "That's funny. I can't remember the last thing I remember."—Batman (ABC)
Up until last November, Michael Cole had become one of the most tedious elements of WWE programming.
It was only after Jerry "The King" Lawler's real heart attack that Cole's heel play-by-play gimmick was abandoned, and the talents of the broadcaster were finally utilised in a manner benefitting the WWE shows.
While his recent work has been a stark improvement, Cole's various anecdotes, rants and attempts at banter have rarely added anything to the product, as was the case with Neil Hamilton's Commissioner Gordon.
Gordon's character is renowned for alerting Batman to danger and then leaving the "Caped Crusaders" to confront the mission alone, while Gordon orders sandwiches in the comfort of his office.
In fact in one episode, arch villain Egghead delivered his lunch, incredibly manoeuvring his way through Gotham police station in the process, showing exactly how lax things are with Gordon in charge.
The bottom line is that both men hold absolutely no weight within their respective companies despite their lofty, prestigious titles, and should they ever form a tag team, a rivalry with 3MB would inevitably see them emerge on the losing side.
Batman: Triple H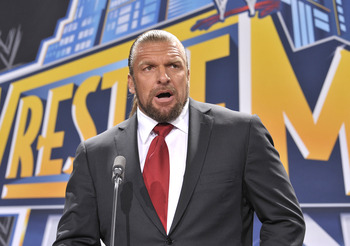 Michael N. Todaro/Getty Images
Batman: "At the risk of sounding conceited, young lady, we're not just anyone."—Batman (ABC)
Adam West's portrayal of Batman is comparable to many WWE superstars, with his arrogant, condescending personality that is quite hard to root for.
There are elements of John Cena, Damien Sandow and Chris Jericho in Batman, but in regards to the entire package, few possess all his mannerisms the way Triple H does.
Triple H's status as a WWE businessman has recently been given a massive shot in the arm after his role was largely credited in Bruno Sammartino entering into this year's Hall of Fame, and similarly, Bruce Wayne is also held with the utmost regard.
However, reports of Triple H's politics have damaged his reputation over the years, with particular rumours of him burying other wrestlers becoming fairly prominent.
Bruce Wayne seems to be adored by all that encounter him, but who is to say that Robin, Batgirl and Alfred all wouldn't want to put him in his place.
This is a man that knows about the Indian Fakir command, Rassi Seedha Rucko, and is not afraid to rub it in your face that you don't.
In regards to on screen confrontations, "The Game" ended up evolving into one of pro wrestling's greatest ever heels, earning the nickname "The Cerebral Assassin" due to his ruthless, intelligent and vindictive nature.
While Batman would struggle in a fist fight with Triple H, he has no qualms completely degrading all around him, with Robin presumably inconsolable in the show's deleted scenes from the abuse his mentor gives him.
In that respect, Batman is as brutal as they come. Not to mention that he can throw a mean air punch that draws a colourful "Biff" whenever it connects with a villain. Impressive is not the word.
Both Batman and Triple H are beloved, but it's hard not to feel a little joy when things don't go their way, and therefore "The Game" would be perfect to play the role of the "Caped Crusader."
With John Cena at his side as Robin, that is one Christmas edition of Raw I would actually enjoy seeing.
Follow me on Twitter @JWoodfield365.
Keep Reading