WWE Elimination Chamber 2013: 5 Twists & Turns the Rock-CM Punk Match Could Take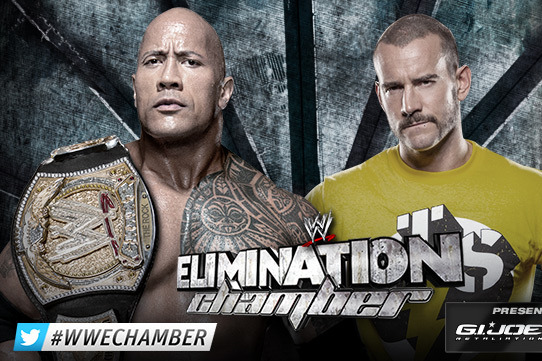 photo courtesy of wwe.com
At WWE Elimination Chamber 2013, CM Punk will try to regain the WWE Championship against The Rock. Paul Heyman was lucky enough to have a stipulation added which would allow CM Punk to win the title if The Rock is disqualified or counted-out.
With the new stipulation, there are many possibilities to the result of the match. The new stipulation also raises a number of twists and turns that could take place.
Will someone get involved? If so, who?
Let's take a look at five possible twists and turns the WWE title match between The Rock and CM Punk could take.
Begin Slideshow

»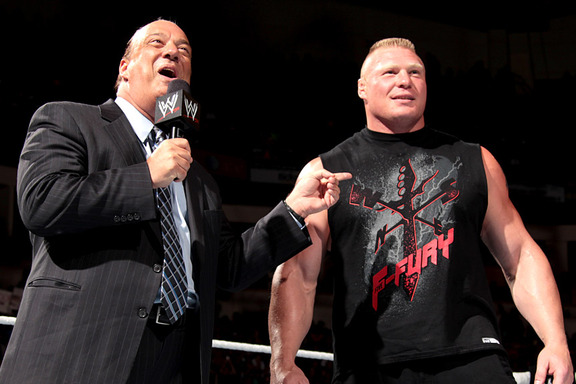 photo courtesy of wwe.com
Another client of Paul Heyman's, Brock Lesnar could get involved in the WWE title match at Elimination Chamber by helping CM Punk.
Heyman has convinced Mr. McMahon to include a stipulation in which CM Punk could win the title if The Rock is disqualified or counted out. Therefore, it is quite possible that Brock Lesnar could interfere on behalf of CM Punk.
This would actually require Lesnar to attack CM Punk rather than The Rock. Regardless, the result would still see CM Punk leaving Elimination Chamber as WWE champion.
Then again, perhaps Lesnar will be jealous and decide to do the unthinkable…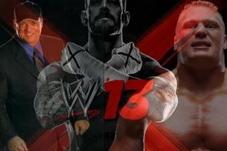 photo courtesy of ring-rap.com
Perhaps Brock Lesnar will provide an even bigger twist by turning on CM Punk and Paul Heyman in order to help The Rock retain the WWE title.
It has been rumored that Lesnar and CM Punk could feud at some point in 2013. In order for that to happen, one needs to turn on the other. Or one needs to somehow turn into a fan favorite again.
With CM Punk as the top heel in WWE right now, Brock Lesnar would have to turn face. Elimination Chamber would give Lesnar an opportunity to do just that.
After leaving WWE again following SummerSlam 2012, Heyman continued to appear on WWE TV but with CM Punk.
Lesnar might feel somewhat betrayed by Heyman and could deny Punk the opportunity to regain his title on Sunday.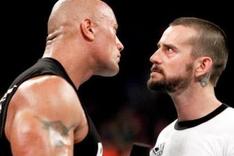 photo courtesy of wwe.com
Since the WWE title match now has the new stipulation, most WWE fans are probably expecting some sort of interference. Does that mean the ultimate twist would be if there wasn't any interference?
Brock Lesnar, The Shield and Brad Maddox are once again the favorites to interfere in this match.
Lesnar is busy setting up a WrestleMania match with Triple H, while The Shield has a match of its own at Elimination Chamber. That leaves Brad Maddox, but he was also attacked a couple of times recently by The Shield.
How surprised would you be if not one person, including Paul Heyman, interfered in the WWE title match?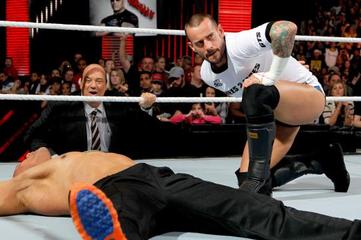 photo courtesy of wwe.com
How many people are expecting John Cena versus the WWE champion, The Rock, at WrestleMania 29? Everyone?
That means the biggest twist and turn of events would be The Rock losing the title to CM Punk at WWE Elimination Chamber 2013.
One may think that WWE is having this rematch from Royal Rumble because every former champion invokes a rematch clause. Another reason for the rematch would be to stall until WrestleMania, when The Rock defends the title against John Cena.
I have always thought a Triple Threat match involving CM Punk would be the best-case scenario. This match is possible if CM Punk wins the title back on Sunday.
The reason being is that then The Rock can invoke his rematch clause at WrestleMania, while John Cena would cash in his Royal Rumble win.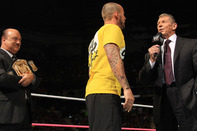 photo courtesy of wwe.com
The final twist or turn that The Rock and CM Punk match could take would involve the chairman getting involved.
Mr. McMahon agreed to allow Paul Heyman's stipulation to stand for the WWE title match, which raises many questions.
Why would Mr. McMahon give Heyman what he wants after being attacked by Brock Lesnar?
Perhaps Mr. McMahon will be healthy enough to make an appearance and make sure the WWE title match ends the way he wants it to.
While not everyone was in favor of The Rock winning the title, there is no doubt it was a good business decision.
Mr. McMahon always tries to make good business decisions, and this could be his way to make sure The Rock stays champion.
What are your thoughts on these twists and turns that the WWE title match could take? Please share your opinions in the comment section below.
Follow me on Twitter (@sethgutt) and check out my site guttwrenchpowerblog.com.
You can like GWP on Facebook here.