Cristiano Ronaldo: Game-by-Game Guide to His Season So Far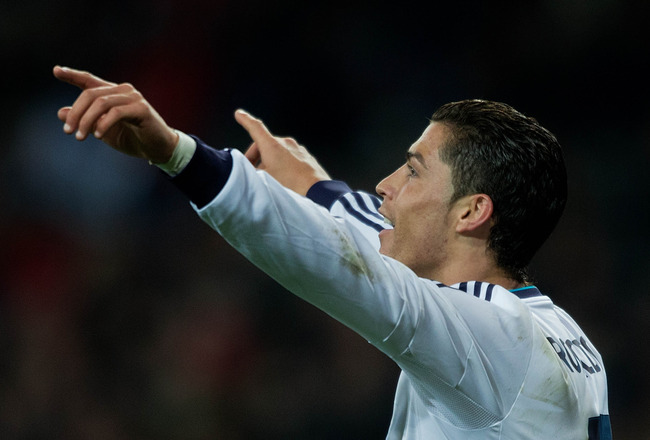 Gonzalo Arroyo Moreno/Getty Images
Real Madrid face their most important game of the season so far tonight, receiving the Red Devils at the Bernabeu. A large part of the outcome of this match may reside on the shoulders of the Real Madrid's No. 7 who will be eager to prove his worth against his former team.
In the middle of an incredible run of form that has seen him score 13 goals in just nine matches in 2013, it is time to look back at Ronaldo's entire season before Los Blancos' clash against United.
Here you will be able to see each and every one of the 36 goals Ronaldo has scored so far this season, with all Madridistas hoping he will add to his tally tonight.
Spanish Supercup Leg 1: Barcelona vs. Real Madrid
Ronaldo started the season with a bang, scoring the opener against Barcelona in the first leg of the Spanish Supercup at the Bernabeu. Despite the Catalans largely outplaying Madrid, a gift by Victor Valdes in the closing minutes meant that Barcelona only won 3–2 and left the result wide open for the return leg.
La Liga Matchday 1: Real Madrid vs. Valencia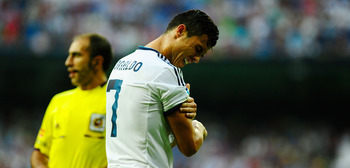 Gonzalo Arroyo Moreno/Getty Images
Cristiano Ronaldo started the La Liga season in rather underwhelming fashion. Madrid's opening game ended in a disappointing 1–1 draw with goals from Gonzalo Higuain and Jonas.
The Portuguese barely showed up for Madrid and the whole offensive section of Los Blancos underperformed.
La Liga Matchday 2: Getafe vs. Real Madrid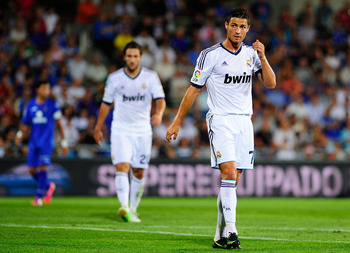 Gonzalo Arroyo Moreno/Getty Images
In the second La Liga game, history repeated itself, Madrid scored early through Gonzalo Higuain and then were complacent and let their lead slip. They were defeated 2–1 by modest Getafe who turned the game around with goals from Juan Valera and Abdelaziz Barrada. Ronaldo, like his teammates, seemed absent from the game.
Spanish Supercup Leg 2: Real Madrid vs. Barcelona
With Adriano being sent off in the first half, Barcelona was always going to face an uphill task in the return leg of the Supercup.
However it was thanks to Cristiano Ronaldo that Madrid claimed the Supercup, as his goal meant that Messi's goal just before the end of the first half was not enough for the Catalans.Two goals against Barcelona in their first two encounters of the season proved to be a morale booster for Ronaldo.
La Liga Matchday 3: Real Madrid vs. Granada
Strong of the two goals he had scored in the Supercup, the third match day in La Liga was when Cristiano Ronaldo decided to kick start his season. Despite not performing at their best as a team, Madrid won 3–0 against Granada at the Bernabeu.
Ronaldo scored the first two goals with shots from his left foot.
La Liga Matchday 4: Sevilla vs. Real Madrid
Denis Doyle/Getty Images
Madrid confirmed their difficult moment and conceded again at a set piece in their 1–0 defeat by Sevilla. Los Blancos were wearing their new green alternative kit and were unrecognizable on the pitch in more ways than one.
It was once again a poor team performance by Madrid in which Ronaldo seemed one of the most active of his team, having four shots on target. However, he was still far from the match winning performances he has accustomed the Merengues to.
UCL Group Stage Matchday 1: Real Madrid vs. Manchester City
After their poor game against Sevilla, Madrid faced the challenge of receiving the Premier League champions at the Bernabeu in their first match in this season's group of death.
Madrid fell behind twice during the game to goals by Edin Dzeko and Aleksandar Kolarov equalizing on both occasion through Marcelo and Karim Benzema.
In the last minute of the game Ronaldo appeared and won the game for Real Madrid by smashing the ball past Joe Hart.
La Liga Matchday 5: Rayo Vallecano vs. Real Madrid
The weekend after their triumph over Manchester City, Madrid faced Rayo Vallecano. Even though they won 2–0 in Vallecas, the team failed to convince and Ronaldo did not have his best day. He still got on the scoresheet with his goal in the 70th minute, but also missed a golden opportunity misfiring with an open goal.
La Liga Matchday 6: Real Madrid vs. Deportivo
Ronaldo got his first hat trick of the season in a crazy game at the Bernabeu. After going down to an early goal by Deportivo's Riki, Madrid reacted and put five goals past them with no response.
Despite the Portuguese's hat trick, Angel Di María seemed the most important player on the pitch, scoring a goal and winning the penalty Ronaldo converted. For a little over 60 min, Madrid, and Ronaldo, looked like the side that had so convincingly won the league the previous season.
UCL Group Stage Matchday 2: Ajax vs. Real Madrid
Matchday 2 of the Champions League saw Los Blancos travel to Amsterdam to face Ajax, the Eredivisie champions. Madrid once again put in an imperious performance and Ronaldo sealed his second hat trick in as many games.
Ronaldo opened the scoring with an impressive goal in the 41st minute. Karim Benzema would then get on the scoresheet to double Madrid's advantage only for them to concede once again to a set piece.
That is the moment Ronaldo took matters in to his own hands and scored two goals in two minutes to seal the victory for the Spanish side.
La Liga Matchday 7: Barcelona vs. Real Madrid
When Matchday 7 in La Liga came the first league Clasico of the season. The pre-match hype was all about Cristiano Ronaldo and Lionel Messi and the result went accordingly. Both teams shared the points and both stars shared all four goals in the 2–2 draw at the Nou Camp.
Long gone seem the times where Ronaldo would under-perform against the Catalans, a tag that had long stuck to Portuguese. With these two goals, he confirmed his good run of form against the Blaugrana.
La Liga Matchday 8: Real Madrid vs. Celta De Vigo
Madrid followed up their draw in Barcelona with a comfortable win over Celta at the Bernabeu. Madrid controlled the match from the first minute and won 2–0 with goals from Gonzalo Higuain and a penalty from Cristiano Ronaldo.
UCL Group Stage Matchday 3: Borussia Dortmund vs. Real Madrid
Madrid travelled to Germany to face Dortmund in Matchday 3 of the Champions League and the Bundesliga champions prolonged Los Blancos' historic bad record against German teams.
The game was marked by defensive errors, with Iker Casillas and Pepe at fault for the goals by Lewandowksi and Schmelzer. Between those two goals a mistake by Weidenfeller had allowed Ronaldo to equalize for Real Madrid scoring his fifth goal of the season in the UCL with just three matches played.
La Liga Matchday 9: Mallorca vs. Real Madrid
In their return to the domestic league, Madrid crushed Mallorca at the Iberostar in a convincing 5–0 win. Scoring an early goal through Gonzalo Higuain, Madrid played with less pressure and looked like the Real Madrid that won the league.
Ronaldo scored two goals and assisted for another, continuing his excellent run of form, having scored in his eight last matches in all competitions.
La Liga Matchday 10: Real Madrid vs. Zaragoza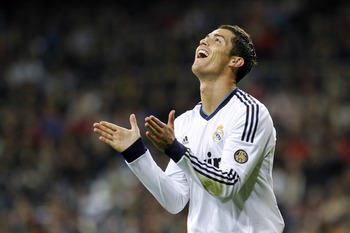 Gonzalo Arroyo Moreno/Getty Images
After being rested in midweek during Madrid's first Copa del Rey match of the season, Ronaldo started against Zaragoza at the Bernabeu. Despite the 4–0 scoreline in favour of Los Blancos, they failed to produce a convincing performance.
Ronaldo himself had a quiet game an ended his run of scoring in eight consecutive matches.
UCL Group Stage Matchday 4: Real Madrid vs. Borussia Dortmund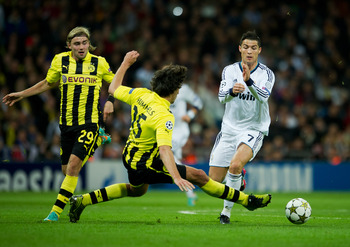 Jasper Juinen/Getty Images
Champions League football returned to the Bernabeu on matchday four, with Borussia Dortmund. Real Madrid played with fire and went behind twice in this match.
However, they reacted in time to get a draw, with Mesüt Ozil scoring an excellent free kick in the last minute of the match. Ronaldo went his second game running without scoring and had a relatively poor game.
La Liga Matchday 11: Levante vs. Real Madrid
In an intense game at Levante, Ronaldo proved his commitment to the Real Madrid colors and his incredible ability to perform in adversity. After having his eyebrow smashed by David Navarro's elbow when competing for an aerial ball, the Portuguese was stitched up and seemed as though he could barely see through one of his eyes.
That didn't stop him from scoring an excellent goal to open the match up, and although he had to be substituted at half time his team won the game 2–1.
La Liga Matchday 12: Real Madrid vs. Athletic Bilbao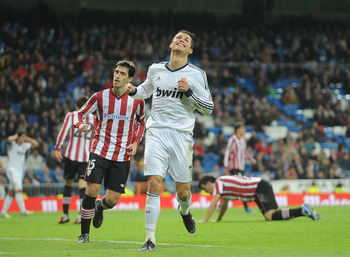 Denis Doyle/Getty Images
With a trip to Manchester City just around the corner, Madrid had a tough challenger coming to Bernabeu in Athletic Bilbao. At least, that's what many thought. It proved to be anything but, as Madrid cruised to a 5–1 victory over the Basques.
Ronaldo, like the whole of his team, had a solid game despite not scoring.
UCL Group Stage Matchday 5: Manchester City vs. Real Madrid
Michael Regan/Getty Images
The match against City at the Etihad in Manchester proved to be more complicated than it should have been. Madrid put in a good performance in the first half and would have probably felt they deserved a bit more than the 1–0 lead at half time.
In the second half, Manchester City reacted and equalized through a Sergio Aguero penalty. Madrid got nervous but managed to hold on to the draw that guaranteed them a spot in the Last 16. Ronaldo had a mixed match, throughout the match he provoked the City midfield and defence to foul him as the only means of stopping him. He also setup a few excellent chances for his teammates who wasted then. However he lost his duel with Joe Hart in one of Madrid's clearest chances of the match and failed to be a constant threat to his opponent's goal as he usually is.
La Liga Matchday 13: Betis vs. Real Madrid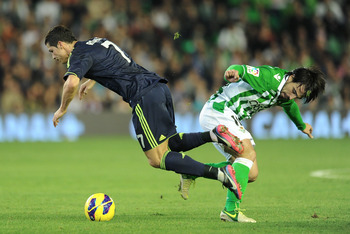 Denis Doyle/Getty Images
The defeat to Real Betis in Sevilla pretty much marked the end of all hopes in La Liga for the defending champions.
Madrid gave a very poor performance in Andalusia and never really looked as if they were going to turn around the game after going down to Beñat in the 16th minute.
Once again Ronaldo failed to perform and was peripheral throughout the game.
La Liga Matchday 14: Real Madrid vs. Atlético Madrid
After being rested again in midweek for their Copa del Rey match against Alcoyano, Ronaldo returned to Madrid's starting lineup in their league match against city rivals Atlético Madrid. He would try to break his three-match streak without scoring.
With the Colchoneros standing comfortably above Los Blancos in the league table, this seemed like the first time in years that they had a genuine chance of winning at the Bernabeu.
It was not to be, and in great part thanks to Ronaldo, who scored the opening goal, assisted Ozil for the second and hit the post twice during the match, marking an excellent return to form.
UCL Group Stage Matchday 6: Real Madrid vs. Ajax
Madrid received Ajax at the Bernabeu for the last match of the group stages of the UCL with little to play for. Perhaps because they were under no particular pressure, they gave a comfortable performance and beat the Dutch 4–1.
Ronaldo had a good game and scored the opener in the 13th minute.
La Liga Matchday 15: Valladolid vs. Real Madrid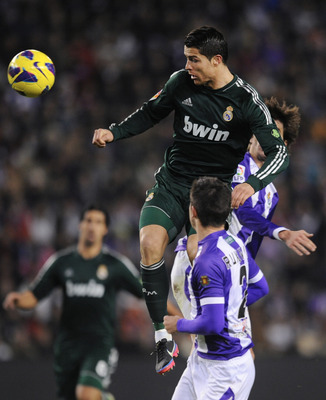 Denis Doyle/Getty Images
Madrid travelled to Valladolid for a tough game in the league. Falling behind twice they ended up winning 3–2 thanks to a majestic performance by Mesüt Ozil,
Ronaldo did not score and had an average game, testing the goalkeeper from distance, but not generating much danger.
Copa Del Rey Round of 16 Leg 1: Celta De Vigo vs. Real Madrid
The match against Celta marked the Portuguese's debut in the domestic cup competition this season and his performance proved decisive despite Madrid, losing 2–1 on the night.
Ronaldo was active throughout the match only to be denied on several occasions by Celta goalkeeper Sergio Alvarez. His perseverance paid off, however, as he scored in the 86th minute invaluable in the prospect of the second leg.
La Liga Matchday 16: Real Madrid vs. Espanyol
After the cup, Madrid received Espanyol at the Bernabeu in a match that only confirmed their forfeiting of the league title.
Ronaldo was one of the few outstanding figures for Los Blancos, scoring the equalizing goal and putting in a strong performance, only to be let down by his teammates and the defensive frailties of his team.
La Liga Matchday 17: Malaga vs. Real Madrid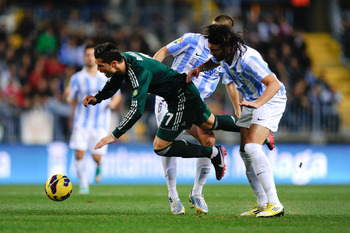 David Ramos/Getty Images
Their following match in La Liga, a tough trip to fourth placed Malaga, delivered another poor performance by Los Merengues who fell to a 3–2 defeat. This time, Ronaldo was not as effective as in the previous match and failed to capitalize on a couple of opportunities in the first half.
With Mourinho benching Iker Casillas, the atmosphere in the Madrid team seemed toxic and this proved they could not always rely on Ronaldo's talent to salvage points.
La Liga Matchday 18: Real Madrid vs. Real Sociedad
Madrid received Real Sociedad in a crazy game at the Bernabeu with Antonio Adán receiving a red card in the first 10 minutes of the game. Real Sociedad scored the resulting penalty through Xabi Prieto who would go on to claim a hat trick.
Ronaldo proved decisive in this game with two goals in as many minutes midway through the second half, without which Madrid would not have claimed all three points having in the end won 4–3.
Copa Del Rey Round of 16 Leg 2: Real Madrid vs. Celta De Vigo
Ronaldo delivered a stellar performance in his following match, the return leg of the cup tie against Celta. He almost single-handedly crushed Madrid's opponents with a spectacular hat trick.
Ronaldo thus marked the new year with the incredible tally of five goals in two matches in 2013.
Copa Del Rey Quarter Final Leg 1: Real Madrid vs. Valencia
Denis Doyle/Getty Images
After missing the weekend league game through suspension, Ronaldo returned to the starting lineup for the first leg of the cup quarter final against Valencia.
Ronaldo, much like his entire team, did not put in a great performance against Los Che at the Bernabeu. His team scored, however, in the few chances they had and they finished the game 2–0 up.
La Liga Matchday 20: Valencia vs. Real Madrid
Sandwiched between their two cup matches, Real Madrid travelled to face Valencia in the League in what would be the second of their three encounters in the space of a week.
Madrid crushed Valencia in Mestalla thanks in great part to stellar performances by Angel Di Maria and Cristiano Ronaldo. Ronaldo scored two more goals and silenced the critics who had questioned his scoring numbers towards the end of 2012. His tally for 2013 went up to seven goals in four games.
Copa Del Rey Quarter Final Leg 2: Valencia vs. Real Madrid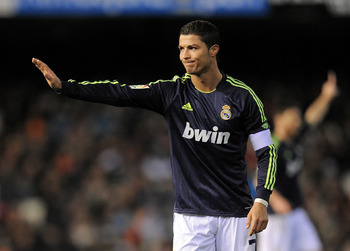 Denis Doyle/Getty Images
After that convincing victory in Valencia, Madrid returned to the same stadium for an eventful second leg in the cup. Having two players sent off, Madrid clung to a 1–1 draw and qualified for the semifinals.
Ronaldo had a quiet game, perhaps in great part because of his team focusing on defense having been reduced to ten men for most of the second half.
La Liga Matchday 21: Real Madrid vs. Getafe
Madrid followed up their qualification with a convincing 4–0 win over city rivals Getafe at the Bernabeu. Ronaldo was unquestionably the best player on the pitch with a spectacular performance and his fourth hat trick of the season.
Ten goals in six games for 2013 went a long way in telling the story of Ronaldo's form in his last matches.
Copa Del Rey Semi Final Leg 1: Real Madrid vs. Barcelona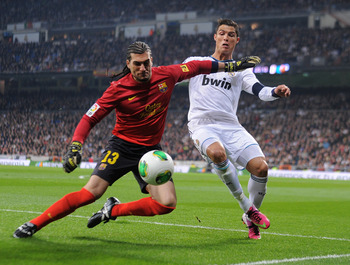 Denis Doyle/Getty Images
As always before each Clasico, the focus was on Cristiano Ronaldo and Lionel Messi to see who would perform best in the cup semifinal played at the Bernabeu. It turned out that neither of them where protagonists, as both had rather quiet games and were completely outshone by the young French defender Raphaël Varane.
La Liga Matchday 22: Granada vs. Real Madrid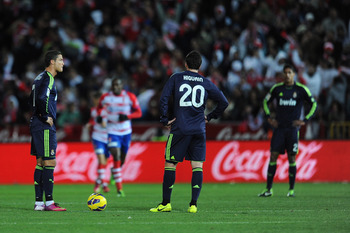 Denis Doyle/Getty Images
Real Madrid travelled to Granada in what seemed the easier tie of run of fixtures that includes matches against Barcelona and Manchester United.
This was a night to forget for Ronaldo, who scored the first own goal of his career. Even worse for the Portuguese, his goal was the only difference between both teams at the end of the match.
La Liga Matchday 23: Real Madrid vs. Sevilla
Ronaldo did not wait long to redeem himself and scored his fifth hat trick of the season against Sevilla in the following match at the Bernabeu. Unquestionably the man of the match, he was extremely impressive with his two first goals being of the highest quality.
If this Ronaldo shows up again at the Bernabeu against the Red Devils tonight, there is no doubt he will be the decisive figure of the tie.
Keep Reading

Real Madrid: Like this team?