Arizona Basketball: Ranking the Most Likely Postseason Scenarios for Wildcats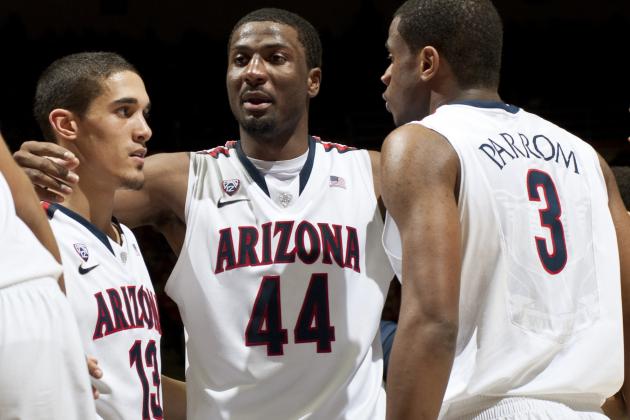 Casey Sapio-USA TODAY Sports

Selection Sunday is a little over month away. With such a stellar season under its belt, Arizona basketball is primed to take one of the higher seeds when the brackets come out.
And as March Madness approaches, it is time to make some preliminary predictions about how Arizona will perform. This list is a ranking of the most likely postseason finishes for the Wildcats.
Begin Slideshow

»
Barring an epic collapse, Arizona will likely be a No. 2 or No. 3 seed come March. This would pit them against a No. 14 or No. 15 seed. These will be some of the worst teams in the field of 68, and Cinderellas are rarely made in these games.
But upsets do happen. Since the tournament expanded to 64 teams in 1985, six No. 2 seeds have gone down in their first game, including two last year alone. All told, another 16 No. 3 seeds have lost in Round 1.
And if there is any school without a first-round assurance, it is Arizona. It is the only school in NCAA history to have first-round losses as a No. 2, No. 3, No. 4 and No. 5 seed. These losses all came in the 1990s and under a different coach, but somehow first-round games always cause some apprehension.
However, this Wildcats team is too good. While it is a possibility, a loss in the first round as a top seed is highly unlikely.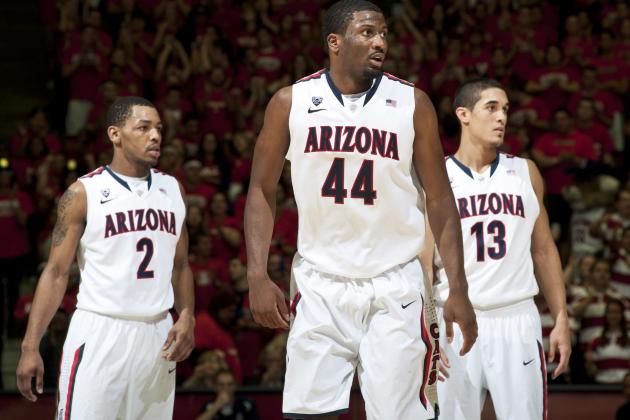 Casey Sapio-USA TODAY Sports

As it looks at this point in the season, winning the national championship is only slightly more likely than losing in the first round.
Game in and game out, the Wildcats struggle against anything other than the bottom of the conference. Since Pac-12 play started, they have lost to every good team with the exception of Arizona State. They were soundly beat wire to wire by Oregon and then got pounded by UCLA.
The game against Colorado can hardly be considered a victory. That fiasco has become the Packers-Seahawks game of the college basketball season.
This past week, the Wildcats came home and lost to a very average California team. This was after mounting a comeback to beat a mediocre Stanford team. The bottom line: Arizona is not playing good basketball.
While they have shown an ability to beat good teams, those victories came in December. The Wildcats play has declined in the last six weeks, and they no longer look like a team which will compete at the highest level.
Beyond that, the Wildcats just aren't good enough on the offensive side of the ball to win it all. Championship teams must be great on offense, the Wildcats are just average.
A national championship is not in the cards for the Wildcats this season.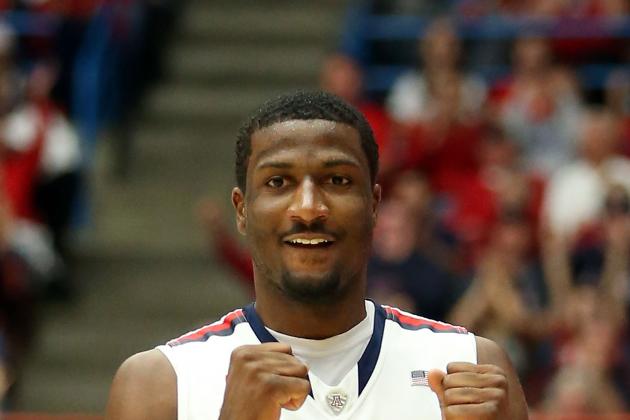 Christian Petersen/Getty Images

Most Arizona fans are looking at this team as one which could take the university to its fifth Final Four. But most likely this is not going to happen. This team isn't good enough to do it.
When asked if this team was a Final Four contender in December, the answer was, of course, yes. The Wildcats beat the fifth-ranked Florida Gators and then the 17th-ranked San Diego State Aztecs. But the team's play has declined ever since.
Every victory is difficult at this point. They have lost to each good team they have played in the Pac-12 season. For whatever reason, this team has taken a big step back. They continue to be sloppy with the ball, take bad shots and have become terribly lackluster on both ends of the floor.
March is a month away; Final Four teams are all steaming ahead and getting better. Arizona is not. This is a problem that makes the Final Four a very unlikely scenario.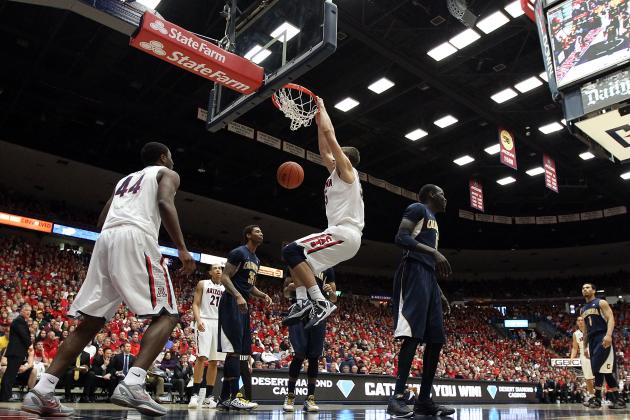 Christian Petersen/Getty Images

If Arizona is a No. 2 seed, the highest seed a team can face is a No. 7 seed. Just to provide framework, last season's No. 7 seeds were Florida (No. 19 final coaches' poll ranking), Notre Dame (23), Saint Mary's (18) and Gonzaga (25).
If a No. 3 seed, Arizona would face at best a No. 6 seed. Again, for context, last season's No. 6 seeds were ranked 10th (Murray St.), 20th (UNLV), 21st (San Diego St.) and unranked (Cincinnati). So these are all good teams, but not great teams.
Arizona should be able to beat teams at this level. They have played at a top-10 standard all season long and although it may be a tough-fought game, Arizona should prevail. All the options available to the Wildcats will overwhelm a team outside the top 20.
This is a game I see Arizona falling behind in, as they do against all good teams they play, but having enough talent, experience and size to overcome a lackluster start. It is quite unlikely Arizona loses in the second round.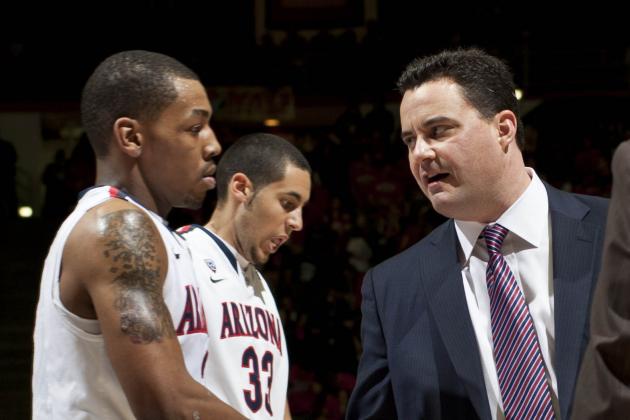 Casey Sapio-USA TODAY Sports

The second-most likely postseason finish for Arizona is to get to the Elite Eight. This is not a hard result to envision. The Wildcats have all the size, experience and skill to get this far in the tournament.
The Cats would need to defeat an average team in the first round, a good team in the second and then most likely a top-10 team in the third round. They have completed all these tasks already this season. They beat a good team in San Diego State, then have beat two top-10 teams in Florida and Miami.
Arizona has something many teams do not have: great senior leadership. Solomon Hill, Mark Lyons and Kevin Parrom have played four years of college basketball, and that extra time has already paid off.
At so many points during the season when Sean Miller is down, those three guys are on the court. Those three are the ones that seem impervious to the pressure. Their focus during the wins over Florida, San Diego State, Colorado and several other games has been nothing short of incredible.
Come March, this is going to make a large difference, and it could get Arizona to the Elite Eight. The experience of the seniors may be just what Arizona needs to overcome deficiencies in several other areas. If so, the Wildcats may exceed my expectations and get to this elite level of the tournament.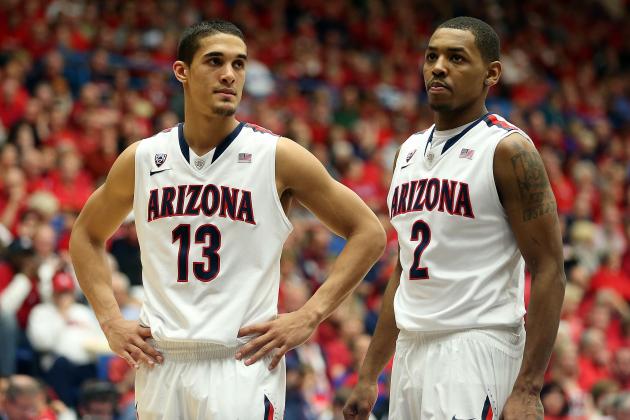 Christian Petersen/Getty Images

The most likely scenario for this group of Cats is to advance to, but no further than, the Sweet 16. The road to the third round will be quite easy. The first round will consist of a poor team, as Arizona will be a high seed (a No. 2 or No. 3) and should not pose difficulty. As stated earlier, the second-round game may be hard-fought, but Arizona will have a bit too much for non top-20 opponents.
Unfortunately, once the Wildcats enter the Round of 16, the season will most likely come to an abrupt end. They would play either a No. 2 or No. 3 seed or a team playing at a level high enough to beat a No. 2 or 3. These are usually top-10 teams.
While Arizona has all the ability to beat any team in the nation, they have ended up in 10 point deficits against every good team they have played (see Florida, San Diego State, Colorado, Oregon, UCLA). And with the offense as stagnant as it has been, this trend would likely continue.
And for the most part these deficits have not mattered. The Cats have shown an incredible ability to come back and pull out close games. But it won't happen during the tournament at the Sweet 16 level. The teams playing to the second weekend are not only talented, but they are also playing good ball.
Falling behind by double digits against teams at this level is simply a recipe for elimination. And after a great season which brought many more ups than downs, the Wildcats will fall to a team in the Sweet 16.