Kentucky Basketball: Ranking the Most Likely Postseason Scenarios for 'Cats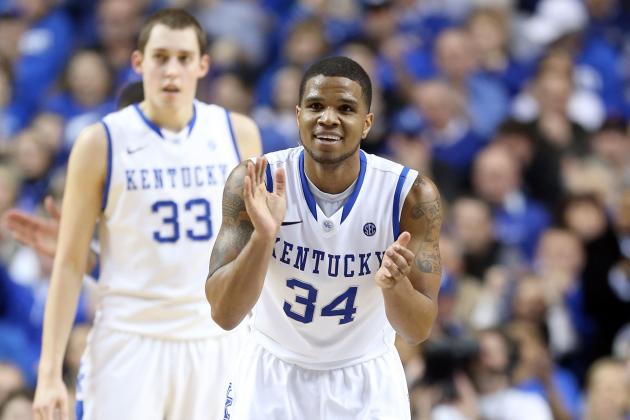 Andy Lyons/Getty Images

Well, this ranking list changed completely thanks to the season-ending injury to Nerlens Noel
With Noel, Kentucky had the chance to make a run in March. He was so talented on the defensive side that he directly affected at least eight points a game with his four blocks per night. However, he also swayed the game even more with his many deflections and altered shots.
That argument is worthless now, though, as Kentucky is sans Noel the rest of the 2012-13 season.
Mike Bobinski, chair of the NCAA Tournament selection committee, said that Kentucky will be evaluated from here on out without its star freshman.
While the committee will take into consideration any wins or losses before the injury, the reality is whatever the Wildcats do over the course of the next month will determine if they make the tournament and what their seed will be.
With that in mind, this list will count down the likely scenarios for Kentucky come March.
As always, let your opinion be heard in the comments section.
Begin Slideshow

»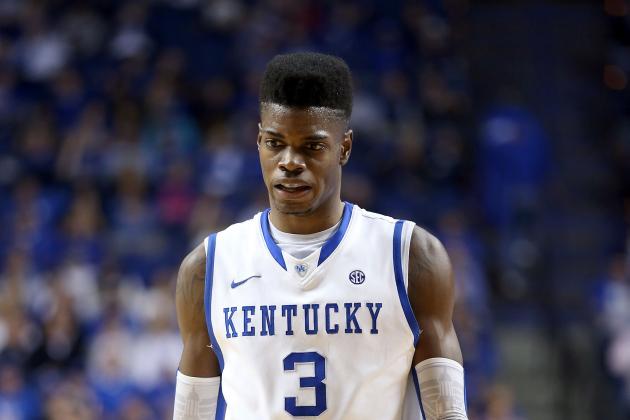 Andy Lyons/Getty Images

Here is a list of possible scenarios that are just out of the realm of the possibility for Kentucky.
CBI Tournament: Kentucky is just too talented to fall below .500 and make the third tournament of March.
NCAA Champions: The Wildcats won't retain their NCAA title. Even with Noel in the lineup, it was a stretch; but without their best player, the Wildcats can kiss the trophy goodbye.
Final Four: This Kentucky team just never came together. Whether it was coaching, the players or recruiting isn't the argument. Whatever the reason, this Kentucky team won't have the strength to make the Final Four.
Al Messerschmidt/Getty Images

Odds: 15%
As it goes every year, winning streaks in March Madness are based on matchups and who you play the first weekend. Based on Jerry Palm's latest projection, Kentucky will be a No. 10 seed in the Midwest region.
How many times do we see a No. 10 seed make the Sweet 16? Doesn't seem too far out of the realm of possibility.
In Kentucky's first game, Palm predicts they will play Colorado State then face the winner of Arizona versus Harvard.
Let's assume Arizona wins that game. Colorado State doesn't have a win over a ranked team this season, but sits with a record of 20-4.
If Kentucky was to get to Arizona, there is no reason to think Kentucky would roll over. Arizona is incredibly talented but has shown it is a very erratic team that could get upset. For example, Arizona has lost at home to California and UCLA and was lucky to escape with a win against Colorado.
Kentucky could reach the Sweet 16 if they beat Colorado State and catch Arizona on one of its off nights.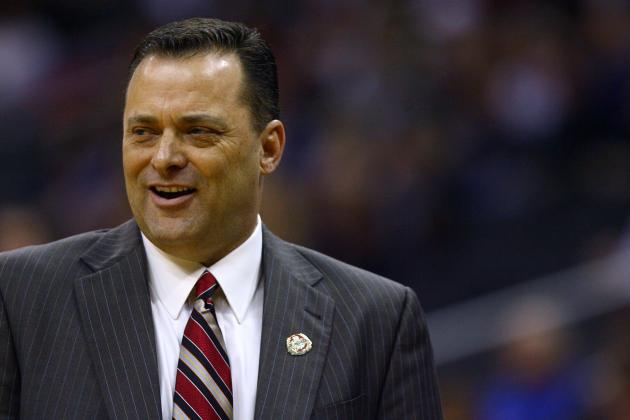 Ed Zurga/Getty Images

Odds: 20%
Remember the guy in the picture?
I'm sure all of Big Blue Nation does.
In case you don't, he is happy-go-loving former Kentucky coach Billy Gillispie.
Now, why would he be in the picture on this slide you may ask? Because he was the coach when Kentucky last missed the NCAA Tournament—something that isn't acceptable in Lexington.
There are plenty of differences between this team and Gillispie's team, including a much better coach in John Calipari. Not to mention a pretty large disparity in talent.
While, without Noel, Kentucky could fall apart down the stretch and end up in the NIT, its schedule will improve the team's odds of being called on Selection Sunday.
Kentucky's schedule down the stretch features away games against Tennessee, Arkansas and Georgia, with home games against Vanderbilt, Missouri, Mississippi State and Florida. Five of those games are winnable, with the games against Missouri and Florida representing contests Kentucky will not be favored in.
If the Wildcats take care of business, they will be playing in the NCAA Tournament and avoid the shame from Big Blue Nation of playing in the NIT.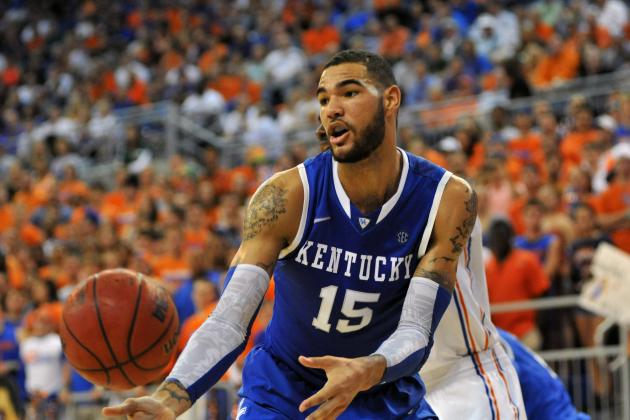 Al Messerschmidt/Getty Images

Odds: 30%
Using Jerry Palm's projected bracket again, Kentucky is slated as the No. 10 seed in the Midwest region. That's not necessarily a bad place to be located for the Wildcats.
Historically, the No. 10 seed has decent success in the first round. Since 1985 there have been 112 total games between the No. 10 and 7 seeds, with the No. 10 seed winning 45 of them, which is a mark just over 40 percent.
Not bad odds for a one-game playoff.
Remember, Kentucky has the talent to play with anyone in the country, even without Nerlens Noel. Archie Goodwin, Alex Poythress and Kyle Wiltjer are all McDonald's All-Americans. That's more than most teams in the country.
If Wiltjer and Julius Mays continue to shoot the way they have lately, it could help propel Kentucky to a first-round win.
John Calipari would also have his team's mindset completely motivated come NCAA Tournament time. He knows Big Blue Nation won't tolerate a loss in the first round and will do everything in his power to get his team ready.
Kim Klement-USA TODAY Sports

Odds: 40%
You can try to talk yourself into any sort of situation come March for Kentucky, but the fact is, the Wildcats are destined for this spot.
Sure, they may come out and play inspired with the loss of Noel, but it is still the loss of their best player. More importantly, the Wildcats are not deep this year, especially in the frontcourt, where they have Willie Cauley-Stein, Kyle Wiltjer and Alex Poythress left on the roster.
That's even counting Poythress, who is more of a small forward. Not to mention Cauley-Stein is just returning from an injured knee as well.
The only ways Kentucky can move either up in the seeding or fall out of the tournament is the remaining schedule.
If the Wildcats crumble down the stretch, kiss the tournament good bye. However, if Kentucky is able to win against either Missouri or Florida and make a run in the SEC Tournament, it could move up to a No. 7 or 8 spot.
Until then, Big Blue Nation will have to look forward to next year for a championship contender again. However, don't rule out Kentucky or John Calipari come March.
This college basketball season has been too weird already.