WWE Raw Results and Report Card 2/11/13: Grading the Rock, Cena, and CM Punk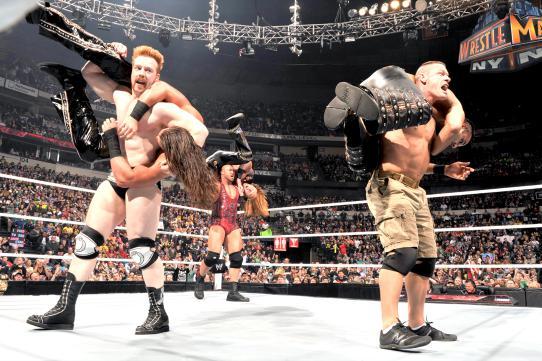 via WWE.com
The WWE was in Nashville for the final Raw before the Elimination Chamber pay-per-view this weekend. Traditionally this "go home" show prior to the big event is the most important when it comes to selling casual fans on parting with their $44.99.
Did the WWE do enough to convince fans this was a show worth their hard earned cash? Or will the WWE universe be willing to wait for Wrestlemania?
The fans, in Nashville at least, were eating out of the promotion's hand. They were rabid for almost everything they saw, but no one more than John Cena and the Rock. Since those two men are in the biggest matches on the card, against CM Punk and the Shield respectively, that might just be a good thing.
In the end, though, Nashville is just one city. We know what they thought from their reactions. But what about the important people? Of course, by this, I mean me and you. I've graded each segment from the show from A-F.
Disagree with any of them? Let me know in the comments.
Begin Slideshow

»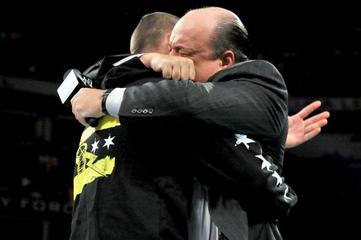 via WWE.com
Paul Heyman doesn't do anything halfway. When he promoted ECW, he went all in. Spending his money, his family's, his friends, he did everything he could to make extreme wrestling work.
He put just as much pride and passion into the careers of his proteges, Brock Lesnar and CM Punk. And that's why, with Punk facing the heat for Heyman's decision to bring in the Shield and Brad Maddox, Heyman decided to resign rather than hurt Punk's career.
As Heyman contemplated leaving the WWE for good, Punk came down to talk him out of it. This, he said, was just a nightmare. After Elimination Chamber, the two would wake up and things would go back to normal.
Heyman changed his mind and the two embraced for an uncomfortably long time with Heyman chanting "Best in the world. Best in the world" like a mantra.
Key Quotes: "Tonight is the last time you're ever going to see Paul Heyman."—Paul Heyman to the roar of the crowd.
"Everything I've ever done in my life, I've done with great passion...for seven-and-a-half years I gave up everything. I sacrificed my personal life, my parent's fortune, to give you...ECW."—Paul Heyman
"I have become a distraction The sins of the mentor will fall upon his protege. I cannot let that happen. And that is why tonight I am tendering my resignation."—Paul Heyman
"At this moment, I say goodbye."—Paul Heyman
"These people admire you. Just like I do. These people look up to you. Just like I do. Listen to them Paul. There's a lot of Paul Heyman guys out there."—CM Punk as the crowd boos.
"I honestly think Paul Heyman was trying to upstage the Pope."—Jerry Lawler. Michael Cole couldn't resist letting out a snicker.
Grade: B There was nothing wrong with the performances here, but what was all this about? The feud between Rock and Punk has been mostly between the two men. Why make Heyman a central character in the last two weeks?

via WWE.com
Henry qualified for the Elimination Chamber by taking out Rey Misterio last week on Raw and then beating Randy Orton on Smackdown. Pretty impressive return by the world's strongest man.
The Great Khali didn't have any better luck than the guys last week. Henry ate him alive. Not literally, although by the looks of things that could be next. In a matter of minutes, he put Khali away with the World's Strongest Slam.
When Hornswaggle entered the ring to check on his friend, Henry slammed him too, the second week in a row he slammed a midget sized man. Downright dastardly.
Key Quotes: "I got a feeling this match is not going to go very long."—Jerry Lawler, luckily speaking truth.
Grade: C. This match was rough. The two didn't seem to quite connect timing wise, and it wasn't the prettiest match I've ever seen. The angle got over though, so that's something at least.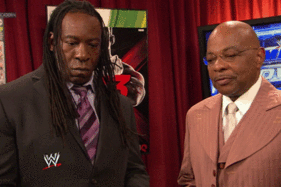 Long and Booker T via WWE.com
Chris Jericho gets his shot at the Elimination Chamber, and eventually becoming a seven-time champion, if he beats Daniel Bryan tonight. I dig that. Sucka.
But that isn't the real news. Immediately following Booker T's announcement, Paul Heyman advocates for, and receives, a special stipulation. If Rock is disqualified or counted out, CM Punk wins the WWE championship. That's the key news coming out of this segment.
Key Quotes: "It only makes sense, for business and prestige, to put Y2J into the Elimination Chamber."—Chris Jericho
"In Vince's absence, this show is all yours. You're not just the head female. You're the boss."—Paul Heyman to Vickie Guerrero.
"Shut up!"—Vince McMahon to Paul Heyman
Grade: C+. That's the big stipulation? I guess it could lead to controversy and an eventual three-way match between Punk, John Cena and Rock at Wrestlemania. But it doesn't feel too exciting right now.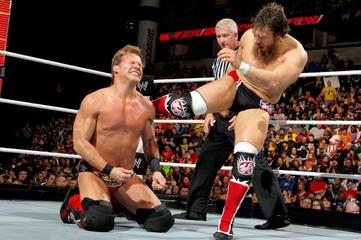 via WWE.com
A week after his amazing match with CM Punk, Jericho is right back in the ring with another one of the WWE's best. Is it just me, or has Jericho proven something these past two weeks? If not to the locker room, to himself.
"You've still got it."
CLAP CLAP... CLAP CLAP CLAP
Sorry. Got carried away there.
The crowd was insane for Jericho, chanting "Y2J" loudly throughout the match. Nothing like a hot crowd to make a good match feel like a great one.
After a number of false finishes, including a nifty reversal by Daniel Bryan, turning the Lion Tamer into the No Lock, Jericho wins clean with the Code Breaker to join the Elimination Chamber match this weekend.
Key Quote: "He's got a beard that won't stop blossoming."—Jerry Lawler on Daniel Bryan.
Grade: A. Not as good as last week's match, but this is high level pro wrestling. I like that WWE doesn't feel the need to gimmick up these finishes. Let the athletes settle it in the ring.
via WWE.com
Three of the WWE's biggest babyfaces against a team of heel jobbers. Hmm, I wonder how this is going to go?
Key Quote: "The roof literally just came off this arena."—Jerry Lawler on John Cena's huge reception in Nashville.
Grade: B. The crowd was crazy for this. Standard squash, but the guys couldn't help but be obviously pumped for this. The finish, with the babyfaces hitting their finishes simultaneously, was pretty cool.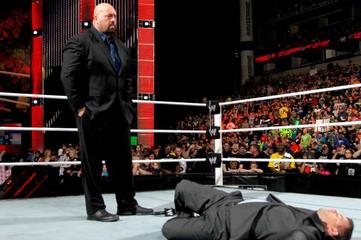 via WWE.com
Big Show comes down and starts his in ring interview with Matt Stryker by knocking poor Matt cold. Can we do that every week, please?
The big man can barely bring himself to speak. That's how furious he is at Alberto Del Rio's antics. Those, friends, are some powerful antics. Eventually he just up and left.
Key Quote: "Do you feel..."—Matt Stryker. That was all he could get out before Big Show put his lights out.
Grade: B. I think he's mad y'all.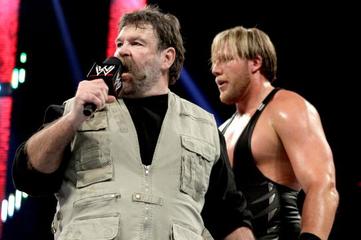 via WWE.com
Jack Swagger is back. And he's angry. And American. An angry American. That's less a gimmick than a lifestyle.
Swagger has smashed everyone in his path—including Ryder—earning a chance to compete in the Elimination Chamber on pay per view.
I wasn't sure what was different about the "new" Jack Swagger. He seemed just like the "old" Jack Swagger. But tonight things took a radical turn. Joined by Zeb Coulter, it was made clear that when Swagger says he's a "real American," it's not the Hulk Hogan kind. It's the Tea Party time.
Dabbling in politics? I thought the McMahons only did that in Connecticut?
Key Quotes: "You and I both know how vicious this young man can be."—Jerry Lawler on Swagger.
"This is the land of the free and the home of the brave. This is not the land of the free and the home to whoever wants to cross our borders. It's our country, to protect and defend."—Zeb Coulter (AKA "Dirty" Dutch Mantel).
Grade: A. A gimmick as a possibly racist and radical American fascist? That could be interesting. Color me intrigued.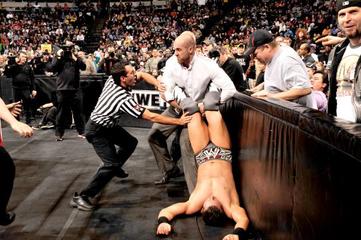 via WWE.com
Last week Brock Lesnar came out and threw a living room suite on top of the Miz. This week, after a brief match with Cody Rhodes, Antonio Cesaro did Lesnar one better.
Grabbing Miz's legs, he swung him back and forth, over and over again, into the ringside barrier, leaving the Miz laying.
Key Quote: "Miz represents to me everything that is wrong with America."—Antonio Cesaro.
Grade: A. Wow. That was a spot I've never seen before. Just brutal. Cesaro is a born star.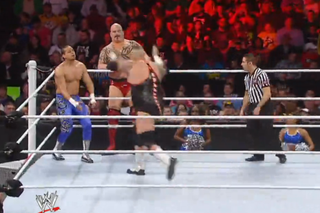 via WWE.com
Nothing to see here. Just WWE trying to create a new undercard comedy act. Tensai hits a running senton for the win, but the match is really just an excuse to see two fat men dance.
Dance big fellas. Dance like your jobs depend on it. They likely do.
Key Quote: "What happens in Vegas stays in Vegas. And on Facebook."—Jerry Lawler on Tensai's lingerie modeling debut a couple of weeks ago.
"This is fun!"—Michael Cole, with desperation in his voice.
Grade: F. Not feeling it. Sorry. I appreciate the effort here, but these guys aren't exactly the Godfather or Rikishi. They aren't even Santino. Fail.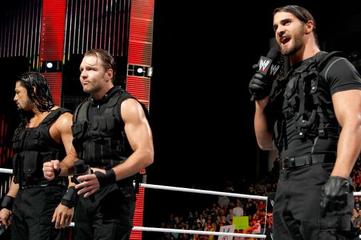 via WWE.com
The Shield comes out and trashed John Cena, saying he's been the problem for a decade. Wait, aren't they supposed to be the bad guys?
Roman Reigns challenges Cena and his crew to come out into the ring to challenge them. No one shows. I smell tomfoolery brewing.
Eventually, after each member says their piece, the lights go out. When they come back on Ryback., Cena and Sheamus are in the ring and clearing house. Shockingly, the action spills over into the crowd like this was a bingo hall and not a major arena.
The Shield clears out and the babyfaces reign supreme.
Key Quotes: "They are going to expose themselves here tonight." Michael Cole on the Shield. I hope he doesn't mean it.
"In case you haven't noticed, when the Shield wants to deliver a message, we do it through action."—Seth Rollins.
"If you want us, come and get us!"—Roman Reigns.
"You laid the groundwork, John, for an entire generation to believe in the system."—Seth Rollins.
"This Sunday, the Shield is going to drown you. Believe that."—Dean Ambrose.
Grade: B+. I really like what I've seen from this feud. If they are careful, this can be a really hard-hitting match at Elimination Chamber, which is suddenly looking like a pretty good card.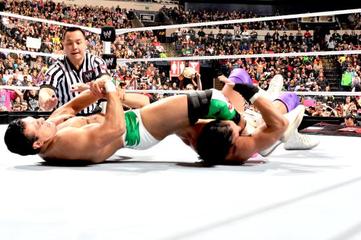 via WWE.com
Alberto Del Rio is starting to catch on as a babyface. And, if I understand my tingling Snowden Sense correctly, he'll be feuding with Jack Swagger soon enough.
If not, they have to think of more ways for him to prank Big Show. And I think they've scraped the bottom of that barrel already.
Wait, was there a match here? Oh yeah, Del Rio destroyed Damien Sandow. The booker treating poor Sandow with, dare I say it, disdain.
Key Quotes: "This city prides itself in glorifiyng songs about dead dogs, broken down pickup trucks and overly sensitive ignoramuses getting their hearts broken."—Damien Sandow on Nashville.
"You gave the best promo in your life. You didn't say anything."—Del Rio to Big Show.
Grade: C+. The crowd in Nashville isn't quite on board the Del Rio Express. As much as I enjoy him as a babyface, the audience seems lukewarm so far.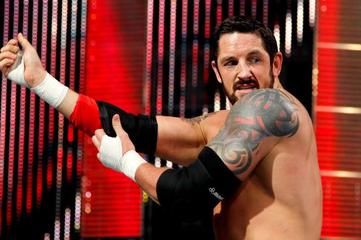 via WWE.com
Before the match, rookie Bo Dallas laid into Barrett backstage. They aren't giving up on that feud, but perhaps a win or two would help Dallas get some credibility that he currently lacks.
These two work well together, a product of a long feud last year. Kingston hits a pretty cool splash on the back of a standing Barrett and is his normal high flying self before Barrett delivers the knockout blow.
Key Quote: "Kofi is still out."—Jerry Lawler after Barrett hits a brutal Bull Hammer.
Grade: B. Would have liked to see more of this match. Was just starting to get interesting when they went to, admittedly, a pretty cool finish. Barrett caught Kingston in the ring apron, allowing him to nail his big move.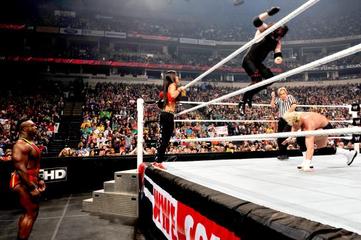 via WWE.com
Since Jericho is in the Elimination Chamber match, and Dolph Ziggler is mildly obsessed with Y2J, Ziggler feels it's only right he should be in too. Booker T and Teddy Long agree—so long as Ziggler can beat Kane to earn the spot.
The finish come when AJ Lee turns into what King calls a double distraction. A double D? That's so King.
Lee keeps Kane from hitting Ziggler with a sledgehammer off the top rope, but Dolph accidentally bumps her off the ring apron. Luckily "Big E" Langston catches her. Less luckily? Ziggler is momentarily distracted. Kane takes advantage with a choke slam for the win and the final spot in the Chamber match.
The final six?
Swagger, Bryan, Orton, Kane, Henry, Jericho.
Key Quote: "Pearls, Pajamas, Prozac."—Jerry Lawler on the three things that Ziggler should give AJ Lee for Valentine's Day.
Grade: B. Pretty solid back and forth match here.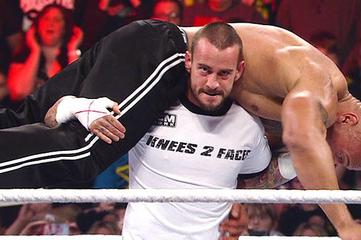 via WWE.com
The crowd has been electric all night—but the Rock sends the voltage meter into the red with his appearance. Only Cena's reaction comes close.
After a long meandering, but entertaining, story about his days in Nashville the Rock gets down to brass tacks once CM Punk comes out to chitter chat.
Punk ends up charging the ring and, with the help of Heyman, lays Rock out with the Go to Sleep. Then Punk does something he no doubt feels is justified. He walks out with his belt.
Key Quotes: "The Rock just wasn't any ordinary 15 year old. The Rock went ahead and kicked puberty's candy ass."—The Rock.
"Rock thought: Bar, car, crackhead. What could possibly go wrong?"—The Rock.
"If you're going to buy a car, don't ever, and the Rock means EVER, buy a car from a crackhead."—The Rock.
"The last time we saw you you were in the ring re-enacting a love scene from Twilight."—The Rock on Punk and Paul Heyman.
"Every time you want to bring it.. because it belongs to me, I'm just going to take it."—CM Punk.
Grade: A. Strong finish to a strong show. I'm in for Elimination Chamber. How about you?