Maryland Basketball: 5 Biggest Questions Terps Face in ACC Stretch Run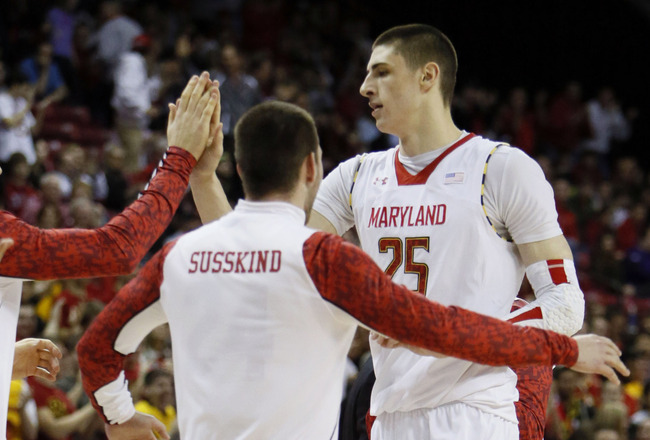 Mitch Stringer-USA TODAY Sports
Coming off of a resume-crushing defeat at home against Virginia, the struggling Maryland Terrapins head into their most important week of the season, looking to finally get off the schnide.
Saturday's tilt against second-ranked Duke at the Comcast Center is Maryland's last opportunity for a marquee victory.
If, and that is quite a major "if," the Terps can knock off Duke and breathe some life into their NCAA Tournament hopes, major questions still linger as they head into the ACC stretch run.
Here are five of the biggest questions that Maryland faces during the final month of the season.
Can Alex Len Get It Going?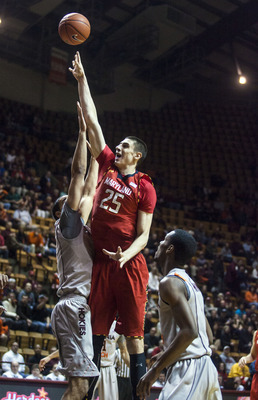 USA TODAY Sports
After steamrolling Nerlens Noel's Kentucky Wildcats, and then a slew of weak low-major foes, sophomore Alex Len has seen his production drop substantially during conference play.
In ACC competition, the 7'1'' Len is averaging just 11.4 points and 7.2 rebounds per game, down from 13.3 points and 8.0 rebounds in nonconference play. While those differentials aren't drastic, the highly-touted NBA prospect is averaging nearly five more minutes per night against conference opponents.
To further emphasize his extended slump, he has failed to score more than 12 points in each of his last five contests. In fact, he hasn't attempted more than seven shots in a game during that span.
Is Len suffering from inadequate production from the point guard position? Sure. But he also needs to be more assertive in the post. Len should be getting a touch every time down the floor.
Lastly, his offensive rebound totals have been horrendous for someone who stands over seven feet tall. With at least a three inch height advantage nearly every game, Len is pulling in less than three offensive boards in conference play.
In addition, he's pulled in just eleven offensive rebounds in his past five games. Those opponents include ACC bottom-feeders Virginia Tech and Wake Forest, who have no legitimate size comparatively.
When Will They Start Closing out on Three-Point Shooters?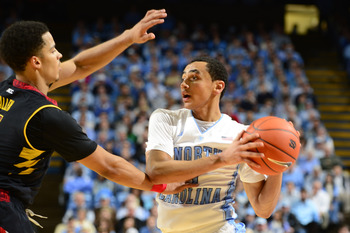 USA TODAY Sports
After being torched by Duke freshman Rasheed Sulaimon beyond the arc on national television, you'd think Maryland would have worked on closing out on three-point shooters, right? Wrong.
Just two weeks later, Virginia shot the Terps out of their home arena, nailing 11 out its 19 three-point attempts. Every time Maryland showed a smidgen of life, the Cavaliers buried a three.
It goes without saying that Maryland is a physical interior team, ranking second nationally in rebounding. Seriously, have you seen 250-plus pounders Shaquille Cleare and Charles Mitchell? That's some scary stuff.
But Maryland needs to work on solidifying their perimeter defense now, specifically closing out on three-point shooters. Duke and Virginia made the Terps pay for their inability to do so, and it wouldn't be a surprise if they weren't the last.
Can Mark Turgeon Generate Some Offensive Energy?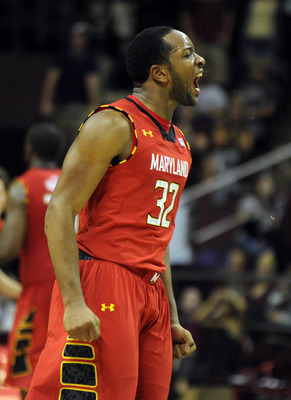 USA TODAY Sports
It pains me to watch Maryland run their offensive sets, or should I say, their lack of offensive sets.
Evidently, running a wing along the baseline leading to a curl-jumpshot hasn't been working, but Mark Turgeon hasn't seemed to notice. It's time to implement some new strategies, and bring some life to the offense.
Maryland would be well-advised to take advantage of the fastbreak as much as possible. In the halfcourt, guards Nick Faust, Seth Allen, Pe'Shon Howard and Dez Wells needs to set ball-screens themselves, and not rely on Alex Len to come set them 40 feet from the basket.
If Maryland wants to sneak in to the NCAA tournament field, some offensive tempo and energy is in dire need.
Which Power Forward Should Have Their Minutes Cut?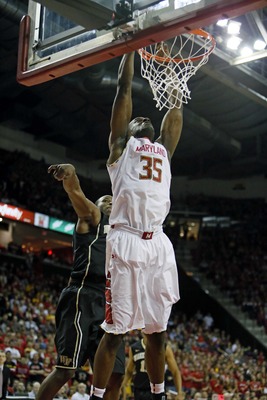 Mitch Stringer-USA TODAY Sports
For a while, it seemed as if Mark Turgeon was going to magically be able to squeeze a 10-man rotation into a 40-minute college basketball game. Unsurprisingly, the plan failed.
It's obvious that sniper Logan Aronhalt isn't an ACC-caliber player, and can't hold up defensively. The more nebulous area is the power forward slot, where James Padgett, Charles Mitchell and Shaquille Cleare find themselves in a three-headed logjam for playing time.
One of those three players will inevitably see their minutes cut. It certainly won't be Mitchell, who has been a hyper-efficient and high-energy rebounder thus far.
Whether it is determined that senior James Padgett will have to ride out the remainder of his collegiate career on the pine, or that Shaquille Cleare needs a year to develop, more minutes need to be made available for Maryland's more productive players.
Who Will Step Up as the Point Guard?
USA TODAY Sports
Ah, the most fiery, burning question of them all. The one thing standing in between the Maryland Terrapins and the NCAA Tournament is a point guard, which seemingly isn't on the roster.
Well, someone has to step up. Pe'Shon Howard has regressed miserably. Seth Allen is too shot-happy to be a distributor. Nick Faust plays much better on the wing. Dez Wells simply can't dribble the basketball.
Usually, I answer the question I proposed in the headline, but this one's different. All four experiments have failed so far, and I can't imagine whom Mark Turgeon will turn to next.
Regardless, Maryland isn't capable of making the Tournament without steady point guard play. Who will step up? That remains the biggest question in College Park.
Keep Reading

Maryland Terrapins Basketball: Like this team?