4 Washington Nationals Fighting for Roster Spots in Spring Training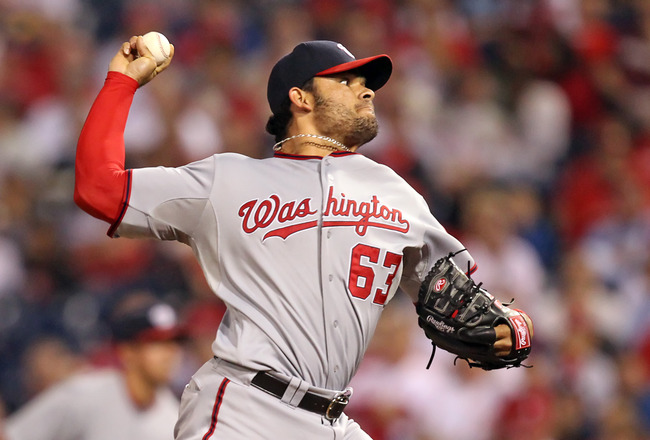 Hunter Martin/Getty Images
Spring training is about to begin and the Washington Nationals have their sights set on the World Series.
The journey to October begins now, however. The Nationals will have to watch as proven All-Stars compete with youngsters as they come together in the spring to give it all they have to make the MLB roster.
While there is a wealth of young talent in the Nats' system, there will be some choices to be made with some familiar faces.
The Nats' bullpen appears to have fantastic depth this year, and this means that someone is going to be on the outside looking in when the team moves north to D.C. For some, not making the 25-man roster will mean the end of their Nationals career.
Henry Rodriguez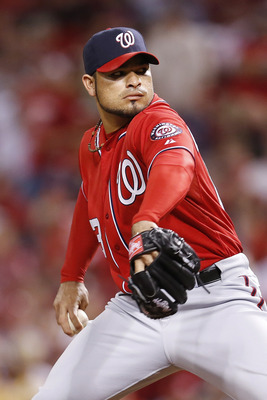 Joe Robbins/Getty Images
Henry Rodriguez is out of contractual options with the Nationals. He is coming off of a disappointing season that ended with elbow surgery. Rodriguez came out of the gates strong in 2012 but quickly fell back to earth.
His fastball flattened out and he was hit hard day in and day out. He finished the season with a 5.83 ERA and now might be pitching for his D.C. career this spring.
With the abundance of talent in the D.C. bullpen, the Nats will be watching their relievers' performances very closely. If Rodriguez does not squelch any doubts in the spring, he might not find himself on the 25-man roster, which would end his Nationals career.
Anthony Rendon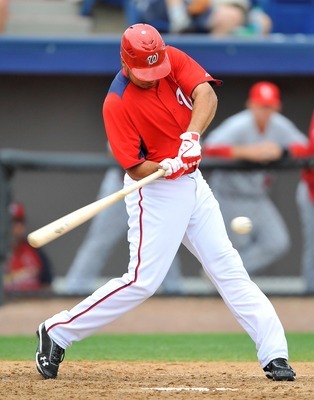 Brad Barr-USA TODAY Sports
22 year-old Anthony Rendon from Rice University is looking to make a positive influence on the Nationals' management in 2013. Last season in spring training, Rendon collected three hits, all doubles, in 13 at-bats.
Rendon hit .233 in the minors last season with six home runs, four triples and eight doubles in 43 games.
The Nats' top prospect also finished the Arizona Fall League with a .338 average. Even more insightful is his knack for drawing walks, finishing the season with 14 walks and only 14 strikeouts in 77 at-bats. This will be a key to his success in the majors.
As long as he continues to have a good eye and wait for his pitches, Rendon will be on the fast track to the majors and can use 2013's spring training as his stage.
Nathan Karns
Andrew Weber-USA TODAY Sports
Does the Nationals' minor league Pitcher of the Year have a chance to make it out of spring training to D.C. this season?
The Nats selected Karns in 2009, but the righty did not pitch in the minors until two years later due to injuries. Last season in the minors, Karns collected am 11-4 record, 2.17 ERA and 148 strikeouts while batters only hit .174 against him.
The interesting dilemma here is how the Nats plan to use him in the future, He has shown that he can pitch both as a starter and out of the pen. If the Nats continue to nurse his rehab and shoot for him to start, he likely will not see the majors after spring training.
Should the Nats decide to use him as a reliever, then he might be trying to prove something in spring training that will resonate later this season with the Nats.
Matt Skole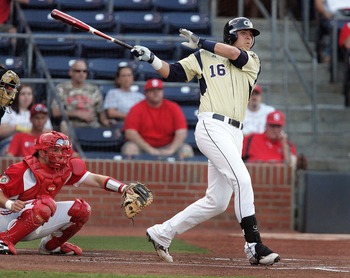 Mark Dolejs-USA TODAY Sports
Despite being a nonroster invitee, the Nationals' minor league player of the year, Matt Skole, is going to be able to show the Nationals what he is able to bring to the table.
In two seasons between Auburn, Hagerstown and Potomac, Skole hit 32 home runs while getting 51 doubles in 191 games. The power-hitting third baseman is certainly capable of making the big league team at some point.
Although it might not be directly out of spring training, as it is inevitable that he needs more time in the minors, Skole has a chance to show that should anything happen to Ryan Zimmerman at third base this season, he might be able to step in for a few games.
Keep Reading

Washington Nationals: Like this team?