Indiana Basketball: 5 Biggest Questions Hoosiers Face in B1G Stretch Run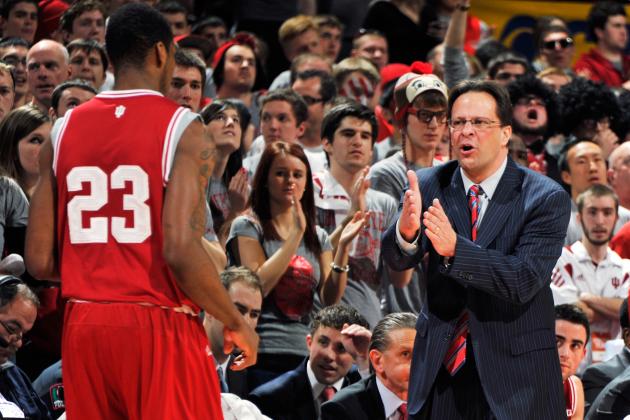 Jamie Sabau/Getty Images
Tom Crean has to be happy with their performance against OSU.
The Indiana Hoosiers were thrilled to bounce back after a tough loss earlier in the week by soundly defeating the Ohio State Buckeyes. However, there are still a few questions the Hoosiers must answer during this difficult Big Ten stretch.
Tom Crean's group is off to a great start at 21-3, and they are looking to finish the regular season just as strongly. Unfortunately, there are a few tough tests coming up, with most of them on the road.
The team will need to deal with some difficult problems if they wish to win out. Here are the biggest five questions that the Hoosiers must answer.
Begin Slideshow

»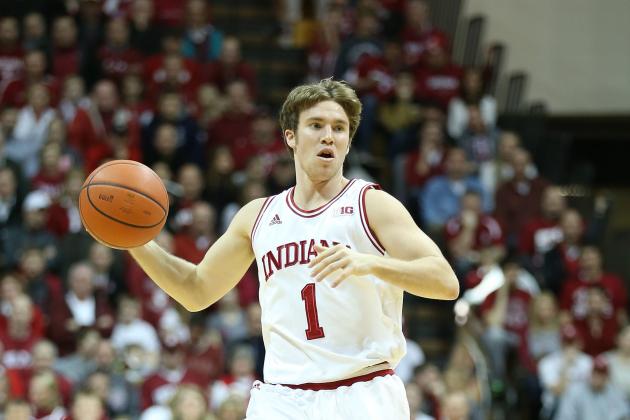 Andy Lyons/Getty Images
Jordan Hulls is a great shooter, just not a great defender.
This may sound like blasphemy to some Hoosiers fans, but perhaps Jordan Hulls isn't being utilized best as the starting shooting guard.
There is no denying that Hulls is a great three-point shooter, as he is shooting 47.9 percent from behind the arc. However, his poor defense and height have been major problems, especially when defending more athletic guards.
The Hoosiers need to face the fact that they will need more height in the starting lineup as the season winds down. Will Sheehey would make a great option, as he has proven himself to be a more reliable defender.
This move would give Hulls the opportunity to come off of the bench, giving both Yogi Ferrell and Sheehey some rest. His scoring wouldn't change dramatically, as he will still be able to find his shot.
Hulls is obviously struggling on defense, and that has led to far too many open threes. Something needs to be done, and Crean needs to address it.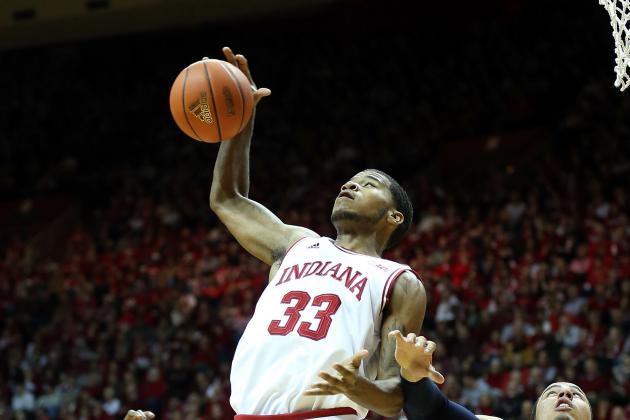 Andy Lyons/Getty Images
Hollowell is beginning to show signs of promise.
The biggest criticism all season for the Hoosiers has been the offensive production off of the bench. With big games against Michigan State and Minnesota fast approaching, this situation needs to be resolved soon.
The bright spot for the Hoosiers has been the sixth man, Will Sheehey. He has averaged 9.8 points per game and has been a solid player on both ends of the ball.
However, the rest of the bench is still a bit of a mystery. Remy Abell has had some solid games, but has disappeared recently. Jeremy Hollowell had some growing pains in his first year with the team, but has begun to show signs of improvement.
Overall, the bench situation isn't pretty. Seniors on the bench like Derek Elston need to lead these players by example and hopefully turn this group into some real scorers.
Jamie Sabau/Getty Images
Turnovers have been a real problem for the Hoosiers.
It's hard to believe that a team with such a high-powered offense can lose the ball so many times, but the Hoosiers have certainly had their fair share of turnovers.
The Hoosiers are currently averaging 13.3 turnovers per game, putting them at 160th in the NCAA. This is simply a number that is unacceptable for a team that has been ranked No. 1 twice already this season.
The turnovers have been too high for everyone. While no player stands out, the entire team has simply had problems keeping the ball secure.
A lot of the turnovers have simply come from risky passes. When they find a small opening, the team tends to try to force the pass, and this has often led to some big steals.
Something needs to be done about the turnovers, as teams in the B1G love scoring off of the fast break. If this doesn't stop soon, the Hoosiers could be in big trouble down the stretch.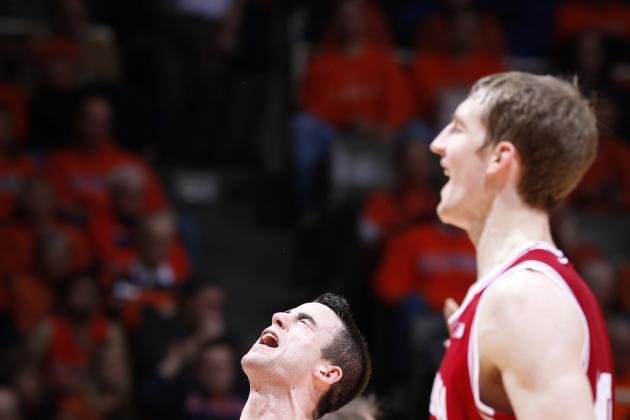 Joe Robbins/Getty Images
Sheehey needs to be careful with how pumped up he gets.
The Hoosiers haven't been scared of showing a little emotion on the floor this year, but that has begun to be a bit of a problem.
Sheehey has let everyone know how he feels all season, but he may need to begin toning it down. After so many big dunks or three-pointers ending in big yells by him, he finally earned his first technical foul against Illinois.
The technical ended up being bigger than expected, as it killed the Hoosiers' momentum, and the team ended up losing on an easy last-second layup.
Victor Oladipo has been another player that gets pretty pumped up during the games, but so far he has known when to quiet down. He tends to be a little quieter on the road, but lets the fans hear him when playing in Assembly Hall.
It's great to see that the team is excited to be playing this season, but there is always a limit. Sheehey needs to find that limit before he finds himself with a few more technical fouls.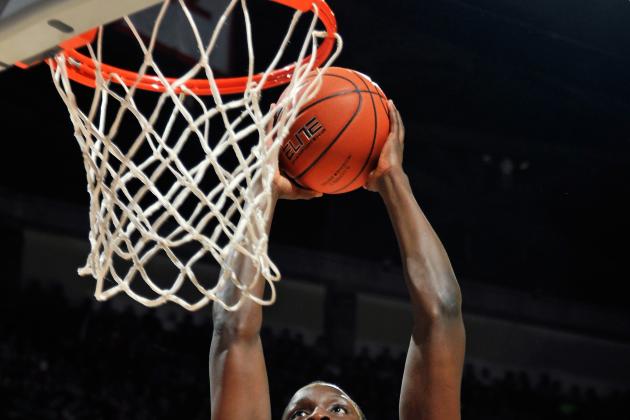 Jamie Sabau/Getty Images
Is Oladipo the man for the last-second shots?
With both the B1G and the NCAA tournaments approaching, the Hoosiers are going to be in a lot of close games. One thing the Hoosiers have yet to truly find is a player to automatically turn to when the game is on the line.
There are several candidates for this, but Oladipo would likely be the right choice for this season. Zeller has been great late in games and Watford will always be known for his last-second shot against Kentucky, but no one has been more reliable for the Hoosiers this year than Oladipo.
According to Sports-Reference.com, Oladipo has a true shooting percentage of 71.3 percent, which is the second highest percentage in the country, next to only Ian Clark of Belmont. This kind of efficient shooting is just what the Hoosiers will need when the the team needs a clutch basket.
The Hoosiers are truly fortunate to have so many shooters, but when there are a few seconds left, the team needs to find the player they trust to make the final shot. Oladipo can be that player, and the team should trust him enough to take it.