3 Players the NY Rangers Could Use as Trade Bait for a Playoff Run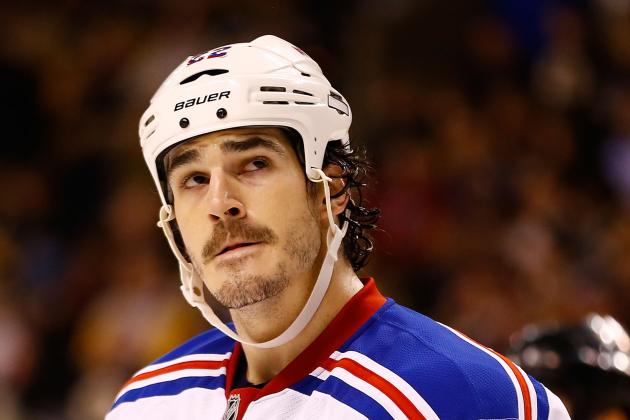 Jared Wickerham/Getty Images

We're already a quarter way through this abbreviated NHL schedule and teams are beginning to find their places in the standings.
It's becoming clear which teams are contenders, which are duds and which are going to be involved in a 30-game grind to reach the playoffs.
The Rangers appear to be one of the teams in that grind.
If this first quarter of the season has taught us anything, it's that there are still some holes in this team, and as GM Glen Sather showed last week, he's not going to be shy to make a move if he thinks a shake-up is necessary.
And if a deal is to be struck, the Rangers will have to identify players whom they would be willing to part with. We're going to take a look at the three players the Rangers could use as trade bait before the April 3rd trade deadline arrives.
Begin Slideshow

»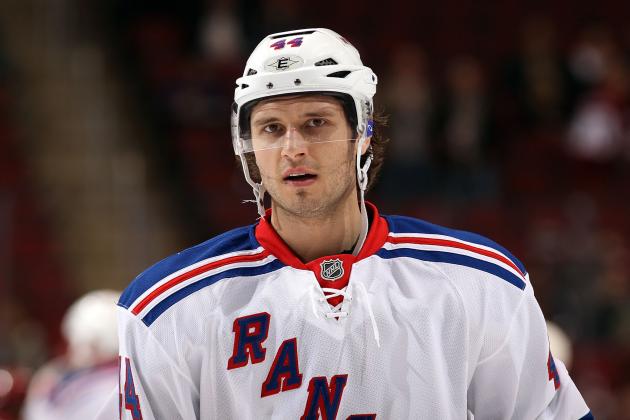 Christian Petersen/Getty Images

They say you can never have too much depth on defense.
Well, the Rangers have eight pretty solid defensemen. A lot of teams don't have anywhere near that amount, so one of them could very well be moved to a team looking for depth in the back if Sather wants to bring some fresh bodies in late in the season.
With all things considered, Steve Eminger seems to be the most likely to get moved.
Matt Gilroy has settled nicely into the lineup, proving that he can be relied on defensively while still joining the rush. That's exactly what John Tortorella wants to see from his players.
As for Stu Bickel, he doesn't have much value—certainly not as much as Eminger does, but he also brings something to the Rangers that they now find themselves short on, and that's pure toughness.
Eminger has been around. He knows his role at this point and comes to play whenever he is called upon. His steady, hard-nosed play is something teams will always welcome for a guy filling a sixth or seventh defenseman-type role.
Now John Tortorella wouldn't be too happy about Eminger being moved. Eminger is a Torts kind of guy and can play very well in certain situations. But if the Rangers feel they have a need to fill late in the season, and a guy like Steve Eminger needs to be sacrificed to obtain it, don't think for a second Sather won't hesitate to move a depth defenseman to get it done.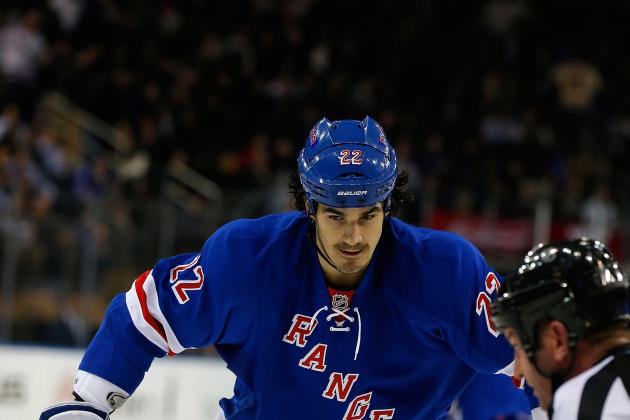 Paul Bereswill/Getty Images

Could Rangers fans' love/hate relationship with Brian Boyle be drawing to a close?
Boyle has been a healthy scratch for the past three games. In that time, the Rangers have picked up three wins, and it's becoming clear that they're playing better hockey without him.
Don't get me wrong, I like Boyle; he brings a lot of good things to the table, but he may be too slow for this team. Mike Rupp was moved last week because he was too slow, while Darroll Powe was brought in as his replacement.
As a result, the Rangers have put together a fourth line of Asham/Halpern/Powe, that, combined with JT Miller taking Boyle's sport as third-line center, has allowed this team to become significantly faster.
Torts now easily runs four lines and the team looks much fresher and has played noticeably better.
Boyle has some value, too. He wouldn't be very difficult to move and could fetch a decent return if he is indeed dangled as trade bait.
Although it may make sense to move Boyle, it would also be difficult for the team to part ways with the center. He's poured his heart and soul into this team and is a very serviceable fourth-line center, but he may have given all he can give in a Torts system. Jeff Halpern is just a better player right now. He's a great faceoff man, a much better skater and, despite being seven inches shorter than Boyle, is actually better on the boards.
But there's still time before the deadline comes around and a lot can happen between now and then. Guys can get injured or their play can tail off. We'll have to wait and see. But as of now, Boyle looks like ideal trade bait for the Rangers.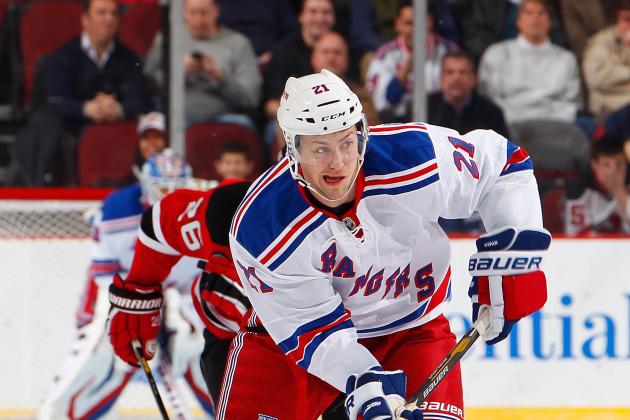 Paul Bereswill/Getty Images

Derek Stepan is a very good hockey player. He's also young, 22 to be exact.
He's been a part of this team's future plans for a while now, but he's also a player the Rangers could get a lot for.
Before I go on, I want to make it clear that I am not condoning trading Stepan, but just suggesting he could be a player the Rangers are willing to part with if a good deal comes about.
Why is this? Well, he would fetch a nice return on the trade market. He's got a good head on his shoulders. He has above average playmaking skills and plays well in all three zones.
He's a solid second-line option.
But when considering the play of Brad Richards this season, which has been below par to say the least, it gets you wondering whether or not the Rangers really have a bona fide first-line center anymore.
Richards' contract is enormous and cannot be moved, so Stepan would have to be used as bait if—and I really want to stress that if—the Rangers still think they could use more offense and are able to obtain a top player to fill all the team's first-line needs.
What are the chances of something like this happening? Probably not good, but when looking up and down this team's roster, it's clear that the only forward on this team that they could both do without, while also fetching a strong return, is Stepan.
Despite all his good qualities, he's still not a great skater and his decision-making skills are not where they could be as an NHL player. That's why he can be used as trade bait if the Rangers need to move a forward.