Flyers vs. Maple Leafs: Head-to-Toe Breakdown of Schenn for JVR Trade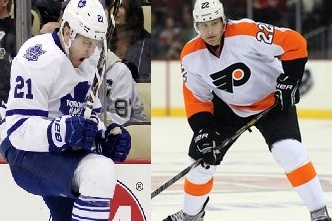 Two former first-round draft picks will be in the spotlight tonight when the Toronto Maple Leafs face off against the Philadelphia Flyers at the Air Canada Center in Toronto.
Flyers defenseman Luke Schenn will make his first return to Toronto since being traded by the Leafs last summer for forward James van Riemsdyk. Schenn was the Leafs' first-round pick in the 2008 draft, chosen fifth overall.
JVR was a Flyer first-round pick in 2007, going second overall behind only Patrick Kane.
Both players struggled to live up to their high-pick status in their respective organizations and were dealt for each other on June 23.
It is very early through their first seasons with their new teams, but here is an initial head-to-toe breakdown of the trade.
Begin Slideshow

»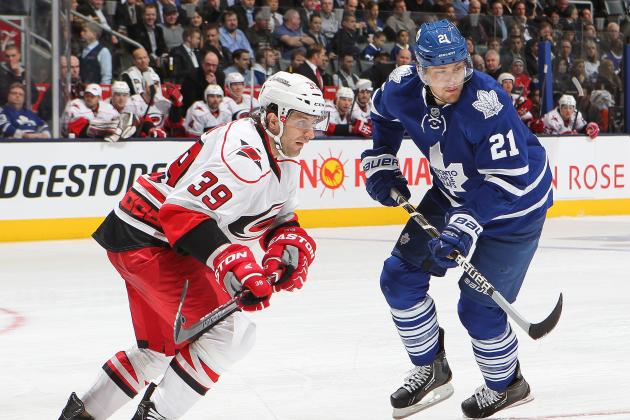 Claus Andersen/Getty Images

Straight statistics are hard to compare between these two, with one being a scoring forward and the other being a stay-at-home defenseman, so take these numbers with a grain of salt.
I won't compare stat line to stat line, but here are each player's stats:
JVR GP: 12 G: 7 A: 2 Pts: 9 PMs: 8 +/-: 0 Avg TOI: 18:11
Schenn GP: 12 G: 1 A: 1 Pts: 2 PMs: 11 +/-: +3 Avg TOI: 20:36
JVR has seven goals so far this season and has delivered the type of offense that the Leafs imagined he could when they acquired him for Schenn. Two of his goals have come on the power play and one was a game winner. He has also chipped in two assists playing primarily with Tyler Bozak and Phil Kessel.
Schenn is never going to give you big offensive numbers from the back end, but that isn't what the Flyers got him for. The key stat is that Schenn is a plus player at +3 in an average of 20:36 minutes a night on the Flyer blue line.
Real-time stats tell a more complete story with Schenn.
Real-Time Stats
JVR Hits: 12 Blocked shots: 4 Giveaways: 4 Takeaways: 7
Schenn Hits: 46 Blocked shots: 27 Giveaways: 11 Takeaways: 5
Offense in check, Van Riemsdyk has not been overly physical or intimidating on the forecheck and has only delivered 12 hits so far this season, making him pretty low on the list of Leafs forwards. He also has four blocked shots and is a +3 on the giveaway/takeaway line.
Not too bad, but JVR's value so far has been more on the offensive production side of the line
Schenn, however, picks up some valuable points with his 46 hits and 27 blocked shots. He is the leader on the team in hits by a large margin with Braydon Coburn the closest defenseman at 26. His 27 blocked shots are second only to Nicklas Grossman's 29.
Schenn has always had trouble with the puck on his stick, and his 11 giveaways also make him among the worst offenders on the Flyers.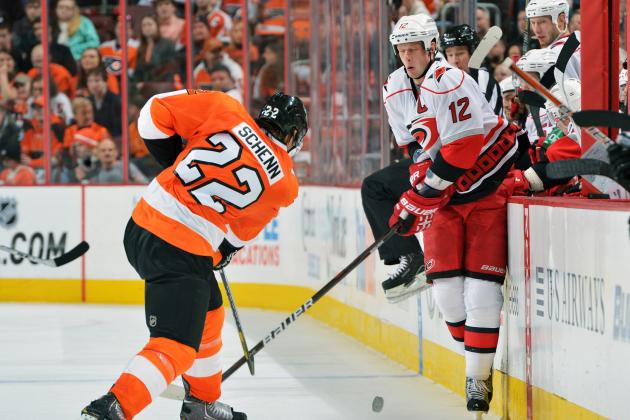 Drew Hallowell/Getty Images

Toronto
GP: 12, Record: 7-5-0, Pts: 14, GF: 34, GA: 31, +/-: +3, 5th in Eastern Conference
Philadelphia
GP: 12, Record: 5-6-1, Pts: 11, GF: 29, GA: 33, +/-: -4, 11th in Eastern Conference
A quick look at the standings early in the season shows a reversal of fortunes for these two teams heading into their first meeting, with Toronto sitting in fifth place in the conference and Philly sitting in eleventh.
The Leafs have been a positive story so far this season, and van Riemsdyk has been front and center in that success. He is tied for the team-lead in goals and has provided a big body presence to the Leafs' top line.
JVR has one game-winning goal and has made a big impact on the power play. Although the Leafs have one of the worst power plays in the league so far in 2013, JVR has done his job, using his big frame to create havoc in front of the net.
The Flyers struggled in their first few games of the season, and so did Schenn, as he looked lost and sluggish, while getting accustomed to his new environment.
Things have picked up for the Flyers lately, and Schenn has already become the team's No. 1 shut-down defenseman. His giveaways are still an issue, but his defensive play and aggression have been key for the Flyers so far.
A couple of intangibles need to be looked at if you want a true read of the impact these two players have had on their respective teams.
JVR seems to be a streaky player who needs a kick in the pants once in a while, and he already got his first push from his coach after two games this season. He responded well to that push, getting three points in the next game.
He has also filled in admirably for injured winger Joffrey Lupul and has not missed a beat since that initial prodding.
JVR is an up-and-down type player, and it has been mostly up this year so far. Leafs management will hope consistency will not be an issue with the young forward.
Schenn's intangible is that he needs to realize his skill set and embrace his role to the fullest. What you see is what you get with Schenn, and it has been a pretty steady picture so far this year.
He gets in trouble when he tries to bring offense and be something that he is not, something that plagued him in his time with Toronto.
Schenn is never going to shine bright on your blue line for anything other than shut-down play. That style, however, is very valuable on an NHL blue line, and the Flyers have accepted that with Schenn already.
By listening to radio talk shows and reading the papers in Toronto, it becomes clear that JVR has been all positive for the Leafs so far this year. Many in the city and organization are amazed that Philadelphia would let a young talent like this go, and according to The Toronto Star, coach Randy Carlyle says that JVR has given them everything they have asked for to this point in the season.
After a brief struggle to start, Schenn is really finding his shut-down game, and according to two former Flyers now in the Philly media, he is doing just fine in his new uniform.
Flyer radio color commentator and former defenseman Chris Therien was on the Jeff Blair Radio Show this morning on Sportsnet the Fan 590 and said, "Schenn's been great. He won't get many accolades, but he has been terrific in a shut-down role and has made a real impact on this team."
Another former Flyer was also on the show before Therien. Comcast Flyer analyst Rick Tocchet had a slightly different take on Schenn, "With Schenn, you get what you see. Is he a three, four, five guy? I don't know. When you trade a guy like van Riemsdyk, there's potential there to score 30 to 40 goals. There is a larger upside there and that's the danger in the trade. It's looking pretty good for the Leafs"
It is pretty clear by all accounts that both players have given their teams exactly what they want from them so far this season. When the trade happened in the summer, it appeared this was going to be a trade that filled a need for each team, and it has played out that way through the season's first few weeks.
I'm giving the nod to JVR and the Leafs so far, based on how integral he has been to the Leafs' success, as well as the possible upside that each 23-year-old can reach.
The Leafs are surprisingly higher in the standings early in the season, and JVR looks like he has more future upside and room for growth than Schenn does.
Dwight Wakabayashi is a contributor to Bleacher Report NHL Toronto Maple Leafs and a Featured Columnist with Bleacher Report UFC.
Follow him on Twitter at wakafightermma