5 Things to Watch for on Feb. 11 Edition of WWE Monday Night Raw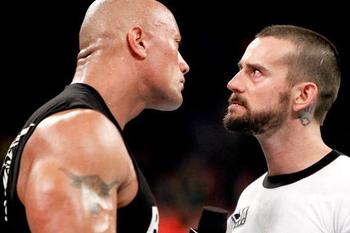 Photo courtesy of WWE.com
With Elimination Chamber now less than a week away, Monday marks the go-home edition of Raw. Many fans are already focused on WrestleMania and the road leading up to it, but Elimination Chamber is an incredibly important pay-per-view in its own right. It will set the table for everything we see over the next couple months.
The Rock and CM Punk will headline Elimination Chamber just like they did at the Royal Rumble, with the WWE Championship on the line. The Rock was absent from last week's episode of Raw, but he will be in Nashville tonight. Although their feud has been brief, it has been very personal to this point and should make for some more memorable moments ahead of Elimination Chamber.
In addition to that, Raw should be extremely unpredictable and exciting. Brock Lesnar isn't being advertised for the show, but it certainly isn't outside the realm of possibility that he'll be there. Also, rumors are running rampant regarding a major star possibly returning for Monday night's episode of Raw. Nothing has been confirmed, and the evidence is circumstantial at best, but it could make for a very interesting show.
With all of that and much more set to take place on Raw, it definitely appears to be a can't-miss episode. Here are the top five things that you should keep an eye on while watching the WWE's flagship show.
The Rock and CM Punk to Have One Last Confrontation
Prior to their match at Elimination Chamber, The Rock and CM Punk will have one final interaction on Monday Night Raw. Their rivalry has been great to watch, thus far, and it should heat up even more.
The Rock defeated Punk for the WWE Championship at the Royal Rumble, despite The Shield interfering on Punk's behalf. Punk has maintained that he was screwed out of the win, and that figures to be the theme of his promo with The Rock.
Since The Rock and Punk have already done pretty much everything possible from a feud standpoint, it will be interesting to see how their last showdown is handled.
The Rock has obviously gotten the better of Punk due to the fact that he won the WWE title at the Royal Rumble, but Punk has gotten his licks in as well. The Shield took out The Rock on Raw a few weeks ago, and Punk sparked a brawl with The Rock the week before that.
The Rock and Punk have done plenty to each other physically, so I'm hoping for dueling promos to end the show. Neither man necessarily needs to look stronger than the other heading into Elimination Chamber, but it would certainly make sense to settle things on the mic.
It seems like most fans have preferred Punk's serious promos to The Rock's, which have been sprinkled with humor, but I feel like both men have done a great job. I can't wait to see what they have up their sleeves on Raw.
Also, since The Shield is tied up with John Cena, Ryback and Sheamus at the moment, the young trio isn't likely to interfere in the proceedings. Monday night figures to be all about The Rock and Punk, and that is the way it should be.
The Rock is a heavy favorite to retain his title at Elimination Chamber, so he can go on to face John Cena at WrestleMania, but you never know what the WWE might decide to do. Because of the slight chance that Punk could win and make it a triple threat, Raw and Elimination Chamber will be of the utmost importance.
Who Else Will Be Added to the Elimination Chamber Match?
As things currently stand, there will be only one Elimination Chamber match at the Elimination Chamber pay-per-view. That match will be held to determine the No. 1 contender for Alberto Del Rio's World Heavyweight Championship.
Del Rio is a heavy favorite to retain against The Big Show, but Dolph Ziggler is a constant threat with his Money in the Bank contract in tow. Whoever emerges from Elimination Chamber as the world champion is quite likely to face the chamber winner at WrestleMania, though.
Four of the six spots in the aforementioned chamber match have been filled, so there is still some work to do this week. Randy Orton, Rey Mysterio and Daniel Bryan were named participants on last week's edition of Raw.
Mark Henry earned the fourth position when he defeated Orton on SmackDown. That leaves two openings and just a couple days to fill them. While nothing is official, some of the favorites at this point include Jack Swagger, Kane and The Great Khali.
I consider Swagger to be a virtual lock as he has won three matches in convincing fashion since returning to WWE programming. He has done everything possible to impress SmackDown general manager Booker T, and I can't see him being left out.
The other spot is a bit more uncertain, however. Kane is clearly the better choice, but he has been losing quite often as of late, while The Great Khali has been winning his matches. Many of Kane's losses have been due to Bryan getting involved and distracting him.
That could obviously lead to Booker T choosing Khali, but it would make much more sense and be easier to leave Kane out of the match when his tag-team partner is already in it. Plus Khali is awful in every way imaginable.
But I can definitely see the WWE going a different direction. My preference would be for someone like Christian to return and be inserted in the match over both Kane and Khali, but that is obviously contingent on Christian's health.
Will Undertaker Make His Long-Awaited Return?
Undertaker hasn't been seen in a WWE ring since he assisted Kane on the 1,000th episode of Raw this past summer. Aside from that, his last involvement in the WWE was his "end of an era" match against Triple H at WrestleMania XXVIII.
With WrestleMania XXIX approaching, however, fans are eagerly anticipating his return to action. There are no guarantees if or when that will take place, but there is reason to believe that The Deadman could be present at Monday night's episode of Raw in Nashville.
According to WrestlingInc.com, Undertaker attended Sunday night's Nashville Predators hockey game at Bridgestone Arena, which is precisely where the upcoming episode of Raw will emanate from.
It's obviously possible that this could be nothing more than a coincidence, but I have a hard time believing that Taker would just so happen to be in the same city as the WWE. It seems quite apparent that there are plans for Undertaker to return soon. Perhaps, it will happen Monday night, or perhaps, it will happen in the very near future.
There has been talk about the WWE struggling to reach an agreement with Undertaker when it comes to a WrestleMania match, so he could potentially be in Nashville to speak with Vince McMahon, Triple H and the rest of the WWE brass.
Whatever the case, the presence of Undertaker in Nashville definitely adds a great deal of intrigue to Monday night's proceedings. Fans are constantly hoping for Taker's bell to toll, and it could be in the cards on Raw.
With that said, my guess is that Taker won't return until Elimination Chamber at the earliest. His likely WrestleMania opponent is CM Punk. I'm not sure it would make much sense to overshadow Punk vs. The Rock by having Undertaker come back.
The WWE may still do it as a means of foreshadowing a Taker vs. Punk feud, but my guess is that Undertaker is simply convening with top WWE officials to plot things out moving forward.
What Role Will Brock Lesnar Play?
Brock Lesnar has wreaked havoc on the WWE since returning two weeks ago, but it is unclear what his intentions are. Lesnar injured Vince McMahon as he was about to fire Paul Heyman, and last week, he crashed Miz TV by throwing a chair at The Miz and hitting him with an F-5.
Lesnar has come to Heyman's defense twice, so it appears as though that is his top priority, but there has to be another motive with regards to why he decided to come back as he "quit" the WWE the night after SummerSlam.
Lesnar is not advertised to appear in Nashville, but things can obviously change quickly in the WWE. The plan could be to reserve Lesnar for next week in order to ensure that all of the focus is on The Rock and CM Punk, but Lesnar could easily get involved in their feud as well.
There hasn't been much talk about the link between Lesnar and Punk, but the fact that they are both managed by Heyman has to come into play at some point.
That link will probably either lead to a feud between them or enable them to form a bond. Failing that, it isn't outside the realm of possibility that Lesnar and Undertaker will have a confrontation.
It is rumored that Undertaker could return on Monday Night Raw, but I can't imagine that he would get involved with The Rock and Punk ahead of their big match. If WrestleMania plans call for a Taker vs. Lesnar match, though, their first encounter could take place on Raw.
I'm not a huge Lesnar fans like many WWE viewers appear to be, but there is no question that he makes the product seem more legitimate when he is present. I have enjoyed his involvement since returning a couple weeks ago and am intrigued to see what his intentions are.
Whether it leads to something with Punk and The Rock, or perhaps, even Undertaker, Lesnar will be someone to watch for if he appears.
What Undercard Matches Will Be Added to Elimination Chamber?
The Elimination Chamber card is certainly shaping up to be a good one as The Rock vs. CM Punk, Alberto Del Rio vs. The Big Show, The Shield vs. John Cena, Ryback and Sheamus and a chamber match to determine the No. 1 contender for the World Heavyweight Championship will be held on Sunday.
With that said, there will almost certainly be two or three more matches added over the next week. If the WWE develops the undercard properly, then Elimination Chamber has enormous potential.
Among the potential matches that I anticipate being added are United States Champion Antonio Cesaro vs. The Miz, Intercontinental Champion Wade Barrett vs. Bo Dallas and Dolph Ziggler vs. Chris Jericho.
Because the WWE has been so focused on the WWE Championship and World Heavyweight Championship in recent weeks, it hasn't done a great job of developing the midcard. That makes things a bit uncertain, although there are definitely a few seeds planted.
Cesaro and Miz cooled down a bit over the past few weeks, but they brawled backstage at SmackDown and appear to be on a collision course. Cesaro beat The Miz on the Royal Rumble pre-show, so Miz may be the favorite this time around.
As for Barrett and Dallas, their feud started in the Royal Rumble match when Dallas shockingly eliminated Barrett. Dallas then defeated Barrett the next night on Raw. Barrett has been obsessed with getting back at Dallas ever since, and that figures to lead to an Elimination Chamber match.
Finally, Ziggler vs. Jericho needs to happen on Sunday as well. Since Ziggler is in possession of the Money in the Bank contract, he turned down his opportunity to be in the No. 1 contender's chamber match. Jericho has nothing else to do either, but the fans have really responded to him since returning.
The feud between Ziggler and Jericho stretches back to the summer, and although the WWE hasn't done a good job of furthering it the past two weeks, they have to face each other because they simply can't be left off the card. If it does come to fruition, it could easily steal the show at Elimination Chamber.
Follow @MikeChiari on Twitter and listen to him on Ring Rust Radio.
Keep Reading