Wisconsin Football: 3 Freshmen the Badgers Can Build Around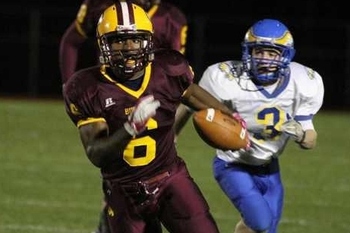 Photo courtesy of 247sports.
Considering the circumstances, a lot of credit has to go to Wisconsin Badgers head coach Gary Andersen and his staff for the recruiting class they were able to put together (and sustain) in such a short period of time.
A few recruits were lost along the way, but for the most part, Andersen did an excellent job convincing those who committed during Bret Bielema's tenure to sign. Not only that, but he added a few highly regarded junior college players in the 11th hour to strengthen the class.
Per the usual, the Badgers didn't draw much attention to themselves in comparison to other well known FBS schools, and Wisconsin was deemed to have the No. 33 recruiting class by ESPN.
But for now, we'll concentrate on the freshmen of the 2013 class. Who are three first-year players who the Badgers can build around as their college careers progress in Madison?
Corey Clement, RB
The top Wisconsin commit of the class of 2013 according to ESPN, Corey Clement is poised to become the next great Badger running back, but that likely won't come right away.
Clement will have to sit behind James White and Melvin Gordon among others for the time being, although there is the distinct possibility he leapfrogs some players ahead of him on the depth chart. His numbers were downright silly in his senior year of high school at Glassboro (2,323 yards, 33 touchdowns), and one day, he will be the feature back for the Badgers.
He already has ideal size for a tailback at 5'11", 210 pounds, and being from New Jersey, the Badgers continue to bring in east coast talent to fill their backfield. It will be important to have those homegrown offensive linemen blocking at a high level for Clement, although his shiftiness, vision and burst will also be valuable assets as he makes the adjustment to the college game.
Originally a commit at Pittsburgh, the school where ex-Badger offensive coordinator Paul Chryst now coaches, Bielema was able to pry him away and Andersen was able to convince him to stay. Going through all that trouble will be worth it in the end with this 4-star freshman.
T.J. Watt, TE
He'll be the third Watt brother to step on the field at Camp Randall Stadium, and like his oldest and most famous brother, T.J. Watt will begin his college career as a tight end.
As a result of injuries, Watt actually played quarterback during his senior year at Pewaukee High School in addition to being a linebacker. His older brother Derek is currently the fullback at Wisconsin, and Andersen hinted that T.J. could potentially be converted into a defensive end like the reigning NFL Defensive Player of the Year (uwbadgers.com).
Watt was blessed with pretty good height (6'4"), and although he was only rated as a 3-star recruit (via ESPN), he has an incredible advantage having J.J. as an older brother, especially if T.J. ends up on the defensive side of the ball. But should he remain on offense, Wisconsin has a rich history (especially as of late) of breeding successful tight ends.
Watt's drive and underrated talent will blend to create a motivated young man, and he will be a large contributor for this team one way or another a few years down the road once he puts some more meat on his bones.
Alec James, DE
Had it not been for Clement's switch-a-roo, Alec James could have very well been the top Wisconsin signing. The4-star defensive end and top recruit out of the state of Wisconsin according to ESPN, James might morph into a hybrid defensive end/linebacker in new defensive coordinator Dave Aranda's system.
That's because fans can expect to see some 3-4 looks on defense next season, and when Andersen sat down with James to convince him to stay committed, a big selling point was how James could become that hybrid-type defender.
He can get after the quarterback and force turnovers, which was evident from his 12 sacks and four forced fumbles in his senior year at Brookfield East High School. He also has excellent speed, as James qualified for state in the 4x100 and 4x200 relays in high school and may compete at Madison as well.
It wouldn't appear that speed would prevent James from dropping back in coverage from time to time, and his height and jets on the defensive line will create havoc for opposing offenses. Badgers fans will be ecstatic that James decided to stay on board, and as long as he is surrounded by some talent on defense, James should be a very effective player for the Badgers.
Keep Reading

Wisconsin Badgers Football: Like this team?