4 Possible Oakland Athletics Starting Lineups After the Jed Lowrie Trade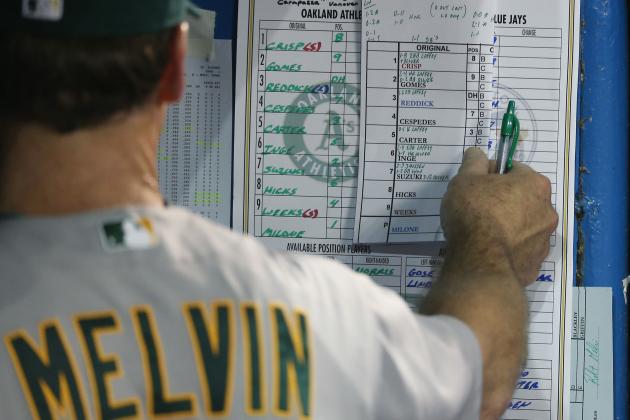 Tom Szczerbowski-USA TODAY Sports
Melvin sets the lineup.
With the additions of Jed Lowrie and Chris Young and the plug-and-play system still in effect from last year, the Oakland Athletics have a myriad of options when it comes to the lineup. For the sake of ease, these four are the likeliest and the best choices.
The depth of this team is incredible.
Brandon Moss and Josh Donaldson are penciled in at the corner infield positions. Hiroyuki Nakajima is slated for shortstop, though Jed Lowrie provides a fantastic safety net should Nakajima's transition hit a snag. Second base can be manned by Lowrie, Scott Sizemore, Jemile Weeks or Grant Green.
Josh Reddick, Yoenis Cespedes and Coco Crisp return to the outfield. Seth Smith will DH, and Chris Young will fill in at all three outfield positions and the DH spot.
John Jaso complements Derek Norris behind the dish.
Manager Bob Melvin pulls the strings. It's up to him to figure out who to play and when. Having a dozen players with the ability to start every day is a blessing. Having only nine spots in a lineup for them becomes a challenge.
There are literally 40 to 50 combinations.
The 2012 Manager of the Year knows how to play his cards, obviously, but here's a bit of help for him if he needs it. The following are four lineups and one final slide to examine where a few reserve players fit.
Begin Slideshow

»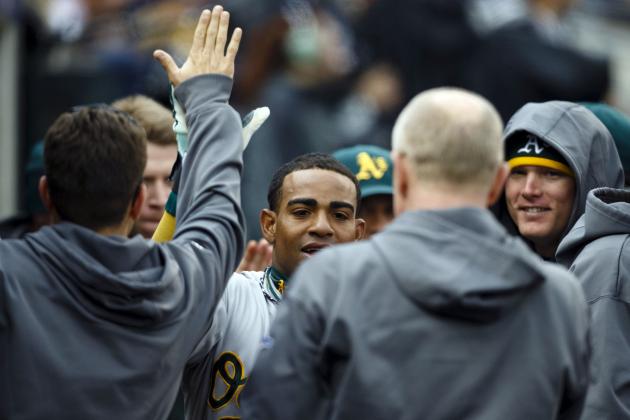 Rick Osentoski-USA TODAY Sports
Cespedes returns to the dugout for celebrations.
Coco Crisp, CF
Hiroyuki Nakajima, SS
Josh Reddick, RF
Yoenis Cespedes, LF
Seth Smith, DH
Brandon Moss, 1B
Josh Donaldson, 3B
Scott Sizemore, 2B
John Jaso, C
This will be the baseline, everyday lineup. Essentially, it'll be the most frequently used, also known as "the right-handed pitcher lineup."
Anytime Crisp is in, you can guarantee he leads off. He hits for average, will walk, has tons of speed and can steal bases once he's on. He is the ideal leadoff man.
Nakajima appears to be similar to Crisp, possibly with a bit more power and a bit less speed. He would make a nice complement to Crisp from the two-hole.
Reddick thrived hitting third for most of 2012. Though he finished the season hitting sixth, his 2012 production is enough to try him back at No. 3. He's proven he has a combination of power and speed, so he can be a valuable asset at the top of the order if he can re-gain early season form.
There's little question Cespedes, Smith and Moss are the power of the team and should hit cleanup, fifth and sixth, respectively.
In limited experience, Donaldson has hit as well or better than Sizemore. Between the two, Donaldson hits higher in the lineup based solely on the fact that Sizemore missed an entire season. Sizemore will likely need time to re-adjust, while Donaldson ended 2012 hot.
That assumes Sizemore wins the second base job.
The next large assumption is that John Jaso starts over Derek Norris.
Jaso has the potential to at least start the season as the "everyday" catcher based on his experience and better hitting. Until Norris can outright earn the position, Jaso should start—especially since Norris is still so young and because the A's gave up a top prospect in A.J. Cole.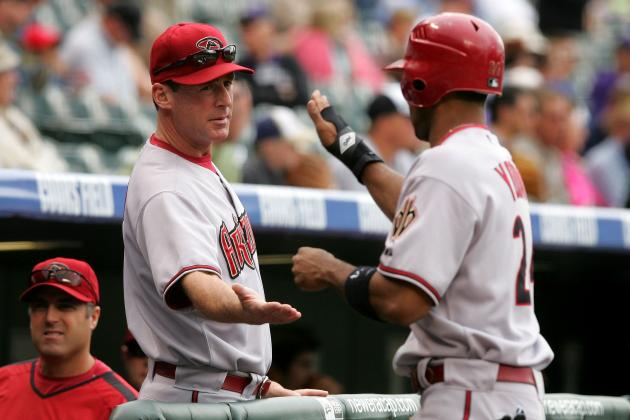 Doug Pensinger/Getty Images
Melvin knows Young's strengths and weaknesses.
This lineup is also known as the "left-handed pitcher lineup."
Where he hits, though, depends heavily on who Chris Young is in the lineup for.
If he replaces Seth Smith at DH, he could move straight into the five-hole for Smith; though, Bob Melvin may swap Brandon Moss for Young to have Moss' power higher in the lineup.
If Young spells Yoenis Cespedes, you can bet he simply bumps a few guys up. The lineup then would look like this: Crisp, Nakajima, Reddick, Smith, Moss, Young, Donaldson, Sizemore and Jaso.
On days Reddick rests, a similar occurrence takes place, with Smith swapping to No. 3, Cespedes staying at No. 4, Moss at No. 5 and Young at No. 6.
Crisp sitting throws a monkey wrench in the whole thing.
In this case, Young might leadoff. More likely, Nakajima could try his hand in the leadoff spot with Young right behind him. Outside of Crisp, Young and Nakajima, there aren't many other options for a leadoff guy with Jemile Weeks struggling and Cliff Pennington traded to the Arizona Diamondbacks.
So, Young likely hits sixth in most cases, but there's a small chance he hits one or two occasionally.
Bob Levey/Getty Images
Jed Lowrie brings a ton of versatility.
Jed Lowrie's versatility allows for even more options than utilizing Chris Young would.
Lowrie can play all four infield positions, he switch hits and has decent pop. But more mind-boggling (in a good way) when it comes to putting him in a lineup is who he replaces.
Last season, he hit in the two-hole and he hit No. 5.
It could be as easy as hitting in the same spot as the player he takes out of the lineup. So, No. 2 for Hiroyuki Nakajima, No. 6 for Brandon Moss, No. 7 for Josh Donaldson and No. 8 for Scott Sizemore. With his talent, though, the A's plausibly want him to hit higher than seventh.
If Lowrie starts at second base over Sizemore, he should move one ahead of Donaldson.
Look for Lowrie to spend time all over the lineup—as high as two, as low as seven.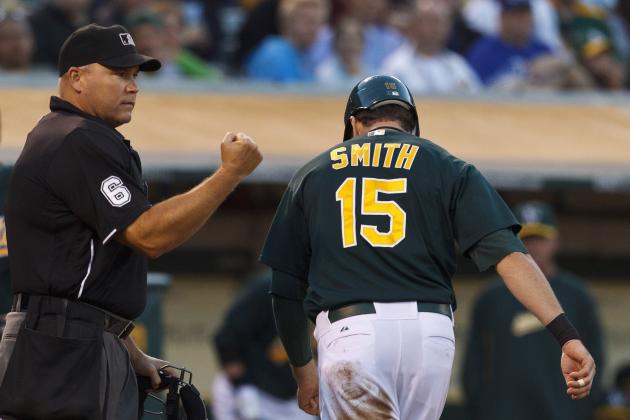 Jason O. Watson/Getty Images
During interleague, Smith is likely out.
Not too much will change except the fact that the A's will lose their DH when playing in National League parks.
Crisp has to leadoff still, with Nakajima right behind him.
Reddick, Cespedes and Moss are the team's power, and as such they remain the core of the lineup. It'll be Seth Smith who sits during interleague competition.
Donaldson, Sizemore and catcher—whether it's Jaso or Norris—follow. The pitcher definitely hits last.
If Smith plays, he's a powerful bat that remains in the heart of the order. If Chris Young plays, he could hit anywhere from two to six.
Here's the likeliest lineup once more:
Crisp, CF
Nakajima, SS
Reddick, RF
Cespedes, LF
Moss, 1B
Donaldson, 3B
Sizemore, 2B
Norris/Jaso C
Pitcher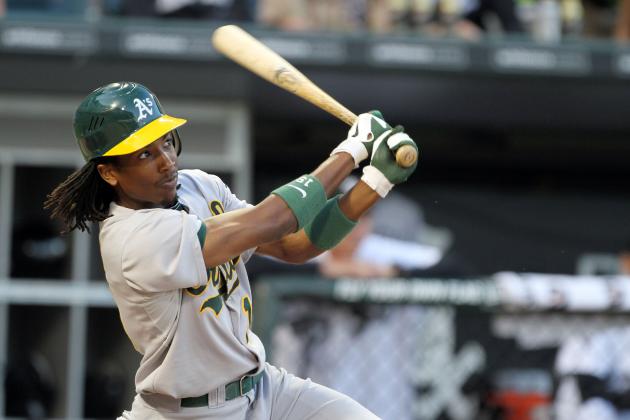 Tasos Katopodis/Getty Images
Weeks followed a phenomenal rookie year with a sophomore slump.
Each of these lineups are based on huge assumptions.
First, that John Jaso earns the Opening Day catcher's role over Derek Norris. Next, that Chris Young does not beat anyone out in spring training for an everyday spot, and rather plays a more reduced, bench role. Then, Scott Sizemore outplays Jemile Weeks, Jed Lowrie and Grant Green for second base.
So where do those non-everyday players fit?
Jemile Weeks
Let's say Weeks does earn second, or at the very least he's on the 25-man roster and plays a backup role. When he's in, he has the speed to lead off if need be, but he's much better suited for a two-hole or, better, No. 9. This is based on his speed and potential to hit for average; though, his inconsistency leads to a relegation to a low spot in the lineup.
He does make for a great "second leadoff" in the ninth spot, though.
Derek Norris
This is fairly easy. When he's in, he hits ninth if the lineup is stacked.
If Weeks is in or, say, Sizemore does not rebound as expected, he simply moves up to No. 8, in front of one of those two (No. 7 if both are in the lineup).
Grant Green
If Green does make the 25-man roster, and he earns a starting role in the process, he'll definitely hit last by default.
If he can wildly out-hit Sizemore, Norris or Donaldson through the first two months or so, he has the potential to move up as high as six, but that's a stretch. He'll have to show consistency and legitimate major league power to get that high in the lineup.