Boston Bruins: 3 Takeaways from Their 3-1 Win over the Buffalo Sabres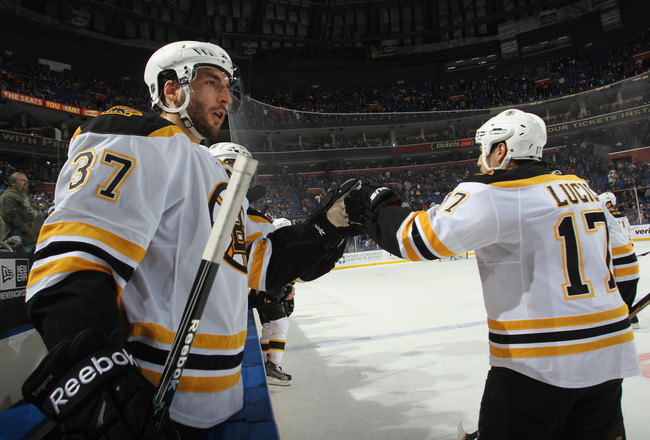 Bruce Bennett/Getty Images
Patrice Bergeron was the only reason the Boston Bruins were not blown away at the faceoff dot Sunday night. He won 12 of his 19 draws while the team went 30-for-63 as a whole.
Ryan Miller was the only reason the host Buffalo Sabres were not blown out in the only statistic that leaves a lasting impact. His mates were outshot by a three-to-two ratio, 39-26, and the shots attempted were even more disproportionate, 70-43.
Only one player and one party could be rewarded, and perhaps appropriately enough, the two men settled the bout directly against one another. Bergeron beat Miller to bust a 1-1 tie on a power-play goal with 12:08 to spare in regulation, setting the Bruins on pace to a 3-1 victory that was finalized by a Milan Lucic empty-netter.
Bergeron's decider was set up, in part, by Buffalo blueliner Mike Weber's second unanswered penalty. In the previous period, Weber had committed the Sabres' fourth infraction of the night, but the Bruins' nearly cellar-dwelling power play had whiffed yet again.
The fortuitous fifth try makes for one of three key storylines in Boston's third win in as many inter-divisional road cities this February, a string that started after losing its most recent home game to these same Sabres at the conclusion of January.
No Panic Over Vanek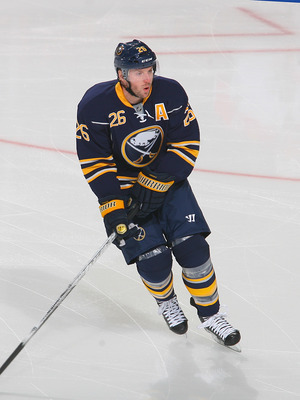 Rick Stewart/Getty Images
A mere 10 nights removed from torching Tuukka Rask with a hat trick and five points overall, Buffalo forward Thomas Vanek was limited to a single shot on goal against Anton Khudobin.
Vanek's best impact on the Sabres' Sunday night cause was a troika of takeaways, none of which amounted to a threat. He was later on the wrong side of a turnover and needed to be bailed out by Miller when Brad Marchand threatened to give Boston a 2-1 lead in the second minute of the closing stanza.
Speaking of which…
Marchand Makes His Mark Again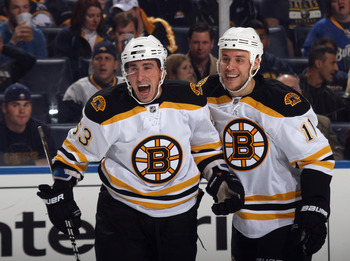 Bruce Bennett/Getty Images
The aforementioned Marchand returned to the lineup and to the scoresheet, beating Miller on his third registered stab, his fourth attempt overall and the team's 23rd of the night for a 1-0 lead at 7:10.
Marchand had waited twice as long as the majority of the Bruins between games played, having sustained a shoulder ailment in Toronto eight nights prior. Yet he finished second among Bruins forwards and tied defensemen Zdeno Chara and Dougie Hamilton with four shots on net.
Through nine contests, he now has six goals on 14 shots this season and has most recently tallied three strikes in as many appearances, all of them coming at Miller's expense.
Perhaps Marchand's resistance to rust ought not to come as much of a surprise. After all, a much longer layoff during the lockout did not bar him from starting the season with five goals on 10 shots in his first eight games.
For what it's worth, Marchand was also on the ice for the deciding strike, although he was the only Boston forward on the ice not credited with a point on the play.
Hit-and-miss Power Play
In essence, special teams played a role in all three goals that were scored on a challenging netminder Sunday night.
For Boston, Bergeron's eventual clincher was cathartic because it brought long-awaited results after a mixed bag of four preceding man-advantages.
Chris Kelly drew his team's first power play with a slash by Cody Hodgson two seconds before the first intermission, giving the Bruins a five-on-four to take onto the fresh sheet in the middle frame.
Despite that fresh sheet, along with fresh legs and 15-plus minutes to prepare, Boston started its carry-over power play by authorizing an odd-man shorthanded rush. The result was Buffalo forward Jochen Hecht taking the only shot in that special teams segment.
Moments later, with Steve Ott boxed at 2:04, the Bruins take two shots on goal and have three other attempts blocked before Rich Peverley drew another Sabres penalty on Alexander Sulzer. Between Ott's and Sulzer's sentences, which overlapped for a 40-second five-on-three segment, the Boston power play attempted nine shots and pelted Miller four times.
Sulzer was less than two minutes removed from his jailbreak when Marchand inserted his icebreaker at 7:10.
Conversely, when Weber went off for tripping seven-and-a-half minutes later, the Bruins' fourth five-on-four segment featured two Boston giveaways, two Buffalo takeaways, a Buffalo hit and a shorthanded shot by Ott.
After Weber was released, teammate Tyler Ennis put a stamp on the reversed momentum with the equalizer at 18:01.
Naturally, though, Weber's next bailout came when Bergeron and company ensured that special teams made a more direct dent on the scoreboard. And, for a change, gave Boston a decisively positive influence.
Keep Reading

Boston Bruins: Like this team?