Floyd Mayweather vs. Devon Alexander: Pros and Cons of Proposed Bout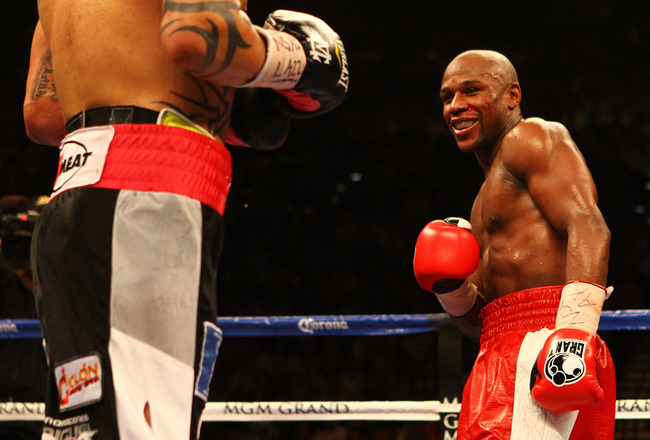 Floyd Mayweather might be the only one smiling about this fight.
Al Bello/Getty Images
When pound-for-pound king Floyd Mayweather Jr. announced he would fight twice in 2013, many people speculated on possibilities for his opponents.
They ranged from the likely—Robert Guerrero and Saul Alvarez—to the pipe dreams—Manny Pacquiao—but nobody saw this one coming.
Devon Alexander wasn't even on the radar screen of most, if any, observers, but he was recently tweeted by Mayweather as his most likely next opponent.
The bout would be a unification of the IBF and WBC welterweight titles but appears on life support after the IBF refused to sanction the contest.
But what if the fight were to come off? What would some of the pros and cons be for the fighters, the sport and its fans?
Let's explore a few.
Pro: Mayweather Will Definitely Make It to His September Clash with Canelo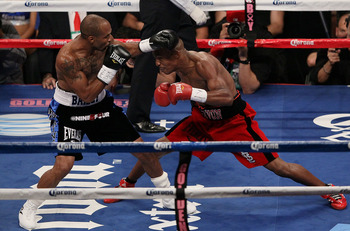 Alexander is a good boxer but not on Mayweather's level.
Alex Trautwig/Getty Images
Most of the speculation about Floyd Mayweather's 2013 plans centered around the need to find Mexican fighters to help promote fights on major Mexican holiday weekends.
This led many to conclude that Robert Guerrero was most likely to get the May date which would pave the way for a superfight with Saul "Canelo" Alvarez in September.
Guerrero might not have the prettiest style in the world but he's tough, determined and would've certainly given a by then 36-year-old "Money" a good scrap. Would he win? Probably not. But he'd be a live underdog.
Devon Alexander on the other hand is a good boxer with an ugly style. But you'd be hard-pressed to find anyone willing to say he has a shot of upsetting the apple cart that is Mayweather vs. Alvarez.
Mayweather fans, or Alvarez fans for that matter, who were worried about the prospect of facing Guerrero can rest a bit easier.
Guerrero was a live dog, Alexander is not.
Con: There Is No Market for This Fight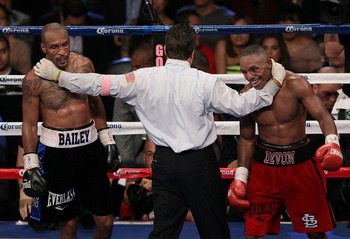 Alexander was unimpressive in his last fight against Randall Bailey at the Barclays Center.
Alex Trautwig/Getty Images
Quick, find someone who says they've been dying to see this fight.
Good luck to you in completing that task as most non-hardcore boxing fans had Devon Alexander as at best a blip on their radar screens before this latest dose of publicity.
There's a reason for that too. Alexander is a good boxer but his style is very risk averse and doesn't often please the crowds that pay to see him fight.
His last fight, where he won the IBF welterweight title from Randall Bailey, was a real snoozer which left the crowd at the Barclays Center lustily booing when the verdict was announced.
They'd need to do something drastic to make this type of fight marketable on pay-per-view. If you're gonna shell out upwards of 60 bucks to see a night of fights it's gonna need to have more teeth.
Pro: Possible Strong Undercard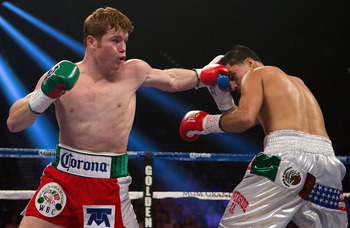 Alvarez and Mayweather frequently share PPV bills.
Josh Hedges/Getty Images
Even if they don't fight in the future, both Floyd Mayweather and Canelo Alvarez have each made the other a ton of money.
Alvarez has been a mainstay on recent Mayweather PPV cards, helping to tap into his substantial Mexican fan-base to increase buys and revenue.
It has been long rumored that Mayweather's May date would have a co-feature bout with Alvarez possibly facing WBA junior middleweight champion Austin Trout.
That's a fight many have been calling for in the wake of Trout's dominant victory over Miguel Cotto in December.
Also lined up for the undercard is the rapidly ascending superstar Adrien Broner who would presumably make a defense of his lightweight title, should he get by Gavin Rees later this month.
Con: Mayweather Should Sell His Own PPV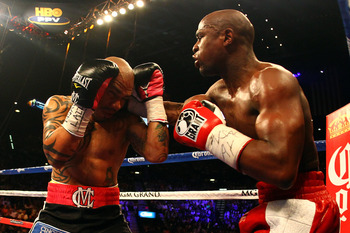 Mayweather is the sports top PPV attraction.
Al Bello/Getty Images
There is no bigger domestic star in boxing than Floyd Mayweather Jr. He is the sport's biggest attraction and often touts his pay-per-view buy numbers as evidence.
But the bottom line is that he can't sell this fight with just his name alone. And it's a bad miscalculation to think he can.
A loaded undercard is great for the sport and its fans. But Floyd Mayweather will not be able to take anything close to all the credit for the ultimate success of this card, if it succeeds. But he will be able to take the blame if it fails.
It's a risk at best and one that could backfire for both Mayweather and boxing.
Pro: It's a Unification Fight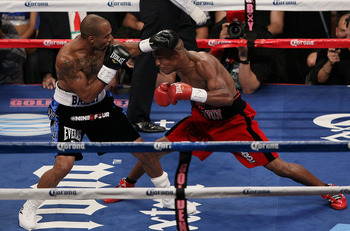 At least it's a unification fight.
Alex Trautwig/Getty Images
Well at the very least you can say this about a proposed Mayweather vs. Alexander bout—it'd unify the welterweight division.
Alexander took his IBF title from Randall Bailey and Mayweather took the WBC belt from Victor Ortiz. Belts really aren't as meaningful at this stage, especially for Mayweather, but the fight could add some clarity to a crowded 147-pound class.
That of course is if Mayweather decided to stay at the weight, which is unlikely since his next big challenge could come at 154 in the form of Canelo Alvarez.
Con: Serious Fights Only Please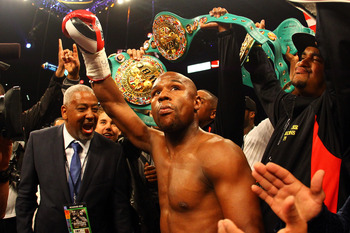 Mayweather doesn't have many more fights left.
Al Bello/Getty Images
It may seem crazy to most of us who have followed his career from the 1996 Atlanta Olympics to now but Floyd Mayweather Jr. is just a couple of weeks shy of his 36th birthday.
He's already reached a danger age for most fighters. This is the point where skills can erode overnight and this is especially true of fighters who rely on speed and reflexes, which are the hallmarks of Floyd's game.
Granted Mayweather has not been in any really punishing fights and has less mileage than your average fighter his age but you never know.
At this stage boxing fans should be hoping for nothing but big, intriguing fights out of the pound-for-pound king. If he doesn't have many left they should all mean something.
That means Canelo Alvarez, Sergio Martinez, even the long past its expiration date fight with Manny Pacquiao.
It doesn't mean Devon Alexander.
Keep Reading