10 Reasons US National Team Won't Be in Brazil for the 2014 FIFA World Cup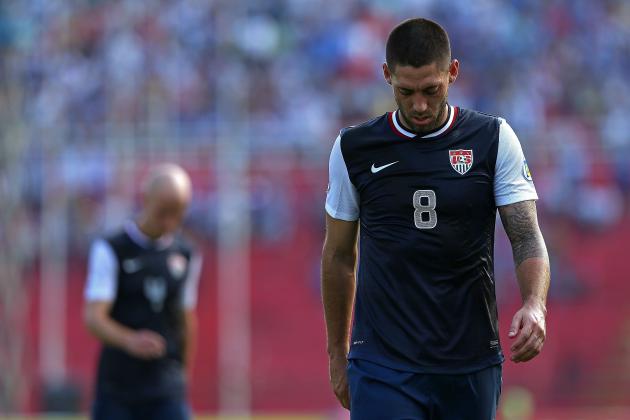 Mike Ehrmann/Getty Images

While the final round of qualifying for the 2014 FIFA World Cup has just begun, the United States men's national team will be forced to play with a sense of urgency the rest of the way after their opening round loss to Honduras.
The U.S. is among the final six qualifiers in the CONCACAF region vying for three bids to Brazil. They have dug themselves into a hole, though, after collecting no points in their first out of 10 games.
Despite the loss, it remains too early to overreact based solely on this one defeat. The fact that their problems run much deeper than their poor performance at Honduras should be of higher concern for U.S. fans.
The U.S. hasn't missed the World Cup since 1986, but here's why they won't be in Brazil for the summer of 2014.
Begin Slideshow

»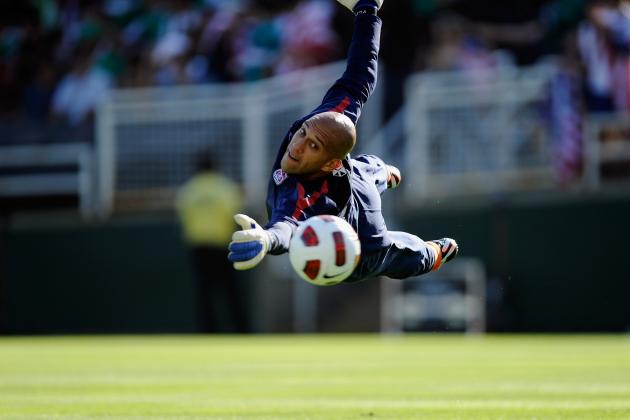 Kevork Djansezian/Getty Images

The U.S. simply isn't as talented or cohesive as the rest of the World.
In the years of late, even the CONCACAF region has caught up to what the U.S. puts on the field. The problem with the U.S. is that their players don't play against the best players in the world on a week to week basis.
The only regulars on the U.S. team who play in the English Premier League are Tim Howard, Clint Dempsey and Geoff Cameron (goalkeeper Brad Guzan also plays for Aston Villa, but is behind Howard on the depth chart). Carlos Bocanegra is the only player who is in La Liga and the rest of the roster is scattered between the MLS, Germany, the Netherlands, Italy and some other smaller countries.
Mexico also sports four regulars playing in either La Liga and the English Premier League, but the rest of their team is centralized in the Mexican Premier Division. While the Mexican Premier League may not be as prestigious as the English Premier League, the majority of Mexico's players play together for most of the year, helping improve team chemistry.
Jamaica even has three players playing in the Premier League, and seven more playing in England's subdivisions, proving that the U.S. isn't the only team with players in accomplished leagues.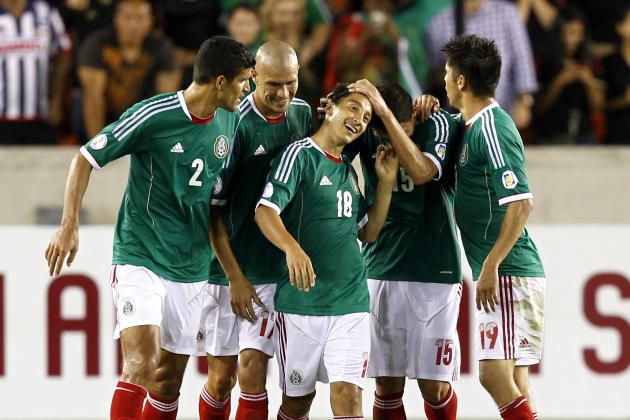 Bob Levey/Getty Images

Luckily for the United States, they play in one of the easiest qualifying groups in the world. Mexico is the only CONCACAF team ranked in the Top 25 of the FIFA World Rankings and the U.S. is second at number 28. The next highest ranked team, number 38 Haiti, didn't even make the final round of qualifying.
That should bode well for the U.S. as the other four teams who did qualify (Panama, Jamaica, Honduras and Costa Rica) are ranked 46th, 58th, 59th and 66th, respectively.
What doesn't bode well for the U.S. is the fact that they lost to two out of those four teams in the past six months.
Jamaica has played better than their world ranking of 58th as they tied Mexico AT Mexico last week and beat the U.S. this past September. Likewise, Honduras has proved through the group stages of qualifying and in their victory over the US that they can play with anyone in the group.
When you add in heavyweight Mexico, the U.S. will face some tough competition the rest of the way and will have to finish ahead of two of these teams to qualify for the 2014 World Cup.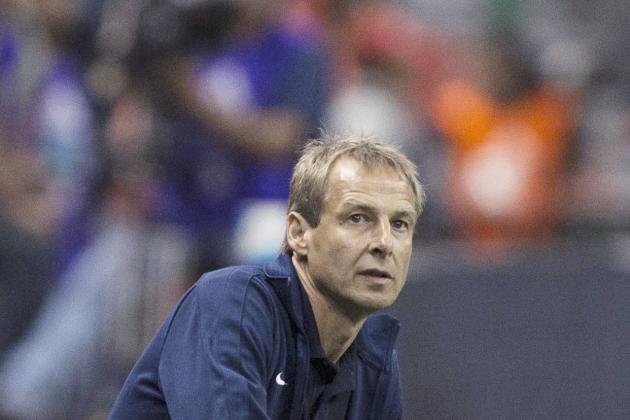 Miguel Tovar/Getty Images

After enduring an opening round loss to Honduras, the United State's upcoming schedule becomes even more brutal than it was beforehand.
Tim Howard emphasized that "we've got to get points" prior to the game at Honduras, implying that the U.S. doesn't want to be on the bottom of the group after their first game.
Currently, that is where the U.S. resides and their upcoming schedule is not favorable either. They will have over a month off before their March 22 match-up with Costa Rica, but then their schedule toughens up.
They will have a quick turnaround with an away game at Mexico on March 26, and any result would be a surprise at Estadio Azteca. Two months later, on June 7, the US will travel to Jamaica, a place where they dropped a match in September, to try for another result.
With two out of their next three on the road in tough places to play, the U.S. will be lucky if they can post a result in one or two of those games.
Claudio Villa/Getty Images

If the U.S. cannot get three points out of their March 22 tilt with Costa Rica, they will be under immense pressure once qualifying heats up.
This goes hand in hand with their schedule as they will have to play at Mexico and at Jamaica following Costa Rica. The U.S. has never had a history of playing well at Mexico (they just recorded their first win in Mexico last August) and just lost at Jamaica five months ago.
Assuming they are able to beat Costa Rica and get a tie at Jamaica (a result at Mexico would be fantastic, but unlikely), they will have four points through four games, not terrible considering their schedule.
If they only post a tie, or even worse a loss, at home against Costa Rica then the pressure will become enormous with only one or zero point(s) headed into two tough road games. How the U.S. will handle this pressure is unknown because of their...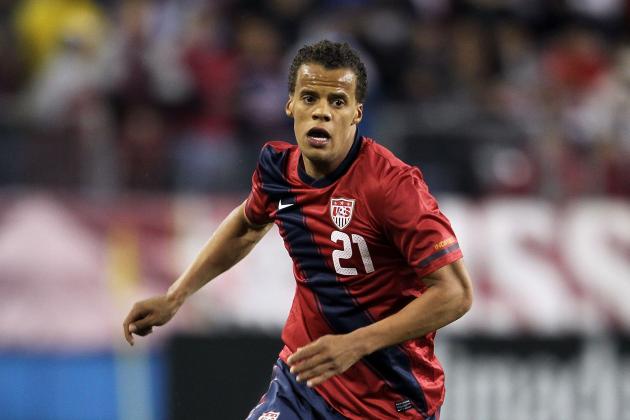 Andy Lyons/Getty Images

The U.S. needs Landon Donovan now more than ever.
It is possible that Donovan will return at some point this year, but in his absence the United States doesn't have a defined leader.
Jurgen Klinsmann decide to bench the closest thing the U.S. had to a position player leader when he substituted Omar Gonzalez for Carlos Bocanegra in their match at Honduras. Honduras was Gonzalez's first career start for the national team, and only third national team appearance.
Benching Bocanegra was a very questionable move on Klinsmann's part, as his back line of Gonzalez, Timothy Chandler, Fabian Johnson and Geoff Cameron had a total of 33 caps entering the game (Bocanegra had 114 caps).
Klinsmann seems intent on getting his younger guys experience, but there is a fine line between building for the future and mortgaging the present. The U.S. is going to have to rely heavily on Tim Howard, Clint Dempsey and Michael Bradley to lead their young team through times of turmoil, such as now.
If they're up to the task remains to be seen.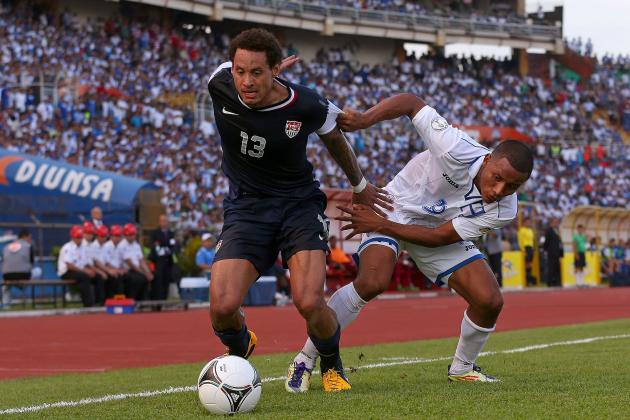 Mike Ehrmann/Getty Images

Besides their obvious signs of youth, the U.S. had trouble possessing the ball and doing the little things right at Honduras. It all started with their horrid midfield play.
Losing Landon Donovan's leadership and talent was a significant blow to the midfield. Michael Bradley is experienced in the middle, but he isn't the dominant player you see at the center of many other teams. He lacks the leadership ability of Donovan and can't take charge of any game.
Jermaine Jones had a flash of brilliance on his assist to Clint Dempsey at the Honduras game, but his performance the rest of the game was enough to turn anyone's stomach. The rest of the midfield was sloppy with their passing and dribbling leading to too many turnovers that they couldn't overcome.
Jurgen Klinsmann had to use three substitutions to replace his midfielders during the game, as he tried everything to improve their structure and play. If the midfield play continues to disappoint, then the U.S. could be stuck at the bottom of the table in the Hex for much longer than a month.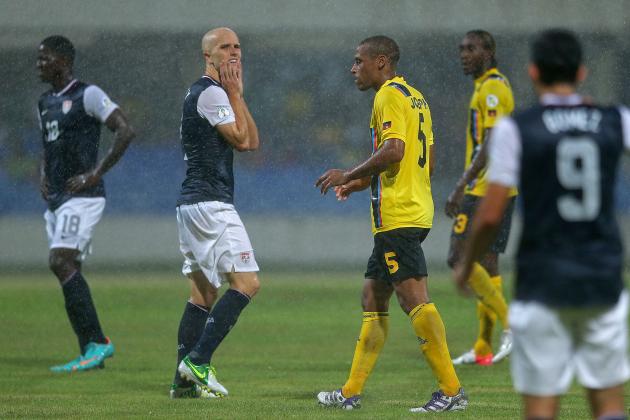 Mike Ehrmann/Getty Images

2013 has not been kind to U.S. soccer.
The year started off with a disappointing 0-0 tie to Canada after being heavy favorites at home. Just a week later the U.S. dropped their opening Hexagonal match at Honduras, putting them in a hole to begin the final round of qualifying.
The U.S. will have some time off to fix things, but have a sneaky tough match-up at home against Costa Rica next month.
The time off will give Jurgen Klinsmann the time to analyze what has gone wrong for the U.S. so far in 2013. He will need to fix things soon so that the U.S. isn't playing behind the eight ball during the latter stages of qualifying.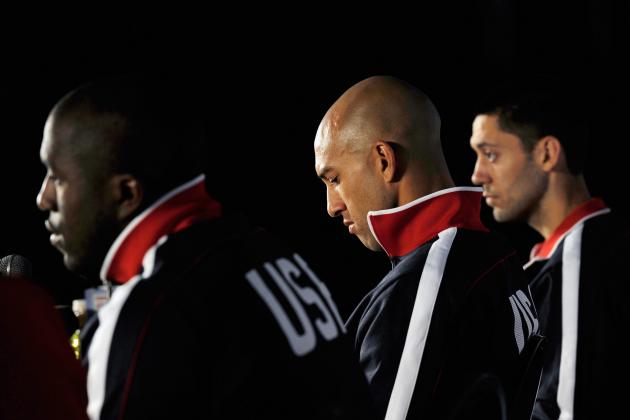 Kevork Djansezian/Getty Images

Tim Howard is arguably the United States' biggest star, but with a young shaky defense around him, he is often put into positions where he can't succeed.
Howard is a completely different goaltender when he plays on Everton as he appears more confident with better defenders surrounding him. On the U.S. team, he is dealing with inexperienced fullbacks and spends most of his energy on the field arranging them in the right positions.
Besides Howard, Clint Dempsey could be the next closest thing to a star. Dempsey would not be considered a star to many casual American fans, though. He has been successful of late, but even he cannot consistently put the ball in the net (30 goals in 91 caps).
Jozy Altidore looked primed to become the next big American star, but he struggled mightily to finish around the net last summer and was left off the National Team's roster. Eventually, he worked his way back on it as his form improved, but it is still unknown if he can live up to his lofty expectations.
What the U.S. is left with is a few above average players surrounded by unknowns. U.S. soccer doesn't have a face to their program, someone will have to step up if they want to be playing in Brazil.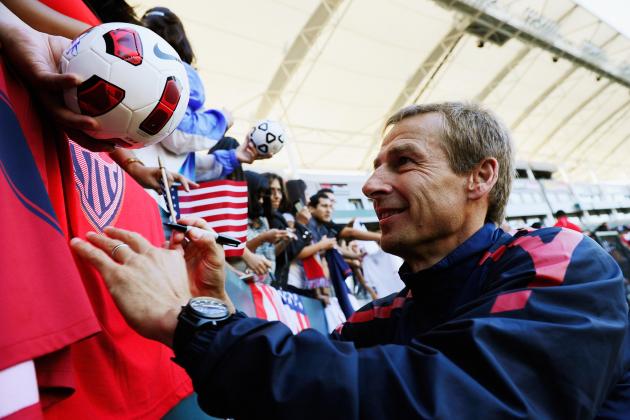 Kevork Djansezian/Getty Images

The support level of American fans has raised significantly in the past years, but it still does not compare to other countries' fan bases.
When you watch international matches on TV you never know what you will see out of the fans. American fans are more reserved than other countries' fans, which isn't such a bad thing sometimes, but our lack of intensity is concerning.
When the U.S. national team didn't make the Olympics this past time, there were no riots or public backlash (many people didn't even know!). People were disappointed, but if this happened in other countries, it would be considered a national tragedy.
There isn't a burning passion for soccer in the U.S. because so many Americans are more concerned with other sports. The NFL, NBA, NHL and MLB are all more profitable and popular than soccer in the United States.
Take a look at the 2011 revenue of these leagues. MLS only made $300 million per year, $3 billion less than any other league (If you scroll down a bit on that page you'll see that surprisingly the MLS had a higher average attendance than the NBA and NHL and the average attendance rose more than any other league, an encouraging sign for the future of soccer).
If the U.S. misses the World Cup, there should be more outrage than when they missed the Olympics. It may be a blessing is disguise as it could be the final straw that causes the U.S. to pump money into the development of soccer.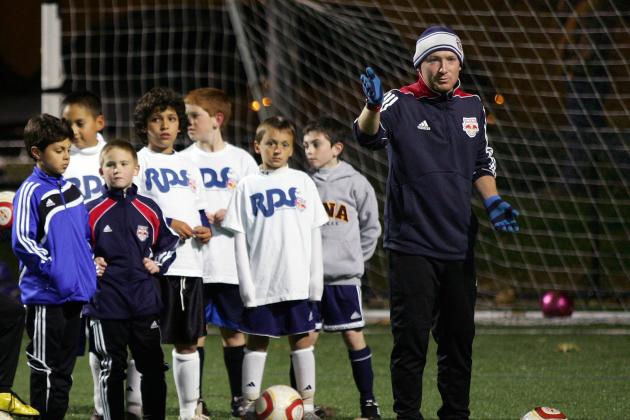 Andy Marlin/Getty Images

Part of the reason the U.S. won't make the World Cup next year goes beyond anything the players did on the field last week or last year. It can be traced to what they didn't do on the field years ago.
Soccer players don't just become superstars overnight. A player must put in hours on end of training and practice to become an elite player. Many other countries provide this type of training to develop their players more rapidly than in the United States.
The U.S. provides some sort of training, but Benjamin Ziemer compares the United States' soccer environment to other countries. Here are some of the highlights:
Their top players train almost double the hours of most of our top players.
Our "top" youth players must pay $4,000-$8,000 per year to play in the U.S. Academy League; their top youth players pay nothing.
Our "top" youth players have little or no exposure to top level soccer. Their top players are required to attend their first (professional) team games, allowed to be ball boys for these matches, and thereby encouraged to dream of playing in the stadium.
If the United States ever wants to win a World Cup or compete with the top-notch teams in the World, then we will have to continue to build our developmental academies around the nation and increase our spending in those academies.
If we don't, then we will continue to be a mediocre soccer nation.