Ohio State Basketball: 10 Things We Learned from the Loss to Indiana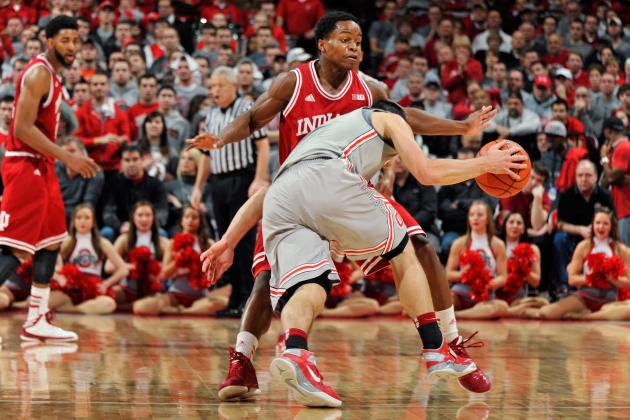 Jamie Sabau/Getty Images

After a heartbreaking loss to Michigan earlier in the week, Ohio State had its back against the wall in the big Ten race coming into Sunday's matchup with No. 1 Indiana.
So much for that.
Indiana came into Columbus and controlled the game from the opening tip, winning 81-68. It was a much-needed win for the Hoosiers after falling to Illinois in their last contest, and the argument can be made that they are still the top team in the land.
As for the Buckeyes, any Big Ten title hopes are now sufficiently bleak. Read on to see 10 things we learned from Ohio State's loss to Indiana.
Begin Slideshow

»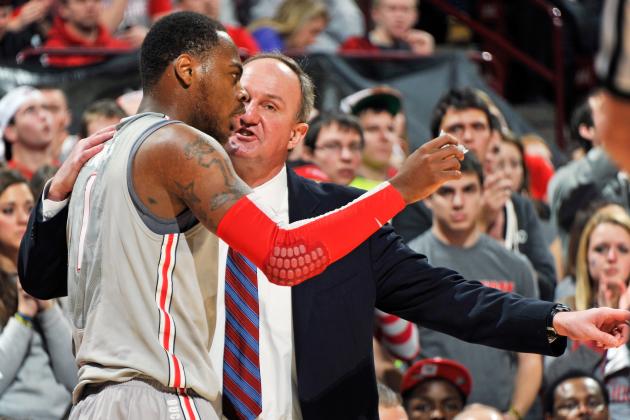 Jamie Sabau/Getty Images

There has been plenty of hand-wringing about Ohio State's offense this season, and it was easy to see why during Sunday's game.
The Buckeyes stood around and watched when they had the ball, and the result was often a contested shot late in the shot clock. For the game, the Scarlet and Gray shot 25-of-59 from the field, 3-of-13 from three-point range and never looked comfortable.
This same offensive pattern contributed heavily to second-half collapses against Duke and Kansas and the blowout loss to Illinois. It will also likely be the primary reason Ohio State will be watching the later rounds of the NCAA Tournament from home if things don't turn around.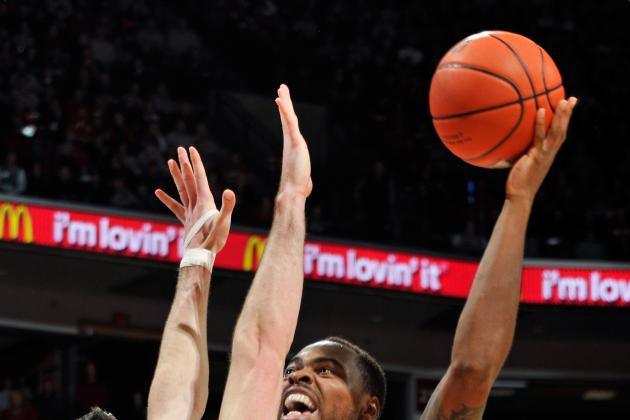 Jamie Sabau/Getty Images

Part of the praise that Deshaun Thomas was receiving in the first half of the season was for the efficient way he was accumulating his high point totals. In the past few games, that has changed.
Thomas scored 26 points, but shot only 8-of-20 from the field. What's more, he shot 6-of-15 against Michigan, 6-of-18 at Nebraska and 4-of-13 against Penn State as he is starting to force up ill-advised and contested shots.
It's important that Thomas continues to rack up 20-plus points a game considering he is basically option one, two and three for this team. However, the number of shots he has taken recently is reminiscent of his earlier years in Columbus.
To be fair, he is facing much more defensive attention this season, but that means he should be looking for his open teammates instead of forcing contested shots in traffic.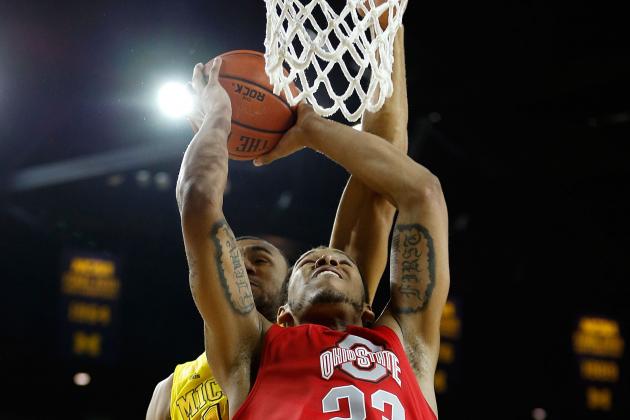 Gregory Shamus/Getty Images

Amir Williams flashed signs of the potential that Ohio State fans have been waiting to see during Ohio State's loss to Michigan Tuesday. It had many excited to see his follow-up effort.
There was no follow-up effort.
Williams was in foul trouble from the minute he stepped on the court Sunday and had no chance against Cody Zeller, (arguably) America's best big man, on either end of the floor. He finished with one point and three rebounds in limited action.
Rebounding is still the primary red flag for the 6'11" Williams. The reality is Lenzelle Smith Jr. and Aaron Craft are both better rebounders than Williams and they are the starting guards.
That is unacceptable for a center.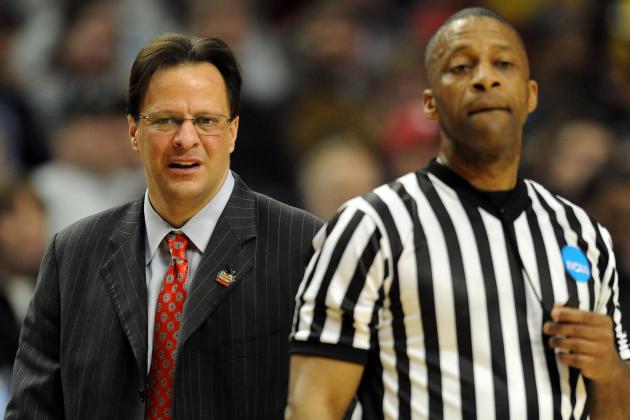 Steve Dykes-USA TODAY Sports

For as highly competitive and entertaining as Ohio State's loss on Tuesday to Michigan was, there was plenty of discussion about whether Aaron Craft was fouled on his final drive to the basket.
Regardless of whether you thought it was a foul, the reality is the referees let two talented rivals decide the game with their play on the floor and avoided calling ticky-tack fouls for the majority of the contest.
That was not the case in Sunday's game against Indiana.
Amir Williams and Shannon Scott ended up with four fouls, and Aaron Craft and Evan Ravenel fouled out. Trey McDonald, the third-string center who rarely sees the court, ended up playing extended minutes in the first half because of Ohio State's foul trouble.
Tony Gerdeman of TheOzone.net summed up Cody Zeller's ability to draw whistles succinctly with this tweet:
Just throw it into Zeller every time and OSU will have to forfeit because they'll foul everybody out.
— Tony Gerdeman (@GerdOzone) February 10, 2013
It is important to remember that the officials bear nearly no responsibility for the final outcome of the game. Indiana was the better team and won by outplaying the Buckeyes.
But it would have been more enjoyable to watch if the referees didn't decide that they were going to be noticed.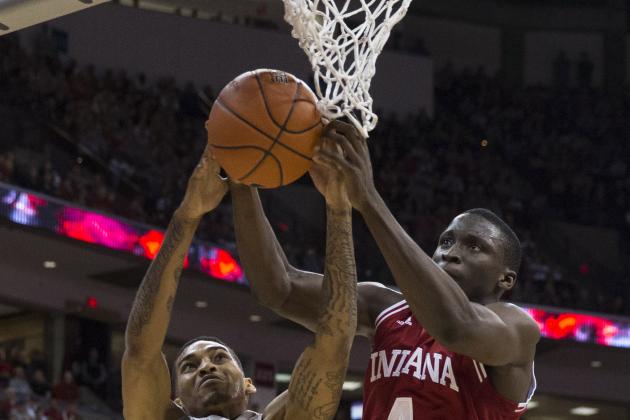 Greg Bartram-USA TODAY Sports

While Amir Williams failed to follow-up his impressive performance at Michigan, LaQuinton Ross did not.
He totaled 11 points on 5-of-10 shooting in only 21 minutes of action and looked comfortable with the ball in his hands for the second straight contest. He is the only player on the roster not named Deshaun Thomas who is capable of creating his own shot on a consistent basis, and his confidence concerns are fading away.
As much as Sam Thompson and Lenzelle Smith Jr. contribute on the defensive end, the reality is this Ohio State team is not talented enough on offense to allow Ross to stay on the bench for extended periods of time.
The only way the Buckeyes have a chance to go deep in March is to get scoring from more than just Thomas. Ross is Thad Matta's best chance to get just that.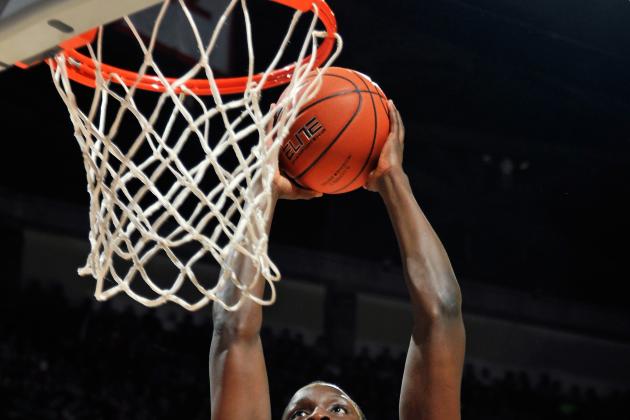 Jamie Sabau/Getty Images

Trey Burke, Deshaun Thomas and Cody Zeller have garnered the majority of the national headlines in the Big Ten thus far this season.
Ironically, those headlines may be overlooking the best player in the nation's best conference—Victor Oladipo.
He scored 26 points on an incredible 8-of-10 from the field and 9-of-10 from the free-throw stripe. He also grabbed eight rebounds and had two steals.
The argument can be made that Oladipo is a combination of an Aaron Craft on defense and a Trey Burke on offense. That combination of athleticism and defensive intensity is downright scary. The result has been a season in which Oladipo is averaging nearly 14 points, six rebounds, 2.5 steals and a block a game.
Those type of numbers define a stat-sheet stuffer. Throw in his dynamic playmaking abilities, and we may have missed out on the Big Ten's best player in all those preseason magazines and midseason recaps.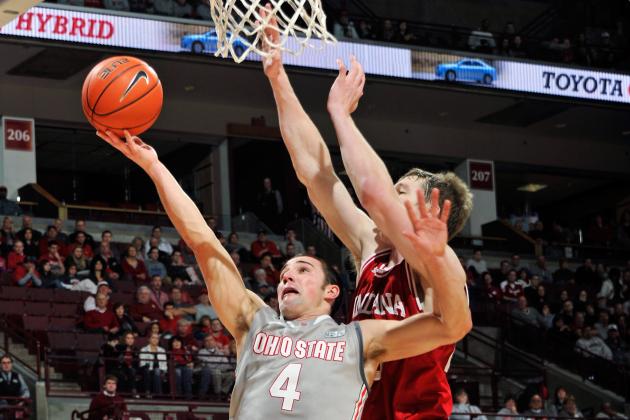 Jamie Sabau/Getty Images

Aaron Craft is either the best or second-best defensive player in the Big Ten (see: Oladipo, Victor). He is celebrated for his intensity and tenacity on that side of the floor, and rightly so.
However, he has been inconsistent at best on offense. This week's efforts against Michigan and Indiana provided fans with a Cliff Notes version of his offensive impact.
He struggled mightily against the Wolverines down the stretch, and his turnovers and ill-advised shots in the final minutes arguably cost his team the game. However, he may have been the Buckeyes' best offensive player Sunday against the Hoosiers.
He shot 6-of-11 from the field to reach 16 points, dished out three assists and even hit a three-pointer in the process. He has the quickness to drive past people and the creativeness with the ball to finish in traffic.
We just haven't seen it on a consistent basis. Perhaps Sunday was a turning point.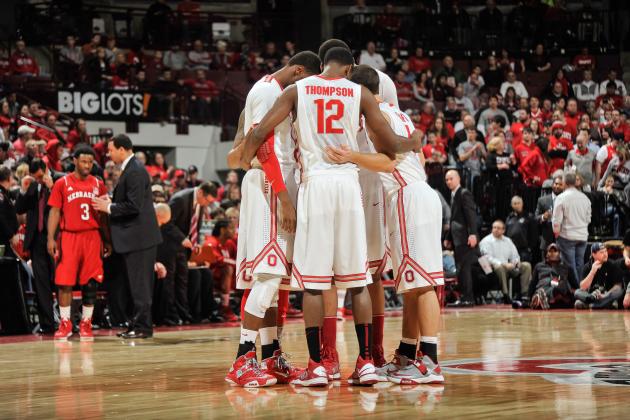 Jamie Sabau/Getty Images

Following Sunday's loss to the Hoosiers, Ohio State is now 1-6 versus teams ranked in the Top 25 at the time of the game.
Thad Matta has made a living off beating highly ranked squads during his tenure in Columbus. After all, you don't win three straight Big Ten championships and five overall by only feeding on the minnows of the college basketball world.
However, that story has not been the same this season. The talent disparity between the Buckeyes and the Hoosiers was painfully obvious from an Ohio State standpoint on Sunday.
Yes, Deshaun Thomas, Aaron Craft and (perhaps) LaQuinton Ross are excellent pieces, but the depth of high-quality players in Bloomington is impressive. To have someone like Christian Watford as a third or fourth option must be nice for Tom Crean.
This is why Selection Sunday will be so critical for Ohio State. If the Buckeyes are matched up in March with a team like Indiana that is absolutely loaded with talent, they simply won't have the talent to keep up.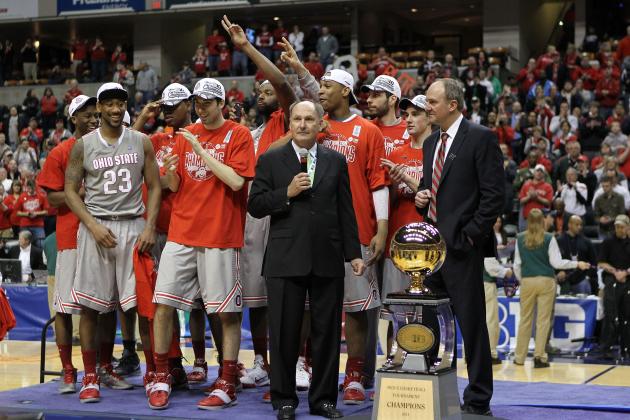 Andy Lyons/Getty Images

Ohio State has won three consecutive conference crowns and had the same expectations heading into the 2012-13 season. Sure, there was no more Jared Sullinger or William Buford, but there are plenty of pieces still left in place.
But after this week's 0-2 effort against Michigan and Indiana, it is clear that another Big Ten title is not in the cards this year.
There are too many talented teams (nobody is talking about Michigan State, and they just happen to be on top of the standings) and difficult games on the horizon to make up a multiple-game deficit at this point.
The Buckeyes still have to travel to Bloomington and nearly unwinnable Madison, plus they have home dates with Michigan State and Minnesota.
It can still be a successful season, but a regular season league title will not be part of it.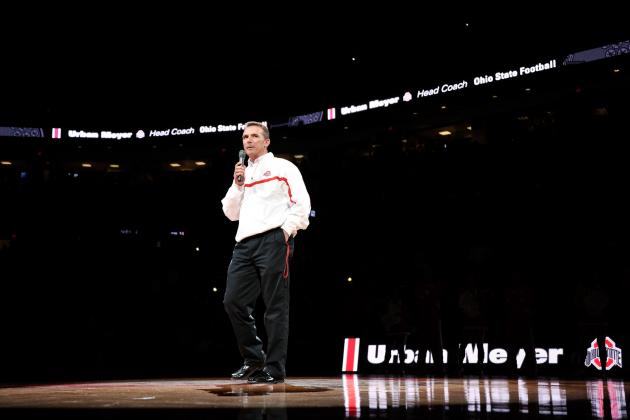 Jamie Sabau/Getty Images

While Buckeye Nation was paying attention to the basketball team's frustrating loss to Indiana on Sunday, the captain of the Ohio State football machine was hard at work landing more talented players.
A mere four days after Urban Meyer reeled in the No. 1 recruiting class in the country, according to Scout.com, he landed three more commitments from prospects in the class of 2014 (giving him five already). For as many question marks as there are surrounding Ohio State's basketball team, there are enticing things on the horizon for the football program.
Sure, this isn't exactly basketball related, but we did learn that there will be somewhere to turn for frustrated hoops fans if Deshaun Thomas and company don't live up to expectations.