5 Mistakes the Pittsburgh Steelers Cannot Afford to Make This Offseason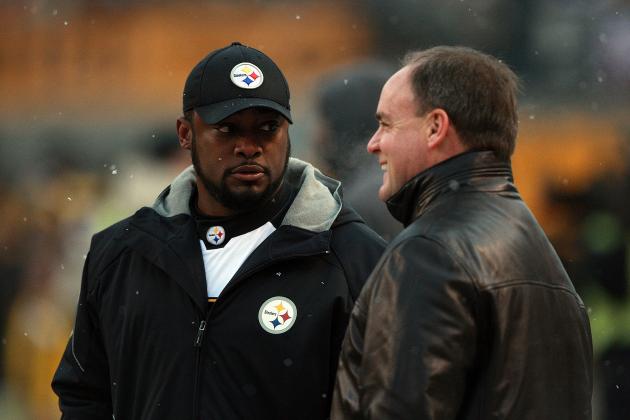 Karl Walter/Getty Images

The Pittsburgh Steelers have a daunting offseason ahead of them full of challenges and potential pitfalls. Navigating the mess successfully is essential to the chances of fielding a competitive football team in 2013.
General manager Kevin Colbert and his staff have a long list of tasks awaiting them now that the offseason is in full swing. Here's a look at five mistakes they cannot afford to make as they move toward July and the start of next season.
Begin Slideshow

»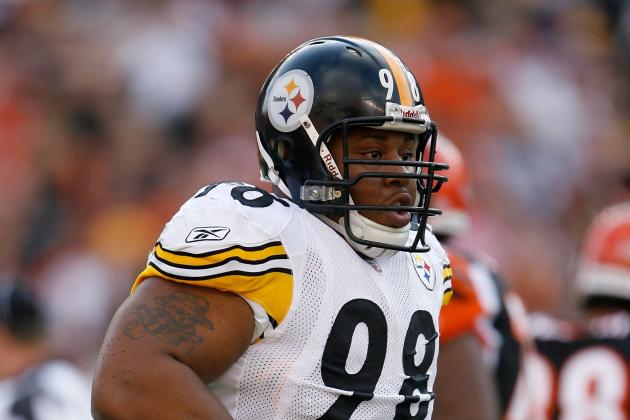 Andy Lyons/Getty Images

Casey Hampton, Max Starks, James Harrison and others have all been a huge part of the success in Pittsburgh over the last decade or more.
Unfortunately, they are all also getting on in years, and their skills are diminished.
It's never easy to say goodbye, but Pittsburgh needs to be willing to do that. Falling in love with the old guard again would be prohibitively expensive and dangerous to the team's long-term success.
Hampton is a free agent. Starks is as well. Larry Foote also is without a contract. Bringing any of those players back to Pittsburgh would fulfill some short-term needs, but at an expense that would injure the team's already tenuous salary-cap situation.
Harrison is contracted, but his salary is near-ridiculous when considering his lack of production last season and the injuries he has begun to pile up. Because of his late start on his career, it is easy to forget he's in his mid-30s now.
It may be better to simply bid farewell to Harrison and recoup the immediate relief to the salary cap, where the team will need to do a ton of cutting and restructuring just to get to the line. Getting below it will require some tough decisions.
Not making those decisions and instead pining for the days of old is among the biggest mistakes that Pittsburgh could make.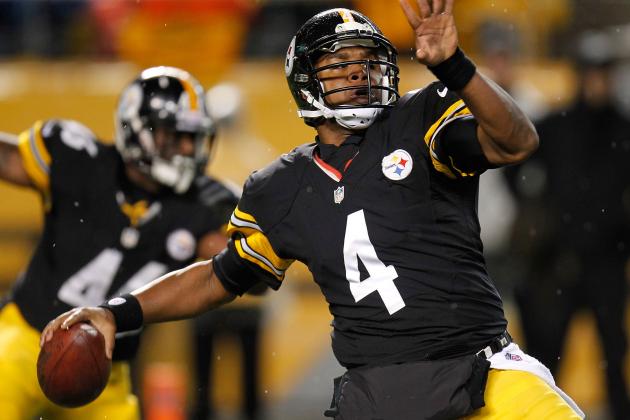 Gregory Shamus/Getty Images

Ben Roethlisberger has started all 16 games of the season only once in his career. That was in 2008.
In short, Roethlisberger needs his own reliever who can come in at some point during the season and run the team for a game or two while he recovers from his latest injury. He's not injury-prone in the classical sense. His style of play just works against him.
His age is going to start doing the same thing. That's why backups are so crucial.
Last season, Pittsburgh received an object lesson in what happens without competent backups at the most important position.
Charlie Batch and Byron Leftwich no longer cut it. New players, whether they be veterans or rookies, must be brought in.
A player who can run the system that Todd Haley employs is also important. That was part of the problem last season.
There are plenty of moderately priced backups on the market in this year's crop of free agents. Matt Moore is one name that comes to mind.
There are also plenty of options in the draft, as I highlighted here on Friday.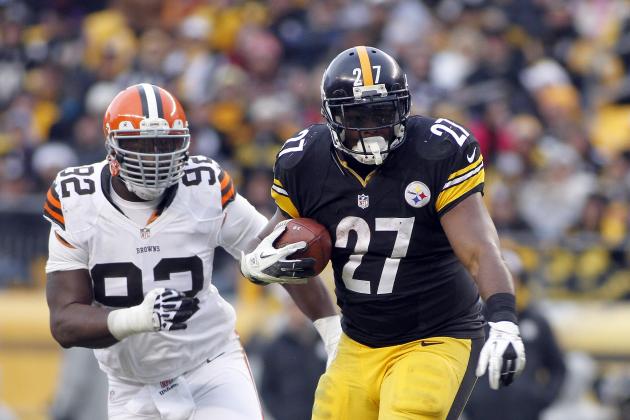 Justin K. Aller/Getty Images

The Pittsburgh Steelers averaged only 96.1 yards per game in 2012. That was good for 26th in the league and was one of the worst performances ever for a Pittsburgh team in that department.
It also managed to cost the team some games because of their inability to either open up the passing attack or to close out a game by grinding down the clock.
A repeat in 2013 would be disastrous. The Steelers can't afford to make the mistake of not fixing an attack that used to be the key piece of their whole offensive identity.
The housecleaning has already begun with the release of troubled runner Chris Rainey. It is highly unlikely that Rashard Mendenhall, the team's former starter, will return. Isaac Redman is a restricted free agent, but his return isn't guaranteed either.
Jonathan Dwyer is the lone holdover from 2012. He should be more effective if new offensive line coach Jack Bicknell Jr. can devise some new blocking schemes that take advantage of what Todd Haley has attempted to set up with his play-calling.
Both the personnel and the blocking need upgraded. Ray Graham (Pittsburgh) and Montee Ball (Wisconsin) would both be excellent additions on draft day to complement Dwyer. Only one will likely be brought in, but either would do wonders.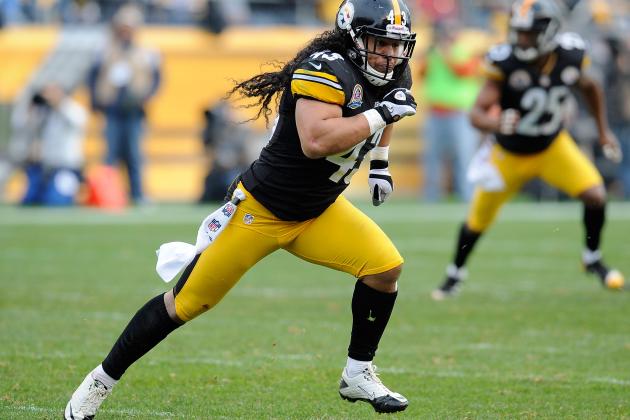 Joe Sargent/Getty Images

This goes hand in hand with not getting attached to the team's older players.
While making sure to say goodbye to some familiar faces is important for the sake of the team's financial situation, bringing in young, talented replacements is equally as important moving forward.
The draft and free agency both offer some likely upgrades, but only the draft will suffice in Pittsburgh's current situation. The Steelers always have built through the draft.
This season, that will be more crucial than ever as the team turns over a large portion of the roster. They must not only replace players leaving now, which includes most of the offensive line backups and several defensive players, they must guard themselves against injuries or dropoffs from other stars in 2013.
One of the most easily identified spots is at safety. Troy Polamalu has gradually seen his skills diminish as the injuries have piled up. He's probably down to his last year or two at this point.
Ryan Clark is still much more steady, but his age is becoming an issue as well. Some fresh blood has to be brought in to help after the team failed to get anything from veteran backups Ryan Mundy and Will Allen.
Matt Elam out of Florida is a name that could come up in the first round. He would give the Steelers a player to develop behind Polamalu and Clark that could also step in at times this season and help out.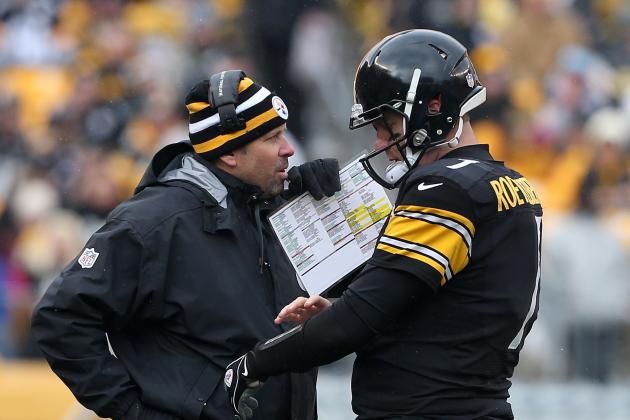 Karl Walter/Getty Images

Last season, it seemed like Todd Haley was trying to ram his offensive system down the throats of players who are much more adept at doing things differently.
He asked his quarterback, one of the best deep-ball throwers in the league, to concentrate on short routes and quick timing patterns. Neither suits Ben Roethlisberger well. He still managed to pull off a decent season.
The speed at wide receiver was wasted. The lack of an effective running back was ignored.
In 2013, Haley needs to realize that his offensive personnel aren't necessarily built to run his exact system. He should tailor it a bit more to what his players can do.
The Steelers fell back several spots in total offense in 2012. After they went out and hired Haley to improve on Bruce Arians' work, that's simply not good enough. He must bring more out of a talented group in 2013 or risk finding himself out of work once again.
That kind of success starts with a sit down to rewrite some of the things he likes to do. Only when he embraces the talent on the roster will this team go further than another 8-8 record and an offense that ranked in the lower half of the league.