UConn Basketball: 5 Keys to Beating Syracuse in Big East Showdown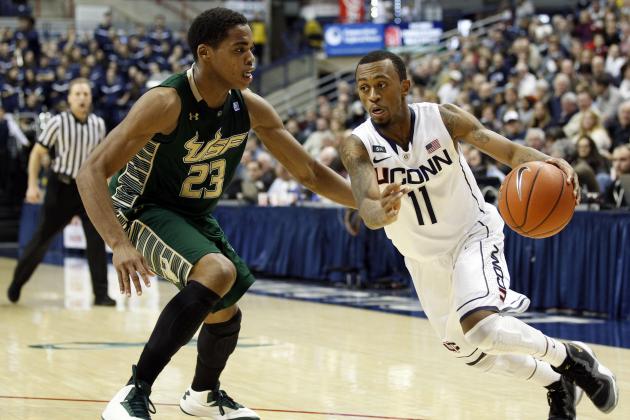 USA TODAY Sports
Ryan Boatright will need a big game for the Huskies to have a chance.
They say that all good things come to an end.
Unfortunately, barring future scheduling or NCAA tournament appearances, this Wednesday night will be the last time the UConn Huskies (16-6, 6-4 Big East) and Syracuse Orange (20-3, 8-2 Big East) meet for some time.
The Orange are leaving the Big East Conference after this season to join the ACC, while the Huskies' future remains in a state of flux.
UConn has overachieved this season under first-year coach Kevin Ollie, but face no easy task in facing a Syracuse team that has been picked by many an observer as a Final Four contender.
To say this is a monumental task would be generous for a Huskies team that has made great strides but hasn't yet shown they can compete on this level.
These, then, are the five keys for UConn to pull a season-defining upset of Syracuse.
Begin Slideshow

»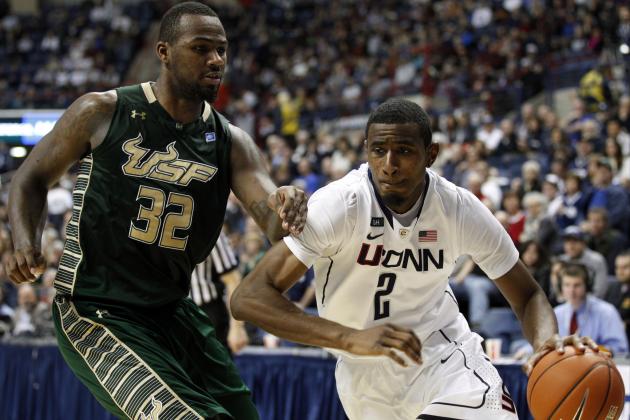 USA TODAY Sports
DeAndre Daniels is tall but not physical enough inside.
Here's a statistic that is likely to keep UConn fans up well into the night: Syracuse ranks 10th in the nation in rebounding.
Taken in isolation that's a big problem for any team to overcome, but it gets particularly bad when you realize that the Huskies rank a brutal 258th nationwide in boards.
Yikes.
For UConn to have any shot in this game it's gonna need to at least remain competitive in the battle for rebounds.
DeAndre Daniels, who has the height but not the weight to be a big physical presence, will need to improve on his just under five rebounds a game average and try to take a few away from the Orange's rebounding machine, C.J. Fair, to keep this game close.
Syracuse is good enough without getting all sorts of second-chance points.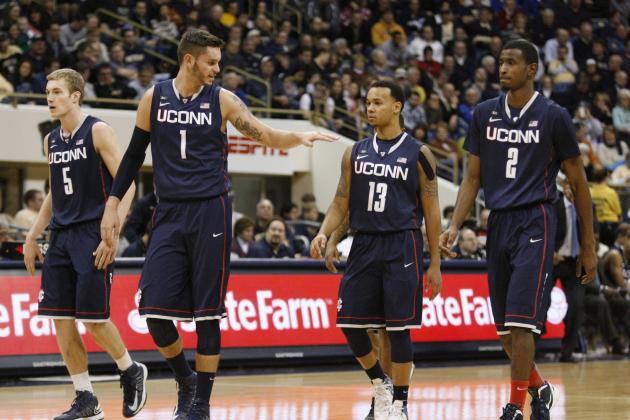 USA TODAY Sports
The Huskies need big games from both of their starting guards.
The last time the Huskies played a team on the level of Syracuse was when they dropped a 73-58 game at home against then No. 1 Louisville.
Neither of the star Huskies guards, Shabazz Napier and Ryan Boatright, had anything close to the type of game they needed to keep the game in hand, much less win.
Napier had a tremendous first half, dropping 10 points, but an absolutely dismal second half with just two points.
Boatright on the other hand had just 11 points in the game, and the Huskies collapsed in the second half to lose a game they once led by double digits.
Syracuse is just too good and too balanced for either of these players to have bad games and win. It just won't happen.
This is the type of game where great players make a statement and both will need to do so in order to score an upset.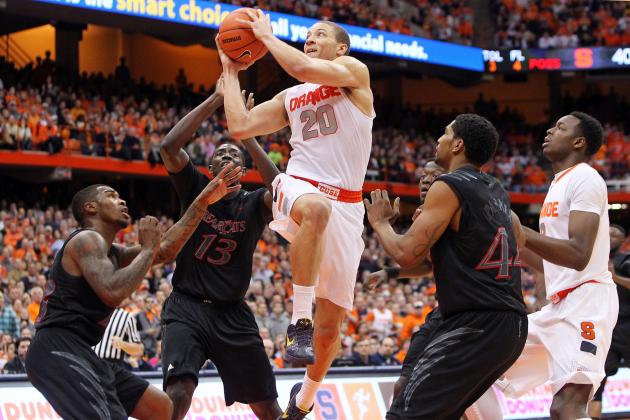 Nate Shron/Getty Images
Brandon Triche is the focal point of the Syracuse offense.
Syracuse is one of those teams where it's hard to key in on one player. The Orange have tremendous balance and can beat you in multiple ways with multiple players.
But saying "take away everybody" just doesn't work, so we're gonna focus in on Brandon Triche.
Triche is averaging 14.5 points per game, and the senior will need to be limited in order for UConn to stay in the game. The problem in taking him away is that, in doing so, it doesn't mean someone else on the loaded roster won't step up with the dagger.
But if you could choose just one player to stop, this would be the one. Especially given how badly Russ Smith lit up the Huskies when Louisville pulled away in the second half.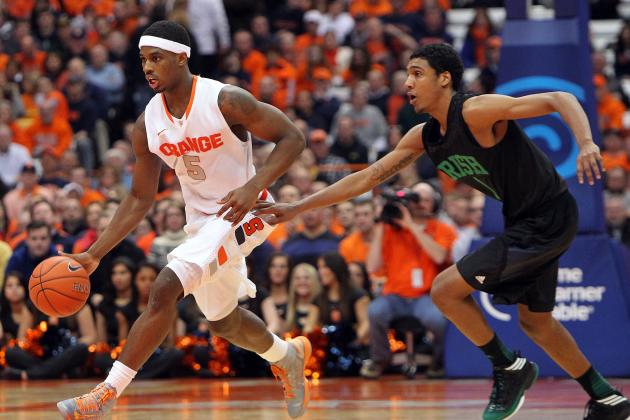 Nate Shron/Getty Images
Syracuse has been subpar from behind the arc in its three losses this season.
Syracuse has only lost three games this season: against Temple, Villanova and Pitt. In all three the Orange have been cold from behind the three-point line.
The Huskies are going to need to contest Syracuse's shots—particularly from behind the arc—and limit its chances at good looks.
This is a team that if they get hot they can run away from you in a hurry. It'll be important for UConn to make sure it doesn't give up the easy ones and limit chances from the outside.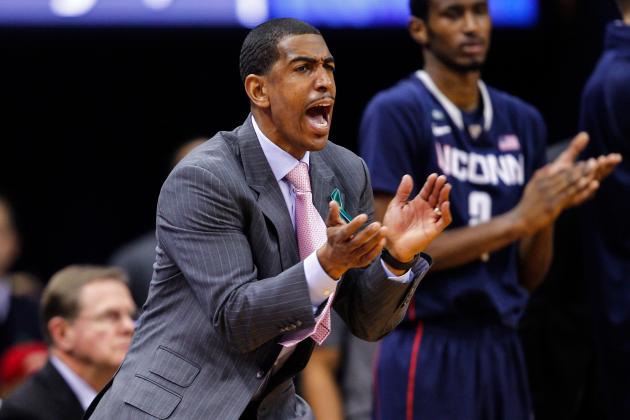 Michael Hickey/Getty Images
Kevin Ollie's squad will be heavy underdogs on Wednesday night.
Kevin Ollie will never tell his team this, but he has to know it. This is going to be a very difficult game for his club to win.
Syracuse is simply bigger, better and has more talent than UConn at this stage of the season. On paper there doesn't appear to be much chance of an upset.
But if we've learned one thing about Ollie and his team mentality, it's that there is no quit and no fear allowed.
The Huskies have been more than competitive this season against teams who were more talented on paper. They've beaten Top 25 teams in Michigan State and Notre Dame, and were competitive with New Mexico and NC State.
They also led Louisville by double digits in the first half before wilting against the then No. 1 team in the nation in a second-half blitz.
This is a team that plays up to their competition and they'll need to do that if they have any chance of an upset.