7 Golfers Who Will Show Significant Improvement in 2013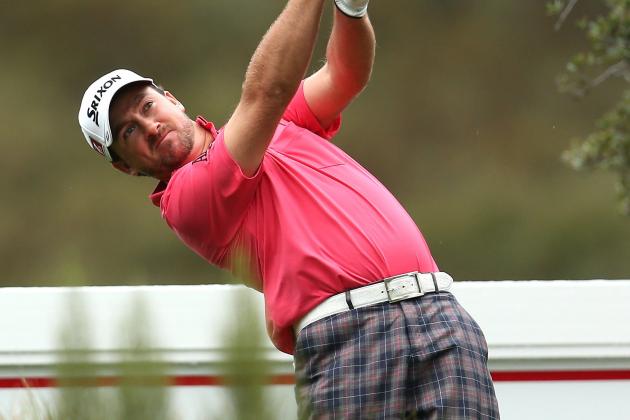 Stephen Dunn/Getty Images
Graeme McDowell should be prepared for a big year in 2013.
The game of golf is always changing.
So are the results when it comes to the list of the PGA Tour's best money earners. While there's every reason to believe that Rory McIlroy, Tiger Woods, Phil Mickelson and Bubba Watson will be at or near the top once again this year, it may not work out that way.
Not only could one one or two of those golfers have a disappointing year due to a slump or injuries, the game is so competitive that a number of middle-tier golfers could move up and finish in the top 20 or better.
Here's a look at seven golfers who have a good chance to improve their rankings in the 2013 golf season.
Begin Slideshow

»
Kyle Stanley showed just what kind of golfer he could be early in the 2012 season.
Stanley is a huge hitter who can be a dominant player when he harnesses his talent.
That's just what he did at the Waste Management Open in Phoenix and the Farmers Insurance Open. In the Waste Management Open, Stanley figured out how to win after blowing a huge lead the previous week at the Farmers Insurance Open.
That's an impressive feat for any golfer. A blown lead often requires some adjustment period by the golfer before he can come back and play championship golf. Stanley did in the next week.
Stanley finished as the 32nd-leading money winner on tour last year with slightly more than $2.5 million in earnings. Look for Stanley to become a top-15 or top-20 golfer in the 2013 golf season.
Graeme McDowell finished 31st on the money-winning list last year with slightly more than $2.4 million in earnings.
McDowell struggled at the end of the 2012 season, but there's every reason to think he can have a strong season in 2013. McDowell was very solid in the majors last year, and if he can perform well on the biggest stage, there's little reason to think he can't be consistent throughout the year.
McDowell finished second in the U.S. Open and he was also a top-five finisher in the British Open. McDowell was also respectable in the Masters and the PGA.
Look for McDowell to crack the top 20 in this year's PGA money-earning list.
Nick Watney won more than $3 million last year and finished 22nd on the money-earning list.
Watney won one PGA tour event and he also had five top-10 finishes last year, as well as 12 top-25 finishes. Once he had completed his competition on the PGA Tour, Watney won two other "unofficial" events.
Consistency was the hallmark of his season and that's why he should be able to climb even higher in 2013.
Watney is not a big hitter. He finished 125th in average driving distance last year but he made up for that shortcoming with accuracy. He was third in hitting greens in regulation.
There is no reason to believe that Watney can't make a run at the top 10 this season.
Kevin Na finished 38th on the tour with more than $2 million in earnings on the PGA Tour.
He had six top-10 finishes and he also had 10 top-25 finishes. His best tournament came in the Arnold Palmer Invitational when he finished in a tie for fourth and earned $209,000.
Na is not a big hitter, but he excels around the greens. He averaged 277.9 yards per drive and only found the fairway on 48 percent of them.
However, he was second on the tour in strokes gained putting. This gives him a chance to win or play consistently any time he is hitting the ball well tee to green.
Look for Na to crack the top 25 or top 20 in 2013, despite a slow start that has seen him fail to make the cut in two of his first three tournaments of the year.
Aaron Baddeley simply had a disappointing season in 2012. He won slightly more than $1.2 million and that's not going to get it done.
However, Baddeley has a much better track record. He won more than $3 million in 2011 and he has a chance to come back to that level.
Baddeley has given an indication that he will find his old form early in 2013. He finished tied for sixth in the Farmers Insurance Open and earned more than $200,000 for his efforts.
Baddeley gets excellent distance on his drives and can also convert his long shots into birdies. In his strong 2011 season, Baddeley finished seventh in birdie average per round.
John Huh announced his presence on the PGA tour with an impactful rookie season.
Huh may seem quiet and unassuming, but when he steps on the course he almost always plays like a champion.
Huh finished 28th on the tour with just under $2.7 million in earnings. Huh won one event—the Mayakoba Golf Classic in late February—and he also finished second once, had four top-10 finishes and 12 top-25 finishes.
That last number is perhaps the most important statistic that attached to his record. He consistently competes hard. Huh failed to make the cut just five times as as a rookie in 28 events.
He knows he belongs and he does not get intimidated. Look for Huh to move into the top 20 in 2013.
Matt Every finished 40th on the PGA tour with just under $2 million in money earned last year.
Every did not win a tournament—and he has never tasted victory during his pro career—but he finished second twice, third once and had six top-10 finishes.
He knows how to stay close and he knows how to earn money consistently on the tour.
Every excels on par-4 holes. He led the PGA tour with a birdie percentage of 19.46 percent on those holes.
Look for the competitive Every to become a top-25 golfer this season.