Brock Lesnar's 10 Scariest & Most Monstrous Moments in WWE & UFC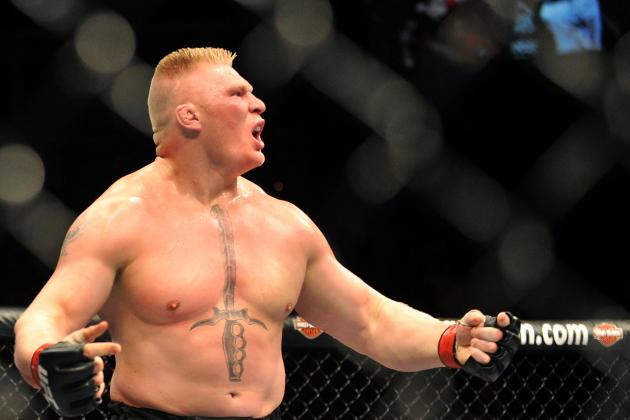 Jon Kopaloff/Getty Images

Throughout both his UFC and WWE career, Brock Lesnar has built his reputation on being a menacing force, best demonstrated by these monstrous moments.
The former NCAA amateur champ and professional badass has smashed in faces, torn off casts and left behind a wake of destruction of both the scripted and non-scripted variety.
With Lesnar back with WWE, fans could see new additions to the list, new victims, new carnage.
In no particular order, here are Lesnar's scariest moments as a wrestler and a fighter.
Begin Slideshow

»
Brock Lesnar's UFC debut ended in a loss thanks to a kneebar submission from Frank Mir.
Leading up to their rematch, Mir talked dismissively of Lesnar. He mocked Lesnar's WWE background and laughed at his lack of MMA knowledge.
Lesnar couldn't have extracted revenge in a more ferocious way.
He pinned Mir against the cage and pounded his fists until Mir was left with a blood-splattered face. Beyond being redemptive, this moment showed the world how scary Lesnar can be in the cage.
Brock Lesnar's Hell in a Cell battle with Undertaker at No Mercy 2002 showcased his power of devastation.
Defeating a man of Undertaker's size and reputation was plenty impressive on its own, but Lesnar did it in such a sadistic manner that most fans won't ever forget this match.
Lesnar took Undertaker's best and came back to tie the Deadman's arm to the Cell wall, proceeding to beat him with a steel chair. Lesnar later tore off Undertaker's cast and busted him open with the ring steps.
The brutality of the win catapulted Lesnar into newly monstrous territory.
Bleeding was once such a commonplace occurrence in WWE that it became easy to numb one's self to the sight of a wrestler's forehead painted with crimson. More recently, bloodshed is much scarcer, and Brock Lesnar brought it back on two occasions.
Before his Extreme Rules 2012 match with John Cena, Lesnar attacked Cena on Raw, leaving his mouth gooey with blood.
Held back by a mob of superstars, Cena grinned devilishly, blood staining his teeth.
Lesnar then made Cena bleed again, this time during their Extreme Rules match. Elbow strikes busted open Cena's head, making the rest of the match more dramatic and bringing WWE back to the age of the bloodbath.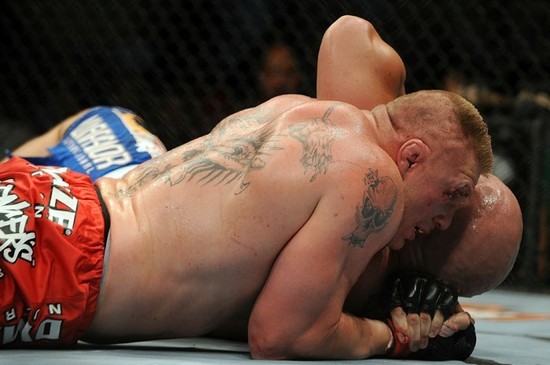 Brock Lesnar's fourth-straight UFC win came against the powerful striker Shane Carwin.
In the second round, Lesnar slowed his swift opponent, wrapping his arms around his neck like a python. Like he did with Hulk Hogan in scripted fashion, Lesnar legitimately used his powerful arms to squeeze his opponent into submission.
At that point it seemed that Lesnar was going to be an unstoppable force in UFC.
Eventually diverticulitis derailed Lesnar's dominance, but for that moment, crushing a man in his unflinching grip, Lesnar was a scary dude.
Picture a seal trapped in a shark's mouth, the shark thrashing his helpless pray from side to side. That's what Brock Lesnar vs. Zach Gowen was like.
Lesnar didn't just defeat his one-legged opponent, he turned the ring into a crime scene.
In their short match, Lesnar F5ed Gowen into the ring post, smashed him with a chair and left him bloodied for the world to see. He took dominance to a new level, taking advantage of a lesser opponent and relishing every second of the carnage.
Brock Lesnar brought the Kimura lock to WWE and immediately made it the company's most dangerous weapon.
He (kayfabe) injured both Triple H and Shawn Michaels in separate incidents.
Triple H first incurred Lesnar's wrath when he disputed the validity of Lesnar's special-clause-laden contract. Lesnar snapped his arm to one side with his new finishing hold.
Michaels would later come to Triple H's side as The Game prepared for a SummerSlam showdown with Lesnar. Michaels would never make it to Triple H's corner.
Lesnar attacked him in the parking lot, dragged him to the ring and made a second DXer go to the hospital.
Brock Lesnar had Big Show in the corner, readying him for a superplex. The SmackDown crowd began to get louder.
They might have sensed that a big moment was on its way, but they couldn't have predicted anything like what happened.
In a show of how powerful and huge Lesnar is, his suplex on Big Show caused the ring to collapse. The two men and the referee shook as the ring mimicked an earthquake.
Lesnar stunned the crowd with this intimidating display.
Randy Couture was certainly not in his prime in 2008, but he was still one of UFC's biggest names.
Couture needed to beat Brock Lesnar in order to retain his UFC heavyweight title. However good his chances of doing that were in the opening round, they were dashed away when Lesnar got atop Couture in the second round and pounded away.
After a glancing blow took Couture down, Lesnar became the predator, smashing down his hammer hands on Couture until the referee called the fight.
Brock Lesnar retained his SummerSlam 2002 WWE title shot by defeating Hulk Hogan. In the process, he made himself look like WWE's most frightening monster.
Defeating Hogan is quite an accomplishment in any era. Lesnar did it in dominating fashion.
He wore Hogan down with a bearhug until he began to spit up blood. Lesnar took the opportunity to smear Hogan's blood across his chest, making a macabre artwork on his own skin.
Judgment Day 2003 featured a stretcher match between two of WWE's most powerful forces.
The intense battle went in an unexpected direction when Brock Lesnar drove a forklift to the ring. With Rey Mysterio distracting Big Show, Lesnar climbed on top of the machine. Lesnar then leaped from it, crashing into Big Show.
It was the image he created moments later that is most haunting.
Lesnar beat Big Show down until he could drag him to a stretcher positioned on the forklift. Seeing Big Show hanging limply as Lesnar drove up the ramp was a uniquely disturbing sight, something out of a horror movie.