Randy Orton and 10 WWE Superstars Who Achieved More Than Their Fathers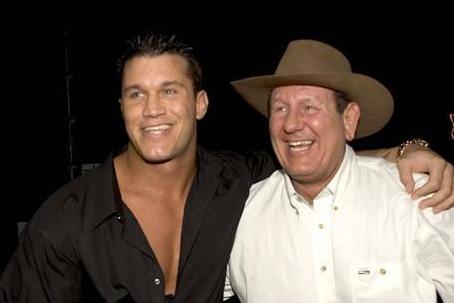 photo courtesy of myspace.com
Randy Orton is just one second generation superstar to have achieved more in the WWE than his father.
Being raised by a wrestler, one can only imagine the skills and knowledge a protege could learn.
From championships to Royal Rumble wins, there are many situations when the older generation Superstar achieved more than the younger, but it's not always the case.
Here are 10 WWE Superstars who have achieved more than their fathers in WWE, WWF or WWWF only.
Begin Slideshow

»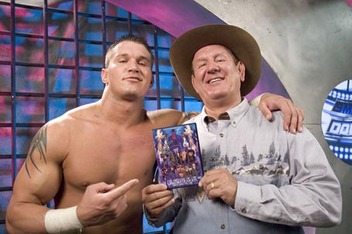 photo courtesy of ggbayley.tripod.com
"Cowboy" Bob Orton did not have the best winning streak while in the WWF, but he was involved in a number of main event situations.
He received a number of chances at the WWF title but was never successful at winning one. The elder Orton took part in the main event of WrestleMania I, when he was in the corner of "Rowdy" Roddy Piper and "Mr. Wonderful" Paul Orndorff in their match against Hulk Hogan and Mr. T.
Orton ended up costing his team the match after accidentally hitting Orndorff with his cast.
The younger Randy Orton has been very successful while in the WWE, even becoming a triple crown winner. He has held both major world titles, the Intercontinental and Tag Team titles.
"The Viper" was also the 2009 Royal Rumble match winner.
Despite being heavily featured during his time in the ring, Randy's father did not achieve nearly as much as his son.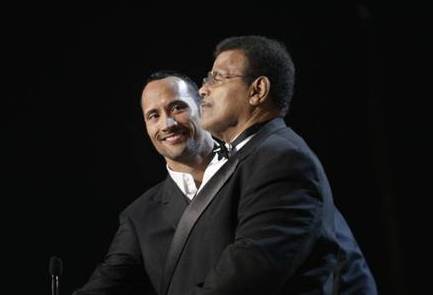 photo courtesy of prowrestling.about.com/
Rocky Johnson began his career in the WWF in 1983, but it was when he was paired with Tony Atlas that he made history.
Johnson and Atlas became the first black tag team to hold the WWF tag titles, calling themselves the "Soul Patrol."
Other than that, Rocky Johnson did not achieve much in WWF.
His son, who would eventually be named The Rock is one of the most successful Superstars in WWE history.
In addition to being the current WWE Champion, The Rock has also been Intercontinental, World Tag Team and WCW champion. He was also the 2000 Royal Rumble match winner.
The Rock has been one of the most successful wrestlers to transition to mainstream entertainment as he continues to star in movies and make the occasional television appearance.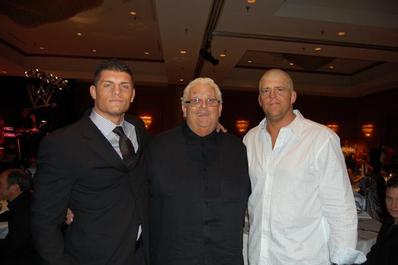 photo courtesy of myspace.com
"The American Dream" Dusty Rhodes was one of the more accomplished Superstars during his time in the NWA. However, his run in WWF doesn't match up to those of his two sons.
Dusty never held any gold or achieved any major accomplishment while in the WWF. He is most famous for his yellow polka-dotted attire and having Sapphire as his manager.
The only notable moment from Dusty's WWF career was participating in WWF's first mixed tag-team match. He teamed with Sapphire to face off against Randy Savage and Sensational Sherri at WrestleMania VI.
Goldust, Dusty's older son, is best known for his time in the WWF and WWE during the Attitude Era. Goldust is a former Intercontinental champion, as well as World Tag Team champion, teamed with Booker T.
Cody, Dusty's younger son, has a resume similar to that of his brother. He is former Intercontinental champion, as well as World and WWE Tag Team champion.
When considering their time in WWF and WWE, Dusty has not achieved nearly as much success as his two sons.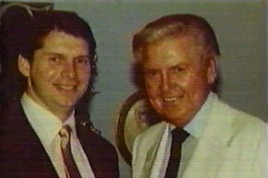 photo courtesy of pwa.wrestlingx.net
Vince McMahon Sr. tried to keep his son away from the wrestling business while also keeping himself away from the ring.
McMahon Sr. believed a promoter should stay behind the scenes, while McMahon Jr. would become a top character in the WWE.
Vincent Kennedy McMahon, who we all know now as Mr. McMahon, began as an announcer in the WWF.
However, after the Montreal Screwjob, Mr. McMahon quickly became a top heel in the company. McMahon Jr. is a former WWF and ECW champion, as well the 1999 Royal Rumble match winner.
In addition to achieving more on-screen than his father, Mr. McMahon also changed WWF.
It began as a northeastern territorial wrestling promotion, but Mr. McMahon developed into a publicly traded global media entertainment company.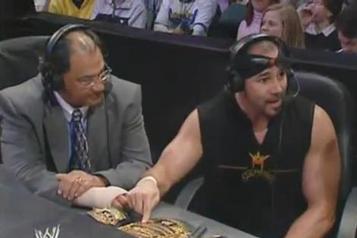 photo courtesy of tumblr.com
Famous father and son from the Guerrero family, Chavo Jr. and his father Chavo Classic have both spent time in WWE.
Chavo Classic began his WWE career in 2004 and joined his son in a feud against Classic's older brother Eddie.
While in WWE, Classic held one title, the Cruiserweight, holding the record for being the oldest WWE Cruiserweight champion in history.
Unfortunately, other than the one title run, Chavo Classic didn't achieve much else in WWE.
Chavo Jr. however, is a former world champion, holding the ECW title in 2008.
The younger Chavo also held the Cruiserweight and Tag Team titles, also spending a lot longer in the WWE than his father and thus was able to achieve a lot more.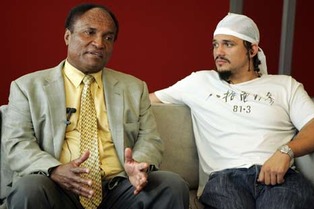 photo courtesy of primerahora.com
Many WWE fans are familiar with Carlito and Primo Colon but may not know that their famous father Carlos has also appeared in WWE.
In 1993, Carlito and Primo's father participated in the Royal Rumble match, and it would not be the last time we'd see Carlos in WWE.
Carlos would make occasional appearances, cheering on his sons.
He also helped Primo secure a deal with WWE.
While it wouldn't be difficult to achieve more than just appearing in one Royal Rumble match, Carlito and Primo had impressive careers.
Carlito debuted in WWE in 2004 and immediately won the United States Championship.
He is also a former Intercontinental and Tag Team champion with his brother. He and Primo unified the WWE and World Tag Team titles.
Primo has also held the Tag Team titles with his cousin Epico.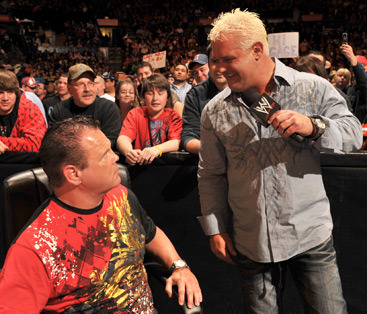 photo courtesy of kentuckyfriedwrestling.com
Jerry "The King" Lawler is a WWE Hall of Famer, but his son Brian has arguably achieved more in the ring while with the company.
Jerry Lawler was inducted into the WWE Hall of Fame 2007, but the majority of Lawler's WWE career was as a color commentator.
Lawler never held any championships as a wrestler in WWE, despite his success in Memphis wrestling.
Lawler's son wrestled as Brian Christopher or Grand Master Sexay. Christopher is a former WWE Tag Team champion, along with Scotty Too Hotty as the team of Too Cool.
It can be argued that a Hall-of-Fame ring is a bigger achievement than a tag team title run, but you have to consider The King's in-ring career in WWE to be quite a failure.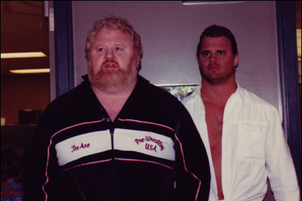 photo courtesy of pwtorch.com
WWE fans should remember Curt Hennig's time in WWE as Mr. Perfect, but his father Larry the Axe also spent time in the company.
Larry was with WWE in the 1970s when the company was the World Wide Wrestling Federation.
Larry the Axe even challenged Bruno Swammartino for the WWWF title but came up short.
His son, Curt or Mr. Perfect, was a two-time WWE Intercontinental champion.
Unfortunately, the younger Hennig was never a World Champion in WWE. He will most likely be considered one of the greatest WWE Superstars to never have won a World Title.
If you consider Larry the Axe to be a former WWWF Superstar, and you should, then you should consider his son Curt to have achieved more in the company.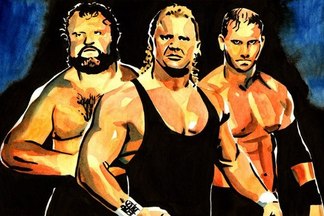 photo courtesy of tumblr.com
As WWE brings in more second and even third generation Superstars, there will be more opportunities to compare them to their fathers.
Today one could argue that the younger generations may have had more opportunities to achieve than their fathers. With the Royal Rumble, Money in the Bank and more programming, more Superstars are finding more success.
Curt Hennig is a prime example of someone who may have achieved more success today than 20 to 30 years ago. Unfortunately, his son doesn't seem to be on the path to achieving perfection.
Which WWE Superstars do you think achieved more than their fathers? Please leave your comments, thoughts and ideas in the section below.
Follow me on Twitter (@sethgutt) and check out my site guttwrenchpowerblog.com.
You can like GWP on Facebook here.