Ranking the Greatest NBA All-Stars in NY Knicks History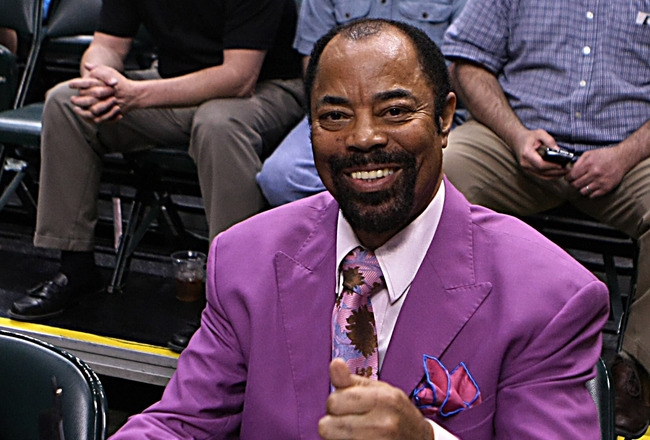 Brian Spurlock-USA TODAY Sports
Carmelo Anthony might one day be considered the greatest All-Star in New York Knicks history. He scored 29 points in last year's NBA All-Star Game, tied for second most by a Knick in All-Star history (with 2011's Amar'e Stoudemire).
In 2013, Anthony will be the Eastern Conference starting small forward for the second time in as many years and, barring injury, is a veritable lock to do it the remaining two years of his Knicks' contract.
He still has some All-Star dues to pay, though, before cracking the rankings of all-time Knicks All-Stars.
One Knick, for example, was selected 11 times. Two other Knicks won the All-Star Game MVP. Eight Knicks made at least five trips apiece. There are a handful of double-doubles in there and a 30-point outing, too.
In all, 31 different Knicks have been named to the East's All-Star team. Which five represented New York the best over their careers?
*Note: there isn't much classic NBA All-Star Game video out there, so we gave you some highlight video clips to give you an overall feel for each player's talents and style. Enjoy.
5. Richie Guerin, Shooting Guard
Richie Guerin, who played for the Knicks from the 1956-57 season through the first two games of 1963-64, has been in the news lately.
Guerin was the Knicks' star shooting guard for six of his seven full years in New York, a period of postseason drought for the team. They made the playoffs just once, in 1958-59, and were shut out in the First Round.
But Guerin's play was noticed by the fans and the league, and he was voted an All-Star six times. Guerin averaged over 20 points per game four years in a row. In three of those seasons, he added about 6.5 rebounds and 6.5 assists to his stat line.
It was Guerin's record Carmelo Anthony broke just a few days ago, as recounted by the New York Post,
"Former Knick super-scorer Richie Guerin got a kick out of being in the headlines over the past week as Carmelo Anthony tied, then broke Guerin's franchise record of 29 straight games scoring 20 points or more. The record stood for 51 years."
Guerin scored in double-figures in three All-Star Games, including 23 points (on 59 percent shooting) in the 1962 contest, outscoring Eastern teammates Bill Russell and Bob Cousy.
His career All-Star totals are 63 points, 18 assists and, a surprising for his stature (6'4"), 19 rebounds.
4. Harry Gallatin, Center
You have to go back another decade to find the Knicks' No. 4 All-Star of all time, Hall of Fame Center Harry Gallatin.
Gallatin played nine seasons for the Knicks between 1948-49 and 1956-57, helping the Knicks to eight straight postseason appearances and three trips to the NBA Finals.
He was selected an All-Star for his last seven years in New York.
Gallatin was a rebounding machine, and when he pulled down 1,098 boards in 1953-54, it was the most any player had recorded in a single season.
While he scored in double-digits in just two of his All-Star Games, Gallatin had at least nine rebounds four times, including a high of 18 in that same 1953-54 season.
In the following All-Star Game (1955), Gallatin notched a double-double with 14 rebounds and 13 points.
3. Patrick Ewing, Center
Patrick Ewing has the most All-Star Game selections and appearances of any Knick – 11 and nine, respectively.
Ewing is arguably the greatest Knick of all time, steering the team from his Rookie of the Year season (1985-86) through 13 straight postseason appearances and two Finals.
He holds just about every career record in New York's books: games, minutes, field goals, free throws, rebounds, steals, blocks, points and win shares.
In nine All-Star Games, Ewing scored in double-figures six times, including a high of 20 points in 1994. Three of those years, Ewing added 10 rebounds for three All-Star double-doubles.
Add 16 blocks and 11 steals total for the big man, and one might begin to wonder why Ewing isn't the greatest Knicks All-Star of all time.
The answer is in three letters: MVP.
2. Willis Reed, Center
Willis Reed is the only New York Knick to win the NBA MVP (1969-70).
Reed won the All-Star Game MVP that season, too, and took New York to its first NBA title. Quite a season.
In seven All-Star Games, Reed scored in double figures five times and had at least eight rebounds five times.
He recorded two double-doubles, including that MVP game when he went for 21 points and 11 rebounds.
1. Walt Frazier, Point Guard
The NBA All-Star Game is about flash, and no Knick ever was, or probably ever will be, as flashy as Walt Frazier.
Frazier and Reed were members of both New York's championship teams – 1970 and 1973.
Frazier is the greatest Knick All-Star for two main reasons. He's the second Knick with an All-Star Game MVP and he is the one with the 30-point outing (both in 1975).
Like Reed, Frazier made seven appearances in the mid-February classic but he played a more all-around game than Reed, covering points, rebounds, assists and defense.
Frazier's MVP line was 30 points (10 from the line), five boards, two assists and four steals.
Overall, Clyde averaged about 12 points, four rebounds, four assists and a couple steals in his All-Star career, while running the floor, too.
Keep Reading

New York Knicks: Like this team?